Scam? WARNING!
Thread poster: Joana Polonia
Joana Polonia

Portugal
Local time:

11:39


English to Portuguese
+ ...

Hi !

I've got this email today. It seems to be a scammer or someone just trying to steal CVs. Besides this text below, I've also received a word file for signing, an agreement, something along these lines "Can you give us permission, authorization and agreement in order for us to send your CV to our clients?
If yes, we will remove your contact details to avoid direct contacts with clients. In this case, we will use a free email which will be put inside your CV in order to receive projects and therefore we will reply on your behalf." - does this even sound professional?

The email received:
"Dear translator,

This is Taqwa Soliman from XXX translations, it is a company that can present a lot of project offers easily and continuously. What you can do is only sending your brilliant CV. and Cover Letter for our email then you will reach the top of success to get many projects you hope. So we are a trustful medium between you and the clients. But I will be grateful if you give me the permission to make some changes of small details that will never weaken your respected CV. and I promise you that the most win and the highest earns will be for you. Beside the above mentioned, you will deal with a comfortable and a punctual team of a long experience and a golden translation with you, of course. However, be sure that you are dealing with an honest company and please trust us because we give you a legal step to get good job. You will be a lucky translator as well as we, if you agree.

It is an honor for me to work with you, and I am waiting
​for​ to hear​ing​ from you.

Best wishes,
Taqwa Soliman
Project manager"

The email was marked CC for his own personal email, a @gmail.com - also very suspicious.
They have a nice website.. But even I can create one.
I've also checked their website data and it was registered in the United States but used in palestine by melisacantes@gmx.com. I've searched for this email and it is connected to 9 domains, all about translation.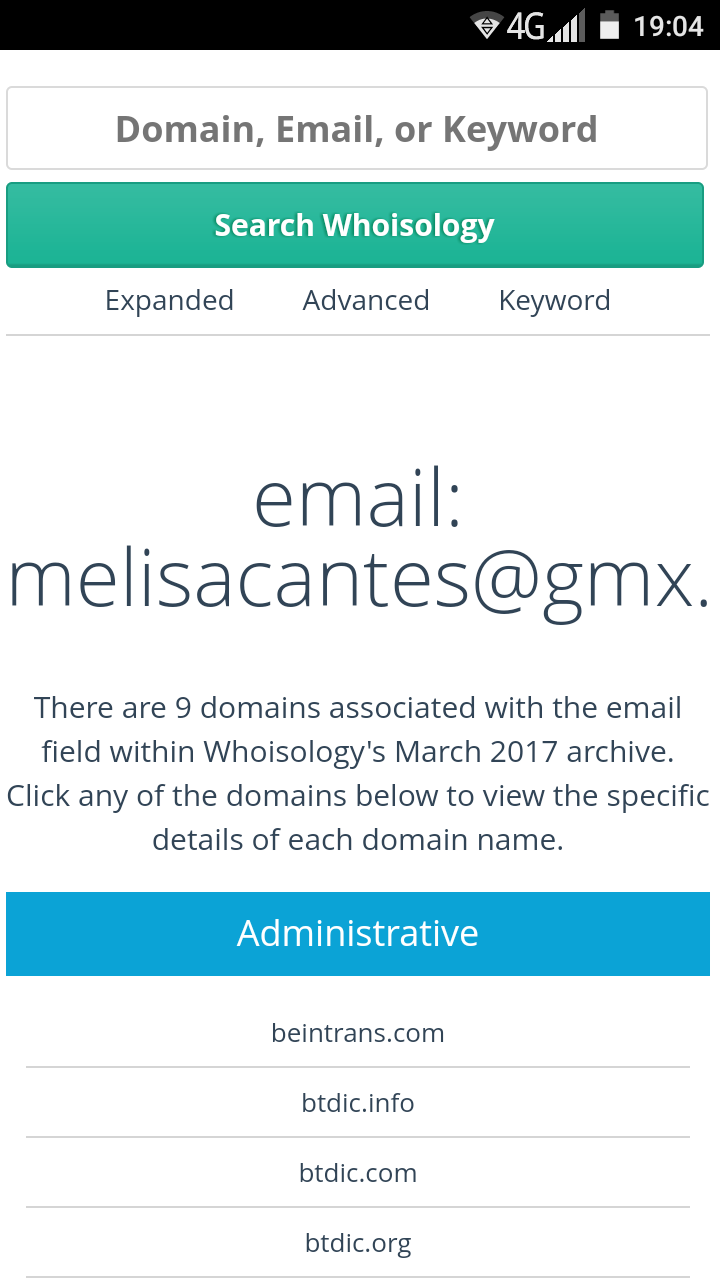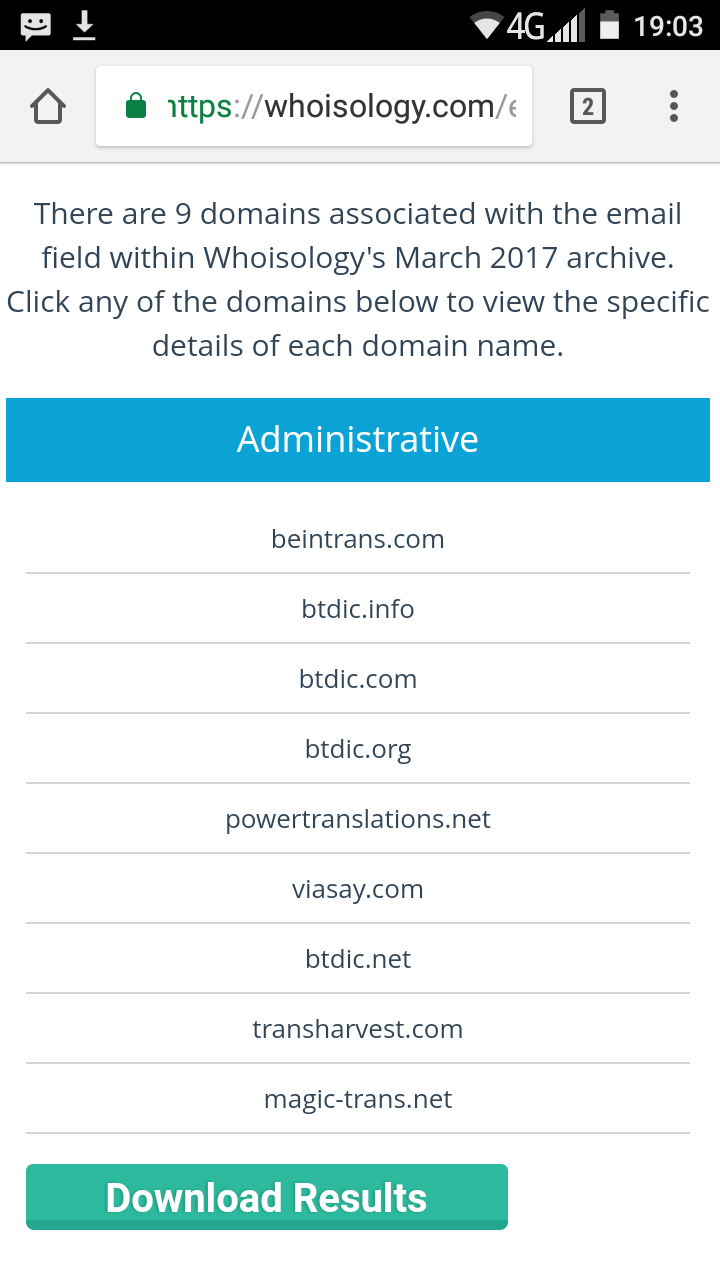 Clearly a scammer.

Has somebody received something like this?
How can I avoid receiving these emails?

Thank you!

[Editado em 2017-05-02 18:07 GMT]
Yolanda Broad

United States
Local time:

06:39




Member (2000)


French to English
+ ...

MODERATOR
Natalie

Poland
Local time:

12:39




Member (2002)


English to Russian
+ ...

MODERATOR
Yolanda Broad

United States
Local time:

06:39




Member (2000)


French to English
+ ...

MODERATOR
| | |
| --- | --- |
| Contact ProZ Support | May 2, 2017 |
Contact ProZ Support at http://www.proz.com/support?mode=ask&sp_sub_mode=ticket_submit and give them the IP address that came with the message you received, so they can track down the user who contacted you and block them, to keep them from contacting anyone else (at least until the scammer sneaks back in again...)
neilmac

Spain
Local time:

12:39


Spanish to English
+ ...

Paulinho Fonseca

Brazil
Local time:

07:39




Member (2011)


English to Portuguese
+ ...

| | |
| --- | --- |
| Definitely a SCAM | May 2, 2017 |
neilmac wrote:

LOL. (facepalm emoji)....

That whole thing is so badly expressed it's woeful. The scams to really worry about are the ones that look professional and convincing...

[Edited at 2017-05-02 20:37 GMT]



.....................................................

...and it sounds like the promise for a brilliant start in Hollywood! Shine bright. LOL
Thayenga

Germany
Local time:

12:39




Member (2009)


English to German
+ ...

| | |
| --- | --- |
| Well, nothing new | May 3, 2017 |
They have been around probably since the translation industry came into being.


If promises were dollars, then we'd all be rich by now.

They don't only steal business brochures (CV's), they also don't pay the translators, yes, not even the meager rate of USD 0.03 per source word.

Unfortunately, these scammer emails cannot be avoided unless your email account provides a spam filter.

As Paulinho said, a career in Hollywood seems to be lying in store. If you're not interested in becoming an actress, just trash their email and all those which are certain to follow.

[Edited at 2017-05-03 07:14 GMT]
To report site rules violations or get help, contact a site moderator:
You can also contact site staff by
submitting a support request »
Scam? WARNING!
Protemos translation business management system
Create your account in minutes, and start working! 3-month trial for agencies, and free for freelancers!

The system lets you keep client/vendor database, with contacts and rates, manage projects and assign jobs to vendors, issue invoices, track payments, store and manage project files, generate business reports on turnover profit per client/manager etc.

More info »
WordFinder Unlimited
For clarity and excellence

WordFinder is the leading dictionary service that gives you the words you want anywhere, anytime. Access 260+ dictionaries from the world's leading dictionary publishers in virtually any device. Find the right word anywhere, anytime - online or offline.

More info »