Another scam award: "Google"?
Thread poster: Matthijs Frankena
Matthijs Frankena

Netherlands
Local time:

16:49




Member (2008)


English to Dutch
+ ...

Going through recent mails (not touching the email much, as it is vacation time) I found another attempt to swindle me out of some hard-earned money: an "Award letter" from "Google". I am to believe that I've won 950.000 quid, a Google Nexus tablet and some Ambassador title. Who wouldn't fall for that, eh?

Sender: Google UK Ltd (penev@casino-technology.com)

Email text:


Dear Google User.

You have been selected as a winner for using Google services,attached to this email is Our Official Notification Letter for your perusal.

Congratulations on behalf of the Staffs & Members of Google UK.
Eileen Naughton.
CEO Google UK.


The attachment is a non-searchable PDF-document (apparently safe to open). I've attached it to this post as a jpeg.

Note the warning in the text that I should keep this information confidential until I've received the prize. …unwarranted abuse of this program by some unscrupulous elements, pah!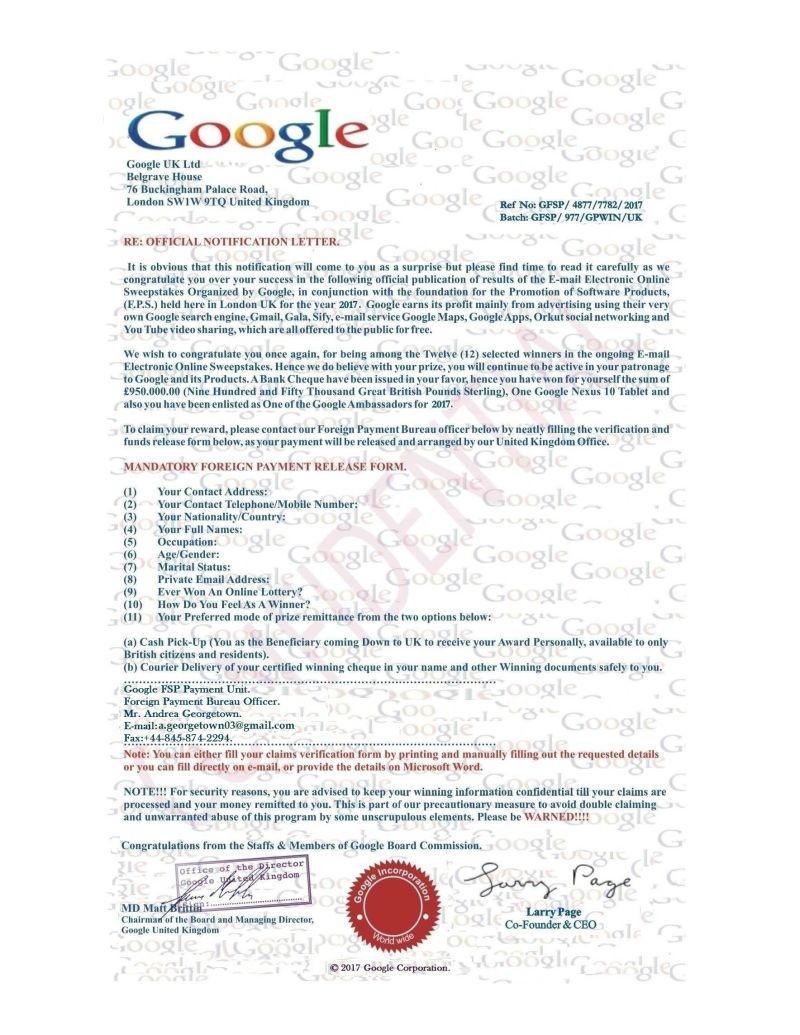 Perhaps I should report this to Google as well, as someone is using the name of their company for nefarious purposes, but that'll probably happen next week.

Who knows where else my email address has landed, and what other irresistible offers I'll receive in the coming weeks.
Ricki Farn
Germany
Local time:

16:49




Member (2005)


English to German

Aleksandra Muraviova

Russian Federation
Local time:

20:49


Japanese to Russian
+ ...

Ricki Farn wrote:
... not the Ambassador title, but "unscrupulous element" would be cool.
Other irresistible offers will pop up from everywhere:
("You don't have an email address, Mrs. Kröger, so I thought I'd drop by in person. My name is Mr. Spam. Do you need a penis enhancement?")



Thank you Ricki! Joke as old as time, but definitely made my day, along with this "award"!
Mervyn Henderson

Spain
Local time:

16:49




Member


Spanish to English
+ ...

To report site rules violations or get help, contact a site moderator:
You can also contact site staff by
submitting a support request »
Another scam award: "Google"?
SDL Trados Studio 2019 Freelance
The leading translation software used by over 250,000 translators.

SDL Trados Studio 2019 has evolved to bring translators a brand new experience. Designed with user experience at its core, Studio 2019 transforms how new users get up and running, helps experienced users make the most of the powerful features, ensures new

More info »
PerfectIt consistency checker
Faster Checking, Greater Accuracy

PerfectIt helps deliver error-free documents. It improves consistency, ensures quality and helps to enforce style guides. It's a powerful tool for pro users, and comes with the assurance of a 30-day money back guarantee.

More info »