SDL MultiTerm SP4 (still) not displaying names of TBs properly
Thread poster: Pavel Tsvetkov
Pavel Tsvetkov

Bulgaria
Local time:

07:50




Member (2008)


English to Bulgarian
+ ...

MODERATOR
Hi All,

I have SDL MultiTerm SP4 - 8.5.339.0 and Windows XP SP3 installed.

It has long been known that v8 of Multiterm has problems with displaying the longer termbase names in the Term Recognition window of the Editor View (that is, when you are translating and need terms and their origin more than ever).

I was hoping that SP4 will take care care of the problem, but my faith must have been ill-placed - the bug is still there and may need an undisclosed number of further Service Packs in order to get fixed: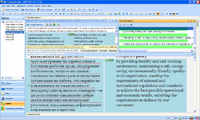 Look at the upper right corner of the screen capture above (click to enlarge) - the names of the termbases are supposed to be at the place of green highlight lines.

Have you experienced this problem as well?

Thanks!
Tapsa
Local time:

07:50


English to Finnish

Pavel Tsvetkov

Bulgaria
Local time:

07:50




Member (2008)


English to Bulgarian
+ ...

MODERATOR

TOPIC STARTER
To report site rules violations or get help, contact a site moderator:
You can also contact site staff by
submitting a support request »
SDL MultiTerm SP4 (still) not displaying names of TBs properly
Protemos translation business management system
Create your account in minutes, and start working! 3-month trial for agencies, and free for freelancers!

The system lets you keep client/vendor database, with contacts and rates, manage projects and assign jobs to vendors, issue invoices, track payments, store and manage project files, generate business reports on turnover profit per client/manager etc.

More info »
WordFinder Unlimited
For clarity and excellence

WordFinder is the leading dictionary service that gives you the words you want anywhere, anytime. Access 260+ dictionaries from the world's leading dictionary publishers in virtually any device. Find the right word anywhere, anytime - online or offline.

More info »