Trados 2014 Error: 'The file at location...does not exist!'
guston
United States
Japanese to English

I've received a Trados project file from an employer. When I try to open the document for which I am responsible, I get this message:

"Failed to open... Refer to the additional error information below for more details.

Warning: Unexpected error when detecting file type for file...: Could not find a part of the path...

Error: The file at location...does not exist."


Is this a common problem?

Any quick fixes or further diagnostics I should employ?



Thank you.
guston
United States
Japanese to English


TOPIC STARTER
Ditte Duclert

Spain
Local time:

12:30




Member (2011)


English to Danish
+ ...

| | |
| --- | --- |
| Set the language | Nov 1, 2016 |
I had the same problem but my client helped me. You have to set the language before you open the project.

See the image. I have highlighted the language drop down menu. Once I had done that, the problem was resolved.

(I realise that the post is old, but I still found myself with the same issue)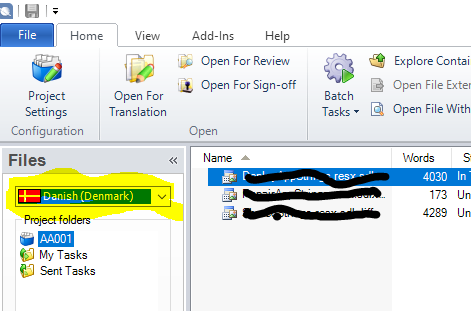 [Edited at 2016-11-01 09:09 GMT]

[Edited at 2016-11-01 09:10 GMT]

[Edited at 2016-11-01 09:10 GMT]
To report site rules violations or get help, contact a site moderator:
You can also contact site staff by
submitting a support request »
Trados 2014 Error: 'The file at location...does not exist!'
WordFinder Unlimited
For clarity and excellence

WordFinder is the leading dictionary service that gives you the words you want anywhere, anytime. Access 260+ dictionaries from the world's leading dictionary publishers in virtually any device. Find the right word anywhere, anytime - online or offline.

More info »
SDL Trados Studio 2019 Freelance
The leading translation software used by over 250,000 translators.

SDL Trados Studio 2019 has evolved to bring translators a brand new experience. Designed with user experience at its core, Studio 2019 transforms how new users get up and running and helps experienced users make the most of the powerful features.

More info »