a problem in the multiterm
Thread poster: Nehad Nasr
Nehad Nasr
Egypt
Local time:

20:29


English to Arabic

Hi All,

I have studio 2015 and I have an error saying (errors occurred whilst displaying the terms from (the path of the multiterm). Please try to reorganizing the termbase from termbase management view. If this fails to resolve the problem please contact SDL support.)
Do any one know how to solve this.

Please note that my OS is windows 8.
James Heppe-Smith

Germany
Local time:

20:29




Member (2010)


German to English

MODERATOR
| | |
| --- | --- |
| Happens occasionally in 2014 too | Aug 9, 2016 |
I have experienced this problem a couple of times in 2014.

It seems to be solved by shutting down Trados studio and opening the multiterm desktop. If you then open the term base concerned, you can reorganise it from the second tab under the term list on the left hand side of the screen.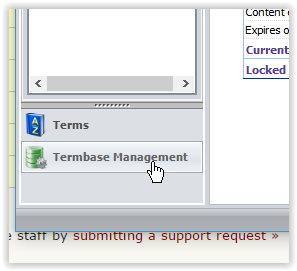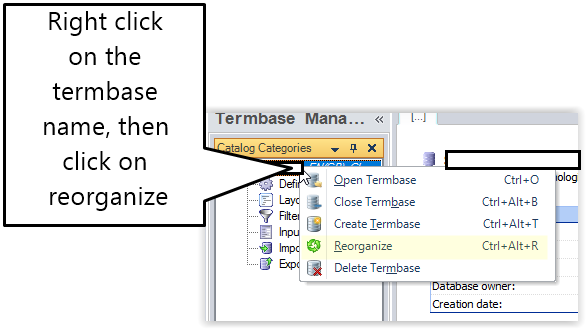 If you then reopen the project in Trados, it should work again - your mileage may vary!

Good luck.

[Edited at 2016-08-09 09:50 GMT]
SDL_Guillaume
Local time:

19:29



| | |
| --- | --- |
| RE: errors occurred whilst displaying the terms from | Aug 9, 2016 |
Dear Mr Nasr,

This is Guillaume from SDL.

Could you give me in a private message the 6 digits order number of your license? So far I have been unable to find it in our database.

We have an article in our Knowledge Base about this error message, with resolutions: http://kb.sdl.com/#tab:homeTab:crumb:7:artId:4994

Kind regards,

Guillaume

[Edited at 2016-08-09 11:19 GMT]
Nehad Nasr
Egypt
Local time:

20:29


English to Arabic


TOPIC STARTER
| | |
| --- | --- |
| Thank you Mr Smith and Guillaume | Aug 9, 2016 |
Hi Mr Smith,

Thank you for your care and reply. I have tried your method and it seems good till now.

Thank you so much.

@Mr Guillaume,

I do not know how to send a private mail to you.

I can tell you the name of the software buyer, is it enough.

Do you have another way than the one Mr Smith kindly explained.

I remember that you (Mr Guillaume) kindly helped me before with an issue with multiterm, so hope you could help me this time.

Ms Nehad
SDL_Guillaume
Local time:

19:29



Nehad Nasr wrote:

Hi Mr Smith,

Thank you for your care and reply. I have tried your method and it seems good till now.

Thank you so much.

@Mr Guillaume,

I do not know how to send a private mail to you.

I can tell you the name of the software buyer, is it enough.

Do you have another way than the one Mr Smith kindly explained.

I remember that you (Mr Guillaume) kindly helped me before with an issue with multiterm, so hope you could help me this time.

Ms Nehad



Hi Nehad,

To message me you can click on my name, then Contact, then Contact via email or Contact via Proz instant message.

Please note that if you are not registered as administrator in the account where the license is, I will be unable to give you any information regarding the license or any of the account's content.

I would recommend that you follow the resolutions in the KB article. If you need further assistance, please contact our SDL Community: http://xl8.one

Kind regards,

Guillaume
To report site rules violations or get help, contact a site moderator:
You can also contact site staff by
submitting a support request »
a problem in the multiterm
Wordfast Pro
Translation Memory Software for Any Platform

Exclusive discount for ProZ.com users! Save over 13% when purchasing Wordfast Pro through ProZ.com. Wordfast is the world's #1 provider of platform-independent Translation Memory software. Consistently ranked the most user-friendly and highest value

More info »
SDL Trados Studio 2019 Freelance
The leading translation software used by over 250,000 translators.

SDL Trados Studio 2019 has evolved to bring translators a brand new experience. Designed with user experience at its core, Studio 2019 transforms how new users get up and running, helps experienced users make the most of the powerful features, ensures new

More info »