How do I select/delete multiple entries in Multiterm
Thread poster: Stepan Konev
Stepan Konev

Russian Federation
Local time:

12:08


English to Russian

Hi folks,

Somehow happened that I have numerous duplicates in my termbase. Now I want to remove all superfluous entries.
Using 'Advanced search' -> 'Search for duplicate terms' I could filter all duplicates. But I cannot figure out how can I select a number of entries and then delete them with one click. Pressing and holding Shift or Ctrl does not work. So far I just delete one by one:
select a duplicate term -> Delete -> Yes;
select a duplicate term -> Delete -> Yes;
select a duplicate term -> Delete -> Yes;
select a duplicate term -> Delete -> Yes;
and so on…
I know how to do it in Excel, but I believe Multiterm is a powerful tool not only for viewing.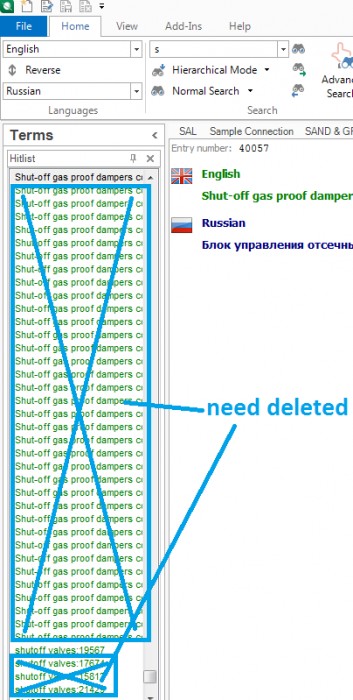 Does anybody, by any chance, know how to do it?
I would appreciate your help.
Walter Blaser

Switzerland
Local time:

10:08


French to German
+ ...

| | |
| --- | --- |
| MultiTerm has no batch delete capability | Oct 8, 2016 |
Stepan

Unfortunately, the current MultiTerm version does not offer any capability to delete several entries. You need to delete them one by one.
If the number of duplicates is very high, the usual workaround will be to export the termbase, create a new one and run an import with "Synchronize on term".

Walter

[Bearbeitet am 2016-10-08 16:21 GMT]
Stepan Konev

Russian Federation
Local time:

12:08


English to Russian


TOPIC STARTER
Not clear though, why users need this "Advanced search for duplicates" at all if duplicates cannot be deleted then. Just for watching...
However your workaround sounds better than deleting one by one. I'll give it a try. Thank you Walter.
---------
Another minor question here (to avoid creating a new thread again):
When in doubt or hoping to find a better context downstream the text, I skip some segments. Can I somehow instruct trados to revert to such unconfirmed segments after it has reached the end of document ("wrap around")? It seems (not sure though) I could check a box in earlier versions, but I cannot find it now in 2015...
To report site rules violations or get help, contact a site moderator:
You can also contact site staff by
submitting a support request »
How do I select/delete multiple entries in Multiterm
WordFinder Unlimited
For clarity and excellence

WordFinder is the leading dictionary service that gives you the words you want anywhere, anytime. Access 260+ dictionaries from the world's leading dictionary publishers in virtually any device. Find the right word anywhere, anytime - online or offline.

More info »
CafeTran Espresso
You've never met a CAT tool this clever!

Translate faster & easier, using a sophisticated CAT tool built by a translator / developer. Accept jobs from clients who use SDL Trados, MemoQ, Wordfast & major CAT tools. Download and start using CafeTran Espresso -- for free

More info »