tmx import from Trados Studio 2015 to MemoQ erraneous - TIME SENSITIVE, URGENT HELP KINDLY REQUESTED
Thread poster: EL Cavanaugh
EL Cavanaugh


Member (2008)


English to Finnish

Hi,
I have tried to write to you a couple of times regarding this issue and also asked via Skype from Levente Galbats who kindly helped me a few hours in a couple of nights with my questions and difficulties in getting MemoQ set up and run after I purchased the license last weekend - and I am sure eventually some of the staff members would help me - since I am at the time crunch and worried about the deadline getting closer, I would appreciate greatly if I could have your access my computer via AnyDesk or Teamviewer and help me to see something I am not seeing.
So the issue is the following - I exported the MemoQ files as mqsdlxiff files on my laptop as I had a fully functional MemoQ there already and started the translation project in Trados Studio and then the client stressed that I got the project for the exact reason that I am using MemoQ. SO I transitioned to MemoQ and as always, did tmx export in Studio as well as saved the files back to mqsdlxiff format.
I then created a new memory as I do not have permission to do import or export with the client´s one and try to import tmx to it. It did not work.
I then asked whether the client was able to help me and she/he did - I checked the status bars page and it looked pretty much the same as in Trados Studio so I thought it worked.
Now, opening files have showed me a different reality - translations did not import, instead part of the segments are confirmed while they are empty or while in the pretranslation MemoQ has inserted fragments from the client´s memory and also those segments are confirmed. So now I would like to get advice of how to get the already translated segments to MemoQ without having to retranslate or copy paste the segments one by one.
I am not sure how the client did the import, whether she/he marked the check box "Process TRADOS TMX for best results in MemoQ" and I learned from Levente that this is what you need to do, otherwise MemoQ does not know to import the tags in the format that it can read them - so now the few segments that DID import successfully, do not have the tags at all so that also slows down the translation.
The translated segments from Trados look like this in MemoQ: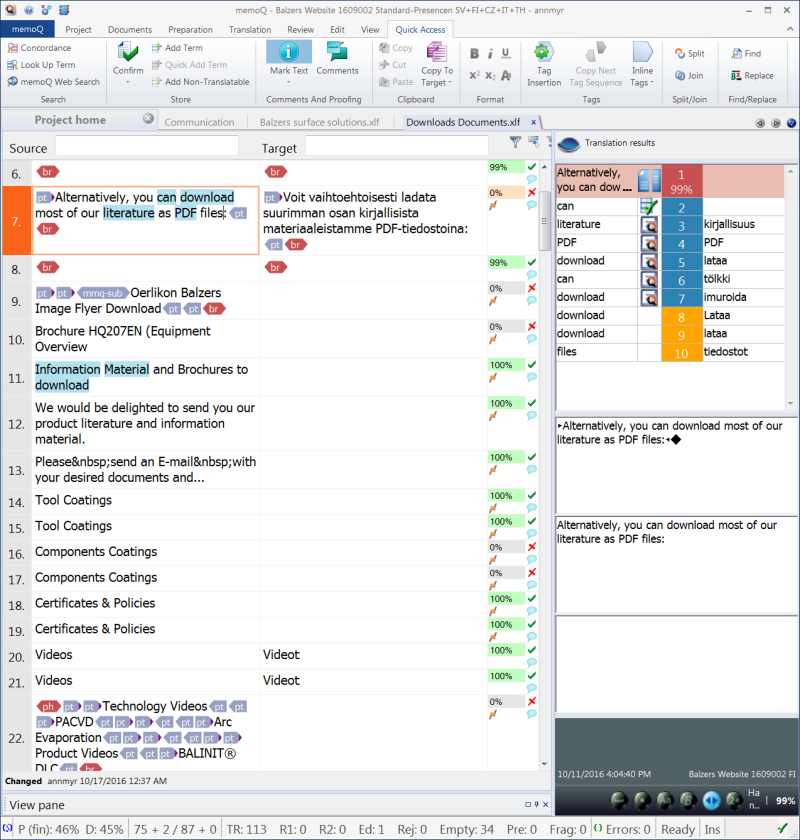 I would greatly appreciate prompt response,


I would greatly appreciate prompt response,

Looking forward,

Eija Cavanaugh
John Fossey

Canada
Local time:

17:05




Member (2008)


French to English

| | |
| --- | --- |
| Transferring from Studio to MemoQ | Oct 16, 2016 |
To transfer a job from Studio to MemoQ, it's best to use the SDLXLIFF file, not the TMX.

Since MemoQ doesn't always segment a SDLXLIFF file exactly the same way as Studio, it's a good idea copy source to target in any blank targets in studio. This will ensure that the entire SDLXLIFF file is properly segmented. You can delete the targets that should be blank in MemoQ after import, if necessary.

Then use File > Advanced Save > Save Copy As to save the SDLXLIFF file. You can open this file in MemoQ and it will have the correct tagging and segmenting. If you want, you can then create a TM from this which will reflect the Studio file.
EL Cavanaugh


Member (2008)


English to Finnish


TOPIC STARTER
| | |
| --- | --- |
| How do I import sdlxiff file to MemoQ | Oct 16, 2016 |
Thank you so much for coming back to me.
I managed to clean the TM in Studio Translation memories view. So I have a beautiful clean tmx and the sdlxiff files which were created from MemoQ export and changing the extention to xlf as I am using Trados Studio 2014 on my PC.

As far as I know there is no option to import sdlxiff files to MemoQ - has to be mqxliff or tmx.

Kindly advise

My support request is more about the MemoQ functionality as I used it moch less than Studio and just bought my license while I am SDL accredited translator and using Trados since 2008
John Fossey

Canada
Local time:

17:05




Member (2008)


French to English

EL Cavanaugh


Member (2008)


English to Finnish


TOPIC STARTER
| | |
| --- | --- |
| When trying that, error "some settings are Invalid" | Oct 17, 2016 |
Documents - import - chose the files - get these - kindly advise

(I DO HAVE CLEAN TMX and import seems to work but when I do PRETRANSLATE just with exact matches, I get empty segments which are confirmed translated.

And I just cleaned the tm in Studio, page by page. No help.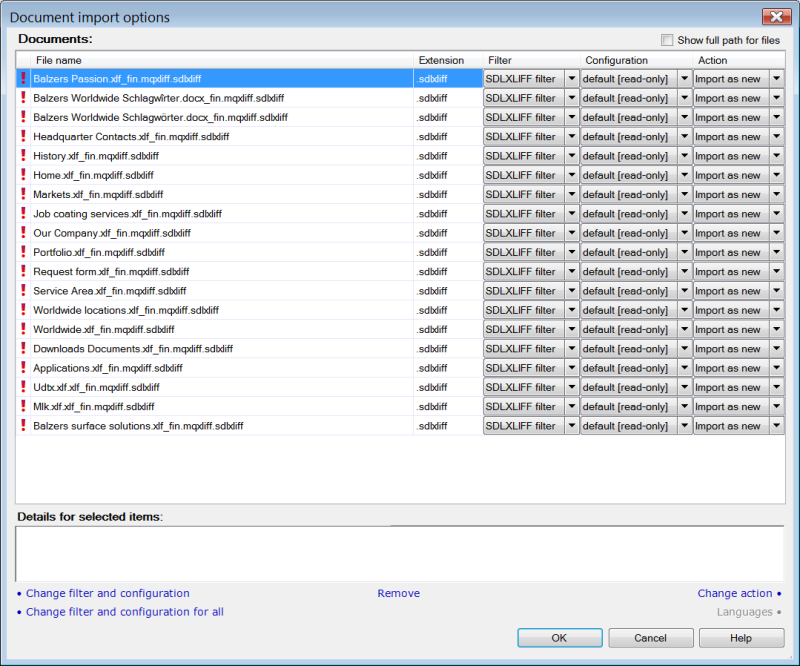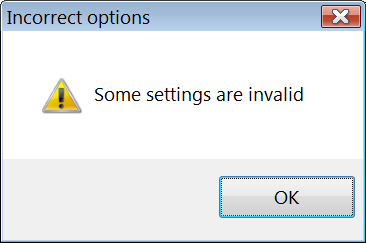 To report site rules violations or get help, contact a site moderator:
You can also contact site staff by
submitting a support request »
tmx import from Trados Studio 2015 to MemoQ erraneous - TIME SENSITIVE, URGENT HELP KINDLY REQUESTED
memoQ translator pro
Kilgray's memoQ is the world's fastest developing integrated localization & translation environment rendering you more productive and efficient.

With our advanced file filters, unlimited language and advanced file support, memoQ translator pro has been designed for translators and reviewers who work on their own, with other translators or in team-based translation projects.

More info »
SDL Trados Studio 2019 Freelance
The leading translation software used by over 250,000 translators.

SDL Trados Studio 2019 has evolved to bring translators a brand new experience. Designed with user experience at its core, Studio 2019 transforms how new users get up and running, helps experienced users make the most of the powerful features, ensures new

More info »