Trados 2015: what happens with non-recognised language codes in SDLXLIFF files
Thread poster: Samuel Murray
Samuel Murray

Netherlands
Local time:

15:40



Member (2006)


English to Afrikaans
+ ...

Hello everyone

I got an SDLXLIFF file from a colleague that he did not translate in Trados itself. When I tried to open the file, Trados gave me the dialog to select the language codes, but the target language field refused to respond to any of my clicking. I checked the SDLXLIFF file itself and found that the target language was set to "nl", which I assume is not a language code recognised by Trados 2015. When I changed it to "nl-NL", Trados was happy again.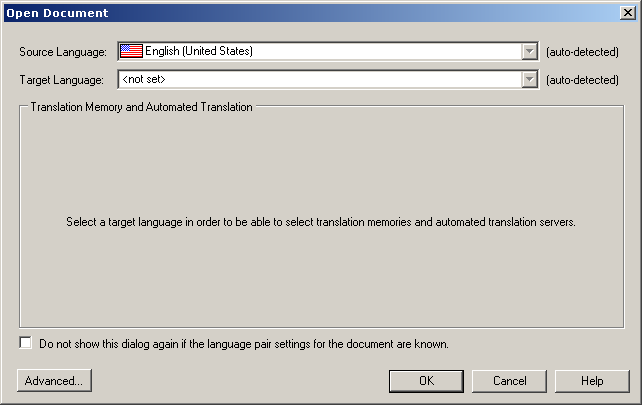 I do find it strange that Trados would not allow me to set the target language myself, if it didn't recognise it itself. Perhaps an oversight by the developers? I'd appreciate it if some of you with Trados 2015 could test this and see if you also get this behaviour if you use a non-recognised target language code (e.g. one without a country suffix) in the SDXLIFF file itself. The place to check the target language code is in "target-language=" in the very first line of the SDLXLIFF file.

Thanks
Samuel
Walter Blaser

Switzerland
Local time:

15:40


French to German
+ ...

Samuel Murray

Netherlands
Local time:

15:40



Member (2006)


English to Afrikaans
+ ...


TOPIC STARTER
Walter Blaser wrote:
I suggest you open the SDLXLIFF file in a text editor and replace the wrong language code ... Studio will then properly recognize the file.



Yes, sure, but can you confirm that Trados 2015 does not throw a helpful error message when you try to open a file with a non-recognised language code but simply freezes the dropdown list?



Walter Blaser wrote:
...replace the wrong language code by one that complies with the ISO code as required by Studio.



Actually, "NL" is the ISO 639-1 language code for Dutch.

According to the XLIFF 1.2 standard (which is used by SDLXLIF files), XLIFF 1.2 uses the RFC 4646 language code format, and RFC 4646 states (on page 12) that region subtags are optional. So really, Trados should accept "NL". Unfortunately http://sdl.com/FileTypes/SdlXliff/1.0 is a 404.

[Edited at 2016-11-19 11:10 GMT]
To report site rules violations or get help, contact a site moderator:
You can also contact site staff by
submitting a support request »
Trados 2015: what happens with non-recognised language codes in SDLXLIFF files
Déjà Vu X3
Try it, Love it

Find out why Déjà Vu is today the most flexible, customizable and user-friendly tool on the market. See the brand new features in action: *Completely redesigned user interface *Live Preview *Inline spell checking *Inline

More info »
Protemos translation business management system
Create your account in minutes, and start working! 3-month trial for agencies, and free for freelancers!

The system lets you keep client/vendor database, with contacts and rates, manage projects and assign jobs to vendors, issue invoices, track payments, store and manage project files, generate business reports on turnover profit per client/manager etc.

More info »