Trados 2017 Bugs, Misses and Fixes
Thread poster: Peter Mueller
Peter Mueller

Germany
Local time:

11:18




Member (2008)


English to German

I upgraded to the new Trados 2017 and I am opening this post as...
- a resource for people thinking about upgrading/buying Trados 2017
- to name pitfalls and bugs and hopefully state fixes
- as a way to communicate with SDL to help them improve their product (and make me buy the next upgrade)

Please feel free to add your own findings, bugs, quirks and fixes.

Watch out: Performing the upgrade
Installation is an easy, albeit longish process. You do not have to de-activate your previous Trados Version, by the way. Keep it running, you never know when you will be grateful for it.

I ran it, then I found all my settings, custom dictionary etc. gone. I spent a lot of time resetting it manually. Just now I discovered that SDL provides a "Studio Migration Utility" that will copy those settings.

To SDL: Why does SDL send me an email about how to perform the upgrade, but does not mention or link to this tool? This is very poor customer service – and the migration tool should be a built-in feature for the Trados Installer and do the job for me, as is standard with software.


Adaptive TM: Discovering the Holy Grail
I bought the upgrade for Trados 2017 because I thought that Adaptive TM is a cool feature that will help me to work faster (which it does, by the way, so it's worth your money). To my surprise, though, I couldn't find the feature anywhere, not even in the Help files of Trados. After one hour of hardcore research I found a hint and figured it out myself. To safe you that hour, here's how it works:

1. Open Project Settings.
2. Go to All Language Pairs --> Translation Memories
3. Click on the drop-down menu Use (second to left in the top are of the window) where you add TMs to the project
4. Choose Machine Translation & AdaptiveMT
5. Here you can set up and/or add your (existing) AdaptiveMT engine.

After this you are done, you'll now get AdaptiveMT suggestions in AutoSuggest and (I haven't seen that yet in my project) the fuzzy corrections.

To SDL: Easy and intuitive is something else. Why does SDL not make such a great feature more readily available? Come on, you could have at least put something in the First Steps section of the Welcome Screen.


Bug: Quality Check checks all open documents
As of Trados 2017, when you press the Quality Check button to check your document, ALL open documents will be checked. This is a bummer when working with several projects at the same time (like I do frequently), some of which are not even done when I need to check a certain document.

To SDL:You may think of this as feature, not a bug. But please give me an option to turn it off so Trados will fit my work requirements and not force me into working around it. And fix it soon, please.


Bug: Resetting a filter can no longer be placed in the Quick Access bar on top of the window
... which means I need to to the tedious multi-click action of going to the Check tab, then to Display Filter, and THEN only I can do the reset. Three clicks instead of one, productivity gone.
Harry Blake Paz Bonzano

Italy
Local time:

11:18




Member (2014)


Spanish to Italian
+ ...

| | |
| --- | --- |
| A few things | Nov 30, 2016 |
To be fair I received an e-mail with Studio Migration on Octobre 25th and I kept that in mind since then.

To be fair you can find the news in the Welcome section, and find everything related to the new features as well as how to configure the software. I was prepared because I attended a seminar.
You can also join their webinars or ask them in their customer service.

As for the other bugs, I let others answer but I'm pretty sure you can modify the toolbar and move what you want whenever you want. You can see the screenshot below for where you can find the option (and what are the news).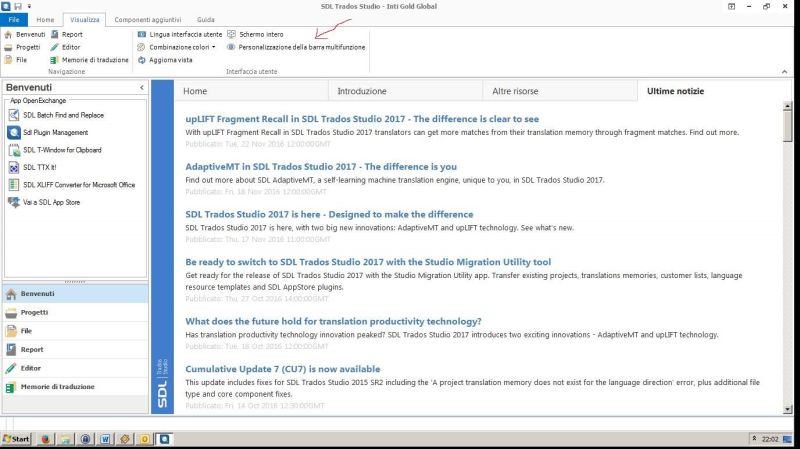 Peter Mueller

Germany
Local time:

11:18




Member (2008)


English to German


TOPIC STARTER
| | |
| --- | --- |
| Adjusting the Quick Access does not work | Dec 1, 2016 |
Harry Blake Paz Bonzano wrote:

... you can modify the toolbar and move what you want whenever you want. ...





... well, so I thought. Try adding the Clear Filter command – when I do so, it gets saved, but it will not be on the menu. No error message. When I open the window to add items again, it is not listed. Clearly a bug.

PS: And, yes, there is a link in the Welcome section. It leads to a blog article which explains the feature in a general way, but not how to set it up/use it in the application. I did figure it out finally with that article, from analyzing the second-last screenshot on the page.
But, again, my point is: Why does it have to be so hard?

[Bearbeitet am 2016-12-01 18:11 GMT]
To report site rules violations or get help, contact a site moderator:
You can also contact site staff by
submitting a support request »
Trados 2017 Bugs, Misses and Fixes
WordFinder Unlimited
For clarity and excellence

WordFinder is the leading dictionary service that gives you the words you want anywhere, anytime. Access 260+ dictionaries from the world's leading dictionary publishers in virtually any device. Find the right word anywhere, anytime - online or offline.

More info »
Anycount & Translation Office 3000
Translation Office 3000

Translation Office 3000 is an advanced accounting tool for freelance translators and small agencies. TO3000 easily and seamlessly integrates with the business life of professional freelance translators.

More info »