Translating Word Press XLIFF files using Studio 2017
llafro
United States

I am trying to translate XLIFF files generated from Word Press in Studio 2017. After some online research, it seems there is a need to create a custom XML file type. I have tried doing that and have tinkered extensively with the settings to try to make it both segment the file correctly and turn the textual tags in the file into Studio tags that make it easy to see the text needing translation.

The largest problem is that it doesn't segment the file in any logical way. There are three segments - The body text is all in one overwhelming segment.

I'm sure someone has to have seen this before and knows how to get this to work more normally.

Any help?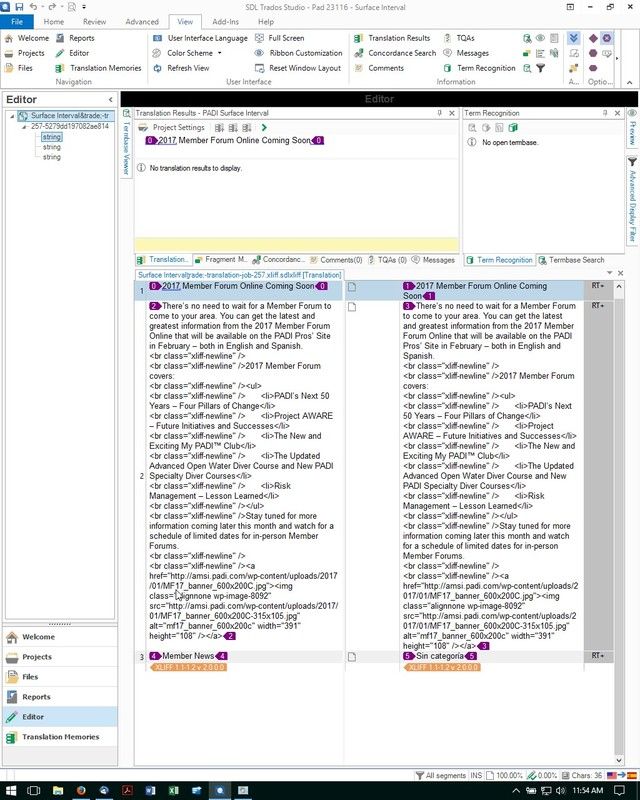 To report site rules violations or get help, contact a site moderator:
You can also contact site staff by
submitting a support request »
Translating Word Press XLIFF files using Studio 2017
Wordfast Pro
Translation Memory Software for Any Platform

Exclusive discount for ProZ.com users! Save over 13% when purchasing Wordfast Pro through ProZ.com. Wordfast is the world's #1 provider of platform-independent Translation Memory software. Consistently ranked the most user-friendly and highest value

More info »
SDL Trados Studio 2019 Freelance
The leading translation software used by over 250,000 translators.

SDL Trados Studio 2019 has evolved to bring translators a brand new experience. Designed with user experience at its core, Studio 2019 transforms how new users get up and running and helps experienced users make the most of the powerful features.

More info »