How can I open a unclean Word file in Studio 2017?
Thread poster: WLS Translation
WLS Translation
United Kingdom

Can anyone help? How can I open a unclean Word file in Studio 2017? I was able to do this in 2011 and 2015 but if I try in 2017 it only populates the source column, meaning that I can't use it to update my TM.

Hoping someone can help as I have several translators who cannot provide xliff files so this is becoming a problem!
MikeTrans
Germany
Local time:

03:29


Italian to German
+ ...

| | |
| --- | --- |
| If your Word file only has table(s) in it... | Mar 3, 2017 |
Hello,
if your translators don't work with Trados and cannot handle XLIFF/SDLXLIFF files, the easiest workflow is to send them the tables in Excel Format, so you will be able to easily re-import the translation using Bilingual Excel file type in your Trados Studio and you can then immediately update your TM.
By copy-pasting your Word document with table in MS Excel (and sending this to your translators) you won't lose any formatting AFAIK.

Another possibility is to send to your translators a Word file by using the batch task 'Export for Bilingual review'. This workflow is specially intended for translators who don't own Trados. This solution is less flexible because you need to tell your translators *not* to change anything except the 'translation' column and not removing any rows in the document (otherwise no re-import possible).

Mike





[Edited at 2017-03-03 21:44 GMT]
Nora Diaz

Mexico
Local time:

19:29




Member (2002)


English to Spanish
+ ...

| | |
| --- | --- |
| File type order | Mar 3, 2017 |
Reading your post made me realize that it's been a while since I've had to work with unclean files, but I found an old file to check if everything still works well in Studio 2017, and found that it does. You just need to make sure the right file type is being used when processing the file. Have you tried temporarily disabling the Word filters and leaving only the Bilingual Workbench file type active to check if the file will open correctly? If that fixes the issue, I would suggest placing the Bilingual Workbench file type above the Word file types, and that should take care of the issue.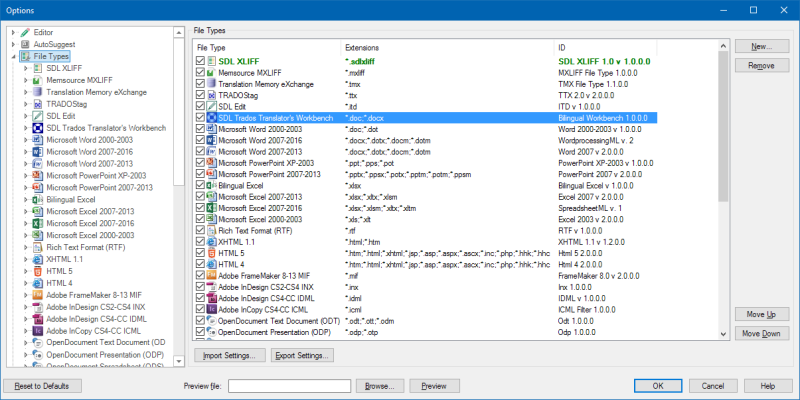 WLS Translation
United Kingdom


TOPIC STARTER
To report site rules violations or get help, contact a site moderator:
You can also contact site staff by
submitting a support request »
How can I open a unclean Word file in Studio 2017?
PerfectIt consistency checker
Faster Checking, Greater Accuracy

PerfectIt helps deliver error-free documents. It improves consistency, ensures quality and helps to enforce style guides. It's a powerful tool for pro users, and comes with the assurance of a 30-day money back guarantee.

More info »
Wordfast Pro
Translation Memory Software for Any Platform

Exclusive discount for ProZ.com users! Save over 13% when purchasing Wordfast Pro through ProZ.com. Wordfast is the world's #1 provider of platform-independent Translation Memory software. Consistently ranked the most user-friendly and highest value

More info »