Automatic term-scroll/insert function in Studio 2017
Thread poster: Sp and Fr to En
Sp and Fr to En

United Kingdom
Local time:

15:07



Member (2005)


French to English
+ ...

Hello,
I've just upgraded from Studio 2011 to Studio 2017, and I've noticed a handy aspect of the term recognition seems to have disappeared.
Before I could press a KB shortcut which would allow me to scroll through the terms in the segment, and then hit return to insert one of them. Now, if I don't know the first letter of the target term, I have to click on the term recognition window, scroll to the term in question, return to the segment, and type the first letter of the term. Have they really got rid of the automatic term-scroll/insert function? Why would they do that?
Regards,
Carlos.
Nora Diaz

Mexico
Local time:

08:07



Member (2002)


English to Spanish
+ ...

Sp and Fr to En

United Kingdom
Local time:

15:07



Member (2005)


French to English
+ ...


TOPIC STARTER
Stepan Konev

Russian Federation
Local time:

17:07


English to Russian

Hi folks,

Any idea why do I see different Multiterm screens with empty buttons within the same project? Does anyone experience the same?

And the Insert Symbol option (along with half pane) still disappears even though this behavior is well known from previous version.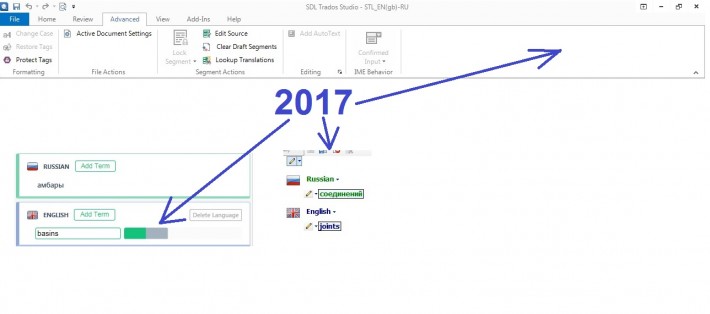 [Edited at 2017-03-31 02:57 GMT]
To report site rules violations or get help, contact a site moderator:
You can also contact site staff by
submitting a support request »
Automatic term-scroll/insert function in Studio 2017
WordFinder Unlimited
For clarity and excellence

WordFinder is the leading dictionary service that gives you the words you want anywhere, anytime. Access 260+ dictionaries from the world's leading dictionary publishers in virtually any device. Find the right word anywhere, anytime - online or offline.

More info »
memoQ translator pro
Kilgray's memoQ is the world's fastest developing integrated localization & translation environment rendering you more productive and efficient.

With our advanced file filters, unlimited language and advanced file support, memoQ translator pro has been designed for translators and reviewers who work on their own, with other translators or in team-based translation projects.

More info »