Could you add "border line" for segments?

Regi2006
Indonesia
Local time:

01:28




Member (2007)


English to Indonesian
+ ...

Dear SDL support,

I work with Trados Studio 2017.

Is that possible for you to give an option for me to have a border line between one segment and the next one? Please see the red line in the image below.




The reason is that when translating I prefer to have white background color for all segments so that I can easily detect any typos with that red underline. Besides, white background is easy in the eyes too if you work all day. So, I set the "segment shading ratio" to the lowest.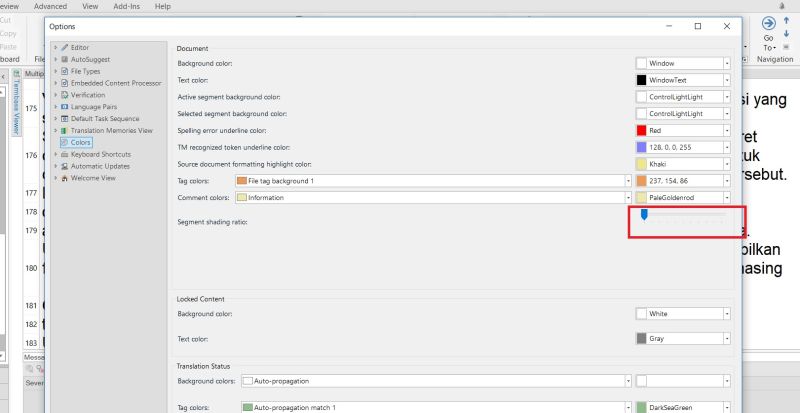 However, I think it will be much more convenient for me if I am able to easily differentiate between one segment and the subsequent one if you have some "border line" feature. Well, maybe it's like this example from SDLX.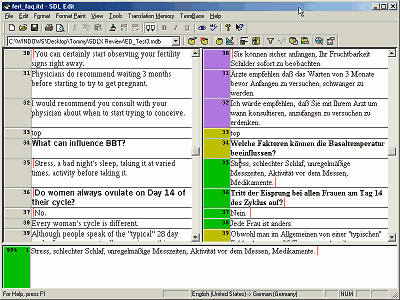 Is there a way for me to do that? Or could you introduce it in your next update?

Many thanks

[Edited at 2018-03-23 10:33 GMT]
| | |
| --- | --- |
| Totally agree | Mar 23, 2018 |
I have been trying to find the same feature. Non-white backgrounds make the text more difficult to read, particularly when you reach a certain age, so I have set the background shading to close to imperceptible. But then it becomes difficult to distinguish one segment from another.

A thin line between the segments would be much better. As in MemoQ and Memsource.

Also, it would be nice to be able to move the status column from the middle to the right (or perhaps the left). It should not be the centre of attention between the source and target columns.

Mirko Mainardi


Italy
Local time:

20:28




Member


English to Italian

To report site rules violations or get help, contact a site moderator:
You can also contact site staff by
submitting a support request »
Could you add "border line" for segments?
Wordfast Pro
Translation Memory Software for Any Platform

Exclusive discount for ProZ.com users! Save over 13% when purchasing Wordfast Pro through ProZ.com. Wordfast is the world's #1 provider of platform-independent Translation Memory software. Consistently ranked the most user-friendly and highest value

More info »
Protemos translation business management system
Create your account in minutes, and start working! 3-month trial for agencies, and free for freelancers!

The system lets you keep client/vendor database, with contacts and rates, manage projects and assign jobs to vendors, issue invoices, track payments, store and manage project files, generate business reports on turnover profit per client/manager etc.

More info »