Slow and unreliable new term addition/editing from inside the Editor of Trados Studio v2017
Thread poster: Pavel Tsvetkov
Pavel Tsvetkov

Bulgaria
Local time:

10:52




Member (2008)


English to Bulgarian
+ ...

MODERATOR
Hi All,

1. Adding new terms from inside Studio takes between 20 and 40 seconds per term on a fast desktop. I am trapped looking helplessly at the screen, while Studio "draws" and "re-draws" the term list and then opens the new entry window.

2. Also, when trying to add and then immediately edit a new term in the new entry window (for example, delete a couple of letters from the end of a word or change the case of the initial letter) the following notorious and misleading message pops up and even more time is lost: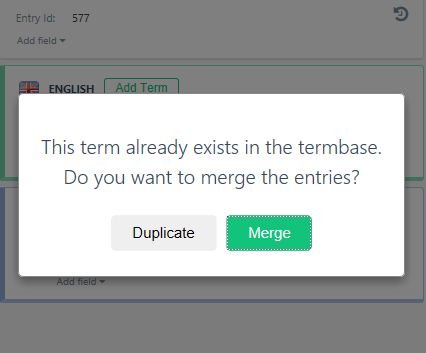 Now, if you click on "Merge" (which, by the way, is highlighted by default, that is, is being offered to you as the natural choice) that results in an error and you have to restart Studio. I can only imagine how frustrating that can be to a new user of Trados...

3. Also, when two termbases are attached, terms that are present in one of them (and I know that they are there) are not recognized and not offered. Why?!

4. The feeling is that the linguist needs to outsmart Trados's shortcomings and bugs before being able to add a new term from inside Studio, losing a loooooong time in the process.

5. These bugs and shortcomings have been around forever, but SDL developers seem toо busy to try and fix them. This makes Studio the slowest CAT tool out there, when it comes to adding new terms: both Déjà vu X and MemoQ take less than a second to add a new term and never show any misleading messages in the process.

6. I recently worked on a big project for which I had to add around 500 new terms. This means that I must have lost between 2.77 and 5.55 hours on just adding new terms! This is unbelievably slow and could have jeopardized the timely delivery of the project!

I just cannot believe that Trados, supposedly the "Mercedes of CAT tools", can be so slow and unreliable with its term management from inside Studio.

Best regards,
Pavel Tsvetkov

[Edited at 2018-04-14 08:40 GMT]
Michael Beijer

United Kingdom
Local time:

08:52




Member (2009)


Dutch to English
+ ...

That's why I have moved to Memsource (Desktop Editor) recently, as I got sick of all the waiting …… waiting …… waiting. It was driving me crazy and just way too stressful.

memoQ might be fast at adding terms, but is very slow in other areas. IMO, both memoQ and SDL Studio have grown too slow to use in production. They have lots of cool features, but are way too slow, not to mention very, very buggy, especially Studio.

Michael
Heinrich Pesch

Finland
Local time:

10:52




Member (2003)


Finnish to German
+ ...

Nora Diaz

Mexico
Local time:

01:52




Member (2002)


English to Spanish
+ ...

| | |
| --- | --- |
| Worth troubleshooting | Apr 16 |
The behavior you describe is not standard in Studio, so it may be worth troubleshooting. I routinely work with termbases, often several attached to a project at once and my experience is in line with what Heinrich has described: instant responsiveness without lag when adding new terms, on both computers where I have Studio installed.
NeoAtlas
Spain
Local time:

09:52


English to Spanish
+ ...

My Multiterm is not slow but at the beginning it kept showing that annoying dialog box asking whether to duplicate or merge.
I did nothing, but keep updating the software, and the error was gone after some weeks.
I still don't know why...
Have you tried to re-install Multiterm (I didn't do it), reorg the MultiTerm database (I do it from time to time)?
If you don't get a solution soon, ask for help in the SDL community (https://community.sdl.com/product-groups/translationproductivity/). It's free and many problems are fixed everyday!

… Jesús Prieto …
Heinrich Pesch

Finland
Local time:

10:52




Member (2003)


Finnish to German
+ ...

Pavel Tsvetkov

Bulgaria
Local time:

10:52




Member (2008)


English to Bulgarian
+ ...

MODERATOR

TOPIC STARTER
Hi Heinrich!

1. I have different termbases, some of them converted from Excel tables and others—started from scratch.
2. Trados has always been slow and actually the slowest CAT tool out there when it comes to adding new terms (or editing terms) from inside the Editor. I bought my first Trados back in 2007 and it is now 2018, so I have kept an eye on its performance for 11 years now. I have also paid a lot in upgrades over the years.
3. This slow and unreliable new term processing is not an aberration, it is the norm. I am just surprised that more than a decade later these issues, illogical messages and bugs have not been taken care of.

Best regards,
Pavel Tsvetkov

[Edited at 2018-04-20 09:48 GMT]
Sandra& Kenneth

Israel
Local time:

10:52




Member (2009)


French to English
+ ...

| | |
| --- | --- |
| In my experience... | Apr 22 |
1. Terms are added very quickly and easily. I select both terms and I press my own shortcut (Ctrl+), and the term is instantly added to my main termbase, as I expect it would. This does not waste any time. I also use this method to have set phrases inserted painlessly in the text.
2. Changing the case of the term in the termbase causes the error you mentioned. I avoid it by selecting the Duplicate option, which does not duplicate anything, but is annoying. I hope this bug will be fixed, but it is not a major issue.
3. All the terms from the various attached termbases are suggested, so I don't understand why in your case they are not.

I am posting this because your issue may be caused elsewhere.

HTH



Sandra

[Edited at 2018-04-22 10:27 GMT]
To report site rules violations or get help, contact a site moderator:
You can also contact site staff by
submitting a support request »
Slow and unreliable new term addition/editing from inside the Editor of Trados Studio v2017
CafeTran Espresso
You've never met a CAT tool this clever!

Translate faster & easier, using a sophisticated CAT tool built by a translator / developer. Accept jobs from clients who use SDL Trados, MemoQ, Wordfast & major CAT tools. Download and start using CafeTran Espresso -- for free

More info »
Protemos translation business management system
Create your account in minutes, and start working! 3-month trial for agencies, and free for freelancers!

The system lets you keep client/vendor database, with contacts and rates, manage projects and assign jobs to vendors, issue invoices, track payments, store and manage project files, generate business reports on turnover profit per client/manager etc.

More info »