Deepl MT different in SDL to the online app
Thread poster: Louise TAYLOR

Louise TAYLOR


France
Local time:

02:21




Member (2015)


French to English

Good afternoon

I use SDL Trados Studio 2017 and recently switched from the SDL MT to Deepl.
I successfully linked SDL with deepl in my project settings. However, I get different results in the program than when I use the online tool. The results are not as good in the program. Here is a simple French to English example:-

Source: -
En vous remerciant par avance pour votre implication dans cette démarche,
Bien cordialement,

Translation in SDL using deepl:-
By thanking you in advance for your involvement in this process, Sincerely,

Translation using Deepl online app:-
Thank you in advance for your involvement in this process,
Sincerely,

Some of the results I get are in the source language.

Below is a screenshot of my project settings and the result in Trados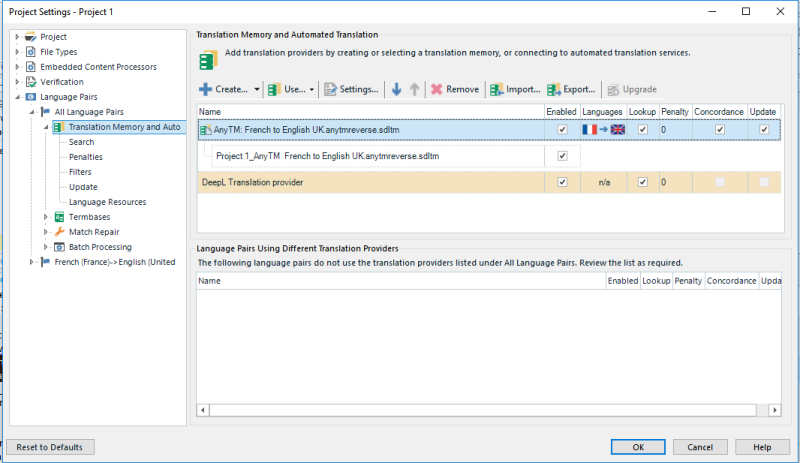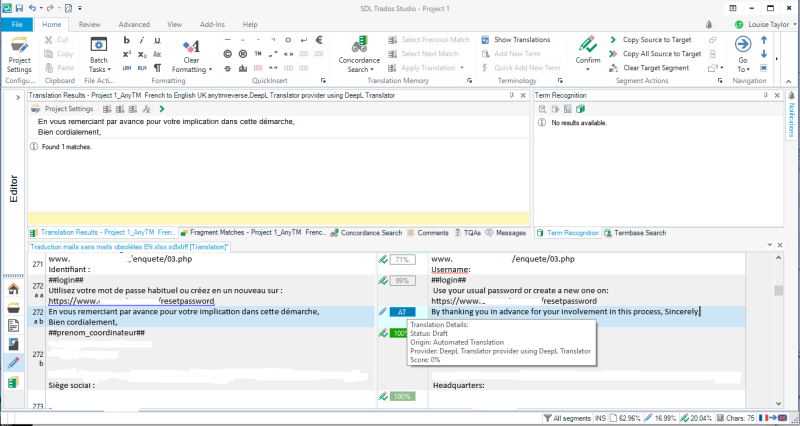 I contacted deepl about this and they replied:-

"We have tested this matter on our end, and we receive the same translation results as in our web interface. The DeepL plugin in SDL Trados Studio communicates with the DeepL API, which gives the same results as the web-based translator. ..... Have you checked whether any other MT engines are active in SDL Trados Studio for you? It could be that another MT engine has translated the segment for you by accident. As we cannot reproduce the issue on our side both in SDL Trados Studio and directly in our API, we suspect there is a problem in your configuration of SDL Trados Studio.

Should the issue persist, we can recommend you contact SDL directly or post the matter on the SDL Community....... SDL develops the DeepL plugin, and has more in-depth knowledge of any configuration that may cause problems inside SDL Trados Studio."

I can't see any other MT engines active in SDL Trados although I only know to look in the project settings. Is there a chance that there is one somewhere in the background that I can't see?

Any suggestions gratefully received.

Louise

Simon Willmott


United Kingdom
Local time:

01:21


German to English
+ ...


Louise TAYLOR


France
Local time:

02:21




Member (2015)


French to English


TOPIC STARTER

Louise TAYLOR


France
Local time:

02:21




Member (2015)


French to English


TOPIC STARTER
| | |
| --- | --- |
| It looks like some work is needed on this interface. | Apr 24, 2018 |
I tried a double line break and had the same problem. Maybe SDL will fix it. There is a list of other features that do not work yet in this interface - that is a shame.

Here is the response I received from Deepl about the issues that I have with the MT.
"
1. It appears that line breaks are not encoded at all when SDL Trados Studio sends them to our API through the DeepL plugin. This is a problem. You can send SDL the screenshot with the double line breaks and show them that the line breaks are not carried over into the translation. This should allow them to fix the issue in the DeepL plugin. (I have sent this via the forum).

2. Regarding the text that is sometimes not translated: SDL does not appear to set the source language specifically in the DeepL plugin even though you have in your project settings. This may cause French (source) sentences that have English words in them to suddenly be recognised as English, which causes the text to remain untranslated in the end. This is an issue that we have let SDL know about already, and we hope that they will fix this soon.

3. Regarding the two lines in bold you sent us that have not been translated: There is a problem in the DeepL plugin where capitalised sentences are not being translated. This is most likely caused again by no source language being set in SDL's API requests, and have communicated this to SDL. We hope they will fix it according to our instructions soon.

4. Unfortunately, we could not reproduce the issue where a word placed within hashtags does not appear in the translation at all. Given that we get results when we enter your source text (including the "##login##"), we assume this is another encoding problem within SDL Trados Studio.
"
To report site rules violations or get help, contact a site moderator:
You can also contact site staff by
submitting a support request »
Deepl MT different in SDL to the online app
CafeTran Espresso
You've never met a CAT tool this clever!

Translate faster & easier, using a sophisticated CAT tool built by a translator / developer. Accept jobs from clients who use SDL Trados, MemoQ, Wordfast & major CAT tools. Download and start using CafeTran Espresso -- for free

More info »
PerfectIt consistency checker
Faster Checking, Greater Accuracy

PerfectIt helps deliver error-free documents. It improves consistency, ensures quality and helps to enforce style guides. It's a powerful tool for pro users, and comes with the assurance of a 30-day money back guarantee.

More info »