Edwin den Boer wrote:
How can I show a continuous progress bar for the whole project? I'm not going to run an analysis report ten times a day.



Why not? How long does it take you to run an analysis report? Ten analysis reports = ten coffee breaks.

I'm not sure if you know about this, but I recently discovered that there are two types of analysis reports that give an overview of the project's progress, namely "WIP" reports and "translation count" reports. The WIP report is based on tasks and the translation count report is based on segment status. Useless information, perhaps.




.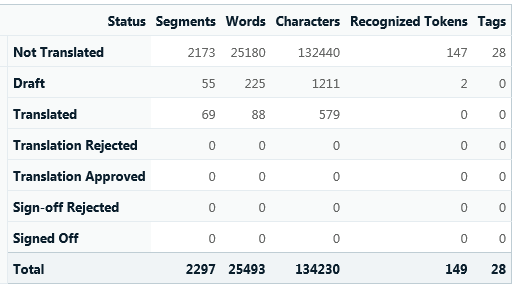 Edwin den Boer wrote:
The other method sort of works when you have all the files in the same directory and select them all. ... Has this been improved in later versions?



No, even in Trados 2019 it is not possible to select (and open) multiple files unless they are all in the same folder.



Silke Walter wrote:
At the bottom in the editor (shown only in percent).



If you click directly on those statistics, you can change how they display. I prefer them to show segment count, not percentages.


[Edited at 2018-09-28 06:36 GMT]