SDL 2017 -More crashes after patch
Thread poster: Enrico C - ECLC

Enrico C - ECLC


Taiwan
Local time:

23:50


English to Italian
+ ...

This is getting increasingly interesting. I solved the patch installation issues after multiple attempts to reinstall the suite.

Now, every day i have to cope with Studio freezing at startup, once or twice a day and having to be restarted.

Is anyone experiencing the same?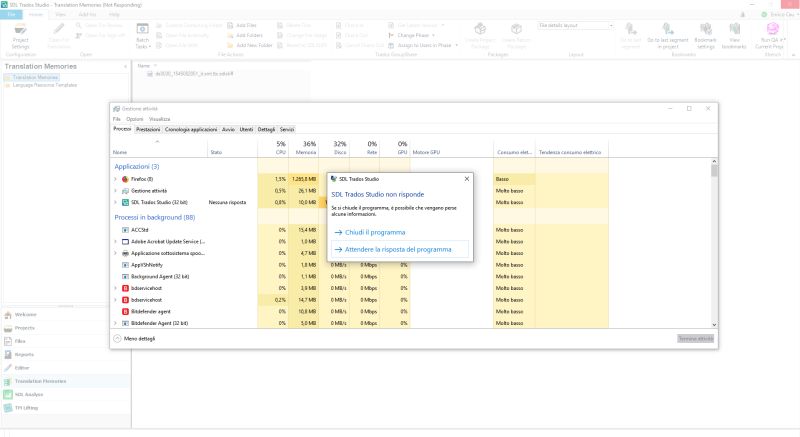 [Edited at 2018-12-19 11:43 GMT]
To report site rules violations or get help, contact a site moderator:
You can also contact site staff by
submitting a support request »
SDL 2017 -More crashes after patch
PerfectIt consistency checker
Faster Checking, Greater Accuracy

PerfectIt helps deliver error-free documents. It improves consistency, ensures quality and helps to enforce style guides. It's a powerful tool for pro users, and comes with the assurance of a 30-day money back guarantee.

More info »
Protemos translation business management system
Create your account in minutes, and start working! 3-month trial for agencies, and free for freelancers!

The system lets you keep client/vendor database, with contacts and rates, manage projects and assign jobs to vendors, issue invoices, track payments, store and manage project files, generate business reports on turnover profit per client/manager etc.

More info »