What happened to the navigation menu? (Staff: responsive menu for different resolutions/screens)
Thread poster: Susan Welsh
Susan Welsh

United States
Local time:

12:38



Member (2008)


Russian to English
+ ...

The change in the home page, removing the index from the banner at the top of the page (where it used to say Terminology, Directories, etc.) is extremely unhelpful. In order to do a term search or ask a Kudoz question or look at the Blue Board or post to a forum, one now has to hunt about through half a dozen screens to find them. I never did find the Blue Board.

It was perfectly all right the way it was before, and users were accustomed to it. Why change what ain't broke???
Susan Welsh

United States
Local time:

12:38



Member (2008)


Russian to English
+ ...


TOPIC STARTER
Jared Tabor
Local time:

13:38


SITE STAFF
| | |
| --- | --- |
| This may have been the new responsive design in the menu | Sep 18, 2017 |
Hi Susan,

This could have just been the new responsive design. If you are viewing the site from a smaller browser window, or on a mobile device/tablet, the menu may appear under the three horizontal lines up top to the right (see screenshot). This allows for navigation on screens or at resolutions where all of the menu items may not fit in.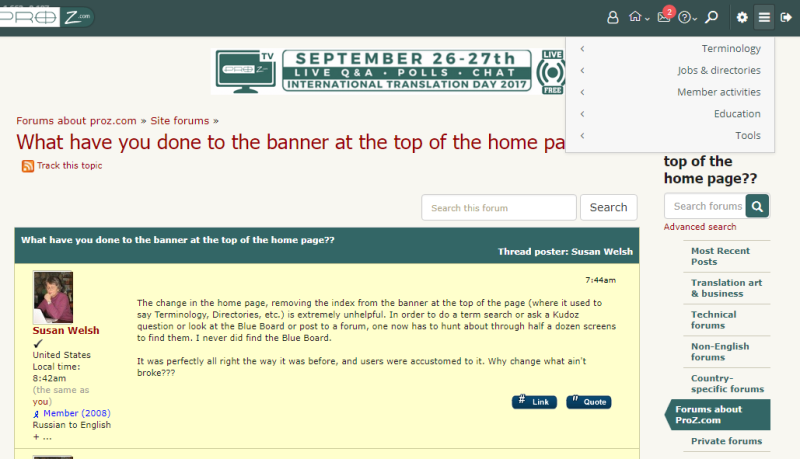 If this was not the case and you notice it again, please grab a screenshot and support staff can troubleshoot the issue for you. Thanks!
To report site rules violations or get help, contact a site moderator:
You can also contact site staff by
submitting a support request »
What happened to the navigation menu? (Staff: responsive menu for different resolutions/screens)
BaccS – Business Accounting Software
Modern desktop project management for freelance translators

BaccS makes it easy for translators to manage their projects, schedule tasks, create invoices, and view highly customizable reports. User-friendly, ProZ.com integration, community-driven development – a few reasons BaccS is trusted by translators!

More info »
Protemos translation business management system
Create your account in minutes, and start working! 3-month trial for agencies, and free for freelancers!

The system lets you keep client/vendor database, with contacts and rates, manage projects and assign jobs to vendors, issue invoices, track payments, store and manage project files, generate business reports on turnover profit per client/manager etc.

More info »