Low icon resolution after updating Transit NXT
Thread poster: Yiftah Hellerman-Carmel
Yiftah Hellerman-Carmel

Germany
Local time:

00:37



Member (2005)


German to Hebrew
+ ...

I have just re-installed Transit NXT SP9 (without changing any of the settings) and noticed that the icon resolution has become very low. The edges of the icons are really jagged, and that looks rather ugly.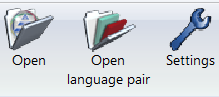 Transit still works fine, this is just an annoyance, but I would very much like to fix it.

Does anybody know why this was caused or how to resolve it?

Thanks!
Yiftah Hellerman-Carmel

Germany
Local time:

00:37



Member (2005)


German to Hebrew
+ ...


TOPIC STARTER
Giuliana Buscaglione

United States
Local time:

15:37



Member (2001)


German to Italian
+ ...

| | |
| --- | --- |
| Yep, same here | Oct 14, 2016 |
As already said, Transit works fine, but icons are really of a low-res compared to the perfect appearance in SP8 (and before). I have also re-booted several times since installing SP9, to no use. Also, some of my settings have been modified, nothing really important and that I can't re-set, but there has to be something new to adjust (I presume, no time so far to check all tabs and setting anew). An annoyance, not more than that.

Giuliana

[Edited at 2016-10-14 15:23 GMT]
Iris Kleinophorst

Germany
Local time:

00:37


Chinese to German
+ ...

| | |
| --- | --- |
| Update helped here, too | Oct 14, 2016 |
Hi,

I had the same problem for about half a year, it was really annoying. After installing the Windows 10 anniversary update, the problem was gone, and the icons were hi-res again.

I even contacted STAR. But they said they knew the problem but there was no simple explanation and asked for further computer details and a screen shot. Which I did not send because by then, the problem had solved itself.

It might be best to try and contact STAR.

Iris
To report site rules violations or get help, contact a site moderator:
You can also contact site staff by
submitting a support request »
Low icon resolution after updating Transit NXT
CafeTran Espresso
You've never met a CAT tool this clever!

Translate faster & easier, using a sophisticated CAT tool built by a translator / developer. Accept jobs from clients who use SDL Trados, MemoQ, Wordfast & major CAT tools. Download and start using CafeTran Espresso -- for free

More info »
Déjà Vu X3
Try it, Love it

Find out why Déjà Vu is today the most flexible, customizable and user-friendly tool on the market. See the brand new features in action: *Completely redesigned user interface *Live Preview *Inline spell checking *Inline

More info »