Networking event: Brisbane LocLunch™ - Fri, 11 October
Thread poster: Kahli Bree Adams, M.A.
Kahli Bree Adams, M.A.
Australia
Local time:

03:28




Member (2006)


German to English
+ ...

Calling all localisation, translation and other language professionals in the Brisbane area! Brisbane LocLunch™ is kicking off with our inaugural event this week: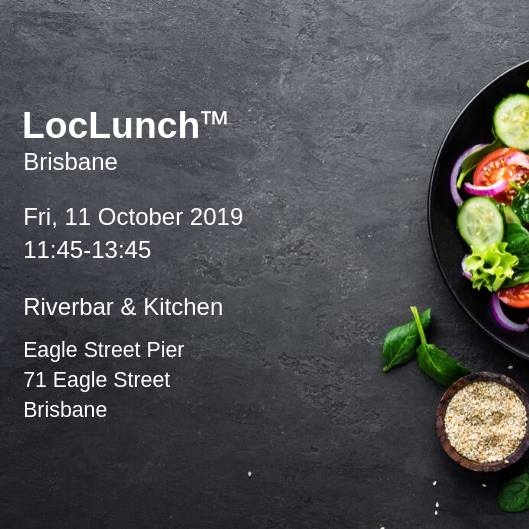 LocLunch™ is a monthly lunch event that allows you to meet your fellow translation and localisation professionals, discuss industry-specific topics and expand your network. LocLunch™ is all about inclusiveness - anyone interested in these topics can join, regardless of whether you are on the client, vendor or freelance side. See the LocLunch™ page on LinkedIn for more details about the initiative: https://www.linkedin.com/groups/8749224/

What: Brisbane LocLunch™
When: Friday, 11 October from 11.45 am to 1.45 pm
Location: Riverbar & Kitchen, Eagle Pier
Menu: https://www.riverbarandkitchen.com.au/lunch-and-dinner

If possible, can you please confirm your attendance on MeetUp so we can update our booking for the right number of people? Thank you! https://www.meetup.com/en-AU/Brisbane-LocLunch/events/

I look forward to meeting new colleagues and catching up with old friends!

Dylan Jan Hartmann


Australia


Member (2014)


Thai to English
+ ...

MODERATOR
I've got a big job due Friday afternoon, but will try get it done earlier and meet you there!

You can also make a Powwow on ProZ.com here: https://www.proz.com/powwows
To report site rules violations or get help, contact a site moderator:
You can also contact site staff by
submitting a support request »
Networking event: Brisbane LocLunch™ - Fri, 11 October
WordFinder Unlimited
For clarity and excellence

WordFinder is the leading dictionary service that gives you the words you want anywhere, anytime. Access 260+ dictionaries from the world's leading dictionary publishers in virtually any device. Find the right word anywhere, anytime - online or offline.

More info »
Wordfast Pro
Translation Memory Software for Any Platform

Exclusive discount for ProZ.com users! Save over 13% when purchasing Wordfast Pro through ProZ.com. Wordfast is the world's #1 provider of platform-independent Translation Memory software. Consistently ranked the most user-friendly and highest value

More info »