dur pour les dents
Arroger
Canada
Local time:

11:57


English to French
+ ...

ViktoriaG

Canada
Local time:

11:57


English to French
+ ...

Je suis en train de me demander si, en plus de demander que les emballages soient bilingues, on ne devrait pas commencer à exiger que lesdites traductions vers le français aient un sens. Après tout, si le bilinguisme est demandé, c'est pour que l'utilisateur du produit comprenne bien ce qu'il achète et comment utiliser le produit. Si l'utilisateur ne comprend rien, ça a servi à quoi de traduire? N'oublions pas que dans le cas d'appareils alimentés par l'électricité, il y a également des avertissements visant à sauver la vie des gens qui auraient autrement pu s'électrocuter. Il y a quand même un danger potentiel...

Aussi ridicule que l'exemple ci-dessus peut paraître, je passe mon temps à trouver de telles idioties lorsque je fais mes emplettes, et je suis maintenant tellement habituée que je ne suis plus capable d'être impressionnée. C'est plutôt triste...
Christiane Lalonde

Canada
Local time:

11:57



Member


English to French

Il faudrait créer un site Internet uniquement dédié aux erreurs de traduction sur les instructions et les emballages des produits vendus au Québec et au Canada.
Il faudrait ensuite informer les fabricants des erreurs trouvées et leur proposer la traduction correcte, en insistant sur le danger que peut représenter parfois une mauvaise traduction.
Je suis certaine que ce site aurait un immense succès auprès du public...
Ça ferait peut-être bouger les choses?
Sylvie Pilon

Canada
Local time:

11:57


English to French

| | |
| --- | --- |
| Manche de communication | Feb 25, 2008 |
Un de mes clients fabrique des radios dont les menus sont en plusieurs langues. Dans le menu anglais, un des paramètres était «Communication Channel». Ce paramètre avait été traduit par «Manche de communication». Ça ne faisait pas partie de ce que je devais traduire, mais je ne pouvais pas les laisser utiliser cette traduction.

En fait, ça m'a pris un bout de temps pour comprendre comment ils en étaient venus à «Manche»
J'ai fini par comprendre qu'ils avaient utilisé un traducteur automatique qui avait présumé que «Channel» signifiait «The English Channel»


Comme quoi les économies de bout de chandelle sont souvent plus coûteuses au bout du compte !!! J'ai bien hâte que les entreprises s'en rendent compte...

Sylvie
ViktoriaG

Canada
Local time:

11:57


English to French
+ ...

| | |
| --- | --- |
| Elles ne s'en rendront pas compte... | Feb 28, 2008 |
infolution wrote:



ai bien hâte que les entreprises s'en rendent compte...

[/quote]

En fait, elles refusent de s'en rendre compte. Elles savent très bien qu'il se peut que leurs traductions n'ont aucun sens, mais puisqu'elles ont trouvé le moyen le moins coûteux de satisfaire aux exigences juridiques, elles font la sourde oreille aux plaintes des consommateurs. À moins que nous ne décidions de les forcer à s'en rendre compte...

Je vous propose de contacter l'Office de la protection du consommateur et l'OLF chaque fois que nous trouvons des emballages comme ça, surtout lorsque ce sont les directives d'utilisation qui font défaut, ce qui peut être carrément dangereux pour le consommateur. Il faut leur montrer les traductions ignorantes et leur demander à répétition de resserrer la loi. Personnellement, je pense qu'une amende de 50.000 $ à toute entreprise qui met sur le marché des emballages avec des directives et/ou ingrédients en français non conformes à la version originale pourrait aider à renverser la vapeur. Surtout si en plus, on leur disait "three strikes and you're out" - à la troisième offense, la ligne de produits au complet est retirée du marché et l'entreprise devra refaire son emballage correctement avant même d'avoir le droit de le lancer sur notre marché (ce qui ne serait pas à leur avantage, parce qu'en plus de couper dans leurs ventes, elles engageraient d'autres frais pour prouver que leur emballage est conforme AVANT de lancer le produit). Comme ça, ce serait peut-être encore coûteux, mais ce sont ceux qui sont ignorants par exprès qui paieraient la note et non le consommateur, qui n'y est pour rien.
| | | |
| --- | --- | --- |
| | | |
Louise Dupont

Canada
Local time:

11:57


English to French

| | |
| --- | --- |
| Sites Internet aussi!!! | Mar 22, 2008 |
J'aime bien faire de la peinture sur bois comme passe-temps et j'ai des amies qui partagent ma passion, mais qui ne comprennent pas l'anglais.
J'ai trouvé un site anglais (traduit en français et en espagnol) qui offre un livre de techniques qui pourrait être très intéressant. En fouillant sur le site on peut y trouver des extraits du livre... vraiment pas fort. http://www.youcanpaint.com/files/c/VousPouvezPeindre/VousPouvezPeindre_sm.pdf

J'ai envoyé un courriel à la compagnie pour souligner quelques erreurs, mais évidemment je n'ai reçu aucune réponse de leur part...

Même chose pour la compagnie Electrolux qui produit des laveuses et sécheuses ici au Québec, dont les étiquettes d'avertissement sont traduites par des machines...
On ne parle pas de produits fabriqués dans des pays lointains...
C'est vraiment malheureux.

Bonne journée!
Odette Grille

Canada
Local time:

11:57


English to French
+ ...

| | |
| --- | --- |
| You must have received this | Aug 25, 2008 |
http://www.proz.com/job/272621
On how to make money thru reporting poorly translated sites.
A great idea. Check it out.

Ode
yanadeni

Canada
Local time:

11:57


French to Russian
+ ...

Spring water - Eau de printemps
Servie dans un avion Air Canada il y a 2 ans
)

2Odette: J'envoie régulièrement des lettres aux propriétaires des sites mal traduits et je leur propose d'améliorer la qualité de leurs textes. À peu près à toutes les semaines.
Depuis je n'ai eu qu'une seule réponse. C't'un monseur d'un site marketing, et il me disait que ses pages avaient été bien indexées par les moteurs de recherche et c'est ça ce qu'il voulait, rien de plus.
Tous les autres, foires touristiques, agences de voyages, magasins d'électronique, producteurs agricoles, et plein d'autres n'ont pas réagi.
Cette initiative est louable, mais sans perspective, je crois.


Récemment, on m'a envoyé une maquette de l'affiche "Bienvenue" installée dans l'aéroport de Québec. L'agence m'a demandé de commenter (et le cas échéant de corriger) la traduction russe du "bienvenue". Si j'ai bien compris, l'affiche avait été "traduite", imprimée et installée dans le hall de l'aéroport le jour de l'inauguration du nouveau terminal au mois de juin.
La traduction russe avait été traduite du "Welcome" anglais et disait littéralement "Saluer!"

Ben là! Moi j'aurais pas chargé ben ben de piasses pour un seul mot, ils ont quand même préféré la traduction automatique.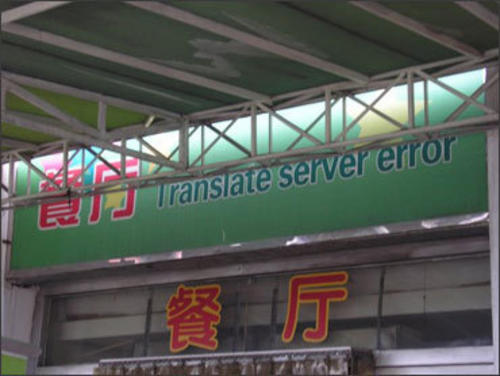 | | | |
| --- | --- | --- |
| | | |
yanadeni

Canada
Local time:

11:57


French to Russian
+ ...

| | |
| --- | --- |
| French Canadian CV :) | Nov 6, 2008 |
J'ai reçu un CV pour la correction:



J'ai de bons concepteurs, rédigeant et dépannant des qualifications. J'apprécie pour travailler en tant qu'élément d'international et l'équipe et moi de multidiscipline espèrent convenir à mon travail à terme et se diriger vers le haut des projets différents de début à la finition.



At least there was the original version that let me get the sense



I have good designers, drafting and troubleshooting skills. I enjoy to work as part of international and multidiscipline team and I hope to be suitable for my futures job and to head up different projects from start to finish.
To report site rules violations or get help, contact a site moderator:
You can also contact site staff by
submitting a support request »
dur pour les dents
CafeTran Espresso
You've never met a CAT tool this clever!

Translate faster & easier, using a sophisticated CAT tool built by a translator / developer. Accept jobs from clients who use SDL Trados, MemoQ, Wordfast & major CAT tools. Download and start using CafeTran Espresso -- for free

More info »
BaccS – Business Accounting Software
Modern desktop project management for freelance translators

BaccS makes it easy for translators to manage their projects, schedule tasks, create invoices, and view highly customizable reports. User-friendly, ProZ.com integration, community-driven development – a few reasons BaccS is trusted by translators!

More info »