Amazon offers nine free works in translation (e-book format) until World Book Day
Li Yang
United States
Local time:

16:41




Member (2017)


Chinese to English
+ ...

B D Finch

France
Local time:

01:41




Member (2006)


French to English
+ ...

Adrien Esparron
Local time:

01:41




Member (2007)


German to French
+ ...

| | |
| --- | --- |
| Terms and Conditions | Apr 22 |
B D Finch wrote:

Thanks for the link, but it seems that Amazon's internationalism stops at the US borders! When I clicked the link it only offered standard prices and amazon.fr doesn't show any offers at all or any mention of World Book Day.



If you click the Term and Conditions button, you see that "Eligible US customers can download..."

We are not!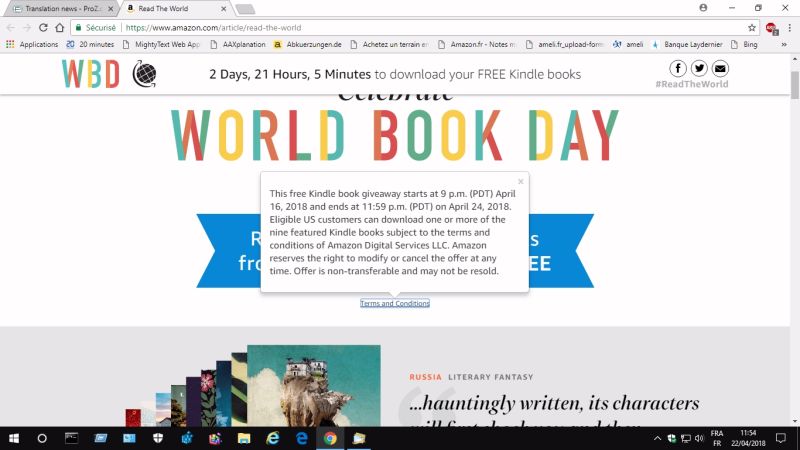 Jean Dimitriadis

France
Local time:

01:41




Member (2015)


English to French
+ ...

| | |
| --- | --- |
| World Book and Copyright Day | Apr 22 |
Taken from Wikipedia:
World Book Day or World Book and *Copyright* Day is a yearly event on April 23rd, organized by the United Nations Educational, Scientific and Cultural Organization (UNESCO), to promote reading, publishing, and copyright.

What's more fitting to promote books, publishing, AND copyright, than to use DRM protection even on ebook giveaways?

What's more fitting to celebrate a supposedly "World" event than to limit the celebration to a specific country, as an international company? So much for Amazon's internationalism, as B D Finch well puts it.

But the offer says: "Read these nine Kindle books from around the world for FREE". So this is what "World" in "World Book Day" means in this Amazon-specific twist. Next time, maybe try calling it what is: "[DRM] Books-From-Around-The-World-Day".

And to think it all started with copyright-free Cervantes's Don Quixote…

[Edited at 2018-04-22 14:03 GMT]
Jorge Payan

Colombia
Local time:

19:41




Member (2002)


German to Spanish
+ ...

To report site rules violations or get help, contact a site moderator:
You can also contact site staff by
submitting a support request »
Amazon offers nine free works in translation (e-book format) until World Book Day
CafeTran Espresso
You've never met a CAT tool this clever!

Translate faster & easier, using a sophisticated CAT tool built by a translator / developer. Accept jobs from clients who use SDL Trados, MemoQ, Wordfast & major CAT tools. Download and start using CafeTran Espresso -- for free

More info »
Déjà Vu X3
Try it, Love it

Find out why Déjà Vu is today the most flexible, customizable and user-friendly tool on the market. See the brand new features in action: *Completely redesigned user interface *Live Preview *Inline spell checking *Inline

More info »