Pages in topic: [1 2] >
Who knows a good translation treatise? I discuss the prospect of writing one
Thread poster: George Trail
George Trail

United Kingdom
Local time:

19:58




Member (2009)


French to English
+ ...

We all like talking about translation theory and practice on ProZ, don't we? Well, I'm a professional translator and in my latest blog I discussed the prospect of me writing a translation treatise (read more on George Trail Translator). Here it is:

THE PROSPECT OF ME WRITING A TRANSLATION TREATISE AND MY DESIRE FOR MORE POWER IN MY JOB

Well, I recently got back from a holiday in Greece. I spent it on my now-retired parents' yacht, with my brother (just like Malta, really) – for me personally, putting aside all the indulgent beer drinking and bargain price shopping for things I didn't need, we visited a couple of sites of interest. But I spent a surprising amount of it trying to find a reasonably cool space in the shade in such persistently and mercilessly hot weather (without being in anyone's way), merely so I could be sure of being able to check my emails or play on my Gameboy in peace (and we didn't always have Internet access – we spent nights in multiple locations over the two weeks I was there). But I still went for walks on my own in the local area (enjoying plenty of indulgent beer drinking and bargain price shopping for things I didn't need along the way) – and yet, embarrassingly enough, I never took the time to learn any Greek beforehand, even if it might be a little broken. True, all the locals spoke good English and there were so many signs in both Greek and English – some of which looked very much like they were created by local authority, and there were some which were only in English – and Corfu definitely gets plenty of tourists from mainland Europe who, it is tacitly assumed, speak English as their first foreign language, but I'm guessing that it is harder for me to justify something like that when I am supposed to be a professional linguist, no less. Indeed, you don't even necessarily need to go out and find and purchase a language learning package these days – just go to Youtube and learn it watching videos for free. In all candour, there's probably never been a better time for me to write a new translation blog. So I put in the time and effort, and what you're reading now is the result.

Over in Greece, my parents could only offer me (i.e. for my holiday) what was there, as they put it, but I couldn't complain. I guess that in this blog I will be focussing a lot more on me "offering what is 'NOT' there" when I do translation work as nothing less than a professional translator; but of course, I guess I'm supposed to be accountable when my work "provides readers with things that are non-existent and which probably 'shouldn't' be there." But I don't just translate things that can be simplistically illustrated, like "my car is white" or "I went to a concert yesterday" – I understand that people (in essence, at least) fully expect me to provide properly functioning unbiased verbal accounts of what a situation is or represents (there's no "should" or "should not"). And I know that everyone does that all the time – I think I have done well to consider that it can sometimes be based only too much on past personal experience or what one "just expects" (probably because it only exists as a result of them being lost in a labyrinth of confusion and delusion which breeded on their personal experiences and nothing but; not that they necessarily have anything wrong to answer for in terms of being selfish or irresponsible or anything like that).

Now, although I'm an atheist, I am tempted to become religious just so I could challenge God to a translation treatise writing contest. Does being "fluent" in a foreign language i.e. having an excellent knowledge of its grammar and a wide vocabulary and whatnot really amount to being "confident" in it? You see, I can still remember being forced to learn, often in vain, how to discuss issues and opinions when studying foreign languages at A-levels and at higher level education. This is merely discussion of what makes a truly proper and reliable translator, and why you should accept that I am one. It's why I write these blogs, after all. That said, however, I'm not about to write a comprehensive translation treatise here for the world to read for free, thus risking giving only too much succour to my competitors and basically committing professional suicide. But it's certainly a broad-based subject (how's this for a double entendre: …God! LOL). Not least because it is as much about knowing what comes to be / has come to be in language application as much as what is ("supposedly") "supposed" to be in it.

Discussion of the structure / methodology for the writing of a translation treatise is not out of the question in this blog. But where to begin the formulation of something like that? Recently on the radio I heard a report that some people had done research on the best biscuit to dunk in one's tea. (Why? You tell me. But that's another subject.) They mentioned various brand names of biscuit (and probably a few different brands of tea, as well – I don't remember) but I couldn't help feeling that it would have had more weight (so to speak – what a bad joke) if they specifically mentioned the full list of which criteria of the biscuits they had used from the outset (whether highly scientific criteria which only "true biscuit experts" understand or just simple concepts everyone can familiarise themselves with e.g. what is the thickness or size of the biscuit? What is its sugar content? How easily does the biscuit crumble? What kind of grain is it?) But I don't buy at all the idea that, in translation work, you could weigh anything and everything in any sample against a certain set of uniformly applicable criteria (however large), and nothing but, and expect complete and perfect results every time. It's a language thing. Sorry if I've caused any frustrations by saying that, but I just think that that is the case.

Hopefully the following four points will provide some clarification of what is meant by this:

Explain why you may read "I should of" when "of" should be "have" (and I know that's obvious) but you will never read "Of you had a nice day?" or indeed "No, I ofn't had one" (or "No, I oin't [i.e. "ain't" from "have"] had one." (Much as I know that "I should have" tends to be pronounced similar to "I should of" and ignorant, less-educated people end up writing it as the latter because of this.)

To think that there is an actual expression in the old language of Canaanite / Phoenician (which is the native language of the leader Dido of Carthage in the computer game Civ 5) which translates literally as "It is" where it really means is "agreed" i.e. "I agree / consent to that" (they translated it as "agreed", anyway).

Maybe "don't" and "do not" can lead to different results when they are translated into whatever other language by a machine translator. It's all to do with the presence / non-presence of the word "do" in particular.

We all know what "I'm back" means in English but I foresee the possibility that a machine translator may (not necessarily, but it is only speculation anyway) translate it as "I am back" in whatever foreign language where the word "back" is taken as the noun, i.e. like a person's back (a person has a backbone) and not as the adjective where back means "returned". But of course, you don't say "I am returned" in English (even if that might actually be the exact word-for-word literal translation of "I'm back" in any given other language – at least, it wouldn't surprise me); it is "I have returned".

This is the irony of it all: when I was on holiday, I saw some guy wearing a T-shirt which said, "Be a voice, not an echo." The irony lies in this: I know that I can "be a voice" (certainly if my self-expression in this blog is anything to go by); however, in a way, the opposite applies in translation i.e. I'm supposed to put aside my preconceptions etc. Don't forget that I invented the term PBA (precedent-based assertion – see blog dated 14th June 2015). After all, it's somebody else's stuff, not my own, that I'm supposed to say. You could say that I wonder what my clients take for granted about me when they put their trust in me even though they just won't take the liberty of elaborating it in their own terms (should they actually even think of that).

So what would a good translation treatise touch on? I personally would pursue a study in which progress depends on acquaintance with (purely reality-based) hypotheticals as much as with flat fact in the domain of language as both a concept and as a basis for whatever other concept. Check this: not all intelligence is the same, if you get my drift (e.g. Google specifically defines "guile" as "sly cunning or intelligence", while those who are sly are often regarded negatively e.g. if they are deceptive).

Basically, as far as I'm concerned, there is a strong case for arguing that I am one of the great translators / translation writers of my time and that, as such, I should be among the first to write a translation treatise if one should be written at all (even if I am still concerned about negative, non-transient ramifications for me as a result of me personally doing it) – after all, I've written 150,000 words of blogs on the whole translation / multi-languages thing, just like what you're reading now.

When people get in touch with me to talk about translation work I have done for them, I try to be prepared for discussion about it that is not necessarily "really" informed or substantiated by these people (not that I want to mock them for anything, and even though translation is my work, my doing, my lifeblood); so who could blame me for wanting more power – some might say an absurdly high level of power… like that of God? Yes, being self-employed means I can "do whatever I want, whenever I want", but I have come to believe that you can be given all you've ever wanted or envied others for, and more, and still be angry at your circumstances. I actually go into that a bit more in the next paragraph. Then again, if it were possible to do 100% correct translation by magic means then it would surely be only a matter of time before I would no longer have this job. Who knows what I would get up to if I acquired some truly otherworldly magic powers – not a huge amount, just enough to turn a cockroach into a chimpanzee which proceeds to make a bungee cord all by itself and climb up a crane before jumping off the top of it while wearing it – wheeeeeee! – or swing through the streets of London on web like Spiderman – "hey, look, it's Spiderchimp!" – or drive a bicycle that's moving downhill handstanding upside down on the handlebars – bell ring, wave hello… actually no, he would then lose his balance and crash… or WOULD HE? It was only after I'd finished writing that bit in the draft of this blog that I remembered the old PG Tips adverts with chimps wearing human clothes that were trained to do all kinds of stuff https://www.youtube.com/watch?v=KHZbDnuKjco – maybe that's actually the very thing that led to me to coming up with those ideas, maybe not. Wouldn't surprise me. Until then, I can't do a whole lot more than refer to bilingual dictionaries to show how much I care for my clients (apart from making a point of listening to them, of course).

I believe that people are capable of achieving great things without knowing what they're doing, but it depends. But reliable translation does demand an admittedly relatively elusive special kind of skill, sustained by a special kind of attention. By all means say I'm splitting hairs in my extensive writings about it, but it's my job, you know?

If you are still reading, that would indicate that you have faith in continuing to read my writings to learn more about what I'm talking about, at least as much as closing your eyes (presumably going somewhere that is spuriously "special" in the process, whether you like it or not) as you pray to The Almighty One for the same purpose.

I intended to end this blog in spectacular fashion from the start:

Thy translator,
Who art in Berkshire,
George be my name,
Thy language barriers be appreciated without ridicule (whether immediately recognisable or subconscious),
Thy desired message be conveyed
In English as it is in French or German.
Give me this day my daily translation assignments (email attachments are generally most convenient, and you can always scan it if it's not a Word, Excel, PowerPoint or PDF file georgetrail@googlemail.com),
And forgive me my verbal imagination limitations,
As I forgive those who can't wait to give me a load of usually completely abstract and probably overreacting argument carry-on as a result of their own verbal imagination limitations,
And lead me not into literal translation,
But deliver me from complacent reliance on Google Translate,
For mine be professionalism, cleverness and initiative,
Until I retire from this line of work.
Amen.
neilmac

Spain
Local time:

20:58


Spanish to English
+ ...

Same here: TLDR. But let me try to give you, in a very brief nutshell, my take on your proposed "treatise", having had a glance at your writings (skimmed your post here and had a look at your website/blog/LinkedIn page). Since most people won't even make it through one of your posts, imagine how far they would get in said treatise


How about a treatise, but stripping it down to the bare basics. That is, try to narrow it all down to bullet points, or a limited number of short, concise sections/statements/arguments. That way you would have a far greater chance of someone actually reading it.

Michael
philgoddard
United States


Member (2009)


German to English
+ ...

Helena Chavarria

Spain
Local time:

20:58




Member (2011)


Spanish to English
+ ...

Robin Levey
Chile
Local time:

16:58


Spanish to English
+ ...

When confronted with a lump of stodge like that, which resembles more closely an over-sized bowl of cold porridge than it does a healthy helping of 'lite' yoghurt, I usually skip rapidly to the end to see if its worth ploughing through the whole thing to get to the punch line.

Where's the punch line? At the end, of course. Just before "Amen".



George Trail wrote:
(...)
Until I retire from this line of work.
Amen.



Is there any chance you might get around to that task any time soon? – Like, tomorrow, for example?

Then we can all move on to other more digestible things.

RL
Wow, the more of your strange stuff I read, the more intrigued I am. For example, I just saw that you have a page called "My blogs", with the long, long list of different blogs shown below, but when I clicked through to a few of them, I realised that each of them consists of only a single post! That is, to write/post each post, you actually created a completely new blog, including URL, etc. What in God's name possessed you to create an entirely new blog for each new post? Sorry, just curious.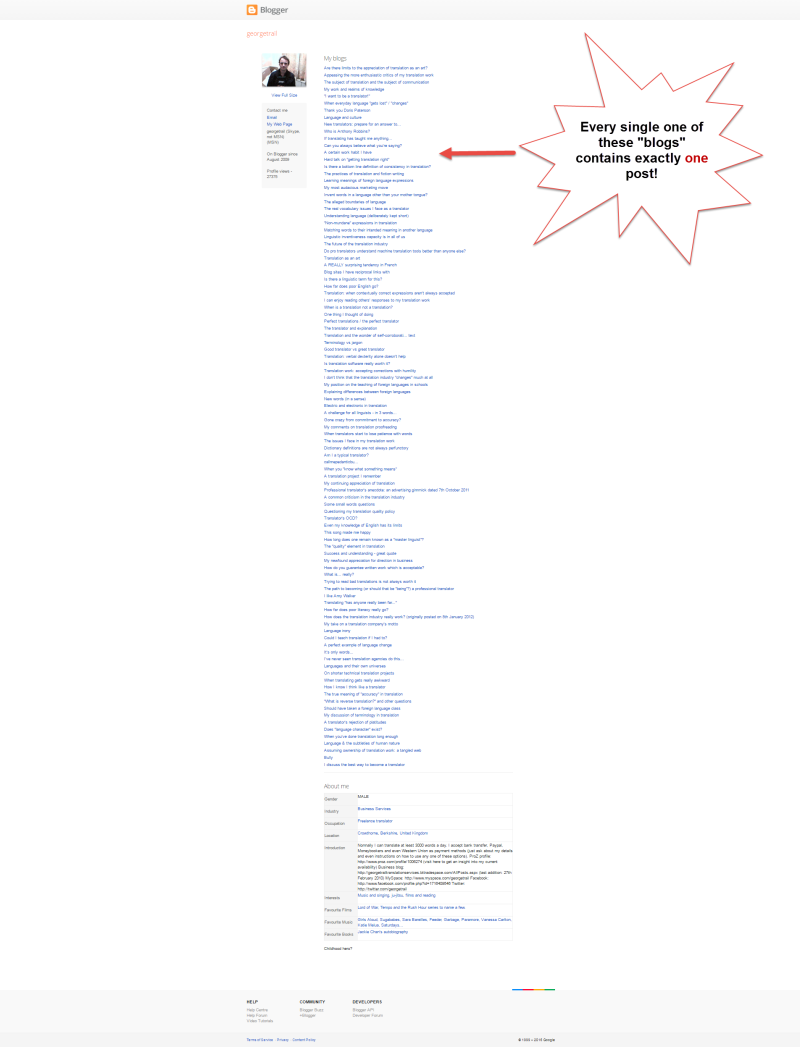 -> http://www.blogger.com/profile/01062492625786211042

In any case, lots of interesting stuff there!

Michael



[Edited at 2016-07-28 20:46 GMT]
Lingua 5B

Bosnia and Herzegovina
Local time:

20:58


German to Serbian
+ ...

| | |
| --- | --- |
| Laughed hard at the comments here, thanks. | Jul 29, 2016 |
That's a nice novel, George, however each time I see a long read I am thinking how much I could charge per word for reading it (you may call it professional deformation).




I only read the first paragraph about your parent's yacht and Greece, hope you enjoyed the holiday.
DLyons

Ireland
Local time:

19:58


Spanish to English
+ ...

Rosalind Haigh

United Kingdom
Local time:

19:58


German to English
+ ...

Mervyn Henderson

Spain
Local time:

20:58




Member


Spanish to English
+ ...

| | |
| --- | --- |
| I think we need a proofreader, rather than a treatise | Jul 29, 2016 |
DLyons wrote:

I'd be surprised if a real-life client accepted it.


I don't think the content is so much a problem as the fact that it contains obvious errors:

"French to English: Sample from Vietnamese history textbook material
General field: Art/Literary
Detailed field: History
Source text - French

La Révolution ne sera pas une explosion. Pas davantage une rupture. Elle sera le résultat final de l'osmose, le passage indolore d'un état à un autre, l'aboutissement logique de l'infiltration du Viêt-Minh dans tous les secteurs de la vie nationale. Seul un concours extraordinaire de circonstances la rendra toutefois possible. Translation - English

The Revolution scene was not one of explosions – or even one of fractured relationships – rather, it was the final result of the osmosis-like progression of a State turning a new State; the infiltration of the Viêt-Minh in all sectors of national life was one that was met with an entirely logical ending. However, this was made possible only with the extraordinary help of the circumstances that were."

I don't speak French, so there might be more. Just picked out what I saw at first glance.

Michael
Tom in London
United Kingdom
Local time:

19:58




Member (2008)


Italian to English

Tom in London
United Kingdom
Local time:

19:58




Member (2008)


Italian to English

Pages in topic: [1 2] >
To report site rules violations or get help, contact a site moderator:
You can also contact site staff by
submitting a support request »
Who knows a good translation treatise? I discuss the prospect of writing one
WordFinder Unlimited
For clarity and excellence

WordFinder is the leading dictionary service that gives you the words you want anywhere, anytime. Access 260+ dictionaries from the world's leading dictionary publishers in virtually any device. Find the right word anywhere, anytime - online or offline.

More info »
BaccS – Business Accounting Software
Modern desktop project management for freelance translators

BaccS makes it easy for translators to manage their projects, schedule tasks, create invoices, and view highly customizable reports. User-friendly, ProZ.com integration, community-driven development – a few reasons BaccS is trusted by translators!

More info »