intihal
Thread poster: Selcuk Akyuz

Selcuk Akyuz


Turkey
Local time:

05:11




Member (2006)


English to Turkish
+ ...

https://pbs.twimg.com/media/DCMp6TQXcAE-7lY.jpg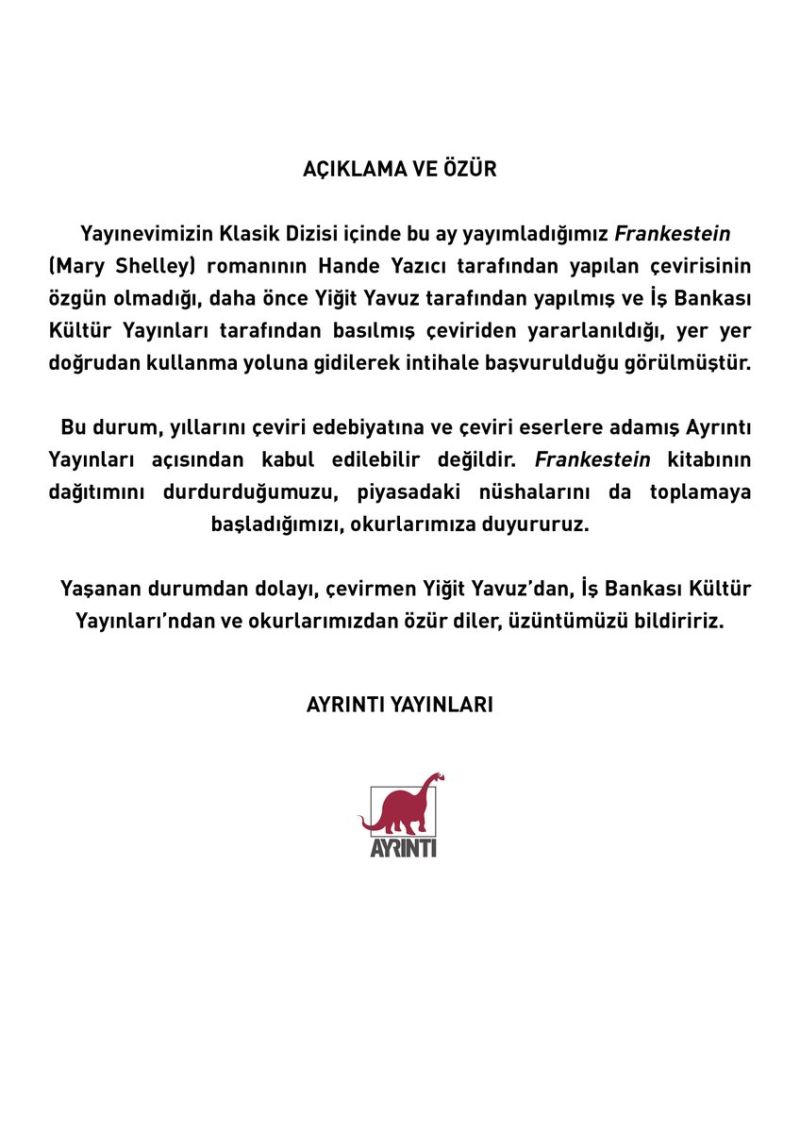 Ayrıntı Yayınları intihali daha önce fark etmeliydi ama kitabı toplatmaları örnek bir davranış.

---------
Hande Yazıcı hakkında özellikle yorum yapmadım, kimsenin de yapmasını istemem. Genç bir insan, hata yapmış ama sosyal medya çok acımasız olabiliyor.



[Edited at 2017-06-14 01:36 GMT]

A. Sercan


Local time:

05:11




Member (2009)


English to Turkish
+ ...


ATIL KAYHAN


Turkey
Local time:

05:11




Member (2007)


Turkish to English
+ ...

| | |
| --- | --- |
| Yayinevi ve Çevirmen | Jun 13, 2017 |
Ben bu konudan pek anlamam ama bir yayinevi herhangi bir kitabin daha önce çevirisinin yapilip yapilmadigini bilemez mi? Bu tür bir veritabani hiç yok mudur?

Tabii çevirmenin etik olmayan davranisi çok dikkat çekiyor. Madem daha önce bir çeviri yapilmis, neden tekrar yapmis? Gerçekleri ne kadar gizlersiniz?

Selcuk Akyuz


Turkey
Local time:

05:11




Member (2006)


English to Turkish
+ ...


TOPIC STARTER
Taner Tanrıöver


Local time:

05:11


English to Turkish
+ ...

| | |
| --- | --- |
| Benim burada esas aklıma takılan şey | Aug 9, 2017 |
Bence bir kere bu zaten önceden çevrilmiş kitabın yeniden çevrilmesi için başka çevirmenle anlaşılmasını gerektiren veya sağlayan telif hakkı kanunu boşluğu çok saçma olmuş. Şimdi bu yayınevi "Frankestein"ı yeniden çevirtince bu özgün bir sanat eseri olarak mı kabul ediliyor kanunlara göre? Hem de yakın zamanda zaten başkası tarafından çevrilmiş ve basılmışken?

Size böyle bir teklif gelse, zaten önceden çevrilmiş kitabı yeniden çevirmeniz istense, önceden çevrilmiş haline bakmaz mısınız eserin? Ondan yararlanmaz mısınız?

Ve de zaten çok süper çevrilmişse, size düzeltecek veya değiştirilecek pek bir şey bırakılmamışsa, kendi çevirinize önceki çevirmenin sözlerini yansıtmaz mısınız?

Ben şahsen düşünüyorum da benim başıma bile gelebilir böyle bir şey. (Ama bana böyle bir teklif gelse, durumun absürdlüğünü teklifverene en baştan izah eder ve muhtemelen kabul etmezdim.)

Bence esas saçmalık bu kitabın zaten düzgün bir çevirisi varken, o çevirmenle anlaşmak yerine başka birinden (hem de genç, deneyimsiz bir çevirmenden) tekrar çevirmesini talep etmek ve halihazırda olandan farklı bir sonuç beklemek.


[Edited at 2017-08-10 00:08 GMT]

Haluk Erkan


Turkey
Local time:

05:11


German to Turkish
+ ...

| | |
| --- | --- |
| Gereklilik vs. rant | Aug 10, 2017 |
Çok iyi, süper bir çevirisi olan bir kitabın yeniden çevirisini yapmak, böyle bir çeviriye yeltenmek sanırım pek akıl kârı değil. İyinin de iyisini yapmaya uğraşırken, eser doğallığını kaybedebilir, soyut bi nevale olur çıkar.

Yeni bir çeviri yapmak yerine, okurlardan ve eleştirmenlerden gelen eleştiriler doğrultusunda eserin yeni basımlarında olası ve gerekli noksanlıklar giderilebilir. Türkiye'de bunu yapan sanırım çok az yayınevi vardır. Bu durum yurtdışındaki yayınevlerinde çok farklı, gereken durumlarda her basımda düzelti ve yeniden gözden geçirme yapılır. Doğrusu da budur. Yayınevlerinin üstlerine düşen görev, sadece eseri çevirtip basmakla kalmamalı.

Bunun yanı sıra yayınevinin redaktörler ve düzeltmenleri de en az çevirmen kadar kaynak dile hâkim olmalı, yoksa yapılan işin bi ciddiyeti, bi anlamı kalmaz. E-Posta yazarken kullandığı Türkçesinde bile kem küm eden bir redaktörden nasıl iyi bir redaksiyon yapması beklenebilir ki?

Bi de zamanla değişen dil kullanımına göre kitapların yeniden Türkçeye çevrilmesi gerekebiliyor. 30 sene önceki Türkçe ile bugünün Türkçesi tabii ki aynı değil. Böyle bir durumda eski çeviriye göz atmak, hatta yararlanmak belirli sınırlar içinde mümkün olmalı, çünkü kimi dil kalıpları genelde aynı.

Konuya kitap çeviren arkadaşların katılmaması düşündürücü, asıl onların konu hakkındaki düşüncelerini öğrenmek isterdim.

Nizamettin Yigit


Turkey
Local time:

05:11


Dutch to Turkish
+ ...

| | |
| --- | --- |
| İntihal ve tekrar çeviri | Aug 12, 2017 |
Acı bir hata doğru bir karar ve gereksiz bir durum olmuş.

Ama çoğu kere bunu yine de yapmak gerekebiliyor.

Eski çevirideki dili zamanla güncellemek gerekebiliyor.
Eski çevirmen ile fiyat anlaşmak zor olabiliyor.
Eski yayınevi genelde engel çıkarıyor. Kurumsal bir yayınevi olduğu için eserin tekrar basımını kesinlikle yapmayacak olsa da başkasının basmasına izin vermiyor.

Benzer durumu yaşayan yayıncı tanıdıklarım var. Bunlardan birisi eski çevirilerini beğenmediği için yıllardır Dede korkut hikayelerini kendisi çalışıyor. Gerçekten de Osmanlıca nüshadan yapılan eski çevirilerde yanlış okumalar var. Diğer kısımları zaten aynı, herkesin okuduğu metin. Böylesi bir durumda ise çalışmanın özgün olduğunu göstermek için her sayfada bir kelime önceden hatalı okunmuş ve düzeltiliyor ise bunun kaynağı ve lügatte manası vs yazılması ve dipnot olarak eklenmesi gerekiyor.

Yine de yukarıda adı geçen genç çevirmen için de kolay değil. Özellikle kısa cümlelerde özgün yeni ifade bulmak çoğu zaman zor olabiliyor. Bu benzerlikleri zaten baştan bilerek yola çıkmak ve özgün olması beklenen yerleri özgün çalışmak gerektiğini de bilir ustalar.

Yayınevinin ateş topunu çevirmene atması tamamen haksızlık. Zaten eski çeviriyi biliyor ve bilerek yola çıkıyor bu yayınevi. Ayrıca çevirmenden gelen metin doğrudan baskıya gitmiyor. Yayıncı, editör, redaktör, tasarımcı herkes ya tamamını ya da bir kısmını elden geçiriyor. Doğrudan eski çevirmen tarafından bir şikayet olmasa, toplatma gibi bir yola gidilmez.

Özetle hem emeğe, hem sermayeye yazık olmuş.





[Edited at 2017-08-12 02:20 GMT]
To report site rules violations or get help, contact a site moderator:
You can also contact site staff by
submitting a support request »
intihal
Wordfast Pro
Translation Memory Software for Any Platform

Exclusive discount for ProZ.com users! Save over 13% when purchasing Wordfast Pro through ProZ.com. Wordfast is the world's #1 provider of platform-independent Translation Memory software. Consistently ranked the most user-friendly and highest value

More info »
PerfectIt consistency checker
Faster Checking, Greater Accuracy

PerfectIt helps deliver error-free documents. It improves consistency, ensures quality and helps to enforce style guides. It's a powerful tool for pro users, and comes with the assurance of a 30-day money back guarantee.

More info »