Wordfast Forward 2017 - Varna, Bulgaria - May 11-14
Thread poster: John Di Rico
John Di Rico

France
Local time:

00:53




Member (2006)


French to English

Dear Wordfast users,

This forum topic will be used for all announcements related to Wordfast Forward 2017 (WFF or #wffvarna).

The latest announcement? The Call for Speakers is now open!

We hope that you might be interested in sharing your experience and know-how with everyone as a speaker...

The theme of the 2017 conference is Exchange, Compare, Build (not to be confused with the ECB or European Central Bank!):
Exchange best practices, know-how, and tips
Compare with others how you work today
Build new methods and relationships
Besides some new interactive round table and forum sessions in line with the theme, the conference will feature a gala dinner, farewell dinner, bowling tournament, post-conference running race, roof-top lunches, beach bungalow networking sessions, jazz piano-bar after parties and much, much more. You can already peruse the Networking and Travel & Lodging pages for more details.

Being a speaker is your chance to be a part of the official program and share your savoir-faire with colleagues. We asked past and future participants what they are interested in and the attached image shows the result.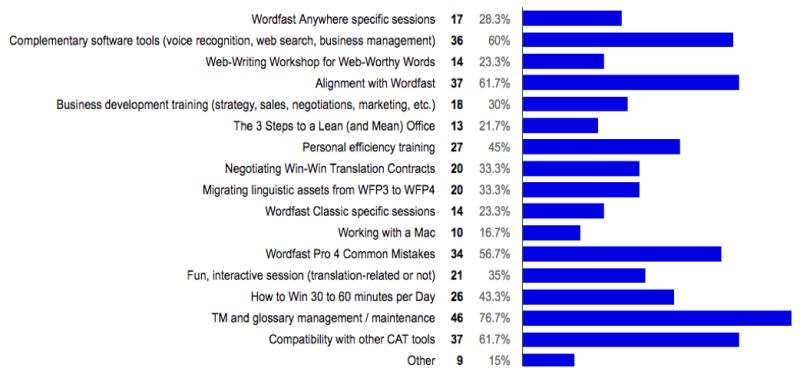 We are also accepting sessions related to the following:
- Pandora's Box settings in Wordfast Classic or Anywhere
- Managing multi-party workflows with Wordfast
- Wordfast Server implementation
- Quality control, standardization
- Use of Wordfast for literary or academic translation
- Managing glossaries when using several different tools

If you have a proposal that is not related to the above, but you are convinced users will find your content constructive, by all means submit your proposal!

Please submit your proposal at the following link: http://www.wordfast.com/conference/2017/speakers

Speakers will be entitled to a 50% discount on the conference fee, priority room booking at the conference venue, and a few more surprise VIP perks. Speaking spots are limited and the deadline for submissions is January 9th.

We look forward to exchanging, comparing, and building know-how with you in Varna!
John Di Rico

France
Local time:

00:53




Member (2006)


French to English


TOPIC STARTER
| | |
| --- | --- |
| Registration for Wordfast Forward 2017 Varna is open… Early Bird ends soon! | Feb 8, 2017 |
Dear Wordfast Users,

We are excited to announce that registration for Wordfast Forward 2017 is now open!

We have an amazing program lined up: a keynote speaker from the Netherlands, trainers from 4 continents, one-to-one meetings with developers and tech support, gala & networking dinners, a bowling tournament, and so much more. Also, you can explore this great city and enjoy the beautiful Varna beach.

Register before February 14th to take advantage of the early bird rate and reserve one of the limited number of hotel rooms at the venue: http://www.wordfast.com/conference/2017/register_now

Hope to exchange, compare, and build with you in Varna!

John and the Wordfast team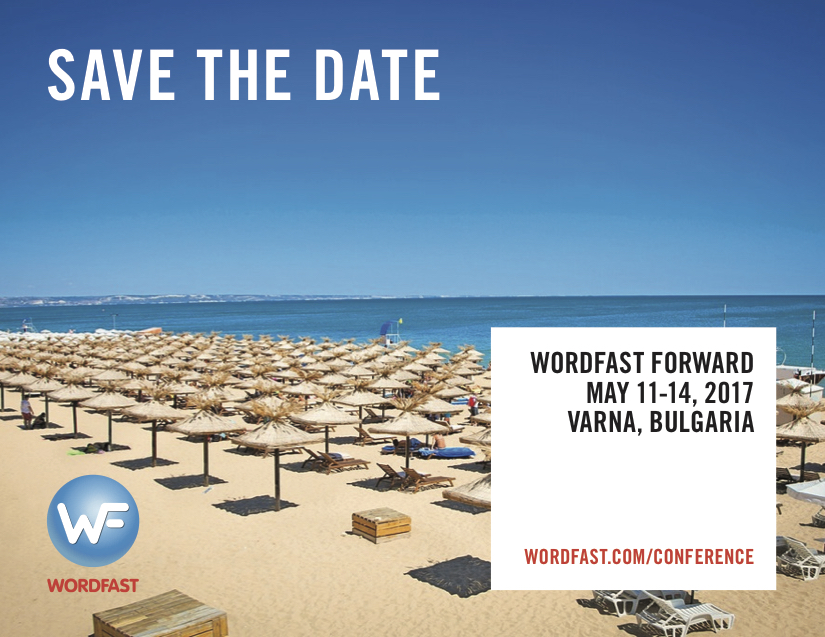 To report site rules violations or get help, contact a site moderator:
You can also contact site staff by
submitting a support request »
Wordfast Forward 2017 - Varna, Bulgaria - May 11-14
No recent translation news about Wordfast.


SDL MultiTerm 2019
Guarantee a unified, consistent and high-quality translation with terminology software by the industry leaders.

SDL MultiTerm 2019 allows translators to create one central location to store and manage multilingual terminology, and with SDL MultiTerm Extract 2019 you can automatically create term lists from your existing documentation to save time.

More info »
SDL Trados Studio 2019 Freelance
The leading translation software used by over 250,000 translators.

SDL Trados Studio 2019 has evolved to bring translators a brand new experience. Designed with user experience at its core, Studio 2019 transforms how new users get up and running and helps experienced users make the most of the powerful features.

More info »