Samuel Murray wrote:
Dalibor Skalník wrote:
From the Tasks page I do not have any options to download XLIFF, nor can I download memory (which is usually crucial); in my case I can download XML source files, and there are 400 files. I [also] have no idea how to upload.
I have worked on at least two variants of XTM. The one variant allows one to download multiple files as a TIPP package, and the other variant allows one to download multiple files as a special kind of single XLIFF file called a "multi XLIFF", which is presumably a standard XLIFF file (as opposed to e.g. Trados' joined SDLXLIFF file which isn't really a normal XLIFF file).
So, in the Tasks view, click the nav burger to the left and select "Open file manager", and then click the cog icon under the heading "Offline translation" in the row for "All files" and select the appropriate option (e.g. XLIFF or multi XLIFF or TIPP). There'll be a hourglass (or similar), and then an "i" icon will appear next to the cog which contains a status report. The status you're hoping for is "Successful".
If there is no "Offline translation column, or if the "multi XLIFF" format is not available, then you can't use offline translation. If there is a TIPP option, you can **try** to use it but it adds an extra layer of complexity (see
here
and
here
). If you download individual XLIFF files, you have to upload them individually as well.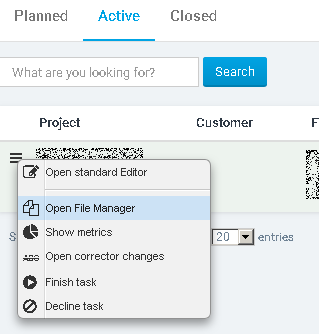 Also I am pretty sure that according to the instructions I have to use XTM.
Depending on how you look at it, if your XTM installation specifically has an "offline translation" feature, then are you are still using XTM even if you make use of the offline feature as a part of the process. A request to definitely use a specific tool generally only means that that tool must be the start and the end of the process, and that there will be no support for final delivery in any other format or system.
[Edited at 2019-01-10 14:09 GMT]