XTM - some questions to frequent users...
Thread poster: Soraya Hoepfner

Soraya Hoepfner
Germany
Local time:

06:58


English to Portuguese
+ ...

Dear All,

after maybe 5 years I encounter myself having to using XTM which now is 'cloud'. Unfortunately, I have accepted what it seems to be a long-term project without paying attention to what tool was required and here I go...
I have so many questions and could find so little or poor answers browsing documentation, so if anyone could help me out I truly appreciate since I am starting to run behind the schedule for first batch.

- I have accidentally clicked on some of the LQA 'x' buttons (the ones in red, grey, green) just underneath a segment, and apparently I cannot simply undo by clicking again, it actually adds a new issue.. How do I delete those non wanted LQA marks???

- I am in the role of Editor, therefore the visualization of Fuzzy match that appears just right below the segment, confuses me and annoys me, it take too match space, it is displayed in the same font size. Is there anyway of changing the font size, appearance and/or simply hiding it? screenshot: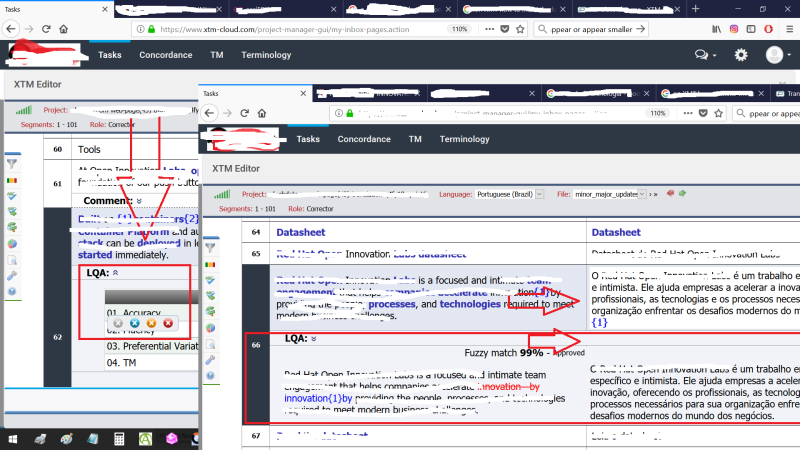 - If I want to simply read my work after finishing, jumping from one segment to the next, is there a way to do that? This question relates to the above one, I get the fuzzy displayed (sometimes 4 slightly different suggestions) and since segments have a different status, I can't figure out how just keep going down the file

-After I finish my review, is there a way to markup all segments as 'reviewed' status and then proceed with my reading of the file?

Thank you very much in advance!

Soraya Hoepfner
Natasa Ikodinovic
Serbia
Local time:

06:58




Member (2014)


English to Serbian
+ ...

| | |
| --- | --- |
| LQA delete in XTM editor | Mar 13, 2018 |
Hi Soraya,


I attached a screenshot for you to see how to delete your marked LQA.



If you flag over an error type, two signes – plus and minus – will appear so you can choose quantity for that error type, ie. zero if you want to delete it.
When deleted, it doesn't affect translator's evaluation.
I myself also asked for PM help while working on my first reviewing job in XTM and clicking thousand times on coloured buttons



As for matches displaying: I believe it is posible to change it's settings in Configuration > Settings. As I do not have an open project now, I can not try myself. I normally work with these 3 matches default settings as my XTM project are usually in form of short strings.

For reading a clean version, it might be useful for you to download the target text in PDF (or original) format. There are several possibilities and it can be done, as I recall, from Tasks menu/File manager – three horizontal lines icon.
| | |
| --- | --- |
| XTM LQA and Navigation | Mar 13, 2018 |
Dear Soraya and Natasa,

Many thanks Natasa for your very comprehensive explanation. I would just like to add a few small things:




You can always look at the list of shortcuts in XTM by clicking on the 'spanner' icon on the left hand side toolbar in the editor and then selecting the 'Shortcuts' tab. You can set your own shortcuts by clicking in the field and then entering the shortcut from the keyboard.

A very good resource for getting help and finding out more in XTM is to click on the '?' icon below the 'spanner' settings icon.

All operations in XTM are in real time and XTM will display all matches below the current segment so that you can choose an appropriate match if one exists. If you are working in a team on a project then XTM will automatically add to the TM all translations as they are entered per segment by each team member.



Best Regards,

AZ
There is no moderator assigned specifically to this forum.
To report site rules violations or get help, please contact
site staff »
XTM - some questions to frequent users...
SDL Trados Studio 2019 Freelance
The leading translation software used by over 250,000 translators.

SDL Trados Studio 2019 has evolved to bring translators a brand new experience. Designed with user experience at its core, Studio 2019 transforms how new users get up and running and helps experienced users make the most of the powerful features.

More info »
WordFinder Unlimited
For clarity and excellence

WordFinder is the leading dictionary service that gives you the words you want anywhere, anytime. Access 260+ dictionaries from the world's leading dictionary publishers in virtually any device. Find the right word anywhere, anytime - online or offline.

More info »