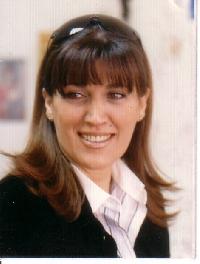 Working languages:
English to Arabic
Arabic to English
Arabic to French
Liliane Hatem
Fast and reliable



Beirut, Beyrouth, Lebanon

Local time:

21:30 EEST (GMT+3)



Great works are not performed by strength but by perseverance. Samuel Johnson.
Freelance translator and/or interpreter,

Verified site user
This person has a SecurePRO™ card. Because this person is not a ProZ.com Plus subscriber, to view his or her SecurePRO™ card you must be a ProZ.com Business member or Plus subscriber.

This person is not affiliated with any business or Blue Board record at ProZ.com.
Translation, Interpreting, Editing/proofreading, Voiceover (dubbing), Subtitling, MT post-editing, Transcription
Specializes in:

Medical: Pharmaceuticals

Social Science, Sociology, Ethics, etc.

Journalism

International Org/Dev/Coop

Law: Patents, Trademarks, Copyright

Business/Commerce (general)

Finance (general)

Environment & Ecology

Marketing / Market Research

General / Conversation / Greetings / Letters
More
USD
PRO-level points: 4358, Questions answered: 2899, Questions asked: 2
Wire transfer, Money order, Western Union, Bank transfer, Moneybookers, Skril
Sample translations submitted: 2
English to Arabic: Press Concepts
General field: Other
Detailed field: Journalism
Source text - English
1. Press Concepts

Journalists, once a privileged group with prestige, often find themselves overlooked and underappreciated after the fall of an undemocratic system. This is perhaps clearest in the case of communism: "We are powerless," a Belarusian editor complains. "Before, in the Soviet Union, institutions were obliged to react to a letter from a newspaper within ten days. Today? They don't respond at all, whatever issue we address in the newspaper."

What role should journalists expect to have in emerging democracies? There are many theories of the press, and it is useful to look at them in an attempt to answer this question.

Theories of the Press

Journalism in particular countries can play various societal roles, depending upon established media systems. These media systems are the result, in one definition, of "press laws, economic and political variables, cultural and social influences and such basic considerations as demographic distribution, literacy or personal income levels."

The most distinguished press theories define role of media as follows:

1) The Soviet Communist Concept has it that the government not only controls but produces the news: "The final goal of releasing information in the press is connected with influencing people's consciousness and deeds."

2) The Authoritarian Concept means that a powerful government controls the press either through censorship or punishment after publication.

3) The Libertarian Concept holds that an educated public will choose wisely on its own among the various kinds of information in a free marketplace, and should be allowed that privilege.

4) The Social Responsibility Concept contends that the press owes a duty to the public and must be held accountable in some way if it becomes derelict in that duty.

5) The Revolutionary Concept includes such examples as the Soviet newspaper Pravda, at its origin the typical revolutionary newspaper, or underground and samizdat publications in totalitarian regimes. These are (or were) political newspapers, with political agendas. Pravda was in fact owned by the Central Committee of the Communist Party of the Soviet Union.

6) The Developmental Concept views the press as a tool for building national identity and economic development. The subordination of media to development goals often implies some form of subtle autocratic control by a central government.

7) The Democratic Socialist Concept recognizes the need of pluralism but also allows state intervention, if necessary, in the name of protecting the interests of the people. The concept is often applied in publicly owned broadcast media in many parts of the world.

The Soviet Communist, Authoritarian, Libertarian, and Social Responsibility theories were first defined by Frederick Siebert, Theodore Peterson and Wilbur Schramm in 1956. Revolutionary and Development models were added by William Hachten in 1981. Hachten also combined Libertarian and Social Responsibility concepts under a Western model. Democratic Socialist theory was added by Robert Picard in mid-1980s. Picard reasons that Hachten's Western model, which includes the Libertarian and Social Responsibility concepts, should also include a Democratic Socialist concept.

Asked which press concept they preferred, a representative group of Belarusian undergraduates and young reporters rejected absolutely both Soviet Communist and Authoritarian models. Nearly every respondent needed up to three concepts to adequately describe his preferences. In fact, as practiced in the real world, there are mixtures of these theories.

Translation - Arabic
- مفاهيم الصحافة

بعد سقوط نظام غير ديمقراطي، غالباً ما يجد بعض الصحافيين أنفسهم مهملين وغير مقدرين تقديراً وافياً بعد زمن من التمتع بالاعتبار. يظهر هذا جلياً في النظام الشيوعي وفق ما صرّح به محرّر بيلاروسي متذمراً: " إننا اليوم في وضع العاجز، فقد كانت المؤسسات في الاتحاد السوفياتي السابق مرغمة على التجاوب مع مقال في صحيفة خلال عشرة أيام. أما اليوم، فإنها لا تستجيب قط مهما يكن الموضوع الذي نعالجه في الصحيفة".

ما الدور الذي يجدر بالصحافيين توقـّعه في ظل الأنظمة الديمقراطية الناشئة؟ للصحافة عدّة نظريات ومفيد ان نلقي نظرة عليها في محاولة للاجابة عن هذا السؤال.

نظريات الصحافة
تستطيع الصحافة ان تلعب أدواراً اجتماعية مختلفة في دول معيّنة، استناداً الى أنظمتها الاعلامية الثابتة. فهذه الأنظمة الاعلامية وبتعريف واحد، هي نتيجة " قانون المطبوعات والمتغيرات الاقتصادية والسياسية والتأثيرات الحضارية والاجتماعية واعتبارات أساسية كالتوزيع الديمغرافي ومستويات الثقافة او الدخل الشخصي1".

تحدد نظريات2 الصحافة الأكثر بروزاً دور الاعلام كالآتي:

1) يعتبر المفهوم الشيوعي السوفياتي أن السلطة لا تتحكم بالأنباء فحسب بل تنتجها ايضاً: " يرتبط الهدف النهائي لنشر أخبار في الصحف بالتأثير على إدراك وأعمال الأفراد3".
2) يعتبر المفهوم الفاشستي ان السلطة النافذة تتحكم بالصحافة، إما من خلال الرقابة او بالمعاقبة بُعَيد النشر.
3) يعتبر المفهوم الليبرالي ان الشعب المثقف يختار بوعي وحرية أنواع الأخبار المختلفة في سوق حرّة، ويجب ان يتمتع بهذا الامتياز.
4) يؤكد مفهوم المسؤولية الاجتماعية ان الصحافة تدين بواجب حيال الشعب، ويجب ان تكون مسؤولة بطريقة ما اذا أهملت هذا الواجب.
5) يتضمن المفهوم الثوري أمثلة، كالصحيفة السوفياتية "البرافدا" (Pravda)، التي تشكل الصحيفة الثورية النموذجية منذ تأسيسها، او كالمنشورات والمطبوعات السرية في الأنظمة الديكتاتورية. فتلك صحف سياسية (او كانت كذلك) مرتبطة بأجندا سياسية. كانت صحيفة "البرافدا" في الواقع، ملكاً للجنة المركزية للحزب الشيوعي في الاتحاد السوفياتي.
6) يعتبر المفهوم الانمائي الصحافة وسيلة لبناء الهوية الوطنية والنمو الاقتصادي. وغالباً ما يتضمن إخضاع الصحافة للأهداف الانمائية، بعض أشكال المراقبة الأوتوقراطية الخبيثة التي تقوم بها حكومة مركزية.
7) يعترف المفهوم الاشتراكي الديمقراطي بالحاجة الى التعددية لكنه يجيز ايضاً تدخل السلطة في حال الضرورة، متذرعاً بحماية مصالح الشعب. وغالباً ما يتم تطبيق هذا المفهوم في الوسائل الاذاعية التي يملكها أفراد من عامة الشعب في أنحاء عدّة من العالم.

حدّد فريديريك سيبرت وثيودور بيترسون وويلبور سكرام4 في البدء، المفهوم الشيوعي السوفياتي والفاشستي

والمؤيد لمبادىء الحريّة والمسؤولية الاجتماعية عام 1956. أما نموذجا المفهومين الثوري والانمائي، فقد أضافهما ويليام هاكتن عام 51981. كما جمع هاكتن ايضاً، المفهوم المؤيد لمبادىء الحرية ومفهوم المسؤولية الاجتماعية في نموذج غربي. أما نظرية الاشتراكية الديمقراطية، فقد أضافها روبرت بيكارد6 في منتصف الثمانينات، ويعتقد ان نموذج هاكتن الغربي الذي يتضمن المفهوم المؤيد لمبادىء الحرية ومفهوم المسؤولية الاجتماعية، يجب ان يشتمل على مفهوم الاشتراكية الديمقراطية.

ورداً على سؤال عن تحديد المفهوم الصحفي المفضل، استبعدت مجموعة من الطلاب غير المجازين والصحافيين المبتدئين البلاروسيين كلياً النموذجين الشيوعي السوفياتي والفاشستي، واحتاج كل مجيب تقريباً الى حوالي ثلاثة مفاهيم كي يتمكن من وصف مفاهيمه المفضلة. في الواقع، وكما تتم ممارستها في العالم الحقيقي، هناك مزيج من ثلاث نظريات.
نموذج رقم 1،0
أي مفهوم صحفي تفضلون ؟
المفهوم الصحفي الاحصاء
1) الشيوعي السوفياتي -
2) الفاشستي -
3) الليبرالي 19
4) المسؤولية الاجتماعية 17
5) الثوري 8
6) الدول النامية 17
7) الاشتراكي الديمقراطي 15
المصدر: مجموع أصوات طلاب غير مجازين بيلاروسيين في جامعات للعلوم الاقتصادية وصحافيين مبتدئين،خلال اقتراع أجري في حلقة دراسية في مينسك في آب 1999، وقد أجيز للمجيبين أكثر من خيار.

لا يتمتع مجموع أصوات الطلاب البيلاروسيين بأهمية كبرى، إذ كان حجم الاختبار صغيراً جداً الى حد عدم فعاليته لاستقراء نتائجه. لكن الأفضليات التي أظهرها البيلاروسيون، يمكن ايجادها في غرف تحرير عديدة في الأنظمة الديمقراطية الناشئة. لم يسجل أي من المفاهيم السبعة تقدماً ذا شأن على المفاهيم الأخرى في مجموع الأصوات، لكن النموذج الغربي كما حدده بيكارد ( النموذج الليبرالي ونموذج المسؤولية الاجتماعية ونموذج الاشتراكية الديمقراطية متحدين ) اتسم بالأفضلية الكبرى.

مفهوما الصحافة الشيوعي والفاشستي
يرفض الصحافيون في الدول الشيوعية السابقة عموماً نموذجيّ الصحافة الشيوعي والفاشستي، غير ان العديد منهم لا زالوا يذكرون تعريف لينين للصحافة بصفتها " لا داعية ومحرّكة اجتماعية فحسب، بل منظمّة جماعية7 ايضاً." وبتعبير آخر، لا يرى الصحافيون أنفسهم كمدوّني ومراسلي أحداث فحسب، بل كقوى فاعلة ايضاً.

قال نيقولاي ألكسندروف، المدير المسؤول ورئيس تحرير صحيفة "بريستكي كوريه" Brestski Kurier الأسبوعية: "تكمن بداءة النظام السوفياتي في الاعتقاد السائد ان الشعب غير ناضج للتمتع بالديمقراطية، ويظن الحكام ان عليهم تثقيفه وتعليمه." وهذا ما فعلته حقاً صحف النظام السوفياتي.


Arabic to English: Minutes of the Board of Administration
General field: Law/Patents
Detailed field: Law (general)
Source text - Arabic
بعد المناقشة والمداولة،

اتخذ مجلس الادارة القرارات التالية:

القرار الأول:

يقرر المجلس، وضمن حدود رسم سياسة الشركة على ضوء الظروف الأمنية والعملية السائدة في لبنان، التعاون مع الشركة الشقيقة XXX في دبي ضمن إطار عقد تعاون Joint Venture ، يصار بموجبه الى إحلال هذه الأخيرة محل "شركة XXX. (اوف شور)" في العلاقات المصرفية والتعاقدية لكافة العمليات والصفقات التي سوف تعقد مستقبلاً، او المعين تنفيذها بتاريخ لاحق لتاريخ 31/12/2006 ضمن شروط يجري تحديدها في العقد.


اتخذ هذا القرار بالاجماع



القرار الثاني:

تقرر إبلاغ المصارف التي تتعامل معها الشركة في لبنان والخارج بتحويل كافة العمليات المعقودة او الجارية لحساب ولمصلحة شركة XXX ش.م.ل. اوف شور الى الشركة الشقيقة في دبي وقيد المبالغ المتوجبة للمصارف عن هذه العمليات والصفقات في حساب الشركة الشقيقة XXX ش.م.ح. والتي تستحق اعتباراً من مطلع السنة المقبلة 2007، مع الاخذ بالاعتبار العمليات التي سوف تجري خلال شهري كانون الأول (ديسمبر) الحالي وكانون الثاني (يناير) 2007 لجهة استثنائها من هذا التحويل على ضوء التعليمات التي تعطيها ادارة الشركة.


اتخذ هذا القرار بالاجماع



القرار الثالث:

تقرر تفويض رئيس مجلس الادارة المدير العام بأن يتولى بالاتحاد مع احد عضوي المجلس او من هم مفوضين من كل منهم – القيام بكافة الاجراءات التي يستوجبها تحقيق وتنفيذ القرارين اعلاه لجهة عقد التعاون العملي Joint Venture وكافة الاجراءات المنبثقة عنها بما فيه المفاوضة والمناقشة وتحديد شروط التعاقد وتوقيع المستندات والعقود والمعاملات المصرفية والمراسلات، وكذلك منح الرئيس وكل من العضوين المفوضين اوسع الصلاحيات التي تكون ضرورية لهذه الغاية على ان يجري عرض الصيغة النهائية لعقد التعاون العملي Joint Venture على مجلس الادارة لأخذ موافقته المسبقة على صيغته قبل توقيعه النهائي.


اتخذ هذا القرار بالاجماع


Translation - English
At the end of the discussion and study,

The Board adopted the following resolutions:

First Resolution:

The Board resolves, within the limits of determining the company's policy in the light of the security and feasibilty circumstances prevailing in Lebanon, to cooperate with the sister company XXX at Dubai in a Joint Venture framework, and by its virtue, the latter will replace XXX S.A.L. (Off-Shore)" in the banking and contracting relations for the whole operations and deals which will be made in the future, or the ones which the execution date has been fixed at a later date to the date 31/12/2006 under conditions to be determined in the joint venture.

This resolution has been adopted unanimously


Second Resolution:

It has been resolved to notify the banks that the company deals with in Lebanon and abroad, to transfer the whole operations concluded or taking place for the account and in favour of XXX S.A.L. Off-Shore company, to the sister company at Dubai and enter the amounts due to the banks for these operations and deals in the account of the sister company XXX F.Z.Co. which will be due as from the beginning of the next year 2007, taking into consideration the operations which will take place duting this current month, December and January 2007, in order to exclude them from this transfer in the light of the instructions given by the company's administration.

This resolution has been adopted unanimously




Third Resolution:

It has been resolved to delegate the Chairman – Chief Executive Office, jointly with one of the board members, or their delegates – to assume the whole procedures that must be taken to execute the above-mentioned resolutions regarding the Joint Venture and all procedures which will emanate from it, including the negotiations and discussions and the determination of the contracting conditions and the signature of the bank documents and contracts and procedures and correspondence, and to give the Chairman and both members the widest powers necessary to this purpose, provided that the Joint Venture final text is brought before the Board of Administration in order to approve its version in advance before the final signature.

This resolution has been adopted unanimously

More
LH, Liliane Hatem
Other - Certified Sworn Translator
Years of experience: 49. Registered at ProZ.com: Jul 2009.
N/A
English to Arabic (Appointed by the High Court - Ministry of Justice)
Arabic to English (Appointed by the High Court - Ministry of Justice)
French to Arabic (Appointed by the High Court - Ministry of Justice)
Arabic to French (Appointed by the High Court - Ministry of Justice)
French to English (Appointed by the High Court - Ministry of Justice)




More
ATA, ATN / APTS
Adobe Acrobat, Indesign, Microsoft Excel, Microsoft Office Pro, Microsoft Word, Microsoft Word, Excel, PPT, PDF, Trados SDL Studio 2019, Powerpoint, SDL TRADOS
https://www.atanet.org
CV available upon request
Liliane Hatem endorses ProZ.com's Professional Guidelines (v1.1).
Bio
I am a certified sworn professional translator officially appointed by the High Court, Ministry of Justice and approved by the Special Tribunal for Lebanon (The Hague), translating from and into Arabic, English and French. My experience goes far in Journalism, Social Science, Finance, Micro-finance, Politics/Government, Medical (general), Law, Contracts, Business, Management and other fields.

Working for US companies and a US government agency as a linguist and Executive Assistant to CEOs of US and Swiss nationalities have deepened my linguistic knowledge.


I am working for the European Commission, different UN Agencies (UNDP, UN Women, UNICEF...), KAICIID, GCC, for whom I have already done Ten Million plus words, and NGOs from and into the three languages while being an approved translator by Translators Without Borders and collaborating with the UN.

Have translated Paris-based WAN's [World Association of Newspapers] website as well as a 468 page-book about journalism.  

Note to Scammers: This is not my CV.

https://www.atanet.org/membersonly/MembershipCard/ATA-MemberCard-262694.jpg
ATA-MemberCard-262694.jpg

"http://lb.linkedin.com/pub/liliane-hatem/37/6b7/3b">



This user has earned KudoZ points by helping other translators with PRO-level terms. Click point total(s) to see term translations provided.


Keywords: Translation from into English language, French language, Arabic language, linguistic, freelancer, NGOs, INGOs, International Organizations, social science, micro-finance, journalism, legal documents, contracts, pharmaceutical, general medicine, patterns, correspondence translation, business letters translation, general conversation, management, certificates, diplomas, licenses, newspapers articles translation, news, reports, media, TV, literature, education, marketing, philosophy, sociology, ethics, military, defense, pedagogy, printing, publishing, environment, ecology, general medecine, health care, nutrition, food, slang, movie subtitling, documentary subtitling, series subtitling, transcription, media, medical general, law general, law contracts, economics, commerce, politics, government, books, fashion, tourism, cosmetics, textiles, clothing, tourism, history, philosophy, science, tourism, editing, proofreading, fast service, accurate translation, certified, deep experience, traduction de rapports, correspondance, contrat, statut de societes, traduction de verdict, de jugement, traduction d'articles de presse, droit, journalisme, livre, documentaire, films, ترجمة قانونية، ترجمة أحكام، ترجمة عقود، ترجمة نظام شركات، ترجمة مقالات صحفية، ترجمة وثائقي، أفلام.
Profile last updated
Feb 14, 2020