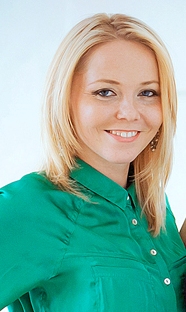 Working languages:
Russian to English
English to Russian
Russian to French
Shilonosova Anastasiya
your Russian specialist in UK



Liverpool, England, United Kingdom

Local time:

14:47 BST (GMT+1)




Native in: Russian
Interpreting on busy industrial sites, in office and manufacturing environment. Translation of technical, logistics, financial and legal documents supporting the work of huge international Food Company
Freelance translator and/or interpreter,

Verified site user
This person has a SecurePRO™ card. Because this person is not a ProZ.com Plus subscriber, to view his or her SecurePRO™ card you must be a ProZ.com Business member or Plus subscriber.

This person is not affiliated with any business or Blue Board record at ProZ.com.
Translation, Interpreting, Editing/proofreading, Website localization, Subtitling, Project management
Specializes in:
Engineering: Industrial
Mechanics / Mech Engineering
Finance (general)
SAP
Petroleum Eng/Sci

Law (general)

Cinema, Film, TV, Drama
Manufacturing
Computers: Software

Marketing / Market Research
More
Russian to English - Standard rate: 0.06 GBP per word / 30 GBP per hour
English to Russian - Standard rate: 0.06 GBP per word / 30 GBP per hour
Russian to French - Standard rate: 0.06 GBP per word / 30 GBP per hour
French to Russian - Standard rate: 0.06 GBP per word / 30 GBP per hour

PRO-level points: 20, Questions answered: 11
0 entries
Visa, PayPal
Sample translations submitted: 5
English to Russian: Aircraft Lease Agreement
General field: Law/Patents
Detailed field: Law: Contract(s)
Source text - English
2. Representations and Warranties:
2.1 Lessee's Representations and Warranties: Lessee represents and warrants to Lessor that:
(a) Status: Lessee is a joint stock company duly incorporated and validly existing under the laws of the State of Incorporation and has the corporate power to own its assets and carry on its business as it is being conducted;
(b) Power and authority: Lessee has the corporate power to enter into and perform, and has taken all necessary corporate action to authorise the entry into, performance and delivery of, this Agreement and the transactions contemplated by this Agreement;
8.11. Maintenance and Repair: Lessee will:
(a) keep the Aircraft airworthy in all respects and in good repair and condition;
(b) except to the extent required by the Air Authority, the FAA or the JAA/EASA not change the Agreed Maintenance Programme or the schedule of the Agreed Maintenance Programme without the written consent of Lessor (which consent shall not be unreasonably withheld or delayed);
(c) maintain the Aircraft in accordance with the Agreed Maintenance Programme through the Agreed Maintenance Performer (except for line maintenance of the Aircraft which may also be performed by an Air Authority or Russian air authority approved organisation) and perform (at the respective intervals provided in the Agreed Maintenance Programme) all Major Checks;

Translation - Russian
2. Ручательства и Гарантии.
2.1 Ручательства и гарантии Арендатора: Арендатор ручается и гарантирует Арендодателю, что
(a)Организационно-правовая форма: Арендатор является акционерным обществом должным образом зарегистрированным и действующим согласно законам Государства Регистрации Компании и имеет право юридического лица владеть своими активами и вести деятельность осуществляемую в настоящий момент;
(b)Права и Полномочия: Арендатора как юридическое лицо обладает правом вступать в и исполнять, и принял как юридическое лицо все соответствующие действия позволяющие вступать, исполнять и соблюдать, настоящий Договор и действия предполагаемые настоящим Договором.
8.11 Техническое Обслуживание и Ремонт: Арендатор обязуется:
(a)поддерживать летную годность Воздушного Судна и исправное техническое состояние;
(b)если иное не предусмотрено Воздушным Управлением, ФУА или ЕАБП/ЕУКЛГ, не вносить изменения в Согласованный План ТО или график работ по Согласованному Плану ТО без письменного согласия Арендодателя (Арендодатель не имеет права безосновательно отказывать в таком согласии или откладывать его);
(c) содержать Воздушное Судно в соответствии с Согласованным Планом ТО при помощи Согласованного Исполнителя Работ по ТО (за исключением оперативного ТО Воздушного Судна, которое может быть выполнено Воздушным Управлением или организацией одобренной Российским воздушным управлением) и выполнять (с соответствующим интервалом прописанным в Согласованном Плане ТО) все Контрольные Проверки.


Russian to English: CONCEPTUAL DESIGN. Purchase of Materials and Equipment
Detailed field: SAP
Source text - Russian
Определение Потребности в Материалах и Оборудовании.
Формирование потребности подразделений в материалах и оборудовании реализуется в системе SAP ERP ИСУ ЛОХЛ с помощью документа Заявка.
Созданная с уникальным номером Заявка, является документом, где зафиксирована потребность функционального подразделения в материалах и оборудовании. Заявка вводится в систему SAP ERP ИСУ ЛОХЛ в соответствии с видом документа Заявки (ПР-02-0902 «Виды документов и диапазоны номеров документов логистики»). Заявка создается и утверждается в соответствии с Регламентом МТО. В Заявке указываются материалы и оборудование и даты, когда этот материал будет списан в производство, или оборудование передано в монтаж, или основное средство передано в эксплуатацию. В Заявке указываются позиции, которые уже имеются в запасе, и позиции, которые требуется закупить или переместить из запасов других материально-ответственных лиц.
Формирование потребности в оборудовании, входящем в смету строек, основано на планировании по операциям сетевых графиков (СПП-элементы). После создания операций сетевых графиков, в которых вносится вся необходимая информация для формирования закупки оборудования, проводится активация процесса закупки оборудования: деблокирование операций сетевого графика (дальнейшее изменение операций запрещено), автоматическое создание Заявок на закупку оборудования с контировкой (Q) на операцию сетевого графика. Для каждого сетевого графика создается одна Заявка на закупку оборудования. Дата поставки для позиций Заявки устанавливается в соответствии с датой потребности в оборудовании, привязанного к операции сетевого графика.
Заявки на оборудование, не входящего в смету строек, создаются на основании утвержденной годовой инвестиционной программы (ПР-04-0105 «Управление ресурсами») с соответствующим видом (ПР-02-0902 «Виды документов и диапазоны номеров документов логистики»), с типом контировки «Q» и указанием СПП-элемента.
Кроме плановых Заявок, подаваемых в сроки, установленные Регламентом МТО, могут возникать аварийные внеплановые Заявки. Аварийные внеплановые Заявки утверждаются и обрабатываются в системе SAP ERP ИСУ ЛОХЛ в соответствии с Регламентом МТО.
Стоимость созданной Заявки определяется по средней скользящей цене из основной записи материала (механизм формирования цены описан в ПР-04-0903 «Оценка закупаемых материалов, оборудования и готовой продукции») и на основе данной стоимости проводиться контроль Заявки на соответствие плановым суммам на списание и инвестиционной программе.

Translation - English
Identification of Requirements for Materials and Equipment.
Requirements of departments for materials and equipment are identified in SAP ERP IMS LOHL system through document called Purchase Requisition.
PR is a document with unique number that states need of some department for materials and equipment. PR is generated in SAP ERP IMS LOHL in accordance with document type Requisitions (PT-02-0902 Types of documents and number range of logistics documents). It is created and approved in conformity with Logistics procedures. PR includes names of materials and equipment, dates when material will be released into production, equipment will be transferred for installation or fixed asset will be put into operation. PR contains positions that are in stock and that shall be purchased or transferred from stock of other MTPs.
Generation of requirement for equipment included in the construction estimate is based on planning of network activities (WBS elements). After generation of network activities that include all necessary data for equipment purchase, the process of equipment purchase gets activated: release of network activities (further alteration of activities is prohibited), automated generation of Equipment PR with Account Assignment (Q) on the network activity. Each network should have one equipment PR. Delivery date for the positions of PR is set in accordance with need for equipment connected to the network activity.
PRs for equipment that is not included in the construction estimates are created in accordance with annual investment plan (PR-04-0105 Resource management). PR document shall be of relevant type (PR-02-0902 Types of documents and number range of logistics documents)and shall include Account assignment Q and WBS element.
Along with planned PRs created within timeframes set by Logistics procedures, there could occur some emergency unscheduled PRs. Emergency unscheduled PRs are approved and processed in SAP ERP IMS LOHL in accordance with Logistics procedures.
Value of PR is based on moving average price from material master record (mechanism of pricing is described in PR-04-0903 Valuation of purchased materials, equipment and finished goods). This value helps to control if PR value corresponds to the amounts planned to be spend and investment plan.

Russian to English: Films' description for Documentary Film Festival
General field: Art/Literary
Detailed field: Cinema, Film, TV, Drama
Source text - Russian
Films about people who are not afraid to be in opposition.
Films of directors who are not afraid of radical artistic solutions.
Films for the viewers who know that if you do not deal with politics, it will deal with you.

«Genius loci»
Россия, 2003, 35 мм, цвет, 26 мин.
Как перевести с латыни «Genius loci»? «Местный гений»? «Дух – покровитель города, реки, местности»? Для нас – это, прежде всего, дух жителей Санкт-Петербурга, творцов его неповторимого духовного пространства – композитора Олега Каравайчука, художника Михаила Шемякина, балерины Ульяны Лопаткиной…

«Ульяна Лопаткина, или танцы по будням и праздникам»
Россия, 2006, 35 мм, цвет, 30 мин.
Существование в мире классического танца требует особой сосредоточенности. Искусство может поглотить тебя и отделить от людей – тому есть немало примеров. Ульяна прервала горячие поиски совершенства танца на пике карьеры – ради своей маленькой дочки. Живое творение Бога, конечно, превыше творения человека. Но, вот, Маша растет, Ульяна возвращается в балет, а искусство ревниво. Балерине приходится заново проходить уже однажды пройденный путь к вершинам мастерства.

«Полярник»
Россия, 2010, DVCAM, цвет, 38 мин.
Герои фильма – полярник (начальник дрейфующей станции «Северный Полюс») Томаш Петровский и его мать, Ромуальда Флёровна. Места действия – арктическая дрейфующая станция СП-33 и белорусская деревня Петровские.
Вечная история о сыне, который уходит из дома неизвестно зачем, в непостижимый и опасный холод, и о матери, которая не понимает его, любит его и молится за него. А здесь, дома – рай: гудящие пчёлы, цветущий сад, чистая река, тёплая земля.
Фильм о выносливости, о борьбе человека со стихией и с самим собой, о стремлении преодолеть себя, совладать со своей судьбой. Попытка найти ответ на вопрос, что толкает людей совершать подвиги, каждый раз покидая цветущую землю ради вечной мерзлоты и напряженного опасного труда...


Translation - English
Фильмы о людях, которые не боятся быть в оппозиции.
Фильмы режиссеров, которые не боятся радикальных художественных решений.
Фильмы для зрителя, который знает: если не заниматься политикой, политика займется тобой.
Genius loci »
Russia, 2003, 35 мм,, colour, 26 min
How would you translate "Genius loci"? "Local genius"? "Protective spirit of a city, river or place?" For us first of all it means the spirit of Saint-Petersburg residents, creators of its unique spiritual environment: composer Oleg Karavaichuk, painter Mikhail Shemyakin, ballerina Ulyana Lopatkina…


"Ulyana Lopatkina, or dancing on weekdays and holidays"
Russia,, 2006, 35 mm, colour, 30 min
Life in the world of classical dance demands particular concentration. Art can absorb you completely and alienate from people - there are good few examples of that kind. Ulyana has interrupted her dancing experiments at the peak of her career for her little daughter. Of course, child, a living God's creature, is more important than anything created by human. Masha, her daughter, is growing up and Ulyana decides to come back to the stage. But art is very jealous. The ballet dancer has to take the all the steps to the mastership picks she once possessed.

"The Polar Explorer"
Russia, 2010, DVCAM, colour, 38 min
The film is about Tomash Petrovsky, polar explorer, the head of floating station "North Pole" and his mother, Romualda Flerovna. The story has two scenes: arctic floating station SP-33 and village Petrovskie in Belorussia.
Everlasting story of the son that leaves home for no reason for the unknown and dangerous coldness and mother that doesn't understand him but loves him dearly and prays for him. His home with murmuring bees, flourishing garden, clean river and warm earth is always waiting for him to come back.
The film is about stamina, the fight of a man against forces of nature and himself, striving to overcome ones fears and master ones destiny. It's an attempt to answer the question - what pushes people for brave endeavours leaving flourishing lands for stressful and dangerous work in the land of eternal winter...

Russian to English: Automated Self-Regulating Linear Heater
General field: Tech/Engineering
Detailed field: Engineering (general)
Source text - Russian
Использование протяженных линейных нагревателей при добыче нефти, в отличие от применения магнитных аппаратов, является универсальным и наиболее эффективным способом предотвращения образования АСПВ на стенках НКТ и проточной части ГНО.
Неоспоримым преимуществом линейных нагревателей является возможность их применения в скважинах различной конфигурации, протяженности и режимов работы.
Основной задачей, решаемой с использованием линейных нагревателей разработки ООО «ПермНИПИнефть» и главным их отличием от других нагревателей, является управляемое поддержание температуры потока добываемой жидкости на 3-5 градусов выше температуры насыщения нефти парафином. При этом мощность, потребляемая АСЛН-1 значительно ниже той мощности, которую необходимо было бы приложить для расплавления парафина, что приводит в значительному уменьшению расхода электроэнергии.
В конце 2005 года в ООО «ПермНИПИнефть» была начата разработка линейного нагревателя нового поколения, оснащенного интеллектуальной станцией управления.
Использование этой разработки в нефтедобывающих скважинах ООО «ЛУКОЙЛ-ПЕРМЬ» на протяжении 2006 года впервые позволило в режиме реального
времени получить полноценную картину, отследить процесс и определить закономерности изменения теплового состояния нефтедобывающей скважины, работающей с использованием линейного нагревателя.
Полученные данные были использованы для создания алгоритма управления тепловым полем нефтедобывающей скважины при программировании интеллектуальной станции управления.
Основным параметром, определяющим процесс управления, а, следовательно, и режим работы линейного нагревателя, является значение температуры насыщения нефти парафином, характерное для каждой отдельно взятой скважины.
Температура насыщения нефти парафином определяется в лабораторных условиях путем исследования поверхностной пробы нефти, взятой из конкретной скважины.

Translation - English
Compared to magnetic devices application of extended linear heaters in oil extraction is a multi-purpose and the most efficient way to avoid asphalt, resin oil and wax accumulation on the tubing walls and in the liquid end of the downhole pumping equipment.
The undeniable advantage of linear heaters is their possible application in wells of various design, length and using different operation modes.
Being their basic distinctive feature, application of the linear heaters developed by LLC PermNIPIneft is aimed at controlled temperature maintenance of the extracted fluid flow at 3 to 5 degrees higher that the temperature of wax accumulation in oil. Furthermore, the power required by the ASLH-1 is significantly lower than that for melting the paraffin, which helps significantly decrease power consumption.
At the end of 2005, LLC PermNIPIneft commenced the development of new generation of linear heaters fitted with an intelligent control station.
Application of this engineering development in oil wells of LLC LUKOIL PERM during 2006 enabled to obtain the first real-time picture, process monitoring and determine the regularities of the oil well thermal condition alterations operated with application of a linear heater.
The data obtained was used for the control algorithm of the oil well thermal field for programming of the intelligent control station.
The control process and consecutively the operation mode of the linear heater are significantly influenced by the wax accumulation temperature in oil specific to each single well.
The temperature of the wax accumulation in oil is determined in a laboratory environment by examining an oil surface sample from exact well.

Russian to English: MULTIFUNCTIONAL COMPACT LOADER PUM-500U
General field: Tech/Engineering
Detailed field: Engineering (general)
Source text - Russian
Модернизированный погрузчик ПУМ-500У с дизельным двигателем 2М41 фирмы «HATZ» (Германия) (двухцилиндровый, четырехтактный, воздушного охлаждения, с непосредственным впрыском топлива). Данная модернизация проводилась с целью повышения надежности и улучшения эксплуатационных качеств серийно выпус¬каемого погрузчика ПУМ-500. Эксплуатация модернизированного погрузчика показала, что применение двигателя 2М41 фирмы «HATZ» по сравнению с серийным российским дизелем Д120 обеспечивает более уверенное функционирование гидросистемы хода и рабочего оборудования погрузчика, в том числе, при их совмещении без потери мощности двигателя, а также при минимальных оборотах - плавное страгивание.
Максимальная скорость погрузчика ПУМ-500У выше, чем у ПУМ-500 и равна 11,6 км/час (ПУМ-500 - 9 км/час). Шумы и вибрации в погрузчике ПУМ-500У на 5-15 единиц ниже, чем в серийном. По сравнению с двигателем Д120, двигатель 2М41 имеет ряд преимуществ. С точки зрения экономичности 2М41 превосходит Д120 по удельному расходу топлива (Д120 - 250 г/кВтч, 2М41 -225 г/кВт ч).
Эксплуатационная мощность 2М41 - 23,7 кВт, Д120 - 21 кВт. Высокое качество материалов и изготовления гарантируют надежную работу двигателя. Дизель удобен в обслуживании благодаря автоматическому удалению воздуха из впрыскивающего насоса, размещению органов управления и обслуживания на одной стороне двигателя, гидравлическому натяжению ремня генератора.

Translation - English
Upgraded loader PUM-500U with German diesel engine "HATZ" 2М41 (two-cylinder, four-stroke, air cooling, direct fuel injection).
The main target of the upgrade was to increase the reliability and improve operational characteristics of batch-produced loaders PUM-500.
Performance of the upgraded loader has shown that engine "HATZ" 2М41 in comparison with mass produced Russian diesel engine D120 provides more confident operation of hydraulic systems of motion and working equipment of a loader, including, their mutual work without loss of engine capacity, and also smooth start at the minimum speed.
The maximum speed of loader PUM-500U is higher than of PUM-500 and equals 11.6 km/hour (PUM-500 speed is 9 km/hour). Noise and vibrations of upgraded loader are lower than in the serial one by 5-15 units. In comparison with engine D120, the engine 2М41 has a number of advantages. From the point of view of efficiency 2М41 has a better fuel rate than D120 (D120 - 250 g/kW h, 2М41-225 g/kW h).
Operational capacity of 2М41 is 23,7 kW, while D120 is only 21 kW. The high quality of materials used together with advanced manufacturing, guarantee reliable work of the engine. The diesel engine is easy to maintain due to automatic air removal from the injecting pump, placement of controls and maintenance parts on one side of the engine and hydraulic tension of a generator belt.

More
Bachelor's degree - Perm State Technical University
Years of experience: 16. Registered at ProZ.com: Nov 2009.
N/A
Russian to English (Perm State Technical University)
English to Russian (Perm State Technical University)
Russian to French (Perm State Technical University)
French to Russian (Perm State Technical University)

N/A
Adobe Acrobat, Microsoft Excel, Microsoft Word, Powerpoint, Wordfast
English (DOC)
Powwows attended

Shilonosova Anastasiya endorses ProZ.com's Professional Guidelines (v1.1).
Bio
Hello/Здравствуйте/Bonjour,

I am a certified freelance translator and interpreter currently based in UK (Liverpool – North West) specialising in the translation of technical, economical, IT related texts, manuals, documents and websites from English and French into Russian and vice versa.

I worked for about 3 years as project coordinator and interpreter for large Nestle Breakfast Cereal production site in Russia. It was a fast paced, high-pressure multinational and multibackground environment that taught me to be attentive, fast and flexible as interpreter in order to provide efficient timely support and communication every single time.
I have a good understanding of the industrial and technical environment and different interpreting styles within. The work also involved interpreting during presentations, negotiations, phone conferences and training.
In addition, for several years I have been interpreting and dubbing films for the International Documentary Film Festival Flahertiana in Perm, Russia. That included opening and closing ceremonies, press conferences, interviews, panel discussions and seminars.

Since moving to UK two years ago I have continued to work as a freelance translator and interpreter. My areas of expertise include:
- IT, software, SAP, telecommunications
- Manufacturing/ Food Production
- Engineering (mechanical, industrial, construction)
- Technical Manuals
- Private/ Business websites
- Corporate /Financial Information
- Law and legal papers
- Research Reports
- Private Correspondence
- Press Releases
- Films and Literary translations

Please do not hesitate to contact me through my profile or contact details.
I would be glad to provide you with sample translation or any other information or references on my work.

I'm truly looking forward for our mutually beneficial cooperation.
С нетерпением жду нашего взаимовыгодного сотрудничества.
Attendre avec impatience notre collaboration.

I simply love what I do and I do it well.
Keywords: interpreter, translator, English-Russian, Russian-English, EN>RU, English, Russian, English to Russian, interpreting, chuchotage, simultaneous, consecutive, Russian translator, Russian interpreter, Russian translator in UK, Russian interpreter in UK, experienced translator, experienced interpreter, qualified translator, qualified interpreter, translation from Russian into English, translation from English into Russian, Russian translator in North West, Russian interpreter in North West, Manchester, Liverpool, freelance translator, legal documents, contracts, certificates, agreements, standards, computer, IT, SAP, technology, site localization, text, word, software, localization, software localization, business, finance, economy, corporate, project, marketing, management, administration, advertising, government, quality control, guide, handbook, manual, user manual, operator guide, operator manual, documentation, customs, environment, production, communications, installation, system, document, file, maintenance guide, maintenance manual, quotations, commercial offer, negotiations, conference, training, on-site interpreting, good price, best rates, fast turnaround, quick service, high quality, urgent
Profile last updated
Mar 6, 2015