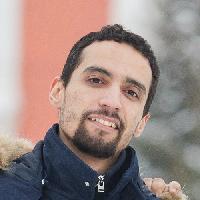 Working languages:
English to Arabic
Arabic to English
French to Arabic
Mokhtar Oussama Alliouche
High quality & commitment to deadlines



Zighoud Youcef, Constantine, Algeria

Local time:

09:15 CET (GMT+1)




Native in: Arabic (Variant: Algerian)
Quality is never an accident, it is always the result of intelligent effort
Freelance translator and/or interpreter,

Verified site user
This person has a SecurePRO™ card. Because this person is not a ProZ.com Plus subscriber, to view his or her SecurePRO™ card you must be a ProZ.com Business member or Plus subscriber.

This person is not affiliated with any business or Blue Board record at ProZ.com.
Translation, Editing/proofreading, Transcription
Specializes in:

Advertising / Public Relations

Law: Contract(s)

Journalism

Media / Multimedia

Medical: Health Care

International Org/Dev/Coop

Tourism & Travel

Government / Politics

Business/Commerce (general)

Law (general)
More
PRO-level points: 454, Questions answered: 234, Questions asked: 89
PayPal, Wire transfer, Payoneer
Sample translations submitted: 4
English to Arabic: Non-Disclosure Agreement
General field: Law/Patents
Detailed field: Law (general)
Source text - English
This Agreement is made between ____________________ ("EMPLOYEE") and XXXXX SPA, on __________________20___.
EMPLOYEE will perform services for XXXXX SPA which may require XXXXX SPA to disclose confidential and proprietary information ("Confidential Information") to EMPLOYEE. (Confidential Information is any information of any kind, nature, or description concerning any matters affecting or relating to Employee's services for XXXXX SPA, the business or operations of XXXXX SPA, and/or the products, drawings, plans, processes, or other data of XXXXX SPA). Accordingly, to protect the XXXXX SPA Confidential Information that will be disclosed to EMPLOYEE, the EMPLOYEE agrees as follows.
A. EMPLOYEE will hold the Confidential Information received from XXXXX SPA in strict confidence and shall exercise a reasonable degree of care to prevent disclosure to others.
B. EMPLOYEE will not disclose or divulge either directly or indirectly the Confidential Information to others unless first authorized to do so in writing by XXXXX SPA.
C. EMPLOYEE will not reproduce the Confidential Information nor use this information commercially or for any purpose other than the performance of his/her duties for XXXXX SPA.
D. EMPLOYEE will, upon the request or upon termination of his/her relationship with XXXXX SPA, deliver to XXXXX SPA any drawings, notes, documents, equipment, and materials received from XXXXX SPA or originating from its activities for XXXXX SPA.

F. XXXXX SPA reserves the right to take disciplinary action, up to and including termination for violations of this agreement.

Signing below signifies that the EMPLOYEE agrees to the terms and conditions of the agreement stated above.

XXXXX SPA Employee
HR Signature: Employee Signature:
Date: Date:

Translation - Arabic



حُرِّرَ هذا العقد بين...........................("الموظف")، و ؟؟؟؟؟ ش.ذ.أ، بتاريخ..................... 20
بحكم تأدية الموظف خدمات لفائدة ؟؟؟؟؟ ش.ذ.أ ، فإن ؟؟؟؟؟ ش.ذ.أ مُلزمة بالكشف عن معلومات سريّة للموظف. (المعلومات السريّة هي معلومات ذات أي نوع، طبيعة، أو صفة متعلقة بأيّ مسألة مؤثرة أو على علاقة بـ : الخدمات التي يقدمها الموظف لـ ؟؟؟؟؟ ش.ذ.أ، مشاريع و أعمال ؟؟؟؟؟ ش.ذ.أ، و / أو المنتجات، الرسومات، التصاميم، العمليات و البيانات الخاصّة بـ ؟؟؟؟؟ ش.ذ.أ). بناءاً على ذلك، و بهدف حماية المعلومات السريّة الخاصّة بـ ؟؟؟؟؟ ش.ذ.أ و التي سيُكشف عنها للموظّف، يوافق الموظّف على الآتي:
أ. يحافظ الموظّف على المعلومات المُتلقّاة من قبل ؟؟؟؟؟ ش.ذ.أ في سريّة تامّة، كما يولي العناية اللّازمة من أجل منع الكشف عنها للآخرين.

ب. لا يكشف و لا يُفشي الموظّف المعلومات السريّة للآخرين بشكل مباشر أو غير مباشر إلاّ في حالة الترخيص له مسبقا كتابيّا من قِبل ؟؟؟؟؟ ش.ذ.أ.

ج. لا يقوم الموظّف باستنساخ المعلومات السريّة أو استعمالها لأغراض تجاريّة أو أيّ أغراض أخرى عدا عن تأدية الخدمات الموكلة إليه من قبل ؟؟؟؟؟ ش.ذ.أ.

د. يقوم الموظف – عندما يُطلب منه، أو لدى إنهاء علاقة العمل التي تربطه بـ ؟؟؟؟؟ ش.ذ.أ – بتسليم أيّ صور و رسومات، مدوّنات، وثائق، معدّات و تجهيزات تلقاها من قبل ؟؟؟؟؟ ش.ذ.أ أو نشأت عن نشاطاته لفائدة ؟؟؟؟؟ ش.ذ.أ.

و. تحتفظ ؟؟؟؟؟ ش.ذ.أ بالحقّ في اتّخاذ إجراءات تأديبيّة، بما في ذلك الحقّ في فسخ العقد بسبب خرق هذه الإتفاقيّة.
إنّ التوقيع أدناه يدلّ على أنّ الموظّف يوافق على شروط و أحكام الإتفاقيّة المذكورة أعلاه.

؟؟؟؟؟ ش.ذ.أ الموظف:
توقيع قسم الموارد البشريّة: توقيع الموظّف :
التّاريخ: التّاريخ:



English to French: Monthly safety topic briefing sheet
General field: Other
Detailed field: Environment & Ecology
Source text - English
Monthly safety topic briefing sheet

February Safety Topic – "Safe Chemical Handling"


Slogan: Treat all chemicals with respect - Always read the label

The purpose of the safe chemical handling program is to ensure that through the Control of Substances Hazardous to Health (COSHH) and Hazard Communication (HAZCOM) we raise our employee's awareness of the importance of chemical safety in the workplace in order to reduce the risk of potential incidents.

Translation - French
Fiche d'information mensuelle sur la sécurité au travail

Le thème de sécurité pour le mois de Février – "Manipulation des produits chimiques en toute sécurité"

Slogan: Accordez une attention particulière aux produits chimiques – Lisez toujours l'étiquette

Le but du programme de la manipulation sécuritaire des produits chimiques est de prouver qu'à travers le Contrôle des Substances Dangereuses pour la Santé (CSDS) et l'Échange des Informations Sur Les Risques des Produits Chimiques (HAZCOM) nous sensibilisons nos employés à l'importance de la sécurité chimique dans le lieu de travail afin de réduire le risque des incidents potentiels.
English to Arabic: Energy company presentation.
General field: Bus/Financial
Detailed field: Energy / Power Generation
Source text - English
AGENCY: XXXXXX
CLIENT: XXXXXX
SUBJECT: WEBSITE
SECTION: HOME PAGE
PAGE: MIDDLE EAST
STATUS: 22.03.12 – FIRST DRAFT

(Headline paragraph)

XXXXX is one of the world's leading independent energy and commodities trading companies. Our activities span five continents and encompass oil and refined oil products, gas, coal, iron ore and a range of other dry bulk commodities.

(Body copy)

XXXXX began trading in the Middle East when our company was formed in 2004 and has earned a reputation for trust, reliability and quality in the energy products market. In 2009 we established our office in Dubai to more closely serve the needs of our customers in the region and to provide a centre for our business operations throughout the Middle East and East Africa.

About XXXXX

XXXXX has successfully implemented a programme of strategic global growth and diversification since its formation. We are now one of the world's top five independent energy and commodities trading companies.

At the heart of our business is the supply and trading of crude oil and refined oil products. From that core we have expanded our portfolio to encompass a wide range of energy products and dry bulk commodities. In addition we transact the structured financial instruments so important to risk management.

In parallel with trading, XXXXX has developed a network of production assets throughout North and South America, Asia, Africa and Europe. We also have worldwide terminal and storage facilities and extensive logistic capabilities that together enable optimization of supply chain efficiencies.

Today XXXXX has 36 offices in 28 countries and operates across five continents. In addition to Dubai, our principle commercial hubs are in Geneva, London, Singapore, Shanghai, Chicago and Houston. Around the world, we currently employ more than 950 people representing over 40 nationalities. In 2011, our turnover exceeded $80 billion.

Translation - Arabic



الوكالة: س س س س
العميل: س س س س
الموضوع: موقع الكتروني
القسم: الصفحة الرئيسيّة
الصفحة: الشرق الأوسط
الحالة: 12.03.22 – مشروع مبدئي

(فقرة العنوان)

تٌعتبر س س س س إحدى الشركات المستقلّة ذات الريادة العالميّة في مجال الطاقة و تداول السلع.
تُغطّي أنشطتنا خمس قارات وتضم المنتجات النفطيّة، النفط المكرّر، الغاز، الفحم، خام الحديد إضافة إلى عدد من سلع الصبّ الجاف.

(صُلب النّص)

استهلّت س س س س نشاطاتها التجاريّة في الشرق الأوسط عند تأسيس الشركة عام 2004، وقد اكتسبت سُمعة طيّبة في سوق منتجات الطاقة كونها شركة موثوقة تحترم معايير الجودة. كما افتتحنا عام 2009 مكتبنا في دبيّ حتى نلبّي طلبات عملائنا في المنطقة عن قرب و نوفّر مركزاً خاصا بعمليات شركتنا عبر الشرق الأوسط و شرق إفريقيا.

لمحة عن س س س س

طبّقت س س س س منذ نشأتها بنجاح برنامجا خاصّا بالتنويع و النموّ العالميّ الاستراتيجيّ. نحن الآن من بين أكبر خمس شركات مستقلة في مجال الطاقة و تداول السلع على مستوى العالم.

يشكّل كلّ من تداول و توفير المنتجات النفطيّة الخام أو المكرّرة عنصراً أساسيّا في صميم أعمالنا. انطلاقا من هذا الصميم قمنا بتوسيع مجال أنشطتنا لتشمل عدداً واسعا من منتجات الطاقة و بضائع الصبّ الجاف. زيادة على ذلك، نحن نتعامل وفق الأدوات المالية المُهيكلة ذات الأهميّة البالغة في عمليّة إدارة المخاطر.


موازاةً مع عمليات التبادل، طوّرت س س س س شبكة من وحدات الإنتاج في كلّ من شمال و جنوب أمريكا، آسيا، إفريقيا و أوربا. كما نمتلك محطّات نهائيّة و منشآت للتخزين إضافة إلى إمكانيّات لوجستيّة ضخمة من شأنها التحسين من فعالية سلسلة الإمدادات في جميع أنحاء العالم.


تمتلك س س س س اليوم 36 مكتباً منتشرا عبر 28 بلدا حيث تُغطي استثماراتها القارّات الخمس. على غرار دبيّ، تتواجد أهمّ مراكزنا التجاريّة في كلّ من جنيف، لندن، سنغافورة، شانغهاى، شيكاغو و هيوستن. حاليا، نستخدم عبر العالم أزيد من 950 موظفا يمثلون أكثر من 40 جنسيّة. في عام 2011، تجاوزت قيمة تعاملاتنا الـ 80 مليار دولار.


French to Arabic: Gare ferroviaire – Pôle Gare Thiers
General field: Other
Detailed field: Tourism & Travel
Source text - French
Gare ferroviaire – Pôle Gare Thiers

Un pôle d'échanges et de services

La Gare SNCF Thiers, principal pôle ferroviaire de Nice Côte d'Azur, fait l'objet d'un vaste programme de réaménagement. Le quartier environnant bénéficiera également d'une opération de rénovation urbaine importante.


Situé en plein centre ville, ce site d'échanges et de mobilité est également un important pôle commercial et d'habitation. Véritable lieu de vie des Niçois et d'accueil des touristes, le quartier de la Gare Thiers est souvent la première image que la ville donne d'elle-même. Il est donc important d'offrir à ce bâtiment construit en 1870, et au quartier qui l'entoure, une image à la hauteur du territoire de Nice Côte d'Azur et des enjeux futurs de déplacements (7 à 11 Millions de voyageurs).


L'arrivée des liaisons rapides en 2018 vers Gênes et en 2023 vers Paris, le renforcement des TER (deuxième densité en France après l'Ile de France) ainsi que le développement du réseau de tramway, confortent l'importance du projet d'aménagement de la gare Thiers. Ce projet s'inscrit dans le cadre su schéma directeur des transports du territoire métropolitain qui vise à rendre la circulation et les échanges interurbains et nationaux plus fluides.


Translation - Arabic



محطة السكة الحديدية– قطب محطّة تييه

قطب للتجارة والخدمات


تخضع محطة تييه التابعة للشركة الوطنية للسكك الحديدية والتي تُعدّ قطبا رئيسا للنقل بالسكك الحديدية في مدينة نيس كوت دازور إلى برنامج إعادة تهيئة موسّع. هذا وسيستفيد الحيّ المجاور بدوره من عملية مهمّة لتجديد مناطقه الحضرية.




إضافة إلى كونه مركزًا للتبادل والحركة، يُعدّ هذا الموقع المتواجد في قلب المدينة قطبا تجاريا وسكنيّا مهمًّا. إنّ حيّ محطة تييه الذي يعتبر مكانا حقيقيا يعيش فيه أهل نيس ويستقبلون فيه السياح هو أول صورة تعطيها المدينة لنفسها في أغلب الأحيان، لذا كان من المهم منح كلٍ من هذا المبنى المُشيّد سنة 1870 والحيّ المحيط به صورة تعكس قيمة إقليم نيس كوت دازور وتحديّات النقل المستقبلية (من 7 إلى 11 مليون مسافر)




هذا وستتعزز أهمية مشروع تهيئة محطة تييه مع بدء استغلال المواصلات السريعة باتجاه جان سنة 2018 وباريس سنة 2023 والتعزيز من النقل الإقليمي السريع TER (ثاني أعلى نسبة كثافة في فرنسا بعد إيل دو فرانس) إضافة إلى تطوير شبكة الترامواي. كما يدخل هذا المشروع في إطار المخطط الرئيسي للنقل الخاص بالإقليم الحضري الذي يهدف إلى زيادة سلاسة التنقل والتبادلات الوطنية بين المدن.



More
amogloss
Bachelor's degree - Mentouri Constantine University, Algeria
Years of experience: 14. Registered at ProZ.com: Jan 2010.
N/A
English to Arabic (Mentouri Constantine University, Algeria, verified)
French to Arabic (Mentouti Constantine University, Algeria, verified)
Arabic to English (Mentouri Constantine University, Algeria, verified)
Arabic to French (Mentouri Constantine University, Algeria, verified)

Arabic Translation and Intercultural Dialogue Association ATIDA
Adobe Acrobat, MemSource Cloud, Microsoft Excel, Microsoft Word, Subtitle Edit, Powerpoint
12 forum posts
http://www.proz.com/profile/1181956
English (PDF)
Mokhtar Oussama Alliouche endorses ProZ.com's Professional Guidelines.
Bio
Thank you for visiting my profile. FULL-TIME FREELANCE TRANSLATOR


• Native Arabic speaker.
• Master's Degree in Linguistics.
• Bachelor's degree (4 years) in French > Arabic / English > Arabic translation.
• Raised in a bilingual environment where both French and Arabic are practiced on a daily basis.
• Thorough knowledge of Arabic language and its different varieties (Master's Degree thesis about
the phenomenon of diglossia in Arabic language) .
• Double-qualified internal auditor ISO 9001 : 2008 and ISO 14001 : 2004.
• Excellent computer skills including Office software and Internet research.
• Large collection of specialized bilingual dictionaries.
• Accustomed to meeting numerous deadlines per day and providing superior customer service.
• I guarantee high quality work delivered on or before deadline and prompt response to your e-mails.

Previous experience

In-house translator for a Multinational Catering and Support Services Company (service provision for petroleum companies operating in the Algerian Sahara) 2010 - 2013, The period during which I have translated hundreds of documents for many departments:

HEALTH, SAFETY, ENVIRONMENT & QUALITY

- Material Safety Data Sheets
- Monthly safety topics
- Health and safety standards
- HSEQ manuals
- Emergency response manual
- Accident reporting and investigation procedures
- Spill response and prevention procedures
- Chemical products management procedures
- Chemical handling and storage procedures
- Waste handling procedures
- Safe Driving Policies
- Health Questionnaires

HUMAN RESOURCES

- Job Descriptions
- Internal rules and regulations
- Confidentiality agreement
- End of service calculations
- Disciplinary procedures

FOOD & HEALTHY LIFESTYLE

- Newsletters
- Recipe cards
- Table talkers


Freelance translation/subtitling assignments (FR/EN to AR) include:

- Website content and video subtitles for a major network marketing company.
- Website content for a 5 stars hotel in Paris.
- Video subtitles for prestigious end-clients (Using Subtitle Edit).
- Face recognition software manual.
- Articles about tourism for an airline company.
- Healthcare surveys.
- Audio files with French/ Algerian Arabic content.
- Subtitles for a YouTube channel specialized in sexual education.
- Screening of brand names, taglines and logos to be used in the Algerian market.




This user has earned KudoZ points by helping other translators with PRO-level terms. Click point total(s) to see term translations provided.


Keywords: Arabic, English, French Translator, All fields, Algerian freelance translator, traducteur freelance algérien, مترجم حر جزائري, traduction juridque, law translation, ترجمة فرنسي عربي, ترجمة انجليزي عربي, traduction français Arabe, traduction Arabe Français, traduction juridique, traduction, Islamic translation, political translation, general, religious translation, economic, financial, Arabic translations, Arabic, Arabic to English, English to Arabic, Arabic translation services, Algerian dialect translation, Algerian dialect, Arabe parlée en Algérie, Maghreb dialect translation, journalism, economic translation, financial translation, legal translation, Arabic freelancers, UN, United Nations, legal, ترجمةArabic translation services, legal Arabic translation services, accounting Arabic translation services, economic Arabic translation services, accounting Arabic translation services, free English to Arabic translations, Arabic Translator, translate into Arabic عربية، ترجمة دينية، ترجمة سياسية، ترجمة اقتصادية، ترجمة مالية، تعريب مواقع, traduction du dialecte Algérien Catering, Hotel Services, Grounds keeping, Pest control, Waste management, Logistics for food and materials supply, Job descriptions translation, Internal rules and regulations translation, Newsletters translation, Inter-company memo translation, Management procedures translation, Material Safety Data Sheet translation, Recipe cards, Contracts translation, Health and Safety Translator, Traducteur Santé et Sécurité au Travail, MSDS Translation, Traduction fiche Santé-Sécurité, مترجم الصحة و السلامة في العمل, ISO 9001 English Arabic French Translator, Traducteur Français Anglais Arabe ISO 9001, ISO 14001 English Arabic French Translation, Traducteur Français Angalis Arabe ISO 14001, Health and Safety Standards Translation, Traducteurs Normes de la Santé et la Sécurité au Travail, Les Normes de La Qualité et de l'Environnement, Quality and Environment Standards.
15 visits in the last month,
from a total of 12 visitors This profile has received
Profile last updated
Jan 21