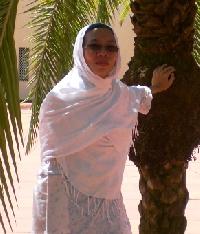 Working languages:
English to Indonesian
Indonesian to English
shidra
Delivering Bahasa in friendly manner



Malang, Jawa Timur (Djawa Timur), Indonesia

Local time:

23:49 WIB (GMT+7)




Native in

: Indonesian
Freelance translator and/or interpreter,

Verified site user
This person has a SecurePRO™ card. Because this person is not a ProZ.com Plus subscriber, to view his or her SecurePRO™ card you must be a ProZ.com Business member or Plus subscriber.

This person is not affiliated with any business or Blue Board record at ProZ.com.
Translation, Interpreting, Editing/proofreading, Website localization, Voiceover (dubbing), Subtitling, Transcription
Specializes in:
Engineering: Industrial
Esoteric practices
Poetry & Literature
General / Conversation / Greetings / Letters
Manufacturing
Religion
More
Questions answered: 1
Visa, Wire transfer | Send a payment via ProZ*Pay
Sample translations submitted: 2
Indonesian to English: Website content - Term and Condition for jolycbrass.com
General field: Marketing
Detailed field: Business/Commerce (general)
Source text - Indonesian
Syarat dan Ketentuan

Pemesanan
Pemesanan barang dapat dilakukan melalui showroom terdekat atau langsung melalui kantor marketing kami.

Bagi pelanggan baru order akan diproses setelah pembayaran DP sebesar 30% dari total order.

Bagi pelanggan lama, order akan diproses setelah purchase order diterima melalui showroom atau kantor marketing kami. Bagi pelanggan lama yang nilai ordernya diatas lima juta rupiah akan dikenakan DP sebesar 30%.

Pemesanan atas barang kategori baru/ customized dikenakan DP 50%


Samples
Customer yang memesan sample baru harus menunjukkan gambar, ukuran dan informasi pelengkap tentang spesifikasi barang yang akan dipesan.

Apabila kami tidak/belum memiliki molding atas model sample yang dipesan, maka Customer akan dikenai biaya cetakan model tersebut.

Lama proses pemesanan untuk sample baru 2 minggu untuk satu item sample.

Sample yang dipesan melalui showroom dapat diambil di showroom tersebut.

Sample yang dipesan langsung ke pabrik, akan dikenakan biaya pengiriman.

Sample order dikenakan DP 50% atas total order.


Pengembalian barang
Complain atas barang yang dipesan yang tidak sesuai dengan spesifikasi order dapat dikembalikan dalam 48 jam setelah barang diterima dengan sebelumnya memberitahu reject atau complain atas barang tersebut.

Waktu penggantian akan ditentukan sesuai hasil konfirmasi.

Customer tidak dikenakan biaya penggantian, hanya dikenakan biaya pengiriman menyangkut term harga yang diberikan.

Pengembalian dan penggantian barang bisa dilakukan melalui showroom terdekat.


Pembatalan order
Barang yang telah dipesan, apabila dibatalkan akan dikenakan biaya 5% dari total item order yang dibatalkan tersebut.

Pembatalan order yang diikuti dengan perubahan item yang dipesan senilai atau lebih besar dari harga item sebelumnya, tidak dikenakan biaya.

Pembatalan atas barang yang termasuk kategori sample/produk baru (customized), DP tidak akan dikembalikan.


Pengiriman
Semua harga barang yang diberikan adalah harga toko atau pabrik. Sehingga biaya pengiriman menjadi tanggung jawab pembeli.

Apabila pengaturan dalam pengiriman barang diserahkan kepada kami, biaya pengiriman akan ditagihkan kepada pembeli. Untuk menghemat biaya pengiriman keluar negeri tanpa mengurangi kebutuhan akan kecepatan dan keselamatan barang yang dikiri, kami menggunakan EMS courier service untuk pengiriman keluar negeri dengan berat dibawah 100kg.


Garansi
Karena barang yang kami buat adalah handicraft, maka untuk setiap item yang dikirim kemungkinan tidak akan persis sama dalam hal ukuran dan pewarnaan. Namun kami memastikan bahwa perbedaan ukuran tidak akan sampai berbeda jauh (toleransi ± 2mm).

Apabila terjadi barang yang dikirim mempunyai spesifikasi yang sama sekali berbeda atau melebihi toleransi yang diberikan, maka kami bersedia mengganti tanpa dikenakan ongkos tambahan.


Keamanan Pembelian

Kami sarankan anda untuk mengisi data pelanggan yang kami sediakan. Apabila ada item yang anda berminat untuk membeli, silakan mengirimkan email melalui halaman 'permintaan', kami akan menghubungi anda dalam waktu 1 x 24jam waktu kerja.

Selanjutnya proses order akan dilakukan melalui email, fax atau melalui showroom kami yang terdekat.

Untuk saat ini kami belum menyediakan transaksi pembayaran melalui fasilitas kartu kredit. Pembayaran uang muka (DP) atau invoice atas purchase order yang telah diproses dapat dilakukan melalui transfer atau TT ke rekening BNI 46.


Pajak Pembelian
Semua harga yang diberikan adalah tidak termasuk pajak dan kami tidak menghitung pajak penjualan pada order yang kami terima. Sehingga untuk klaim atas pajak, silakan diproses sendiri ke dinas terkait.


Pengemasan dan Labelisasi
Untuk pengemasan kami membungkus setiap item dengan kertas kemudian dimasukkan dalam kantong plastic agar tidak tercampur dan bergesekan dengan benda lain yang sejenis. Setelah itu label ditempelkan pada masing-masing item tersebut untuk identifikasi.

Translation - English
Terms and Conditions

Order

Order process can be done through our nearest showroom or directly to our factory. Please go to contact us.

For new customer, order for common product as per catalog will be processed after deposit given from 30% of the total order.

For established customer, order will be processed after purchased order received through our showroom or marketing office. Deposit of 30% will be applied, if the amount order exceeds five million rupiahs (Rp.5, 000,000.00).

Deposit of 50% will be applied for new product or customized order.

Samples

Customer order for new samples must shows the drawing, size and necessary information on the item specification given.

If we don't have the molding for the sample given, additional price for molding is applied.

Sample order placed through our showroom, the goods can be collected there and no shipping cost applied.

Sample order placed directly to our factory, shipment cost will be applied.

50% deposit of total order will be applied for sample order.

Goods Return

Complaint on the goods order which is not in accordance with the order specification can be returned within 48 hours after goods received. Please be reminded to notice us prior to return agreed.

Replacement time will be determined as agreed by both parties.

No replacement cost is applied, however as the price term is ex-factory, the shipping cost will be considered.

Return and replacement of goods can be done through our nearest showroom.

Order Cancellations

Cancellation order will be charged 5% of the total order, if the goods are already under production process.

Cancellation item order followed by changes on product item with the amount similar or exceeding the previous amount ordered will not be charged anything.

Cancellation on customized order or sample product, the deposits can not be drawn back.


Shipment
The price quoted is ex-work or ex-showroom. Shipment / delivery cost will be buyer responsibility. Most of our international customer have their own shipping agent collected the goods from our showroom.

If you don't have appointed shipping agent, we can assist the delivery using EMS courier service (international postage agency) for economic costs (maximum weight 100kgs). All charges will be added to the cost of product ordered.


Warrantee

Because our products are the output work of craftsmanship, there can be possibility that the goods delivered may not be similar on the size or appearance. However we ensure that the different of dimension will not be exceeding our tolerance (± 2mm).

If the goods delivered are different from the specification given or exceeding the given tolerance, we will replace the order without additional cost.

Security of Purchase

We suggest that you fill in the customer form provided. If you are interested on some items, please contact us and we will get back to you within 24 hours.

The order will be processed through mail, fax or our nearest showroom.

For the time being, we don't equip our payment transaction using credit card facilities. Deposits payment or invoice payment is to be remitted to our bank account in BNI46 Sub-branch Juwana – Pati, Central Java – Indonesia.

Sales Tax

All prices quoted are excluded sales tax and we don't calculate sales tax on order receives from you. Any sales tax incurred, please relate to the institution on your country.


Packaging and labeling
We wrap each items using paper to avoid scratch with other items then place it in a plastic bag, tied and labeled according to the part no. for identification.

English to Indonesian: Discovery More - for video subtitle and voice over
General field: Social Sciences
Detailed field: Philosophy
Source text - English
For so many people, this is an elusive goal.
For so many people, this is something you really don't think about till it's the right "time" in your life.

But I'm here to tell you that now is always the right time for peace. Now.
And whenever this now happens to be. Because amazingly enough, tomorrow there will be a now, too.
And whenever that now comes is the right time to be fulfilled. It is the right time to be content.
And why? For that, you need to feel your own thirst. For that, you need to understand you.
Not a philosophy, not an idea. But you.
Because whenever it comes down to that point of being content, of being fulfilled, it's all about you. It's about your life.

I'm not here to tell you what you are missing,
I'm here to tell you what you have.
Within you, you have the thirst, and within you, you have the well, and within you runs the water.
Within you are the questions and within you are all the answers.
Within you is the need for the joy, and within you is the joy.
Within you is the desire to be fulfilled, and within you is the fulfillment.

For me, I try to make one thing possible. What I offer is Knowledge.

Onscreen text:
What is Knowledge?

A lot of people get caught up with, "What is Knowledge?"
Knowledge is something very beautiful.
Four techniques, a way to be able to connect with a feeling that is within us.

Now, this is, of course, an analogy. Sometimes we need a mirror to see our own face.
We have these eyes. They can see everything else.
And a lot of times there is also a connotation about help.
And, for a lot of people, it's like, "Well, I don't need any help.
I don't want any help. I want to do this on my own."
The reality of the situation is very simple and it's very beautiful.
Because, as we need a mirror to see ourselves, we need something that can take this focus and put it inside.

So there are two different, distinctly different, things.
I'm not saying that the experience that is within inside of you needs to be generated or created.
But I can offer a tool. And that tool is what Knowledge is: to be able to get in touch with that experience.
And that is where the help lies. The rest of the journey is really your very own.
So that's where the help comes in. …that, really, I can help you to access what is already within you.
And you'll be surprised because, when you see exactly what you are,
you will find it to be incredibly beautiful.

Onscreen Text:
A Journey within

I'd like to just say a few things that may put you at ease with what this is.
Because, a lot of people come and they listen, and there are words, and a lot of people get caught up in words.
"Is it Maharaji, is it Prem Rawat; is it this, is it that?" Don't pay any attention to that because that's not what it's about.
It's really about you. About this life that you have been given.
And receiving Knowledge or getting to the point of getting Knowledge is really a very simple process.
It's a very simple journey because it is a journey in which you begin to entertain certain ideas like you have never entertained them before.

In our lives, when something came, it came from outside.
Our friends, when we were young, came from outside.
To get our education, we had to go . . . go to school and that wasn't at home, that was outside.
And then when we got our first job, that wasn't at home, that was outside.
And then when we got our recognition and we had our adult friends, that was outside.
And all of a sudden, you come to a, well, for a lack of a better word, a junction in your life,
a crossing in your life, where someone is saying, "Look. What you are looking for is within you."
Now, as words go, those are pretty simple words. As the impact goes, that's a pretty profound impact.
And the words sometimes are uttered much quicker than understanding what that really means.
Because somebody says, "Well, what you're looking for is inside of you,"
and you go, "Well, that sounds great." But what does that really mean?

There is something more in this life. People say we're not born with handbooks.
Maybe we're not. And that's a good thing. But maybe we are born with all the proper wants and desires.
And maybe we need to look at those, and understand them. Rather than brushing them off,
"I don't know what it is," to look at them. That is the process of preparing for Knowledge.

Translation - Indonesian
Bagi kebanyakan orang, ini adalah tujuan yang sulit dipahami.
Bagi kebanyakan orang, ini adalah hal yang tidak benar-benar terpikirkan sampai tepat "waktu"nya dalam hidup anda.
Tapi saya di sini untuk memberitahu anda bahwa sekarang selalu merupakan waktu yang tepat untuk damai. Sekarang.
Dan kapanpun sekarang ini terjadinya. Karena yang cukup mengherankan, besok akan menjadi sekarang, juga.
Dan kapanpun datangnya sekarang merupakan waktu yang tepat untuk terpenuhi. Itulah waktu yang tepat untuk terpuaskan.
Kenapa? Untuk itu, anda perlu merasakan dahaga anda sendiri. Untuk itu, anda perlu memahami anda.
Bukan filosofi, bukan pemikiran. Tapi anda.
Karena bila sampai pada inti tentang bersenang hati, terpenuhi, itu semua adalah tentang anda. Tentang hidup anda.

Saya tidak di sini untuk mengatakan anda kehilangan apa,
saya di sini untuk mengatakan apa yang anda punya.
Di dalam, anda punya dahaga, dan di dalam, anda punya sumber, dan dalam diri anda mengalir air.
Dalam diri anda ada pertanyaan dan ada semua jawaban.
Dalam diri anda ada kebutuhan akan kesenangan, dan ada kesenangan.
Dalam dirimu ada keinginan untuk terpenuhi, dan ada pemenuhan.

Bagi saya, saya berusaha membuat satu hal mungkin. yang saya tawarkan adalah Knowledge.


Apakah Knowledge?

Banyak orang terperangkap pada, "Apakah Knowledge?"
Knowledge adalah sesuatu yang sangat indah.
Empat teknik, cara agar bisa terhubung dengan rasa di dalam kita.

Sekarang, ini, tentunya adalah kiasan. Kadang kita perlu cermin untuk melihat wajah kita sendiri.
Kita punya mata ini. Mereka bisa melihat semua yang lain.
Dan sering kali ada juga konotasi tentang bantuan.
Dan, kebanyakan orang, sepertinya, "Saya tidak butuh bantuan.
saya tidak mau bantuan apapun. saya mau melakukannya sendiri."
Kenyataan situasi tersebut sangat sederhana dan indah.
Karena, seperti kita perlu cermin untuk melihat diri sendiri, kita perlu sesuatu yang bisa memindah fokus dan meletakkannya ke dalam.

Jadi ada dua hal berbeda, sangat jelas berbeda.
saya tidak berkata pengalaman dalam diri anda perlu dihasilkan atau dibuat.
Tapi saya bisa menawarkan satu alat. Dan alat itu adalah apa Knowledge: supaya bisa berhubungan dengan pengalaman itu.
Dan disitulah letak bantuan itu. Perjalanannya selanjutnya milik anda sendiri.
Jadi disitulah masuknya bantuan. Bahwa, sesungguhnya, saya dapat membantu anda memasuki yang ada dalam diri anda.
Dan anda akan tercengang karena, saat anda melihat anda yang sebenarnya,
anda akan mendapatinya luar biasa indah.


Sebuah Perjalanan di dalam

Saya ingin menyampaikan beberapa hal yang bisa memudahkan anda dalam hal ini..
Karena, banyak orang datang dan mendengarkan, dan ada tutur kata, dan banyak orang terperangkap dalam tutur kata.
"Maharajikah, Prem Rawatkah; inikah, itukah?" Jangan perdulikan itu. Karena bukan itu yang sebenarnya.
Ia benar-benar tentang anda. Tentang kehidupan yang anda sudah diberi.
Menerima Knowledge atau sampai pada maksud menerima Knowledge adalah proses yang sebenarnya sangat sederhana.
Ia perjalanan sangat sederhana karena didalamnya anda mulai merenungkan ide tertentu tidak seperti yang pernah anda renungkan sebelumnya.

Dalam hidup kita, ketika sesuatu datang, ia datang dari luar.
Teman-teman kita, ketika kita muda, datang dari luar.
Untuk mendapat pendidikan, kita harus pergi.... bersekolah dan tidak di rumah, itu diluar.
Lalu saat mendapat pekerjaan pertama kita, tidak di rumah, itu diluar.
Dan ketika kita mendapat penghargaan dan punya teman-teman kencan, itu diluar.
Dan tiba-tiba, anda sampai ke suatu, katakanlah, persimpangan jalan hidup anda,
persilangan jalan hidup anda, dimana seseorang berkata, "Perhatikanlah. Yang anda cari ada dalam diri anda."
Sekarang, saat disampaikan, kata-katanya cukup sederhana. Sedang pengaruhnya, ia berpengaruh cukup besar
Kadang tutur kata lebih cepat diucapkan daripada pemahaman yang sebenarnya.
Karena seseorang berkata, "Apa yang anda cari ada dalam diri anda,"
dan anda berkata, "Itu terdengar hebat." Tapi apa maksud sebenarnya?

Ada lebih banyak dalam hidup ini. Orang berkata kita tidak terlahir dengan pedoman.
Mungkin tidak. Dan itulah baiknya. Tapi mungkin kita terlahir dengan semua kemauan dan hasrat yang tepat.
Dan mungkin kita perlu melihat dan memahaminya. Bukan menepiskannya.
"Saya tidak tahu apa itu," tapi untuk melihatnya. Itulah proses bersiap untuk Knowledge.

More
Bachelor's degree - Universitas Muhammadiyah Malang
Years of experience: 19. Registered at ProZ.com: Dec 2010.
N/A
N/A
N/A
Microsoft Excel, Microsoft Office Pro, Microsoft Word, Adobe Soundbooth CS5, CorelDraw 12, TranslatorM, ULead Video Studio, Pagemaker, Powerpoint
English (PDF)
Bio
I have come to know English since my secondary school in 1986 and ever since i learned to improve my ability in making it as my second language after my native language through exchange student program, writing English on my personal journal and blog, reading English literature, being voluntary translator, working in English speaking environment, teaching English up to maintaining social relationship with English speakers.


My first involvement in translation started when i won first prize in English translation contest held by English Faculty of Gajayana University in Malang when i was senior high school. Since I felt confidence with my English ability, I decided to take engineering as my main subject for university study, they are chemical engineering and industrial engineering.


My interest on other subjects comes from my interest in life to make a better way of living this life not just for me but also to other people. In such, giving the best translation to the clients also mean helping people to have better understanding on their source of information. I believe through my years of experience and dedication I can deliver the best outcome to all.
Profile last updated
Aug 26, 2013