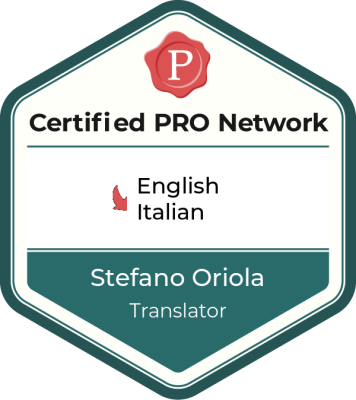 I have 32 years' experience in translating highly technical material from English and Spanish into Italian and Spanish, with full dedication and commitment.
I can offer vast experience, superior quality and extensive working knowledge in the following fields/industries:
-
motor vehicles/equipment
since 1988: mechanics, electronics, bodywork, courseware for cars, vans, lorries, motorcycles, ATVs, earth-movers, construction vehicles, agricultural and road paving equipment, snow-blowing/ploughing equipment, (marine) engines, motors, generators, pumps, power equipment etc., with anything between 12 and 15 million words translated up to now;
-
telecommunications
since 1993: products and services for public telephony, digital TV & Internet: fixed, mobile, radio, cable and sat; VPNs; (military) radar consoles and navaids; European prestandards; protocol interfaces; call & contact centers; both consumer and professional devices, equipment and services; approx. 8 million words;
-
software, hardware and IT
since 1994: including both consumer and professional SW/HW; medical & dental SW/HW; call & contact centers; fire watching/fighting & surveillance systems; business, military & law enforcement thermal imaging systems; software & website localization; and niche SW/HW related to my fields of expertise; approx. 5 million words;
-
industrial machine tools and factory automation tools
since 1994: lathes, turning centres, etc.; tube forming machines, decoilers, slitters, screening and processing equipment; approx. 5 million words;
-
big machinery and industrial plants
since 1994: telecommunications, oil, power plants and alternative energy sources, light and heavy industry, turnkey factory solutions, etc.; approx. 5 million words;
-
food packaging machines and processes
since 1997: mostly liquid fillers and related processes, with approx. 6 million words;
-
railways and industrial power equipment
since 2006: big disconnectors, circuit-breakers, isolated amplifiers, protection relays, etc., with approx. 2 million words;
- and, last but not least,
e-learning & technical marketing material
for all the above fields.
In all these years I have never failed a deadline nor delivered an inaccurate or improper piece of work. It ought to go without saying that obviously I should not have been in business for all this time if I did not keep my promises and respect my commitments.
TOOLS
Two Laptops and one desktop (ftp server machine)
HD and cloud backups
Fibre optic broadband
Laser printers
CAT Tools proficiency:
Trados (since 1994)
IBM-TM (since 1997)
SDLX (since 2001)
memoQ (since 2010)
Transit (since 2012)