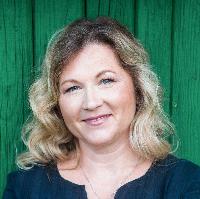 Member since Dec '06
Working languages:
English to Czech
French to Czech
Markéta Demlová MITI
Premium translations for premium brands



Czech Republic

Local time:

07:34 CET (GMT+1)




Native in

: Czech

PayPal accepted
English and French to Czech translator and copywriter specialized in marketing, advertising, corporate comms and public sector
Freelance translator and/or interpreter
This person has a SecurePRO™ card. View now.

Translation, Editing/proofreading, Website localization, Subtitling, Copywriting
Specializes in:

Marketing / Market Research

Advertising / Public Relations

Business/Commerce (general)

Government / Politics
Management

Poetry & Literature

Education / Pedagogy

Tourism & Travel
Linguistics
Psychology
More
English to Czech - Rates: 0.20 - 0.30 EUR per word / 50 - 75 EUR per hour
French to Czech - Rates: 0.20 - 0.30 EUR per word / 50 - 75 EUR per hour

EUR
PRO-level points: 124, Questions answered: 73, Questions asked: 78
119 projects entered

1 positive feedback from outsourcers



More
Wire transfer, PayPal, Skrill | Send a payment via ProZ*Pay
Sample translations submitted: 8
French to Czech: Summaries of EU legislation
General field: Law/Patents
Detailed field: Government / Politics
Source text - French
http://europa.eu/legislation_summaries/institutional_affairs/decisionmaking_process/ai0034_fr.htm
Translation - Czech
http://europa.eu/legislation_summaries/institutional_affairs/decisionmaking_process/ai0034_cs.htm
English to Czech: Pharmacological report
Source text - English
Graminex Flower Pollen Extracts™
Superior Antioxidants

Antioxidants which are measured by the ORAC Value (Oxygen Radical Absorbance Capacity) are important in maintaining a healthy body. They do so, by helping to eliminate damaging free radicals in the human body. A free radical is an unbalanced molecule that takes an electron from an established stable molecule, to satisfy the process needed for tissue repair. In doing such an action, the free radicals destabilize the once stable molecules, which create more free radicals in a vicious chain reaction of cellular destruction. A single free radical can cause serious damage to the body's ability to repair tissues, interrupting the body's ability to function properly.
The free radicals that destroy the vital cells and tissues of the human body develop due to exposure to various environmental toxins such as tobacco, smoke, alcohol, radiation, chemicals, high-fat diets, excessive amounts of sunlight, strenuous exercise, and environmental pollutants. It is believed that an abundant amount of free radicals in the body can cause a significant shortening of an individuals life span.
In addition, free radicals cause oxidation in the blood. Excessive oxidation in the bloodstream may be a leading factor linked to many different health complications, such as arterial disease, inflammatory bowel disease, kidney disease, heart disease, cancer and the acceleration of the aging process. Antioxidants, such as Graminex Flower Pollen Extracts™ aid in the elimination free radicals by lowering the high rate of oxidization of healthy cell molecules needed within the body. Thus, antioxidants contained in Graminex Flower Pollen Extracts™ prevent free radicals in the blood from damaging the good cholesterol molecule strands, which block and ultimately prevent the development of diseases, furthermore helping the immune system's reaction to fight off previous existing disease.
Antioxidants are found in high amounts in fruits, vegetables, and plant foods such as grains that are high in fiber. They are also found in high amounts within minerals such as: vitamins A, C, and E, beta-carotene, and selenium. An increased daily consumption of foods and supplements such as Graminex Flower Pollen Extracts™ that contain high levels of these vitamins, also brings added health benefits.
Graminex Flower Pollen Extracts™ have been shown to have a very high ORAC Value surpassing the levels found in bee pollen and many fruits and vegetables. Graminex Flower Pollen Extracts™ combine over 39 essential vitamins, minerals and nutrients the body needs to fight off and eliminate toxins and free radicals within the body. Graminex™ pollen is harvested directly from specific plants and is processed by proprietary technology, which eliminates potential contamination and impurities unlike bee pollen. Besides containing antioxidants to help fight off free radicals, Graminex Flower Pollen Extracts™ also benefit overall health by increasing energy, supplying vital nutrients to the body's cells including: essential amino acids, unsaturated fatty acids, and enzymes. The extracts also improve the absorption of vitamins, minerals and trace elements from the food consumed on a daily basis, thus helping to bio-regulate organism functions such as: immune system defense, lipid metabolism, blood cholesterol levels and the function of the prostate.
Translation - Czech
Výtažky z květového pylu
Graminex Flower Pollen Extracts™
Mimořádně účinné antioxidanty

Antioxidanty, jejichž schopnost pohlcovat volné radikály je udávána hodnotou ORAC (Oxygen Radical Absorbance Capacity), jsou látky důležité pro zachování tělesného zdraví. Pomáhají tělu tím, že ničí volné radikály, které jsou lidskému organismu škodlivé. Volný radikál je nestabilní molekula kyslíku s nepárovým elektronem, která navazuje elektron jiné stabilní molekuly, potřebné v procesu obnovy tkání. Tímto účinkem volné radikály destabilizují dosud stabilní molekuly a dochází tak ke škodlivé řetězové reakci, při které vznikají další volné radikály způsobující destrukci buněk. Jediný volný radikál může negativně ovlivnit schopnost organismu obnovovat tkáně, a tak narušit náležité fungování celého těla.
Volné radikály, které ničí životně důležité buňky a tkáně lidského těla, se vytvářejí vinou toho, že člověk se během svého života vystavuje působení různých škodlivých faktorů, jako jsou tabák, kouř, alkohol, škodlivé záření, chemikálie, tučná strava, nadměrné slunění, náročné fyzické cvičení a znečištěné životní prostředí. Vědci mají za to, že nadměrné množství volných radikálů v těle může mít za následek významné zkrácení délky lidského života.
Volné radikály navíc způsobují oxidaci krve. Přílišná oxidace krve může vést k nejrůznějším zdravotním komplikacím, například k cévním chorobám, zánětlivým onemocněním střev, ledvinovým onemocněním, srdečním onemocněním, rakovině. Má na svědomí i urychlení procesu stárnutí. Antioxidanty, jako jsou výtažky z květového pylu Graminex Flower Pollen Extracts™ , pomáhají eliminovat volné radikály snižováním vysoké míry oxidace zdravých buněk. Antioxidanty obsažené v přípravku Graminex Flower Pollen Extracts™ zabraňují volným radikálům v krvi ničit vlákna molekul příznivého cholesterolu, který působí preventivně proti rozvoji onemocnění a podporuje imunitní systém v boji proti již existující chorobě.
Antioxidanty se nacházejí ve velkém množství v ovoci, zelenině a rostlinné stravě, jako jsou obilniny, které jsou bohaté na vlákninu. Vysoký obsah antioxidantů mají také minerály, například vitamíny A, C a E, beta karoten a selen. Zvýšená denní spotřeba potravin a potravinových doplňků bohatých na tyto vitamíny, jako je přípravek Graminex Flower Pollen Extracts™, napomáhá ke zlepšení zdravotního stavu a udržení dobré kondice.
Bylo prokázáno, že přípravek Graminex Flower Pollen Extracts™ vykazuje vysokou hodnotu ORAC, která překračuje hodnoty vykazované u včelího pylu a mnoha druhů ovoce a zeleniny. Výtažek Graminex Flower Pollen Extracts™ obsahuje více než 39 důležitých vitamínů, minerálů a živin, které tělo potřebuje k boji s toxiny a volnými radikály. Pyl Graminex™ se sbírá přímo z určitých rostlin a je zpracováván patentovanou technologií, která eliminuje riziko kontaminace a znečištění, což u včelího pylu nelze plně vyloučit. Kromě obsažených antioxidantů, které pomáhají odbourávat volné radikály, výtažky Graminex Flower Pollen Extracts™ také zlepšují celkový zdravotní stav organismu tím, že zvyšují energii a dodávají tělu důležité živiny v podobě esenciálních aminokyselin, nenasycených mastných kyselin a enzymů. Přípravek také soustavně zlepšuje vstřebávání vitamínů, minerálů a stopových prvků ze zkonzumované potravy a pomáhá tak regulovat životní funkce a procesy, jako jsou obranná funkce imunitního systému, metabolizmus tuků, udržování přijatelné hladiny cholesterolu v krvi a správná funkce prostaty.
English to Czech: InterRail Pass
Source text - English
TYPES OF TRAINS IN EUROPE
All trains are not created equal! There are a number of different types, each with its own kinds of advantages and offering different types of travel experiences.

High-speed trains
Want to get there really fast? How does up to 300 kph sound? Many high-speed services criss-cross Europe, all offering comfortable 1st and 2nd class cars and catering. Seat reservations are compulsory and a supplement must be paid. For an overview of trains requiring a supplement, please see the table on the back of your Traveller's Guide map.

Other day trains
There is also a full schedule of domestic and international trains running at regular speed that can get you to your destination quickly and without unnecessary delay. These are commonly called Intercity (IC) or Eurocity (EC) trains. Others, such as Direct, Interregio or Express trains, make more frequent stops along the way.

Local trains
Slow and easy – that's the pace on the countless local trains you'll find all throughout Europe. Meandering through small towns or farmlands, you'll see life local life up close and far from the tourist crowds. Your fellow passengers are simply those going about their daily business of travelling to work, school or the market. Step out and explore a picturesque village. Have a tasty meal in a family-run restaurant! This is a slice of Europe every traveller should experience at least once. Local trains sometimes only have 2nd class cars. Seat reservations are not necessary.

Legendary scenic rail lines
Shimmering lakes, plunging gorges, snow-capped mountains, coastal splendours – Europe abounds with picturesque, back-country routes that boast breathtaking scenery. Try the line between Perpignan and La Tour de Carol in France or Italy's Ventimiglia to Cuneo train. There are also legendary tourist lines that dot Europe's landscape. InterRail Passes are accepted on many of these trains or entitle you to a discount. Reservations are often required or recommended.
Translation - Czech
TYPY VLAKŮ V EVROPĚ
Nejsou všechny vlaky stejné! Existuje mnoho různých typů a každý vám nabízí jiné výhody a jiné cestovatelské zážitky.

Vysokorychlostní vlaky
Chcete dorazit na místo skutečně rychle? A co takhle rychlostí 300 km/h? Evropu křižuje mnoho vysokorychlostních vlaků nabízejících pohodlné vozy 1. a 2. třídy a gastronomický servis. Rezervace míst je povinná a musíte zaplatit příplatek k jízdnému. Přehled vlaků s příplatkem najdete v tabulce na zadní straně mapy tohoto průvodce.

Ostatní denní vlaky
Existuje široká škála vnitrostátních a mezinárodních vlaků jezdících běžnou rychlostí, které vás mohou dovézt na místo určení rychle a bez zbytečného zpoždění. Obvykle mívají označení Intercity (IC) nebo Eurocity (EC). Jiné spoje, například vlaky s označením Direct, Interregio nebo Express, mají na trase častější zastávky.

Místní vlaky
Pomalu a v klidu – tak můžete cestovat v bezpočtu místních vlaků, které najdete po celé Evropě. Tratě se vinou malými městečky a venkovskou krajinou, zde můžete poznávat místní život zblízka a stranou od davů turistů. Vašimi spolucestujícími budou lidé, kteří jedou za svými každodenními povinnostmi a cestují do práce, do školy nebo za obchodem. Vystupte a prohlédněte si malebnou vesničku. Dopřejte si chutné jídlo v rodinné restauraci! Tohle je kousek Evropy, který by měl každý cestovatel zakusit alespoň jednou v životě. Místní vlaky mají někdy pouze vozy 2. třídy. Místenky nejsou nutné.

Legendární historické či vyhlídkové tratě
Třpytivá jezera, strmé rokliny, zasněžené vrcholky hor, krásy mořského pobřeží – Evropa nabízí mnoho malebných odlehlých venkovských tras, které skýtají úžasné scenérie. Zkuste trať mezi městy Perpignan a La Tour de Carol ve Francii nebo se projeďte v Itálii na trati Ventimiglia – Cuneo. Evropská krajina je také poseta legendárními turistickými tratěmi. Na mnohých těchto tratích můžete s jízdenkou InterRail cestovat zdarma nebo s nárokem na slevu. Doporučujeme vám ovšem rezervovat si místo, často je rezervace i povinná.
French to Czech: Lettre personnelle
Source text - French
Chére Maria,
Je reprends contact avec toi, suite à mon silence.Ne m'en veux surtout pas.Je suis retournée en France,suite à de gros problèmes de santé, qui ont débuté en 1995, suite au décés de maman.En 1995, je travaillais à Paris dans un lycée au secrétariat , dans le service du proviseur.J'avais un contrat à mi-temps, j'avais Eric à ma charge et j'habitais un petit studio à Paris dans le batiment de maman.En 1993, date à laquelle, j'avais trouvé ce contrat à temps partiel, une grave maladie s'est déclarée pour maman, un cancer des intestins.Je pouvais grace à ce contrat être plus prés de maman, et l'accompagner dans ses soins: la chimio-thérapie: maman a subi une opération par la suite en 1994, une opération de la dernière chance, mais cela fût vain,Je m'occupais aussi à l'époque de Nicolas, maman, l'avait prise sous tutelle et de ce fait il était triste , il était très proche de maman.Nicolas , je ne sais t'expliquer clairement était malade depuis de longues années, suivi pour des soins de psychiatrie, il a beaucoup soufert, les médicaments, il était en hôpital,de jour et dans la famille tout le monde l'appréciait pour sa gentillesse.
Donc, j'étais à Paris et suite à ces tracas, ma situation financière, à Paris, il était difficile de joindre les deux bouts, Eric grandissait, je ne trouvais pas de logement.
Translation - Czech
Milá Marie,
tak Ti zase píšu. Nezlob se, že mi to trvalo tak dlouho. Vrátila jsem se do Francie po velkých zdravotních problémech, které mi začaly v roce 1995 po smrti maminky. V roce 1995 jsem pracovala v Paříži na sekretariátu jednoho gymnázia jako sekretářka ředitele. Měla jsem smlouvu na poloviční úvazek, starala jsem se o Erika a bydlela jsem v garsonce v nájemním domě, kde bydlela i maminka. Když jsem tu smlouvu v roce 1993 podepisovala, objevila se u maminky vážná nemoc, rakovina střev. Díky částečnému úvazku jsem mohla s maminkou trávit hodně času a pomáhat jí. Doprovázela jsem ji do nemocnice na chemoterapii. Po ní šla maminka v roce 1994 na operaci, byla to její poslední šance, ale bylo to zbytečné. V té době jsem se starala také o Nicolase, kterého měla maminka v opatrovnictví. Byl velice smutný, měl s maminkou velmi úzký vztah. Neumím ti to jasně vysvětlit, ale Nicolas byl už dlouhá léta nemocný, léčil se na psychiatrii, hodně trpěl, bral léky, docházel do stacionáře. V rodině ho všichni měli rádi pro jeho jemnou povahu.
Takže jsem tedy byla v Paříži, a po těchto strastech s maminkou přišly další, byla jsem v tíživé finanční situaci, bylo těžké vyjít s platem, Eric rostl, nemohla jsem najít pořádné bydlení.

English to Czech: EU - general text
Source text - English
According to Article 49 of the Treaty on European Union, any European country may apply for membership if it respects the principles of liberty, democracy, respect for human rights and fundamental freedoms, and the rule of law, principles which are common to the Member States' (Article 6.1 TEU). Accession, however, can only follow if the given European country fulfils all criteria of accession which were fixed by the European Council in Copenhagen in 1993 and reinforced by the European Council in Madrid in 1995. These criteria are:
political: stable institutions guaranteeing democracy, the rule of law, human rights and respect for protection of minorities;
economic: a functioning market economy and the capacity to cope with competition and market forces in the EU;
the capacity to take on the obligations of membership, including adherence to the objectives of political, economic and monetary union;
adoption of the acquis communautaire (the entire European legislation) and its effective implementation through appropriate administrative and judicial structures.
Translation - Czech
Podle článku 49 Smlouvy o Evropské unii se o členství může ucházet každá evropská země, která respektuje zásady svobody, demokracie a právního státu a má úctu k základním lidským právům a svobodám, což jsou zásady společné všem členským státům (čl. 6.1 SEU). K přistoupení ovšem může dojít jedině tehdy, pokud daná evropská země splní všechna kritéria pro vstup, jak byla stanovena Evropskou radou v Kodani v roce 1993 a doplněna na zasedání Evropské rady v Madridu v roce 1995. Tato kritéria jsou:
politická: stabilní instituce zajišťující demokracii, právní stát, dodržování lidských práv a práv menšin;
ekonomická: fungující tržní ekonomika a schopnost vypořádat se s konkurenčními tlaky a tržními silami uvnitř EU;
schopnost dostát závazkům vyplývajícím z členství, včetně dodržování cílů politické, ekonomické a měnové unie;
přijetí acquis communautaire (celého souboru práva Evropské unie) a jeho účinné prosazování prostřednictvím vhodných administrativních a zákonodárných struktur.
English to Czech: Economics - general
Source text - English
2002/03 Interim Results

OPERATING IMPROVEMENTS DRIVE STRONG PROFIT ADVANCE

KEY POINTS

Financial
Turnover up 4% at Ł741.1m (First half 2001/02: Ł711.9m)
Profit before tax* up 25% at Ł44.8m (Ł35.8m)
Cash inflow before dividends and acquisitions Ł18.3m (outflow of Ł8.6m)
Interim dividend maintained at 2.8p

Operational
Packaging: profit up, continued development in Plastics
Office Products: on course with rebuilding profitability
Good cash performance
Demand remains weak in many of our markets


Commenting on the half year results, Chairman, John Jones said:

"Against a background of challenging market conditions, our continuing emphasis on operating improvements produced a substantial profit advance in the seasonally stronger first half of the financial year. We met our key objectives of further profit growth in Packaging and the rebuilding of profitability in Office Products.

We will continue to concentrate on driving operational performance across the Group and improving results in Office Products. Demand in many of our markets remains weak and in Corrugated and Paper the outlook for prices is uncertain. Despite this tough market environment we are confident of making encouraging progress over the year as a whole."


OPERATING REVIEW

Packaging

Corrugated and Paper
Sales in the Corrugated and Paper segment increased by 5% to Ł377.2 million and operating profit grew by 10% to Ł31.6 million.

Jones Packaging
Jones Packaging continued to make good progress and produced an encouraging result, benefiting from operational improvements. The contribution from the former Pressco plants raised profitability and enabled the division to increase its market share against a background of poor UK demand.
Translation - Czech
Prozatímní výsledky za období 2002/03

PROVOZNÍ ZLEPŠENÍ VEDOU K VÝRAZNÉMU ZVÝŠENÍ ZISKŮ

KLÍČOVÉ BODY

Finanční
Zvýšení obratu o 4% na 741,1 milionů liber (první pololetí 2001/02: 711,9 milionů liber)
Zvýšení zisku před zdaněním* o 25% na 44,8 milionů liber (35,8 milionů liber)
Příliv hotových prostředků před výplatou dividend a akvizicemi 18,3 miliony liber (odliv 8,6 milionů liber)
Hodnota prozatímní dividendy se udržela na 2,8 pencích na akcii

Operační
Obalová technika: zvýšení ziskovosti, pokračující rozvoj v provozu umělých hmot
Kancelářské výrobky: pokračovat v obnovování ziskovosti
Dobrá výnosnost akcií
Na mnohých našich trzích přetrvává slabá poptávka


Předseda představenstva John Jones zhodnotil pololetní výsledky takto:

"I v náročných podmínkách silně konkurenčního prostředí se nám v tradičně silnějším prvním pololetí fiskálního roku podařilo podstatně zvýšit zisky díky tomu, že klademe důraz na neustálá provozní zlepšení. Splnili jsme klíčové cíle dalšího růstu zisku v sektoru obalové techniky a obnovování ziskovosti v resortu kancelářských výrobků.

I nadále se soustředíme na zvyšování provozního výkonu v celé Skupině a na zlepšování výsledků v oblasti kancelářských výrobků. Poptávka na mnoha našich trzích zůstává slabá a v sektoru vlnitého papíru a papíru je cenový výhled nejistý. Věříme však, že navzdory náročnému tržnímu prostředí dosáhneme povzbudivého výsledku za tento rok jako celek."


PROVOZNÍ PŘEHLED

Obalová technika

Vlnitý papír a papír
Obrat v segmentu vlnitého papíru a papíru stoupl o 5% na 377,2 milionů liber a provozní zisky stouply o 10% na 31,6 milionů liber.

Jones Packaging
Společnost Jones Packaging pokračovala v úspěšné činnosti a díky provozním zlepšením dosáhla povzbudivého výsledku. Přínos z někdejších továren společnosti Pressco zvedl výnosnost a umožnil divizi zvýšit svůj podíl na trhu navzdory nízké poptávce, která ve Spojeném království v současnosti přetrvává.
French to Czech: Questionnaire - Customer value analysis
Source text - French
Bonjour Madame, Monsieur, je suis … de l'institut d'études IPSOS.

Je voudrais parler ŕ la personne qui est décisionnaire dans le choix des fournisseurs de pneumatiques sur votre point de vente.

SI PAS SUR LE SITE :
Si cette personne ne travaille pas en permanence sur votre site, je souhaiterai parler ŕ celle qui est en charge quotidiennement de la relation avec les fournisseurs de pneumatiques, celle qui est visitée par les représentants des manufacturiers ou des grossistes).


UNE FOIS LA PERSONNE CONTACTEE :

SI NS
Nous réalisons actuellement une étude pour le compte du groupe Michelin. Cette étude s'inscrit dans une démarche commune des activités tourisme et poids lourds. Son objectif est de connaître le niveau de satisfaction des distributeurs de pneus ŕ l'égard des manufacturiers pour davantage vous satisfaire.

SI RC OU CA
Nous réalisons actuellement une étude pour le compte du groupe Michelin. Son objectif est de connaître le niveau de satisfaction des distributeurs de pneus ŕ l'égard des manufacturiers pour davantage vous satisfaire.


QA. Diriez-vous que dans le domaine des pneumatiques…

1.Vous ętes le décisionnaire final pour le choix des fournisseurs de votre établissement
2.Vous participez ŕ la décision de choix des fournisseurs de votre établissement en étant prescripteur
3.Vous ne participez pas ŕ la décision en étant prescripteur mais vous ętes responsable au quotidien de la relation avec les fournisseurs de pneumatiques


QB. Dans le domaine des pneumatiques, intervenez-vous …
PLUSIEURS REPONSES POSSIBLES

1.Pour l'activité tourisme (TC)
2.Pour l'activité poids lourds (PL)


QC. Quelle est votre fonction au sein de l'établissement oů vous travaillez ?

1.Patron, directeur de concession, de garage (ŕ son compte)
2.Gérant, directeur (salarié)
3.Chef de magasin
4.Chef d'atelier
5.Technicien, monteur
6.Commercial, responsable des ventes
7.Autres (préciser)
8.Refus

SI QA=3 ET QC=5  STOP INTER


Translation - Czech
Dobrý den, paní, pane, jsem … z Institutu IPSOS, který se zabývá výzkumem trhu a veřejného mínění.

Rád bycho hovořil s člověkem zodpovědným za výběr dodavatelů pneumatik ve vaší provozovně.

POKUD NENÍ PŘÍTOMEN:
Pokud tato osoba nepracuje trvale na vašem pracovišti, rád bych hovořil s někým, kdo má na starost každodenní kontakt s dodavateli pneumatik, s kým jednají obchodní zástupci výrobců nebo velkoobchodů.


JAKMILE JE DOTYČNÁ OSOBA ZKONTAKTOVÁNA:

POKUD NS (z fr. négociant spécialisé, specializovaný velkoobchod (jako např. Euromaster v Francii), pozn. překl.)
V současné době provádíme studii pro skupinu Michelin. Tato studie se zaměřuje na spolupráci divizí pneumatik pro osobní a nákladní automobily. Jejím cílem je získat lepší povědomí o spokojenosti distributorů pneumatik s výrobci, aby skupina Michelin mohla do budoucna lépe uspokojovat jejich potřeby.

POKUD RC NEBO CA (RC z fr. réseau constructeur, síť výrobce automobilů, např. Renault; CA z fr. Centre Auto, autocentrum, kde poskytují širokou škálu služeb pro majitele automobilů - opravna, prodej autodílů, pneumatik, vnitřního vybavení, myčka, tuning apod. - ve Francii např. Norauto, pozn. překl.)
V současné době provádíme studii pro skupinu Michelin. Jejím cílem je získat lepší povědomí o spokojenosti distributorů pneumatik s výrobci, aby skupina Michelin mohla do budoucna lépe uspokojovat jejich potřeby.


QA. Řekl/a byste, že v sektoru pneumatik…

1.Jste osoba, která má poslední slovo při výběru dodavatelů pro vaši firmu
2.Podílíte se na rozhodování o výběru dodavatelů pro vaši firmu jako odborný poradce, zadavatel objednávek
3.Nepodílíte se na rozhodování o výběru dodavatelů, ale zodpovídáte za každodenní kontakty s dodavateli pneumatik


QB. V segmentu pneumatik se věnujete prodeji…
MOŽNOST ZVOLIT VÍCE ODPOVĚDÍ

1.Pneumatik pro osobní automobily (TC)
2.Pneumatik pro nákladní automobily (PL)


QC. Jaké je vaše postavení ve firmě, kde pracujete?

1.Majitel firmy, ředitel pobočky, vedoucí autoopravny (majitel)
2.Vedoucí, ředitel (zaměstnanec)
3.Vedoucí prodejny
4.Vedoucí dílny
5.Technik, montér
6.Obchodní referent, vedoucí prodeje
7.Jiné (upřesnit)
8.Odmítá odpovědět

POKUD QA=3 A QC=5  UKONČIT INTERVIEW

English to Czech: Braun Series shavers website
General field: Marketing
Detailed field: Internet, e-Commerce
Source text - English
http://braun.com/global/home.html
Translation - Czech
http://braun.com/cz/male-grooming.html
More
EU terminology
Master's degree - Charles University, Prague, Czech Republic
Years of translation experience: 21. Registered at ProZ.com: Apr 2001. Became a member: Dec 2006.
English to Czech (Charles University, Prague, Czech Republic, verified)
French to Czech (Charles University, Prague, Czech Republic, verified)
English to Czech (Institute of Translation and Interpreting)

ATA, ITI, JTP, IAPTI
Adobe Acrobat, Microsoft Excel, Microsoft Word, Passolo, SDL TRADOS, SDLX, XTM
https://marketademlova.com
CV available upon request
Conferences attended
Markéta Demlová MITI endorses ProZ.com's Professional Guidelines.
Bio
English and French to Czech translator specialised in marketing, advertising, corporate communication and EU-related materials translation

Services: translation, transcreation, proofreading, copywriting, website localisation, subtitling

Primary reviewer of Czech translations for the Nike.com localisation project

Transcreation projects for premium brands – Hermès, Rolex, Montblanc, COS

Translation: catalogues (PartyLite), corporate communication and surveys (LISI, Movianto, Accor Services, Vétoquinol), corporate newsletters&magazines (Henry Schein, Stûv), POS materials (Brise, Timotei, Wella, Iceland)

Advertising - transcreation of TV commercials scripts (Wellaflex, Colgate, Mr Muscle, Glade, Philips, HP, Hugo Boss, Brother)

Website localization - e.g. HSBC, LUSH, Braun, Gillette, LUSH, HSBC, Valamar, Christina Aguilera fragrance, Levenhuk, Toni&Guy, CBSC

Summaries of EU legislation http://europa.eu/legislation_summaries/index_en.htm (translation: 500,000 words, proofreading: 300,000 words)

Surveys and questionnaires - Enterprise survey on new and emerging risks (ESENER) (European Agency for Safety and Health at Work)

OECD student assessment programmes and studies - PISA ((Programme for International Student Assessment), PIRLS (Progress in International Reading Literacy Study), TIMSS (Trends in International Mathematics and Science Study), ICILS (International Computer and Information Literacy Study)

Subtitling: films and DVDs (10 Things I Hate About You, Desperate Housewives...)

Experienced literary translator http://www.kosmas.cz/prekladatel/10774/marketa-demlova/

36 books translated (fiction, psychology, pedagogy, science, language textbooks, history, fashion and style)

Daily turnaround: 2,500 - 4,000 words

Qualified member of

Institute of Translation and Interpreting

(ITI) since 2015

Member of

Union of Interpreters and Translators

, Prague, Czech Republic since 2000

Member of

American Translators Association

(ATA) since 2014

Member of

International Association of Professional Translators and Interpreters

(IAPTI) since 2014






http://demlova.blog.idnes.cz/


This user has earned KudoZ points by helping other translators with PRO-level terms. Click point total(s) to see term translations provided.



---

This user has reported completing projects in the following job categories, language pairs, and fields.





Project History Summary
Total projects
119
With client feedback
1
Corroborated
1
100% positive (1 entry)
positive
1
neutral
0
negative
0




Job type
Translation
79
Editing/proofreading
29
Website localization
10
Project management
1
Language pairs
English to Czech
97
French to Czech
20
Slovak to Czech
3
2
Specialty fields
Poetry & Literature
25
Cinema, Film, TV, Drama
14
Government / Politics
12
Business/Commerce (general)
11
Education / Pedagogy
10
Advertising / Public Relations
6
Medical: Health Care
4
Psychology
4
Retail
4
Management
4
Internet, e-Commerce
4
Linguistics
4
Marketing / Market Research
3
Medical (general)
3
Architecture
3
Tourism & Travel
2
Textiles / Clothing / Fashion
2
Automotive / Cars & Trucks
2
Environment & Ecology
2
Telecom(munications)
2
Transport / Transportation / Shipping
2
Cosmetics, Beauty
2
Music
1
Journalism
1
Sports / Fitness / Recreation
1
Finance (general)
1
Human Resources
1
Science (general)
1
Geography
1
History
1
Economics
1
Medical: Pharmaceuticals
1
Social Science, Sociology, Ethics, etc.
1
Media / Multimedia
1
Other fields
Biology (-tech,-chem,micro-)
4
Electronics / Elect Eng
1
Engineering (general)
1
Mechanics / Mech Engineering
1
Aerospace / Aviation / Space
1
Construction / Civil Engineering
1
Insurance
1
Art, Arts & Crafts, Painting
1
Keywords: Czech, French, English, English to Czech, French to Czech, français, traducteur, tchèque, traduction, marketing, advertising, corporate, POS, localisation web, EU, European Union, Europa, translation, editing, proofreading, subtitling, literature, children's books, novels, language textbooks, psychology books, website localisation, advertising, PR, business, humanities, arts, books, culture, history, linguistics, pedagogy, philosophy, psychology, social studies, sports, religion, travel and tourism, beauty, cosmetics, personal care, body care, surveys, questionnaires
16 visits in the last month,
from a total of 13 visitors This profile has received