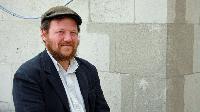 Atar Hadari
Award winning Hebrew literary translator



Hebden Bridge, United Kingdom

Local time:

04:36 BST (GMT+1)




PayPal accepted

Feedback from
clients and colleagues
on Willingness to Work Again

5

positive reviews

(2 unidentified)


Your feedback
Freelance translator and/or interpreter,

Verified site user
This person has a SecurePRO™ card. Because this person is not a ProZ.com Plus subscriber, to view his or her SecurePRO™ card you must be a ProZ.com Business member or Plus subscriber.

Translation, Editing/proofreading, Subtitling, Transcription, Voiceover (dubbing), Training, Project management, Copywriting, Website localization, Interpreting, Software localization
Specializes in:
Art, Arts & Crafts, Painting
Finance (general)
Business/Commerce (general)
Poetry & Literature
Cinema, Film, TV, Drama
Government / Politics
History
Journalism
Religion
Cooking / Culinary
More
Questions answered: 3
PayPal, Check, Money order, Wire transfer | Send a payment via ProZ*Pay
Sample translations submitted: 1
Hebrew to English: Song of the Great Mind by UZ Greenberg
General field: Art/Literary
Detailed field: Poetry & Literature
Source text - Hebrew
שִׁיר הַשֵּׂכֶל הַגָּדוֹל
Song of the great mind
זֶה הַשֵּׂכֶל הַהוּא.. הַקָּטָן, כְּאֶפְרוֹחַ רוֹפֵס הוּא;
הוּא פוֹחֵד מִמֶּרְחָב.. וּבְמִדַּת הַיָּם הוּא בוֹחֵל;
גַּחְלִילִית הַיַּעַר בַּלֵּיל וְקֵיסַם-בֵּית-מוֹזֵג הוּא
בְּלֵיל הַשָּׂדֶה לְעֵינֵי הָעֶגְלוֹן שֶׁנּוֹהֵג הוּא
קְרוֹנוֹ-וְסוּסוֹ לְאַט-אַט בֶּעָפָר וּפוֹהֵק הוּא..
זֶה הַשֵּׂכֶל הַהוּא, הַקָּטָן הֶעָנִי, הַמְשַׁמֵּשׁ
לְעֵסֶק יוֹמוֹ שֶׁל רוֹכֵל,
שֶׁבְּנַעֲוַת הַלַּעַג לְמַרְאֵה תִפְאֶרֶת לוֹעֵג הוּא.
הוּא הוֹלֵךְ בִּרְחוֹבֵנוּ סָמוּך לַגַּגּוֹת הַנְּמוּכִים
וּמְלַחֵךְ אֶת אֵזוֹב הַיָּמִים.. וְשׁוֹתֶה מֵי מַרְזֵב,
וְרוֹאֶה בְכָל כֶּלֶב קָטָן מִין נָמֶר וּמִין זְאֵב.

אַךְ-הַשֵּׂכֶל הַהוּא.. הַגּדוֹל, הַכָּנֵף-בִּנְגֹהוֹת,
הַשַּׁלִּיט הָעָלְיוֹן, הַמּוֹלֵךְ גְּבֹהוֹת,
מִיּוֹם עַם עַל נִירוֹ וְיַמּוֹ וּמַלְכּוֹ עֲלֵי כֵס
וְעֵינָיו הָרֵי מוֹאָב רוֹאוֹת –
אֵינֶנוּ בָזֶה. הוּא יוֹשֵׁב בְּקִנּוֹ כְּנִשְׁכָּח,
אַךְ חַי וְקַיָּם הוּא! אֲנִי שָׁר אֶל עַמִּי: זְכֹר נֶשֶׁר-
הַדַּעַת, יוֹשֵׁב בְּקִנּוֹ כּנִשְׁכָּח.. זְכֹר: נֶשֶׁר!
קְרָאֵהוּ לָבוֹא – וְיָבוֹא לְהַרְאוֹתְךָ אֶת הַגֶּשֶׁר
לְמַעֲבָר-מִכָּאן, מְקוֹם בִּצַּת חֲלוֹם.. אֶל הַפֶּשֶׁר.

אֶבְיוֹנִים כֹּה מִלְּבַר, מְרוּטֵי-מִכָּל-פְּאֵר, נַעֲוֵי דְמוּת,
וְלֹא כֵן בְּתוֹךְ-תּוֹךְ זֶה גוּפֵנוּ, אֲשֶׁר הוּא עָמֹק
מִמִּדַּת הַגַּשְׁמִי אֲשֶׁר לוֹ: בּוֹ שְׁמוּרִים נֶחְבָּאִים
כְּבַהֵיכָל הַמּוּגָף, כָּל מִינֵי יְקָרוֹת וּפְלָאִים,
עֲדֵי יָבְקַע שַׁעַר-לֵב גָּדוֹל וְרָחָב בְּיַד בַּעַל-בּוֹקֵעַ
וּבְקֶרֶן-הָאַיִל תּוֹקֵעַ..

אֶל יוֹם זֶה אֲנִי שָׁר וּמְחַרְחֵר בְּכָל שִׁיר אֶת רִיב הַכִּסּוּף
בְּלִבּוֹת זֶה הַדּוֹר; וְכָל אוֹת מְשַׁסֶּפֶת שִׁסּוּף.
וְאֲנִי תוֹפֵשׂ כָּל בּוֹגֵד-מִתְכַּסֶּה וְחוֹשְׂפֵהוּ חִשּׂוּף:
זֶה הַמְלַמְּדֵנוּ לִהְיוֹת אֶל נָהָר כְּפִי סוּף – –
אֶבְיוֹנִים כֹּה מִלְּבַר וּגְבִירִים-אַדִּירִים כֹּה מִלְּגוֹ!
וְזֶה הַקֶּרַע בַּתָּוֶךְ? – אָמֵן, אֲנִי שָׁר אֶת הַיּוֹם
אֲשֶׁר בּוֹ יְחֻבַּר קַו-פֶּלֶא-הַגֶּזַע שֶׁטִּיטוּס הָרוֹמִי פִּלְּגוֹ.


Translation - English
Song of the Great Mind

That's what the mind is… that little crushed chick
he's leery of the open.. and sick at the sea's width;
a forest firefly at night and beer-house tooth pick
at night in the field at the horse driver's blink
his horse and cart slow slow in the dirt and he's yawning…
that's what the mind is, the tiny one used
for the tradesman's daily round,
and with a crooked laugh at the sight of splendour it laughs.
It walks our streets next to the stooping roofs
and licks the moss of the days… and drinks at drains
and sees every poodle as a kind of tiger or a wolf.

But the mind is.. the great one, winging in heaven's glows
the tyrant above, governing the heights
by day a people on his land and sea and his King on the throne
and his eyes see the mountain ranges of Moab –
he is not there. He sits in his nest as if forgotten
but he is alive and well! I sing to my people: remember the eagle
wisdom, sitting in his nest as if forgotten… remember: the eagle!
Summon him – and he will come show you the bridge
to cross from here, this swamp of dreams… to the middle way.

Such beggars to look at, plucked of all miracles, crooked of form
nor inside our body, which is deeper
than its physical lineaments: in it are kept hidden
as in an armoured citadel, all kinds of lights and miracles
until the great and wide gate of the heart be broken through by the master breaker
and the ram horn's blow echo and re-echo…

For that day I sing and clear my throat
in every poem the din of shame
in the hearts of this generation; and every letter rends a rent.
And I collar each counterfeiter and tear a strip off him
this to teach us to face the river as if the Red Sea-

Such beggars to look at and such lords within!
And this tear between? – Aye, that day I sing
on which the wonder line of the race
will be re-joined that Roman Titus cut in twain.

More
PhD - Liverpool Hope University
Years of experience: 26. Registered at ProZ.com: Jun 2013.
N/A
N/A
Translators Association, Society of Authors
Adobe Acrobat, Microsoft Word, Powerpoint
English (DOC)
Atar Hadari endorses ProZ.com's Professional Guidelines.
Bio
Atar Hadari was born in Israel, raised in England and studied poetry and playwrighting with Derek Walcott at Boston University. He is a Pen Translates Award winning and highly experienced translator of fiction, non-fiction, poetry and plays. "Songs from Bialik: Selected Poems of H. N. Bialik" (Syracuse University Press) was a finalist for the American Literary Translators' Association Award and his "Lives of the Dead: Poems of Hanoch Levin" won a Pen Translates award in 2016 and appeared from Arc in June and was reviewed here: https://www.tabletmag.com/jewish-arts-and-culture/268141/hanoch-levin-poetry

Awarded the first British Centre for Literary Translation's Mentorship in Hebrew, he spent 2015 translating the classic Hebrew novel by Haim Hazaz, "The Gallows" with Nicholas de Lange, an extract of which appeared in Kenyon Review last December. He contributes a Hebrew bible translation column to MOSAIC magazine and is currently in the 3rd year of a PhD on the translation of Deuteronomy by William Tyndale at Liverpool Hope University. His adaptations of Yiddish plays have won a Mentor Playwrigfhts Project award at the Mark Taper Forum and his adaptation of "God of Vengance", "Merciful Father" won a European Foundation of Jewish Culture award and was produced in New York by UpTheatre, Manhattan.
His experience includes financial translation for The Marker/Haaretz Business page, historical translations for Benzion Netanyahu and literary speech translation for David Grossman, as well as lyric translations from the longest running Hebrew musical, 'Solomon and the Cobbler'.

Keywords: Pen Translates Award Winning, Poetry, Fiction, History, Journalism, Plays, Screenplays, Novels, Feature Articles, Real Estate, Financial Reports, Art Catalogs, Memoirs, Song Lyrics. Published collections of Bialik and Hanoch Levin.
Profile last updated
May 25