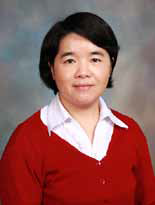 Member since Dec '14
Working languages:
English to Chinese
Chinese to English
Eileen Peng
Full-time English Chinese translator



Canada

Local time:

21:23 EDT (GMT-4)




Native in

: Chinese
Responsible, Punctual and Accurate
Freelance translator and/or interpreter
This person has a SecurePRO™ card. Because this person is not a ProZ.com Plus subscriber, to view his or her SecurePRO™ card you must be a ProZ.com Business member or Plus subscriber.

This person is not affiliated with any business or Blue Board record at ProZ.com.
Translation, Editing/proofreading, Website localization, Software localization, Subtitling, MT post-editing
Specializes in:
Computers (general)
Computers: Software
Certificates, Diplomas, Licenses, CVs
Business/Commerce (general)
Education / Pedagogy
Tourism & Travel
Linguistics
IT (Information Technology)
Law (general)
More
PRO-level points: 8, Questions answered: 2
Visa, PayPal, Wire transfer, Money order, Check
Sample translations submitted: 3
English to Chinese: Effects of the Attributes of Educational Interventions on Students' Academic Performance A Meta-Analysis
Source text - English
The purpose of this literature review is to systematically examine policy and practice intervention research and assess the impact of those interventions on high school dropout and school completion rates. This systematic review extends the literature by (a) describing both policy and practice interventions, (b) synthesizing findings from experimental or quasi-experimental research, and (c) examining the common elements of effective interventions. Specifically, this review addresses two main questions. First, what are the characteristics of the empirical literature examining high school dropout or school completion interventions? Second, what are the common elements of effective policy or practice interventions for reducing high school dropout rates or increasing school completion rates? Findings indicate that despite research highlighting the need to address multiple risk factors and the need for early intervention, the bulk of current empirical research is focused on single-component, individual, or small group interventions delivered at the high school level. Further research is needed to provide guidance to schools regarding the integration of dropout efforts with other school initiatives. Multitiered frameworks of support are suggested as a structure for accomplishing this effectively and efficiently.

This meta-analysis examined the influence of attributes related to the implementation of learning strategy instruction interventions on students' academic performance, and also examined how the attributes related to the method of testing the intervention effects affected the actual effects measured. Using metaregression, we analyzed the influence of the subject domain in which the intervention was implemented, the implementer, its duration and intensity, student cooperation, and research method aspects (including measurement instrument). Most attributes moderated the intervention effect. Using forward regression analysis, we only needed four attributes to obtain the best model, however. This analysis showed that the intervention effect was lower when a standardized test was used for evaluation instead of an unstandardized test. Interventions implemented by assistants or researchers were more effective than those implemented by teachers or using computers. Cooperation had a negative, and session duration a positive, contribution. Together, these attributes explained 63.2% of the variance in effect, which stresses the importance of emphasizing not only the instructional focus of an intervention but also its other attributes.

Translation - Chinese
运用整合分析法(Meta-Analysis)对教学干预手段影响学生学业表现若干因素的效果分析

本篇文献综述是为了系统解释策略与实际干预研究并评估这些干预手段对高中辍学率与完成率的影响。本篇综述分为(a) 策略与实际干预手段的描述;(b) 实验与准实验结果的综合;(c) 有效干预常用元素的研究三个部分。具体来说,本综述探讨两个主要问题:第一,干预高中辍学和完成情况的现有文献有哪些特点?第二,能够减少高中辍学率和提高完成率的有效策略和实际干预手段有哪些常用元素?结果表明,尽管很多研究强调要解决多方面风险因素和尽早干预的必要性,但大量已进行的研究还是都集中在高中阶段的某些单一因素,个人或小范围的干预方面。今后还需要做进一步的研究指导学校如何把减低辍学率和其他一些举措结合起来。

本文采用整合分析(meta-analysis)方法研究影响学生学业表现的教学干预手段的相关因素, 并分析测试干预效果的相关因素是如何影响实际测试效果的。我们运用回归分析法( meta-regression)分析受干预手段影响的对象,实施干预的人,干预时间长度和强度,学生的配合以及研究方法(包括测试仪器)。大多数的因素在干预效果中起到了积极作用。然而,采用前向回归分析,我们只需要四个因素就能得到最佳模式。此分析表明采用标准化的测试代替非标准化的测试方法,干预效果没有那么明显。由研究助手或研究人员实施的干预手段比由老师或电脑进行的干预要更加有效。学生配合是一个消极因素而时间长度则是一个积极因素。总之,这些因素能够解释试验效果中63.2%的变化,也说明了在干预手段中重点不仅仅只局限于教学干预,还要重视其他相关因素。

English to Chinese: Singapore's Up-and-coming Neighourhoods
Source text - English
Staid, efficient, clean, dull. Singapore has been described as all these things but change is coming. Singapore now has its finger firmly on the pulse, and in-the-know locals are spoiled for choice with indie bookstores, craft markets and speciality coffee shops popping up across the island. Experience an unexpected side to Asia's most glamorous city in one of these neighbourhoods on the rise.

Tiong Bahru: Singapore's latest (and greatest) indie enclave

The buzz began in 2011 when 40 Hands Coffee (an espresso-coffee café; 78 Yong Siak St) and Books Actually (an indie bookstore that also publishes under its Maths Paper Press imprint; www.booksactually.com; 9 Yong Siak St) opened shop. Today, a whole slew of boutique joints have turned the area into Singapore's coolest enclave. Tiong Bahru's status as a hipster haven was unofficially cemented when Books Actually was selected to host a pop-up Monocle store coinciding with publisher Tyler Brûlé's visit to Singapore.

This neighbourhood has a little bit of everything. ……

If fixies aren't your thing, seek refuge in the old school Tiong Bahru market. This hawker centre has been around since 1955 and is proof that newer isn't necessarily better…or in this case yummier.

Chinatown: old is new is old

Chinatown has many guises: it's partly a tourist trap, but is also home to an array of Chinese clan associations, a mosque, an elaborate Indian temple and even the Buddha Tooth Relic Temple and Museum.

Chinatown is also no stranger to resourceful entrepreneurship, from secret cocktail haunts to hand-painted shoes. For a hush-hush drinking hole, look for the unmarked door fronting 28 Hong Kong St (www.28hks.com; 28 Hong Kong St). This cocktail bar thrives on secrecy and word of mouth - the website only has an email address and the bar rejects media requests for reviews. Make sure you book ahead if you want a seat. Cocktails such as the Corpse Reviver, Whore's Bath and Literate Lass are sure to tickle more than your tastebuds.

Chinatown Market on Smith Street is to go-to spot for cheap grub, and thirsty travellers will salivate at the selection of boutique beers at the Good Beer Company (stall 02-58). Tucked away in the corner, owner Daniel Goh serves up more than 50 beers and ciders. Try Taiwanese lychee beer, Trappist ales, pear and apple ciders, and even local beers made by Jungle Beer microbrewery.
…..

If you're still after low-fi, try visiting the Thieves Market (Sungei Road) where you'll find old-timers hawking everything from old Olivetti typewriters to LPs to mobile phones (that may or may not work). Hurry as the government are planning on relocating the market to make way for a new subway station…and perhaps a new bar or three.

Translation - Chinese
新加坡新兴的邻里社区

一直以来,新加坡都被看作是一个高效干净却又呆板无趣的地方,但是现在,这一切正发生着变化。紧跟时代的变迁,新加坡这座小岛上不断涌现的独立小书屋,手工艺市场和精品咖啡店让谙熟此地的本地人也变得眼花缭乱起来。让我们到这个亚洲最迷人城市正在变化中的邻里社区感受一下她不一样的一面吧。

中峇鲁:新加坡最新的(也是最大的)独立小铺聚集地

2011年,40 Hands 咖啡店(位于Yong Siak 第78街的一家经营浓缩咖啡的小店)和Book Actually 书店(一家位于Yong Siak 第9街的独立书屋,同时又是Math Paper Press 出版社,网址:www.booksactually.com)开张,在这个区域兴起了一股风潮。今天,一整片的精品小店把这个区域变成了新加坡最酷炫的商铺聚集地。自从时尚杂志Monocle选中Book Actually作为它的游击品牌店,加上杂志创办人Tyler Brûlé亲自到访新加坡,更加巩固了中峇鲁作为时尚天堂在人们心目中的地位。

这个邻里社区可以说应有尽有。……。

如果品酒不是你的喜好,那么就到老中峇鲁市场来寻找乐趣吧。这个1955年就开张营业的食阁能够证明什么叫做愈久弥香,历久弥醇。

唐人街(当地名称:牛车水):古老而又常新

牛车水有着多重角色:它既是一个旅游热点区,又是中华各宗教协会总部的所在地,拥有一座清真寺,一座精致的印度庙以及佛牙寺和博物馆。

对于消息灵通的商人来说,牛车水绝对是个轻车熟路的地方,从隐秘的鸡尾酒吧到手工绘制的鞋子都能找到。想去一个秘密的地方饮酒,就去无招牌的28 Hong Kong St (www.28hks.com, 位于Hong Kong 第28街)。这个鸡尾酒吧以它的保密性和好口碑而生意兴隆 - 它的网站上只有一个电邮地址,而且这个酒吧谢绝任何媒体的评论。如果想要前往的话,记得一定要提前订座。酒吧里的鸡尾酒如Corpse Reviver, Whore's Bath 以及Literate Lass等等满足的绝对不仅仅只是你的味蕾。

位于史密斯街上的牛车水市场是便宜货的必淘之地,口渴的游客可以到Good Beer Company (店号02-58)畅饮让人垂涎的美味啤酒。啤酒店设在街头一角,店主Daniel Goh 提供超过50种啤酒和果酒供客人选择。去尝尝台湾的荔枝啤酒,Trappist ales啤酒,梨子和苹果酒,还有当地啤酒坊Jungle Beer microbrewery自己酿造的啤酒。
……。

如果你追求简单自然的生活方式,那么去Thieves Market 市场(位于Sungei 路)吧,那里你可以找到很多古老的玩意儿,从旧式的Olivertti打字机,到老式唱片还有手机(也许能用也许不能用的)都有。如果要去的话就要尽早尽快,因为现在政府正计划搬迁这个市场来修建新的一个新的地铁站。

English to Chinese: Canon's Digital Photo Professional (DPP)
Source text - English
Canon's Digital Photo Professional (DPP) is a free, and surprisingly powerful, image organising and editing application that ships in the box with every EOS camera. You'll find DPP on the EOS Digital Solution Disk alongside other very useful Canon developed software, such as EOS Utility. CPN writer George Cairns takes a closer look at the capabilities of the DPP software up to version 3.13.0.

If you consider your RAW images files as digital negatives then, like traditional negatives, they need to be processed in order to reveal their true colours and tones. DPP has all the digital darkroom tools you'll need to claw back highlight or shadow details, banish colour casts and crop to improve composition.

Digital Photo Professional is specially designed to work closely with your Canon EOS camera and lenses, thus enabling you to correct more challenging problems such as chromatic aberration and lens-related artifacts such as distortion and vignetting. In this article we'll take you on a comprehensive tour of the powerful features of this Canon image processing software.

Keeping up to date and setting up

At the time of writing the latest incarnation of Digital Photo Professional software is version 3.13.0, but it's well worth keeping DPP up to date. The latest version supports new Canon lenses and recognises RAW format files from the more recent Canon EOS DSLR cameras. If you've got an older version of DPP already installed on your computer it's free to update it. Indeed, if you've lost your software disk, you can download and install DPP for free.

To download an update for DPP (or install it from scratch) just click here for the Canon Europe Download Centre, then select your product type and camera model details and select the software option. The menu will offer a variety of downloads such as ImageBrowser EX, EOS Utility and EOS Digital Solution Disk Software, so scroll down and click on the appropriate link to download DPP for Mac or Windows. While you're there, you can also download a copy of the EOS Utility software. You will also find a copy of DPP's manual, which will help you to further maxmise all of the functionalities of the software.

Once DPP and the EOS Utility have been installed, plug your Canon EOS camera into your computer. If you've already opened DPP you can choose 'Tools > Start EOS Utility' from the main window's menu. In EOS Utility, go to 'Preferences' and choose 'Linked Software' in the drop-down menu. In the 'Linked Software' menu, choose 'Digital Photo Professional'. Click 'Register', choose the file types that you want DPP to open as soon as the EOS Utility has imported them, then Click 'OK'.

As your digital collection continues to grow it can be an increasing challenge to manage it. By default most image processing apps display photos according to shooting date and DPP is no exception. However, DPP enables you to sort imported images by assigning ratings or check marks to them.

Translation - Chinese
佳能的数码图片专业版(DPP)介绍

佳能的数码图片专业版(DPP)是一款免费的、功能强大的图像编辑与组织应用软件程序,随佳能的每一部EOS相机赠送。DPP包含在佳能的EOS数码解决方案光盘中,同时这个光盘中也包含其它非常实用的佳能开发软件,如EOS 实用程序等。现在,佳能专业网(CPN)专栏作者乔治•凯恩斯将进一步细述DPP3.13.0版本的各种功能。

如果把您的原始图像文件当作数码底片的话,那么正如传统的底片一样,它们需要做进一步的处理才能表现出其真实的色彩和色调。DPP拥有所有必需的数码暗房工具去修补强亮度或阴影的细节,消除色偏并改进合成图像的质量。

为了配合佳能的EOS相机和镜头,DPP作了有针对性的设计,使您能够解决更具挑战性的问题,例如减少色差、失真及晕影等。本文将带您全面了解这款佳能的图像处理软件。

保持最新的设置

尽管撰写本文时DPP的最新版本是3.13.0,您仍然需要及时更新以保持最新的设置,因为最新版本支持佳能的最新镜头以及各种最新的佳能EOS单反(DSLR)相机的原始文件格式。如果您的电脑上已经安装了旧版的DPP,您可以免费更新最新的版本。即使您遗失了佳能软件光盘,您还可以从网上免费下载并安装DPP。

要下载更新DPP(或者从头安装),只需点击这里查看佳能欧洲下载中心,选择您的产品类型和相机型号,然后选择相应软件。下载中心提供多种下载软件,例如ImageBrowser EX、EOS实用程序以及EOS数码解决方案等,所以您需要在菜单条中向下滚动,点击相应的链接,下载适用于Mac或Windows操作系统的DPP。 您也可以下载EOS实用程序,您还可以找到DPP使用手册,该手册将使您更进一步了解DPP的所有功能。

一旦DPP和EOS 实用程序安装完毕,把您的佳能EOS相机联接至电脑上。如果DPP已经打开,您可以在窗口主菜单里选择"工具>启动EOS 实用程序"。在"EOS 实用程序"里,点击"偏好设置",然后在下拉菜单里选择"链接软件"。在"链接软件"菜单里选择"数码图片专业版(DPP)"。等到EOS 实用程序导入文件后,点击"注册",选择您希望DPP打开的文件类型,然后点击"OK"键就可以了。

随着您储存的内容越来越多,要管理这些数码文件也日渐成为一个问题。和大多数软件一样,DPP也是根据拍摄数据采用默认图像处理应用来呈现照片的。但DPP软件能够让您根据设置的图片比率或所做的标记来排列所导入的图像。

More
Master's degree - National University of Singapore
Years of experience: 24. Registered at ProZ.com: Dec 2014. Became a member: Dec 2014.
N/A
N/A
Adobe Acrobat, memoQ, Microsoft Excel, Microsoft Office Pro, Microsoft Word, Powerpoint, SDL TRADOS, Wordfast
Eileen Peng endorses ProZ.com's Professional Guidelines (v1.1).
Bio
I am a freelance translator based in Canada with more than twenty years' experience in language teaching and translation. My translation includes a wide variety of styles such as brochure, flyer, website, training material, teaching syllabus, curriculum, report, manual, certificate, thesis, documentation etc.
I got my Master's Degree in Applied Linguistics from the National University of Singapore. The working experience of teaching, training and consulting in China, Singapore and Canada has made me a highly responsible, detail-oriented and efficient person. I can promise you reliable linguistic services including translating, proofreading, editing and QA wok.
My translation covers a range of fields including education, marketing, tourism, website localization, IT and technology. I also participated in some subtitling projects for media companies and translated contracts and certificates.
Now I am working as a full-time freelance translator, so I am always available for your long-term or short-term needs. Please feel free to contact me at
[email protected]
Thank you and look forward to working with you!
Keywords: native Chinese translator, English-Chinese translator, education, marketing, tourism, software localization, IT, computer, science & technology, website localization, localization, proofread, reviewer, 英译汉,汉译英,英汉翻译
Profile last updated
Aug 1, 2017