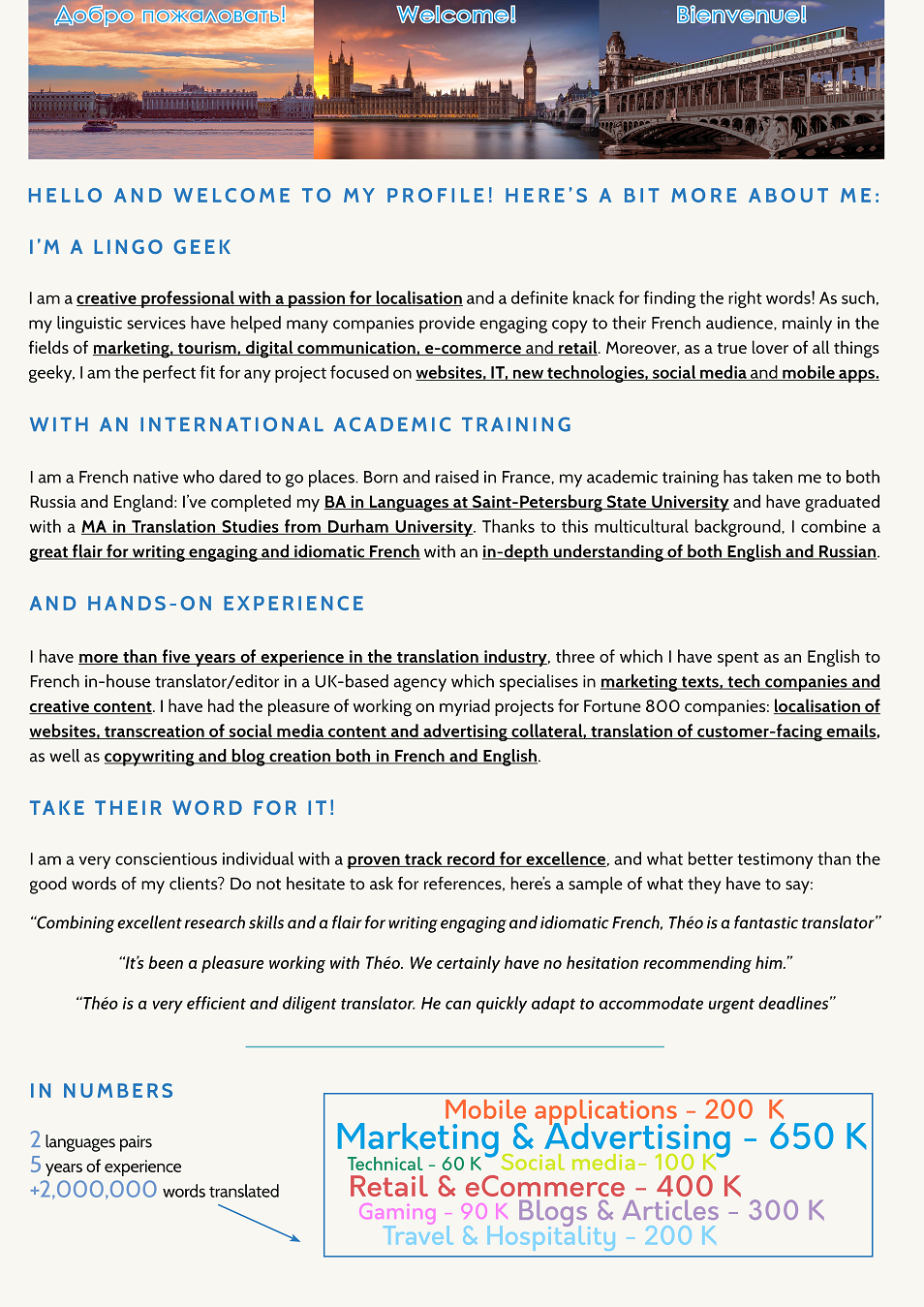 A lingo geek
I am a creative professional with a
passion for cultural adaptation and a definite knack for finding the right
words. As such, my linguistic services have helped many companies provide
engaging copy to their French audience, mainly in the fields of marketing,
tourism, digital communication, e-commerce and retail. Moreover, as a true
lover of all things geeky, I am the perfect candidate for everything that has
to do with websites, IT, new technologies, social media and mobile apps.
With an international academic training
I am a French native who dared to go
places. Born and raised in France, my academic training has taken me to both
Russia and England: I've completed my BA in Languages at Saint-Petersburg State
University and have graduated with a MA in Translation Studies from Durham
University. 
Thanks to this multicultural background,
I combine a great flair for writing engaging and idiomatic French with an in-depth
understanding of both English and Russian.
And hands-on experience
I have more than five years of
experience in the translation industry, three of which I have spent as an
English to French in-house translator/editor in a UK-based agency which
specialises in marketing texts, tech companies and creative content.
As a senior translator in the company, I
have had the pleasure of working on myriad projects for B2B and B2C clients:
translation of websites for major e-Commerce brands, transcreation of social
media content and advertising collateral, translation of customer-facing emails
and internal guidelines for a wide array of companies, as well as copywriting
and blog creation both in French and English.
Take their word for it!
I am a very conscientious individual
with a proven track record for excellence, and what better testimony than the
good words of my clients? Here's what they have to say:
 "Combining
excellent research skills and a flair for writing engaging and idiomatic
French, Théo is a fantastic translator"
« It's been a pleasure working with Théo. We
certainly have no hesitation recommending him. »
« Théo is a very efficient and diligent
translator who takes his work seriously. He can quickly adapt to accommodate
urgent deadlines »
Marketing & Advertising - 650 K
Retail & eCommerce - 400 K Travel & Hospitality - 200 K Mobile
applications - 200 K Social media- 100 K Gaming - 90 K Technical - 60 K Blogs
& Articles -