I provide translation and subtitling services from English and Spanish into Greek, my native language.
I specialise in the following areas: Politics, International Affairs & Organisations, Media, TV & Cinema, Fashion, Arts & Literature. I am also interested in Cooking, Baking, Travel & Tourism.
I am a Qualified Member of the Institute of Translation and Interpreting.
I have been a freelance translator since 2005. I have worked with translation agencies, companies, organisations and individuals, always with excellent results. Among many other projects, I have translated websites, articles, user guides, tenders, press releases, books, etc.
I have also been a freelance subtitler since 2007. I have an ongoing collaboration with big subtitling companies, mainly in the USA. I had an ongoing collaboration with a major subscription channel in Cyprus for seven years. I have subtitled TV shows, films, documentaries, fashion programmes, animated series, etc.
For the years 2003 until 2011 I worked at the House of Representatives in Cyprus as a parliamentary assistant. My main duties were bill drafting, legislation research, media monitoring, article writing and preparing for the parliamentary committees and the plenary.
For the years 2011 until 2013 I worked at the Ministry of Foreign Affairs of Cyprus, holding a position intended for the preparation and organisation of the six month presidency of Cyprus of the EU Council. I worked at the department responsible with the relations with the European Parliament. I participated in the organisation of meetings and official visits, in the preparation of dossiers for the Minister and I was also one of the contact persons between the Ministry and the Permanent Representation.
I am a volunteer subtitler of the TED Translators team for Greek.
I am a proud member of Translators without Borders, participating as an active member of the Rapid Response Team for Greek since November 2015, translating mainly news articles on a daily basis. I have contributed more than 100 hours of translation during the past year.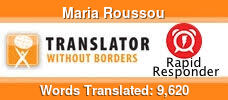 English to Greek & Spanish to Greek volunteer translator
I am also a
professional translator
: