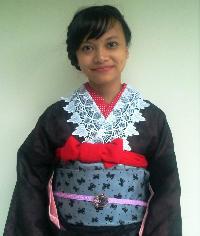 Working languages:
English to Indonesian
Indonesian to English
Vika Asriningrum
Dentistry and Medical Translator



Yogyakarta, Yogyakarta (Jogjakarta), Indonesia

Local time:

22:14 WIB (GMT+7)




Native in

: Indonesian
I'm your man for dentistry and medical translation.
Freelance translator and/or interpreter,

Verified member
This person has a SecurePRO™ card. Because this person is not a ProZ.com Plus subscriber, to view his or her SecurePRO™ card you must be a ProZ.com Business member or Plus subscriber.

This person is not affiliated with any business or Blue Board record at ProZ.com.
Translation, Editing/proofreading
Specializes in:
Medical: Dentistry
Medical: Cardiology
Medical: Instruments
Medical: Pharmaceuticals
Medical (general)
Medical: Health Care
Science (general)
Genetics
Nutrition
Psychology
More
English to Indonesian - Rates: 0.04 - 0.05 USD per word / 15 - 17 USD per hour
Indonesian to English - Rates: 0.04 - 0.05 USD per word / 15 - 17 USD per hour

USD
PayPal
Sample translations submitted: 2
English to Indonesian: Maxilla (upper Jaw), Henry Gray, Anatomy of the Human Body
General field: Medical
Detailed field: Medical: Dentistry
Source text - English
Original
Henry Gray (1821–1865). Anatomy of the Human Body. 1918.

5b. 2. The Maxillæ (Upper Jaw)

The maxillæ are the largest bones of the face, excepting the mandible, and form, by their union, the whole of the upper jaw. Each assists in forming the boundaries of three cavities, viz., the roof of the mouth, the floor and lateral wall of the nose and the floor of the orbit; it also enters into the formation of two fossæ, the infratemporal and pterygopalatine, and two fissures, the inferior orbital and pterygomaxillary.
1
Each bone consists of a body and four processes—zygomatic, frontal, alveolar, and palatine.
2


The Body (corpus maxillæ).—The body is somewhat pyramidal in shape, and contains a large cavity, the maxillary sinus (antrum of Highmore). It has four surfaces—an anterior, a posterior or infratemporal, a superior or orbital, and a medial or nasal.
3


Surfaces.—The anterior surface (Fig. 157) is directed forward and lateralward. It presents at its lower part a series of eminences corresponding to the positions of the roots of the teeth. Just above those of the incisor teeth is a depression, the incisive fossa, which gives origin to the Depressor alæ nasi; to the alveolar border below the fossa is attached a slip of the Orbicularis oris; above and a little lateral to it, the Nasalis arises. Lateral to the incisive fossa is another depression, the canine fossa; it is larger and deeper than the incisive fossa, and is separated from it by a vertical ridge, the canine eminence, corresponding to the socket of the canine tooth; the canine fossa gives origin to the Caninus. Above the fossa is the infraorbital foramen, the end of the infraorbital canal; it transmits the infraorbital vessels and nerve. Above the foramen is the margin of the orbit, which affords attachment to part of the Quadratus labii superioris. Medially, the anterior surface is limited by a deep concavity, the nasal notch, the margin of which gives attachment to the Dilatator naris posterior and ends below in a pointed process, which with its fellow of the opposite side forms the anterior nasal spine.
4

The infratemporal surface (Fig. 157) is convex, directed backward and lateralward, and forms part of the infratemporal fossa. It is separated from the anterior surface by the zygomatic process and by a strong ridge, extending upward from the socket of the first molar tooth. It is pierced about its center by the apertures of the alveolar canals, which transmit the posterior superior alveolar vessels and nerves. At the lower part of this surface is a rounded eminence, the maxillary tuberosity, especially prominent after the growth of the wisdom tooth; it is rough on its lateral side for articulation with the pyramidal process of the palatine bone and in some cases articulates with the lateral pterygoid plate of the sphenoid. It gives origin to a few fibers of the Pterygoideus internus. Immediately above this is a smooth surface, which forms the anterior boundary of the pterygopalatine fossa, and presents a groove, for the maxillary nerve; this groove is directed lateralward and slightly upward, and is continuous with the infraorbital groove on the orbital surface.

Translation - Indonesian
Henry Gray (1821–1865). Anatomy of the Human Body. 1918.
Maxilla (Rahang Atas)

Maxilla adalah tulang wajah yang paling besar, selain mandibula dan membentuk – melalui penggabungan pasangannya – rahang atas. Tiap-tiap maxilla membentuk batas tiga cavum : atap cavum oris, dasar cavum nasi dan dinding lateral cavum nasi dan dasar cavum orbita; maxilla juga ikut membentuk dua fossa: infratemporal dan pterygopalatina, dan dua fissura: fissura orbitalis inferior dan pterygomaxillaris.
Tiap-tiap maxilla mempunyai corpus dan empat processus: zygomaticus, frontal, alveolaris dan palatinus.

Corpus maxillaris
Corpus maxilla berbentuk piramida dan mempunyai ruangan yang besar di dalamnya yang disebut sinus maxillaris (antrum Highmori). Corpus mempunyai 4 permukaan: facies anterior, posterior (infratemporalis), superior (orbitalis) dan medialis (nasalis).

Facies
Facies anterior
Facies anterior mengarah ke anterior dan lateral. Facies berada pada pars inferior eminensia yang berhubungan dengan posisi akar-akar gigi. Tepat di sebelah superior gigi incisivus terdapat cekungan yang disebut fossa incisiva, yang menjadi origo musculus depressor ala nasi; di margo alveolaris di sebelah inferior fossa menjadi tempat perlekatan musculus orbicularis oris yang disebut fossa canina. Fossa canina lebih besar dan lebih dalam daripada fossa incisiva dan dipisahkan oleh rigi vertikal yang disebut eminensia canina, yang merupakan penonjolan yang terjadi karena akar gigi caninus; fossa canina adalah origo musculus caninus. Di superior fossa terdapat foramen infraorbital, muara dari canalis infraorbitalis; yang dilewati oleh arteri dan nervus infraorbitalis. Superior terhadap foramen terdapat margo infraorbitalis yang menjadi tempat perlekatan sebagian musculus quadratus labii superioris. Di sebelah medial, facies anterior dibatasi oleh cekungan dalam yang disebut incisura nasalis, margo yang menjadi tempat perlekatan musculus dilatator naris posterior dan berakhir di tonjolan meruncing yang dengan pasangannya membentuk spina nasalis anterior.

Facies infratemporalis
Facies ini konveks, mengarah ke posterolateral, dan membentuk sebagian fossa infratemporalis. Facies ini dipisahkan terhadap facies anterior oleh processus zygomaticus dan rigi tajam yang meluas ke superior dari alveolus gigi molar pertama. Ia menembus di bagian tengah-tengahnya oleh apertura canalis alveolaris, yang dilewati arteri dan nervus alveolaris superior posterior. Pada bagian inferior facies ini terdapat eminensia yang membulat yang disebut tuberositas maxillaris yang tampak menonjol setelah pertumbuhan gigi molar ketiga. Tuberositas maxillaris bertekstur kasar pada bagian lateral untuk berartikulasi dengan processus pyramidalis os palatina dan pada beberapa kasus berartikulasi dengan lamina pterygoideus lateralis os sphenoidale. Tuberositas maxillaris menjadi origo beberapa musculus pterygoideus internus. Segera di sebelah superiornya terdapat permukaan yang halus, yang membentuk margo anterior fossa pterygopalatina, dan tampak sulcus yang dilewati nervus maxillaris; sulcus ini mengarah ke lateral dan sedikit ke superior, dan berlanjut dengan sulcus infraorbitalis pada facies orbitalis.

English to Indonesian: Diabetes Mellitus Overview
General field: Medical
Detailed field: Medical (general)
Source text - English
CASE REPORT
LITERATURE REVIEW

Diabetes mellitus (DM) is a group of metabolic disorder marked by chronic hyperglycaemia as a consequence of relative of absolute insulin deficiency. Clinically DM appears as metabolic and or vascular disorders (America Diabetic Association, ADA, 2003).
According to ADA classification (2003) nowadays DM has been classified into four category based on its causal, they are:
a. Diabetes mellitus type 1 (Insulin Dependent Diabetes mellitus, IDDM), causal factor immunology or idiopathic.
b. Diabetes melilitus type 2 (Non Insulin Dependent Diabetes mellitus, NIDDM) due to insulin resistency or insulin secretion disorder followed by insulin resistency.
c. Other tipe diabetes mellitus, result from endocrinopathy, drugs/ chemical, infection or pancreatic exocrine disease.
d. Gestational diabetes mellitus, in pregnant woman.

From four types of those diabetes mellitus, type 2 is the most common diabetes found in patients, followed by diabetes mellitus type 1 and gestational diabetes mellitus.
In healthy people, blood glucose level usually ranges from interval 60-15-mg/dl every day. Insulin has an important role in blood glucose regulation. Insulin is synthetized in pancreatic-beta-cell and rapidly secreted into blood stream as a response to blood glucose level upsurge, eg post meal. Insulin maintains glucose homeostasis by glycogenesis stored in the liver. Insulin also converts fatty acid and amino acid into triglyserides and protein. Lack of insulin or insulin resistency as seen in DM result inability insulin-dependent-cells to utilize blood glucose as energy source. Stored triglycerides will be broken down into fatty acid as energy reserve. Keton will increase in blood resulting ketoacidosis diuretic. If there is increasing blood glucose level (hyperglycemia), glucose will be excreted into urine and excessive urine (polyuria) takes place due to osmotic diuretic. Excessive loss of fluid results to dehydration and excessive thirst (polydypsia). As a result of glucose starving cells, patient experiences starvation (polyphagia). Paradoxically diabetes mellitus patient undergoes weight loss due to cells inability to store glucose. These symptoms are classical signs diabetes mellitus (Lalla and D'Ambrosio, 2001).
According to Hilson (2004), diabetic individuals have various symptoms. All of them has hyperglycaemic state. Hyperglycaemia is a condition in which blood sugar level exceeds 200 mg/dl, occurs during insulin deficiency which refers to gluconeogenesis and prevents glucose utilization and reservation in body circulation. Others common signs of DM include lethargic, constipation, recurrent infection, paresthesia, pruritus, cramp and delayed wound healing, especially in skin area.

Translation - Indonesian
LAPORAN KASUS
TINJAUAN PUSTAKA
Diabetes mellitus (DM) adalah sekelompok kelainan metabolik yang ditandai dengan adanya hiperglikemia kronis akibat defisiensi insulin baik relatif maupun mutlak. Tampilan DM dalam klinik dapat berupa kelainan metabolik dan atau vaskuler (America Diabetic Association, 2003).
Menurut klasifikasi American Diabetic Association (2003) berdasarkan penyebabnya, saat ini telah dikenal empat jenis diabetes mellitus, yaitu:
a. Diabetes mellitus tipe 1 (Insulin Dependent Diabetes Mellitus, IDDM) terjadi secara imunologi atau idiopatik.
b. Diabetes mellitus tipe 2 (Non Insulin Dependent Diabetes Mellitus/ NIDDM) karena resistensi insulin atau gangguan sekresi insulin yang disertai dengan resistensi insulin.
c. Diabetes mellitus tipe lain disebebkan oleh endokrinopati, obat/ kimia, infeksi atau penyakit eksokrin pankreas.
d. Diabetes mellitus gestational, yaitu pada ibu hamil.

Adapun dari keempat tipe diabetes tersebut, jenis yang sering ditemui adalah diabetes mellitus tipe 2, diikuti oleh diabetes mellitus tipe 1 dan diabetes mellitus gestational.
Pada orang sehat, kadar glukosa darah biasanya berkisar pada interval 60-150 mg/dl setiap harinya. Insulin berperan penting terhadap glukosa darah. Insulin disintesis pada sel beta-pankreas dan disekresikan secara cepat dalam darah sebagai respon terhadap kenaikan kadar gula darah, misalnya setelah makan. Insulin menjaga homeostasis glukosa melalui pembentukan glikogen yang disimpan pada hati. Insulin juga mengubah asam lemak dan asam amino menjadi trigliserid dan protein. Kekurangan insulin atau resistensi insulin, seperti yang terlihat pada DM, menghasilkan ketidakmampuan sel-tergantung-insulin untuk menggunakan glukosa darah sebagai sumber energi. Trigliserid yang tersimpan dipecah menjadi asam lemak yang menjadi cadangan energi. Peningkatan keton dalam darah menyebabkan diuretik ketoasidosis. Ketika kadar glukosa darah naik (hiperglikemia), glukosa diekskresikan pada urin dan urin berlebihan (poliuria) terjadi karena diuresis osmotik. Hilangnya cairan dalam jumlah banyak menimbulkan dehidrasi dan rasa haus berlebih (polidipsi). Karena sel-sel kekurangan glukosa, pasien mengalami kelaparan (polifagi). Secara paradoks, pasien diabetes kadang mengalami penurunan berat badan karena sel tidak mampu menyimpan glukosa. Gejala-gejala tersebut merupakan tanda klasik diabetes mellitus (Lalla dan D'Ambrosio, 2001).
Menurut Hilson (2004), individu dengan diabetes mellitus memiliki gejala yang bermacam-macam. Semuanya memiliki tanda hiperglikemia. Hiperglikemia yaitu kondisi yang menunjukkan konsentrasi gula darah lebih dari 200 mg/dl, terjadi saat defisiensi insulin merujuk pada glukoneogenesis dan mencegah penggunaan dan pencadangan glukosa pada sirkulasi. Gejala umum lainnya yang dapat menjadi tanda atau gejala DM adalah lemas, konstipasi, infeksi rekuren, parestesia, pruritus, kram dan penyembuhan luka yang lambat, terutama pada daerah kulit.

More
Years of experience: 6. Registered at ProZ.com: Jan 2016. Became a member: Dec 2019.
N/A
N/A
N/A
Microsoft Excel, Microsoft Word, Powerpoint, SDL TRADOS, Wordfast
Meet new translation company clients
Meet new end/direct clients
Work for non-profits or pro-bono clients
Network with other language professionals
Build or grow a translation team
Get help with terminology and resources
Learn more about translation / improve my skills
Get help on technical issues / improve my technical skills
Learn more about additional services I can provide my clients
Learn more about the business side of freelancing
Find a mentor
Stay up to date on what is happening in the language industry
Help or teach others with what I have learned over the years
Improve my productivity
Bio
My professional background is in Dentistry and Medical. I also have interest in Forensic, Geriatric and Pediatric Dentistry. Not in that specific order anyway. I can translate tourism, marketing, product, engineering, economy and fashion topics.
I also have a little obsession with kimono and cats. My two beautiful cats are training to be the best ninja. Feel free to contact me~
Keywords: Indonesian, Medical, Dentistry, Pharmacy, Dental
Profile last updated
Dec 28, 2020