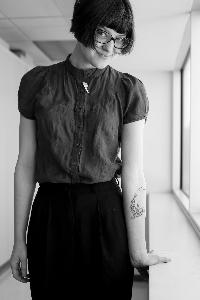 Grace Holleran



Philadelphia, Pennsylvania, United States

Local time:

00:51 EDT (GMT-4)




Native in

: English (Variant: US)

PayPal accepted
Freelance translator and/or interpreter
This person has a SecurePRO™ card. Because this person is not a ProZ.com Plus subscriber, to view his or her SecurePRO™ card you must be a ProZ.com Business member or Plus subscriber.

This person is not affiliated with any business or Blue Board record at ProZ.com.
Translation, Editing/proofreading, Subtitling, Transcription, Copywriting
Specializes in:
Poetry & Literature
Music
Printing & Publishing
Photography/Imaging (& Graphic Arts)
Social Science, Sociology, Ethics, etc.
Art, Arts & Crafts, Painting
More
USD
MasterCard, Visa, Discover, American Express, PayPal, Wire transfer, Check, Money order
Sample translations submitted: 2
Portuguese to English: Vontade/Desire, Laura Liuzzi
General field: Art/Literary
Detailed field: Poetry & Literature
Source text - Portuguese
Entrar em casa sem que a porta
rangesse, sem que o cachorro
da vizinha farejasse minha vinda
sem que o sofá conservasse as
formas do meu corpo, sem que
eu precisasse tomar aquele copo
de água que toca o azulejo e emite
um som rouco, sem que houvesse
corpo. Entrar em casa como
a música entra nos ouvidos.
Translation - English
To come home without the door
creaking, without the neighbor's
dog smelling my arrival
without the couch preserving
my body's shape, without
needing to drink that cup
of water that hits the tile and makes
a racket, without having
a body. To come home like
music enters the ears.
Portuguese to English: An interview with Claudio Daniel, July 5th, 2016
General field: Other
Detailed field: Journalism
Source text - Portuguese
Quando nossa mídia corrupta está informada de a mídia corrupta do Brasil, a maioria do país está ignorante da situação atual no Brasil. Se você adicionar o fato de que poucos jornalistas americanos podem falar português (com a exceção de Glen Greenwald), é impossível saber se a percepção do Brasil seja verdade.

Por causa disso, estou fazendo uma série das entrevistas com ativistas, trabalhadores, artistas, escritores, estudiosos, pessoal na rua, na verdade, qualquer pessoa que tem uma opinião sobre o golpe e os Jogos olímpicos. (Isso não vai fazer mais fácil minha pesquisa; ao contrário dos Estados Unidos, quase ninguém aqui é apolítico. Muito fascinante.)

Vou postar as entrevistas no meu blog, no formato original (português) e também no tradução inglês.

O primeiro é Claudio Daniel, um poeta, doutor em Literatura Portuguesa pela Universidade de São Paulo e editor da revista Zunái (zunai.com.br).

Conheci Claudio através do Facebook. Quando comecei a estudar o português e, consequentemente, a cultura brasileira, um bom amigo recomendou que liasse os postos do Claudio sobre a impugnação da Dilma. Eu li. Também cliquei em links, procurei os jornais bons (quer dizer, não Globo não), e comecei a ver e ler as conversações dentro do país, no meio de tanto caos.

Nesta entrevista, Claudio respondeu com bondade algumas perguntas básicas para mim, explicando os problemas com o governo interino, pelo leitor que talvez não soube muito sobre a tópica. O apoio dele para Dilma e Lula dissipa a crença comum que o povo brasileiro "queria" a Dilma fosse afastada do cargo. Na realidade, o fotos nos jornais americanos mostraram as classes altas, que odeiam Dilma e Lula, por razões explicadas abaixo.

Para o publico americano, você pode explicar brevemente o golpe no Brasil?

Dilma Rousseff, do Partido dos Trabalhadores (PT), reeleita para a presidência do país em 2014 com 54 milhões de votos, foi afastada do cargo por um Congresso Nacional formado por uma maioria conservadora – proprietários rurais, banqueiros, especuladores financeiros, empresários, pastores evangélicos, fascistas, muitos deles envolvidos em processos de corrupção – sem ter cometido nenhum crime, num processo ilegal e ilegítimo que na prática revoga a Constituição, a democracia e o estado de direito no Brasil. O "argumento" utilizado pelos partidos de direita – PMDB, PSDB e seus aliados, com apoio de juízes fascistas e de uma imprensa controlada por apenas seis famílias – para o afastamento de Dilma Rousseff foram as alegadas "pedaladas fiscais" – a utilização de recursos dos bancos e empresas públicas para o financiamento de programas sociais que, nos últimos treze anos de governos democrático-populares de Lula e Dilma, foram responsáveis por tirar 30 milhões de brasileiros da situação de miséria absoluta, fato reconhecido pela ONU, pelo Banco Mundial e outras organizações internacionais e muito incômodo para as elites brasileiras, que preferem manter a maioria da população brasileira na pobreza.

Por que as elites odeiam Lula e Dilma?

Porque em treze anos eles construíram 18 universidades federais (o governo anterior, do neoliberal Fernando Henrique Cardoso, do PSDB, não construiu nenhuma), 400 escolas técnicas do Pronatec, aplicaram 10% do PIB e 75% dos royalties do pré-sal na educação e 25% na saúde, criaram programas como o Prouni, FIES e Ciência sem Fronteiras, que beneficiaram o acesso de estudantes pobres e negros aos cursos universitários. O programa Bolsa-Família garante hoje a segurança alimentar de 40 milhões de brasileiros. O Mais Médicos contratou 18 mil médicos brasileiros e estrangeiros para atenderem a população nas regiões mais carentes do país, beneficiando cerca de 50 milhões de pessoas. O programa Minha Casa Minha Vida, por sua vez, entregou cerca de 1,5 milhão de unidades habitacionais a trabalhadores de baixa renda. O Farmácia Popular, por sua vez, garante a distribuição gratuita de medicamentos à população. O governo golpista de Michel Temer anunciou a redução ou cancelamento desses programas sociais, com a provável privatização dos bancos públicos.

Lula pagou nossa dívida junto ao Fundo Monetário Internacional (FMI) já em seu primeiro mandato, e desde então essa instituição não monitora mais a nossa economia, impondo medidas recessivas e privatistas. As empresas estatais como a Petrobrás foram mantidas sob controle do estado brasileiro e o salário mínimo, que era de US$ 50,00 na época de FHC, hoje é de US$ 200,00. Lula e Dilma mantiveram as leis trabalhistas e investiram em programas de reforma agrária.

Pessoalmente, quais são seus pensamentos no governo interino?

O governo golpista de Michel Temer deve submeter novamente o Brasil ao controle do FMI, arrochar os salários, privatizar a Petrobrás, entregar nosso petróleo e pré-sal para as companhias norte-americanas, e "flexibilizar" a legislação trabalhista, impondo a terceirização, o que na prática significa o fim da legislação trabalhista e o crescimento do desemprego. No campo internacional, o governo golpista deve se afastar dos BRICs, do Mercosul, da Unasul e alinhar-se com os interesses estratégicos dos Estados Unidos e de Israel. O Brasil tem hoje um governo ilegal e ilegítimo, de forte viés autoritário, e os movimentos sociais e partidos de esquerda colocarão na ordem do dia a desobediência civil.

Você acha que o Rio de Janeiro esta preparando para os Jogos olímpicos?

A Copa do Mundo aconteceu no Brasil de maneira organizada e pacífica, apesar dos protestos de alguns movimentos sociais contra a organização do evento. Acredito que o mesmo acontecerá com as Olimpíadas. Sem dúvida, caso Michel Temer esteja presente na abertura das Olimpíadas, ouvirá fortes vaias do público. Impossível prever se haverá repressão policial durante os Jogos Olímpicos, mas se houver não será nenhuma surpresa, já que isso está se tornando uma triste rotina no Brasil.

Você acha que os problemas serão agravados do governo interino?

Sem dúvida nenhuma, o governo golpista elevou a idade mínima da aposentadoria para 75 anos (homens) e 70 anos (mulheres), congelou investimos na educação, na saúde, na habitação popular, extinguiu ministérios relativos aos direitos humanos e às mulheres e nomeou um general para a direção da FUNAI – entidade governamental responsável pelas políticas para as comunidades indígenas, entre outros absurdos. Inflação e desemprego crescem e não há perspectivas de melhoras em curto prazo.

O que você acha que vai acontecer? Aonde o país esta indo?

Há um retrocesso político, cultural e social inimaginável. Cresce a violência contra índios, sindicalistas, trabalhadores rurais, jovens dos bairros de periferia, praticada pela Polícia Militar e milícias dos grandes fazendeiros. Diversos ativistas foram assassinados e os responsáveis permanecem impunes. O preconceito contra mulheres, negros e homoafetivos também cresce de maneira assustadora na sociedade, fomentado por pastores evangélicos, políticos de direita e meios de comunicação. O país é formalmente uma democracia, mas o estado de direito deixou de existir, vivemos num sistema autoritário e é difícil prever os acontecimentos. Minha esperança é que os partidos de esquerda, os sindicatos, a juventude e a maioria da população consigam derrubar o governo golpista e restaurar a democracia no país.
Translation - English
When our corrupt media reports stories from Brazil's corrupt media, most of the nation is left ignorant of Brazil's actual situation. Add the fact that few American reporters can actually speak Portuguese (you're the exception, Glenn Greenwald) and one wonders just how blurred the American conception of Brazil is.

For that reason, I'm conducting a series of interviews with Brazilian activists, workers, artists, writers, scholars, folks on the street, really anyone who has an opinion on the Brazilian coup and the Olympic games. (That won't help me narrow down my search; in contrast to the U.S., hardly anyone I've met here is "apolitical". Interesting, that.)

I'll be sharing the interviews on my blog, both in the original Portuguese and in English translation.

First up is Claudio Daniel, a poet, a doctor of Portuguese Literature at the University of São Paulo, and the editor of Zunái (zunai.com.br).

I met Claudio through Facebook. When I started studying Portuguese and, in turn, Brazilian culture, a good friend recommended I read Claudio's posts about Dilma Rousseff's impeachment. I did. I also clicked links, found news websites to read that weren't Globo, started to get my first glimpses at the kinds of conversations going on inside this country in the midst of its turmoil.

In this interview, Claudio kindly answered some basic questions for me, breaking down the problems with Brazil's current government for the reader who may not know much about the topic. His general support of Dilma Rousseff and Luiz Inácio Lula de Silva (also known by his pet name, Lula) dispels the common belief that the Brazilian people "wanted" Dilma to be removed from office. In fact, most of those photographs of Dilma protestors in American news outlets depicted the upper classes, who despise Dilma and Lula for reasons explained below.

Could you give a brief explanation of the Brazilian coup for an American audience?

Dilma Rousseff (PT), re-elected as president of Brazil with 54 million votes in 2014, was removed from office by the largely conservative National Congress – landowners, bankers, financial speculators, entrepreneurs, evangelical pastors, fascists, many of them involved in trials for corruption – without having committed any crime, in an illegal and illegitimate process that effectively repeals the Constitution, democracy, and the rule of law in Brazil. The "argument" used by right-wing parties – PMDB, PSDB and their allies, with support from fascist judges and a press controlled by just six families – for the Rousseff's removal was allegations of "fiscal pedaling" – the utilization of resources of banks and public companies for financing social programs that, in the last 13 years of the democratic popular government under Lula and Dilma, were responsible for taking 30 million Brazilians from absolute poverty, a fact recognized by the UN, the World Bank, and other international organizations. These social programs are quite inconvenient for Brazilian elites, who would prefer to keep the majority of the Brazilian population in poverty.

What compelled the elites and the right wing to do this? Why do they dislike Lula and Dilma so much?

Because in 13 years they built 18 federal universities (the previous government under neoliberal Fernando Henrique Cardoso, PSDB, built absolutely nothing), and 400 Pronatec technical schools. They applied 10 percent of the GDP to education, 75 percent of pre-salt royalties to education, and the other 25 percent to health. They created programs that gave poor black students better access to university courses, like Prouni, FIES, and Science Without Frontiers. The program Bolsa-Familia currently ensures food security for 40 million Brazilians. Mais Médicos contracted 18,000 Brazilian and foreign doctors to attend to people in the neediest regions of the country, serving around 50 million. The program Minha Casa Minha Vida, for its part, provided about 1.5 million housing units to low-income workers. Farmácia Popular ensured the distribution of free medication to the population. Michel Temer's coup government announced the reduction or cancellation of these social programs, along with the probable privatization of public banks.

In his first term, Lula quickly paid off our debt to the International Money Fund (IMF), and since then the institution no longer monitors our economy, enforcing recessionary and privatist measures. Public companies like Petrobrás were kept under control by the Brazilian state, and the minimum wage, which was $50 USD/month in the age of Cardoso, is now up to $200 USD/month. Lula and Dilma upheld workers' laws and invested in agrarian reform programs.

Personally, what are your thoughts on the interim government?

Michael Temer's coup government needs to give control of Brazil back to FMI, compress salaries, privatize Petrobrás, give our petroleum and pre-salt to North American companies, and "loosen" the workers' legislation, thereby imposing outsourcing, which in practice will end labor legislation and growing unemployment. Internationally, the coup government needs to do away with BRICS, Mercosul, and Unasul and align itself with the strategic interests of the United States and Israel. Right now, Brazil has an illegal and illegitimate government with a strong authoritarian bias, and social movements and left wing parties are writing "civil disobedience" on their daily agendas.

Do you think Rio de Janeiro is prepared to host the Olympic games?

When the 2014 World Cup was hosted in Brazil, it was organized and peaceful, apart from some protests by social movements that opposed the event's organization. I believe that the same will be true for the Olympics. If Michel Temer is present at the opening ceremony, there will of course be loud booing from the audience. It's impossible to know if there will be police brutality during the games, but it won't be surprising if there is, as it's sadly become normal practice here.

What happens next? Where is this country headed?

We are in an unimaginable political, cultural, and social regression. Violence against indigenous people, unionists, rural workers, and youths in outlying neighborhoods is growing, enforced by the Military Police and the militias of rich landowners. Several activists were assassinated; those responsible remain unpunished. Prejudice against women, blacks, and the queer community is increasing at a frightening rate, augmented by evangelical pastors, right-wing politics, and the media. Brazil is formally a democracy, but our rule of law has ceased to exist. We live in an authoritarian system and it's hard to say what's going to happen. My hope is that the left-wing parties, trade unions, the youth, and the majority of the population can succeed in overthrowing the coup government and restore democracy in our country.
More
Years of experience: 6. Registered at ProZ.com: Aug 2016.
N/A
Portuguese to English (Temple University)

N/A
N/A
http://www.gngracie.blogspot.com
CV available upon request
Profile last updated
Jun 4, 2017