Hello! I'm Joohee Kim from South Korea. I have been an independent translator since 2015.
Language Pair
: English - Korean
Expertise
: Fashion, Marketing, Cosmetics, Game, Tourism
Timezone
: GMT +9 (Submission in any timezone)
Contact
:
• Email:
jooheekim1027@gmail.com
• Skype: jooheekim1027@gmail.com
• Mobile: +82 10 7123 3980
• Paypal: jooheekim1027@gmail.com
Translation/Proof-reading experience
:
General
• Posts, tags, and customer service messages for Facebook, Pinterest, Twitter, and Viki.com.
• An essay written by a celebrity in South Korea.
•"The Tenants Bill of Rights NYC" for Met Council on Housing.
(
http://metcouncilonhousing.org/sites/default/files/u146/tenantsbillofrights%20korean.pdf
)
• UI for First Aid application.
• USA Community Advisory for DACA.
• Notices regarding New York city health care plan.
• Psychology articles related to MBTI.
• Flyers and articles for LifeSTEPS.
("Don't Fall for it","Resident Flyer","Identity Theft and Scam Alerts","Postural Hypotension - Getting up to faster", "Family Preparedness Plan","Be A Good Neighbor", "Stretch Your Dollar")
Cosmetics
• Marketing materials for a blusher.
• Product descriptions for perfumes.
• Marketing materials for a global cosmetics brand.
Fashion
• Trans-creating category descriptions for a global fashion retail platform.
(Balenciaga, Diesel, Hermes, Comme Des Garçons, Vivienne Westwood, Isabel Marant, Burberry, Marc Jacobs, Diane von Fürstenberg, Stuart Weitzman, Salvatore Ferragamo, Carhartt, Vera Wang, Moncler and more)
• Item descriptions for a luxury fashion retailer.
(Gucci, Chloé, Prada, Tom Ford, Jimmy Choo, Valentino, Alexander McQueen, Givenchy, Masscob, Skin, Alexachung, Canada Goose and more)
• Category descriptions of a bikini shop.
(Men's espadrille, Women's bikini and more)
Game
• Localization of mobile games. (My Hospital, Zombie Attack, a mobile romance simulation game, a mobile idle game)
• Marketing resources of a single-player fantasy role-playing video game.
• Customer service messages for Candy Crush Saga, Farm Heroes, Angry Birds 2.
Tourism
• Cities description and customer service messages for SkyScanner.
• A marketing document for Marriott hotel chain.
• An introduction for a guided tour.
• Customer service survey for global hotels.
Marketing
• Writing a home appliance daily marketing monitoring report in English and Korean for LG Electronics.
• A customer questionnaire for Osram.
• Marketing resources of a mobile application related to golf lessons.
• Marketing materials for a global mobile ad company.
• Marketing resources of a website selling champagne.
• Marketing resources of an investment firm.
• Promotional copies for Pyeongchang Winter Olympic.
• A questionnaire for a mobile application marketing research.
• Marketing material for a college in the USA.
Business
• A food labelling sticker, products description, business letters for a horse feed manufacturer.
• A food labelling sticker for a global beverage company.
• Re-certification platform for a corporate investigations and risk consulting firm.
• A draft contract for Korea Institute of Science & Technology Evaluation and Planning.
• Subject's bill of rights document for the medical research firm.
Arts
• A book related to iconography and tarot cards.
(In-house KO-EN translation project, 129,135 Korean characters)
Education
• Localization of e-learning course.
• A manual for children education book for a global entertainment company.
Reference
:
• Translators Without Borders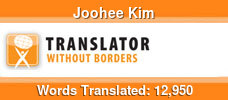 English to Korean volunteer translator
•
One Hour Translation
"Our translation company provides all types of translation ... all translated by professional translators Joohee K."
•
Trommons
"Dear Joohee Kim,
On behalf of The Rosetta Foundation ... thank you for your dedication and enthusiastic support in removing the price tag for access to information and knowledge across languages for those who need it most."
If there is anything I can help with, please feel free to contact me at any time!