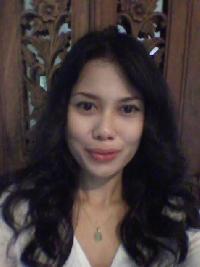 Working languages:
English to Indonesian
Indonesian to English
Isabelle Intan Indah
Medical/ Health/ Wellness/ Spirituality



Jakarta, Jakarta Raya (Djakarta Raya), Indonesia

Local time:

12:52 WIB (GMT+7)




Native in

: Indonesian

Feedback from
clients and colleagues
on Willingness to Work Again

4

positive reviews

(4 unidentified)


Your feedback
Professional, punctual, always a satisfying result.
Freelance translator and/or interpreter,

Verified site user
This person has a SecurePRO™ card. Because this person is not a ProZ.com Plus subscriber, to view his or her SecurePRO™ card you must be a ProZ.com Business member or Plus subscriber.

This person is not affiliated with any business or Blue Board record at ProZ.com.
Translation, Interpreting, Transcription, Copywriting, Voiceover (dubbing), Subtitling, Editing/proofreading, Software localization, Website localization, Training, Project management
Specializes in:
Medical (general)
Medical: Health Care
Psychology
Esoteric practices
Art, Arts & Crafts, Painting
Poetry & Literature
Law (general)
Business/Commerce (general)
Management
Marketing / Market Research
More
PayPal, Wire transfer | Send a payment via ProZ*Pay
Sample translations submitted: 4
English to Indonesian: Excerpt taken from the book Heal Your Body by Louise L. Hay.
General field: Social Sciences
Detailed field: Psychology
Source text - English
DEDICATION
I have long believed the following: "Everything I need to know is revealed to me." "Everything I need comes to me." "All is well in my life." There is no new knowledge. All is ancient and infinite. It is my joy and pleasure to gather together wisdom and knowledge for the benefit of those on the healing pathway. I dedicate this offering to all of you who have taught me what I know: to my clients, to my friends in the field, to my teachers, and to the Divine Infinite Intelligence for channeling through me that which others need to hear.
Translation - Indonesian
DEDIKASI
Telah lama saya meyakini bahwa "Segala hal yang perlu saya ketahui akan diungkapkan." " Segala yang saya butuhkan akan disediakan." " Semuanya berjalan baik dalam hidup saya". Pengetahuan baru itu tidak ada. Segalanya telah ada sejak dahulu kala dan tak terhingga sifatnya. Adalah kebahagiaan bagi saya untuk dapat bersama-sama mengumpulkan kearifan dan ilmu pengetahuan bagi kepentingan jalan penyembuhan. Saya dedikasikan persembahan ini kepada Anda semua yang pernah mengajari segala apa yang saya ketahui sekarang; kepada klien-klien saya; kepada rekan-rekan seprofesi, kepada guru-guru saya, dan kepada Kecerdasan Ilahi Yang Tak Terhingga yang telah menyampaikan informasi yang perlu diketahui orang banyak melalui diri saya.
Indonesian to English: PET SCAN REPORT - Nuclear Medicine Department
General field: Medical
Detailed field: Medical (general)
Source text - Indonesian
PET/CTTeknik:

Kadar gula darah sebelum penyuntikan radiofarmaka 92 mg/di, tinggi badan 161 cm, dan berat badan 64 kg.

Pencitraan PET/CT dilaksanakan 100 menit pasca-penyuntikan Fluor-18 Fluorodeoxyglucose (FOG) dari kepala sampai dengan kaki. Koreksi atenuasi dilakukan dengan menggunakan CT non-kontras dosis. Pengukuran kuantitatif dilakukan menggunakan penghitungan Standardized Value (SUV; nilai maksimal).
Translation - English
PET/CT Technique:

Blood glucose level before radiopharmacy 92 mg/di injection, height 161 cm or 5.28 feet, and weight 64 kg or 141.09 lbs.

PET/CT imaging was performed with duration of 100 minutes post-injectionFluor-18 Fluorodeoxyglucose (FDG) from head to limbs. The attenuation correction was performed by using non-contrast CT at low dose. Quantitative measurement was taken by adopting Standardized Uptake Value (SUV; maximal value) calculation.
English to Indonesian: Translation of Biography of an Indonesian prominent painter Otto Djaya, written by Inge-Marie Holst.
General field: Art/Literary
Detailed field: Art, Arts & Crafts, Painting
Source text - English
PERSAGI rallying Indonesian artists

The art market for paintings was growing. A clientele among the colonials in Indonesia and the public in the Netherlands deliberately sought paintings that depicted a romantic and exotic Indies, an idealisation of tranquillity and beauty of mountainous backgrounds24 fronted by landscapes of rice paddy and workers, buffalos, palm trees, tree groves, streams, waterfalls, lakes, and valleys. The natural lighting nuances of morning, noon, and afternoon were routinely clearly defined by the painters, who generally painted outdoors, in nature, or from sketches done on site. This visual phenomenon was what it was, orientalism25, throughout centuries of painting. However, the description: Mooi Indië, meaning Beautiful Indies, emerged in the 1930s and became famous after Sudjojono used it to mock the painters who painted the pretty things about the Indies.
These paintings were fundamentally a memento fashion based on nostalgia and sentimentality that gradually turned into a fashion of the elite. There was little demand for paintings that were not of the naturalist, romantic and exotic motif and that could not arouse the passion and feelings that the Mooi Indië could. Mooi Indië was the then 'bread and butter' expressionism of the artists in Indonesia. Mooi Indië landscapes "can be regarded as the norm at the time"26, the 1930s. The painters associated with the Mooi Indië style were Dutch colonial painters and a handful of indigenous Indonesian painters27 28.
The Mooi Indië style of painting was high on technical skills, naturalistic and exotic-romantic, and sketched or painted in the nature it depicted. Sudjojono rejected it as being pervasive of European inspired and waning traditionalism and of Dutch hegemony.29 According to Sudjojono, the social realism, the harshness of the colonization and of the daily lives of Indonesian people were different. Sudjojono "faulted the acquiescence of Indonesian artists to Dutch colonial taste."30 Sudjojono consistently challenged his fellow painters to 'paint with their hearts' and invent a style that would in turn define Indonesia's cultural character and that could be identified as uniquely Indonesian31.
Sudjojono's views were magnified by the rapidly rising nationalistic tide against the colonial regime. The fervent nationalist he was, Sudjojono's viewpoints concerning style and substance became a metaphor for the growing national spirit, and stimulated Indonesian reawakening of a long dormant tradition of figurative art. The tradition included both portraiture and self-portraiture, characteristics which plainly showed in Otto Djaya's work throughout his long career.
Uneasiness with the status quo was not limited to Indonesia.
Translation - Indonesian
PERSAGI menggalang seniman-seniman Indonesia

Pangsa pasar untuk karya seni lukisan mulai berkembang. Grup klien kolonial di Indonesia dan masyarakat awam di Belanda sengaja mencari lukisan-lukisan yang menggambarkan eksotis dan romantisnya Indonesia, sebuah bentuk idealiasasi ketenangan dan keindahan pegunungan24 dengan hamparan sawah dan sekumpulan petani, segerombolan kerbau, pepohonan palem, hutan belukar kecil, teduhnya air mengalir, air terjun, danau dan kumpulan lembah. Nuansa pencahayaan pagi, siang dan sore hari digambarkan dengan jelas oleh para pelukis ini yang mana biasanya melukis diluar ruangan, di alam, atau dari sketsa-sketsa yang langsung dibuat saat berada di tempat melukis. Fenomena visual ini merupakan orientalisme25, yang telah dikenal selama ratusan tahun dunia pelukisan. Namun demikian, deskripsi : Mooi Indië, yang berarti Hindia Belanda Molek, baru muncul di tahun 1930an dan menjadi istilah yang terkenal setelah Sudjojono menggunakannya untuk meledek pelukis-pelukis yang melukiskan hal-hal yang baik-baik atau bagus-bagus saja tentang Hindia Belanda.
Lukisan-lukisan ini sangatlah fundamental. Kehadirannya lebih didasari atas dasar nostalgia dan sentimentalitas. Namun hal ini berangsur-angsur berubah menjadi tren kaum elit. Sedikit sekali permintaan atas lukisan-lukisan yang bukan beraliran naturalis, romantis dan eksotis, juga yang tidak dapat membangkitkan antusiasme dan kesan-kesan yang dapat ditimbulkan dari lukisan Mooi Indië. Saat itu Mooi Indië merupakan gaya eskpresionisme lukisan yang dapat membuat asap dapur para pelukis tetap mengebul. Pemandangan alam ala Mooi Indië dapat dianggap sebagai sebuah norma di kala itu26, yakni di tahun 1930an. Para pelukis yang identik dengan gaya Mooi Indië biasanya adalah para pelukis kolonial Belanda dan segelintir pelukis asli Indonesia27 28.
Dilihat sebagaimana adanya, gaya Mooi Indië merupakan gaya lukisan yang membutuhkan keahlian teknis yang tinggi, naturalis, eksotis-romantis, dan disketsa atau dilukis di alam yang digambarkan dalam lukisan itu sendiri. Namun demikian Sudjojono menolak sudut pandang ini dan berpandangan lain. Menurutnya gaya Mooi Indië telah memudarkan tradisionalisme dimana gaya-gaya Eropa semakin menembus saja dalam dunia seni lukis Indonesia dan hal ini menunjukkan sebuah pengukuhan atas hegemoni Belanda29. Lanjutnya lagi, kenyataanya sangat berbeda; realita sosial yang terjadi adalah kejamnya kolonialisasi dan sulitnya kehidupan sehari-hari bangsa Indonesia. Ia menyalahkan persetujuan tanpa protes dari pelukis-pelukis Indonesia atas selera kolonial Belanda30. Sudjojono secara konsisten menantang rekan-rekan pelukis untuk 'melukis dari hati mereka' dan menciptakan aliran yang bisa mendefinisikan karakter kultural Indonesia dan yang bisa diidentifikasi sebagai aliran khas Indonesia31.
Pandangan Sudjojono ini semakin dipertegas dengan gelombang semangat nasionalisme yang semakin berkembang pesat saat itu. Struktur komersialisasi dan rasisme yang berlaku membuat para pelukis asli Indonesia hampir-hampir tidak mungkin mengembangkan bakat mereka, apalagi untuk mencari nafkah. Sudut pandang Sudjojono mencakup tentang aliran dan substansi tradisi seni figuratif yang telah lama tertidur. Tradisi tersebut termasuk pembuatan lukisan portret dan portret-diri, karakteristik yang secara jelas terlihat dalam karya-karya Otto Djaya sepanjang karir panjangnya.
Kegelisahan atas status quo tidak hanya terjadi di Indonesia saja.
English to Indonesian: Excerpt taken from the book Heal Your Body by Louise L. Hay
General field: Social Sciences
Detailed field: Psychology
Source text - English
THE POINT OF POWER IS IN THE PRESENT MOMENT

The point of power is in the present moment… right here and right now in our minds. It doesn't matter how long we've had negative patterns, an illness, a rotten relationship, lack of finances, or self-hatred. We can begin to make a change today. The thoughts we've held and the words we've repeatedly used have created our life and experiences up to this point. Yet, that is past thinking; we've already done that. What we're choosing to think and say, today, at this moment, will create tomorrow and the next day and the next week and the next month and the next year, and so on. The point of power is always in the present moment. This is where we begin to make changes. What a liberating idea. We can begin to let the old nonsense go. Right now. The smallest beginning will make a difference.

When you were a tiny baby, you were pure joy and love. You knew how important you were; you felt that you were the center of the universe. You had such courage that you asked for what you wanted and you expressed all your feelings openly. You loved yourself totally – every part of your body, including your feces. You knew that you were perfect. And that is the truth of your being. All the rest is learned nonsense and can be unlearned.
Translation - Indonesian
TITIK KEBERDAYAAN ADA DI SAAT INI

Titik keberdayaan berada di saat ini… disini dan sekarang juga. Tidaklah penting telah berapa lama kita memiliki pola-pola negatif, penyakit, hubungan yang sangat buruk, kondisi finansial yang lemah, ataupun kebencian terhadap diri sendiri. Kita dapat mulai membuat perubahan hari ini juga. Pemikiran-pemikiran yang telah kita punyai dan perkataan-perkataan yang telah kita gunakan berulang kali adalah yang telah membentuk pengalaman - pengalaman dan hidup kita sampai pada titik ini. Meski demikian, hal itu merupakan pemikiran yang usang; semua itu sudah berlalu dan sudah kita lakukan. Apa yang kita pilih untuk kita pikirkan dan katakan, hari ini, saat ini, adalah yang akan menciptakan hari esok dan lusa dan minggu depan dan bulan depan dan tahun depan, dan seterusnya. Titik keberdayaan selalu berada di saat ini. Inilah saat dimana kita mulai membuat perubahan. Sungguhlah merupakan buah pemikiran yang membebaskan. Kita dapat mulai melepaskan hal-hal tidak masuk akal di masa lampau. Sekarang juga. Permulaan yang sekecil apapun akan dapat membuat sebuah perubahan.

Ketika Anda masihlah bayi yang mungil, Anda adalah kebahagiaan dan cinta yang murni. Anda mengetahui betapa pentingnya diri Anda kala itu; Anda merasa bahwa Anda adalah pusat dari alam semesta. Anda memiliki keberanian untuk meminta apa yang Anda butuhhkan dan Anda mengekspresikan perasaan Anda dengan terang-terangan. Anda mencintai diri Anda sepenuhnya --- setiap jengkal dari tubuh Anda, termasuk kotoran Anda sendiri. Kala itu Anda tahu bahwa Anda sempurna. Dan itulah kebenaran dari keberadaan Anda. Sisanya di luar itu merupakan hal-hal tidak masuk akal yang dipelajari dan diyakini (selama masa Anda bertumbuh besar) dan dapat untuk tidak dipelajari dan diyakini lagi.
More
Bachelor's degree - Catholic University of Atma Jaya
Years of experience: 7. Registered at ProZ.com: May 2017.
N/A
N/A
N/A
Microsoft Excel, Microsoft Word, Powerpoint, SDL TRADOS
Bio
5+ years of translation experience; passionate about spirituality, wellness and health. 
I am a native Indonesian speaker, very fluent in English due to my upbringing as a mixture of Indonesian, Chinese and European by ethnicity. I have traveled all over Asia, Australia, Europe, Northern America, and South America and I lived in the United States and Western Europe for a year. I have spent many years in multicultural professional and personal environments and, as a translator and an educator, I aim for clear and flowing communication.
For over 15 years I have been passionate about the subject of physical, mental and spiritual health and wellness, ever since a fateful vacation in Tokyo led me into that path. I have met a variety of people, both practitioners/learners and mentors/gurus on this journey, and I have had the privilege of attending Vipassana Meditation three times in a Buddhist monastery in Indonesia.
I believe that the more aware and conscious we are, the better our state of being is; a holistic wellbeing that encompasses physiological, mental and emotional balance. I have spent a decade and a half learning about science, psychology, spirituality, health and nutrition and how these things are interrelated, through reading books, watching videos or documentaries, and attending courses on these matters. Now, confident in my skill as a translator, I hope to apply my linguistic and cultural knowledge to communicate and spread these ideas.
My experience as a translator, editor and copywriter includes a variety of fields and areas. I have completed projects for international and local well-known major law firms, real estate companies, electronic and retail industries, marketing agencies, art galleries, curators and writers, hospitals, universities and independent fiction authors. I have also published my personal fiction stories in national magazines, and I have been teaching English and Indonesian for three years. My academic background is in Finance Management and Political Science from two prestigious universities in Indonesia; and I am a member of the Association of Indonesian Translators and of the International Federation of Translators.
I have an integral, diverse experience and a deep love for my work.
Don't hesitate to contact me with your projects, and expect a loving, natural, carefully crafted result.
Keywords: English to Indonesian, Indonesian to English, medical translation, health translation, well being translation, wellness translation, energy and spirituality translation, psychology translation, mind science translation, business and economy translation, English to Indonesian translation, Indonesian to English translation, medical translator, health translator, well being translator, wellness translator, energy and spirituality translator, psychology translator, mind science translator, business and economy translator, English to Indonesian translator, Indonesian to English translator, business, economy, medicine, psychology, wellness, health, healthcare,
Profile last updated
Oct 30, 2020