CV  February 7, 2020
NAME: Mina Kuttner
ACADEMIC  TITLES: Ph.D., M.A., B.A.
RESIDENCE: 15 Scott Dr., Richmond Hill, Ontario, Canada, L4C 6V5
CITIZENSHIP: I am a Canadian citizen, and was an Israeli citizen for 25 years.
PLACE OF BIRTH: Born in Düsseldorf, Germany, to parents of German citizenship.
EXPERIENCE: The experience as a freelance translator started in 1999.
LANGUAGES: I am in command of three languages: Hebrew (Biblical, Talmudic, Modern) and, of course, English. German is my first acquired language because it was my parents' native language,
EDUCATION:
1. I am a Legal Historian (specialized in the common-law legal system). The title Ph.D. was granted by the Union Institute and University, Cincinnati, USA, and I obtained the 2003 Marvin B. Sussman Award. This Award honored a doctoral dissertation judged to be outstanding in its original and overall presentation.
2) The M.A. Degree (Cum Laude) in Jewish history and Middle Eastern Studies was granted by Tel-Aviv University (language required courses: Biblical and Talmudic Aramaic German, English, and Arabic).
 3) I was awarded a B. A. from the departments of Middle Eastern Studies and Jewish History (language required courses: English, German, Arabic, and Biblical and Talmudic Aramaic).
4). I am a qualified teacher (graduated from Levinski Teaching College, Tel-Aviv, Israel), and I prepared students for matriculation exams in Hebrew grammar.
5) I participated in the course "Hebrew-English Legal Translation Pitfalls" (a course authorized by Proz).
BELOW  IS A SHORT SUMMARY OF THE FIELDS OF MY TRANSLATION, serving the following companies:  translated.net, which is known now as translated. com; B.R. Translation Ltd.; Zi Corporation; the law firm Beard Winter LLP. And private clients.
 1. ACCOUNTING
 A significant part of the work with that company until now was in the field of accounting, proofreading, and post-editing annual and quarterly financial reports by Israeli companies.
2. LAW
a)Partnership agreement contacts (from German to English)
 Rental contracts
b) Contracts between customers and small-cap firms (Hebrew to English)
c)Out of Court agreements (Hebrew to English)
d)Prenuptial contracts (Hebrew to English)
e)Judgments by Israel's Rabbinic court in a divorce case (translation from Hebrew and Talmudic Aramaic to English)
f)Court Reports
g)Appeals to a family court in matters of divorce, requesting a settlement on property issues
3. DOCUMENTS ISSUED BY GOVERNMENTS
Birth, Death, Divorce (including certificates issued by Rabbinical courts, integrated with Aramaic), I.D. cards, Matriculation certificates, Information on a Passenger Travelling Destination. The government of Israel issued most of the documents (from Hebrew to English). A few of such documents were also   issued by the Registry Office in Germany  and letters related to pension policies (Deutsche Versicherung Richtlinien) translated from German to Hebrew and English.
4. PRIVATE LETTERS
a) A fascinating linguistic experience was the translations of children's letters written in German to their parents in Germany from England.
b) During the first two weeks of January 2019, I translated engraved text on tombstones, and proofread a short note written by a private person.
c) In the last week of April, I translated a four-page letter written in cursive fonts. The letter was initially sent from Italy, August 23, 1945, three months after the end of WWII.
6) REPORTS ON ARCHEOLOGICAL FINDINGS
a) The Excavation in Avdat, Israel.
b)  The discovery of the winepress in Halutza, Israel
c) The collection at the Upper Galilee Museum of Prehistory in Kibbutz Mayan Baruch, founded by  Amnon Asaf
5) ENGINEERING PROGRAM RELATING TO CONSTRUCTION
  a)  Report on Real Estate Assessment
    b) Construction plans in the region of Hadera and Herzliya in Israel
6) PSYCHIATRY - EUGENIC
From about September 2018 to November 2018, I translated for "B.R. Translation Ltd." in Tel-Aviv." The Third Reich's Archives issued those documents, and they included private letters of top German psychiatrists in the field of Eugenics, who worked in coordination with the Third Reich's Ministry of the Interior from 1933-1945. Among the documents mentioned above, were also handwritten letters mixed with old German handwriting and Gothic script.
7) MEDICAL:
a)Report from Hadassah Medical Organization, C.T. Department of Radiology
b)Reports from Assuta Hospital The Standard of Health, MRI Institute
c)Reports from Assuta Hospital The Standard of Health, PET- C.T. Institute
8) ORAL HISTORY:
In 2002, I Contributed to the Oral History Collection of the Multicultural Society (Ontario) by translating from German to English 10 interviews with Canadians of German origin. The collection of the interviews is available at the Multicultural Society (Ontario).
9) LINGUISTICS
In the summer of 2003, I lent my Hebrew skills in grammar and spelling to "Zi Corporation," a Canadian High-Tech company that specialized in predictive text.  The company was bought out around 2009.
As for the
CAT: I use Mate Cat as a CAT when required.
Fee: Rate is
USD 0.08 per word, but USD 0.06 for proofreading (could be paid either by PayPal
or by a personal check).
For more
details, see my "Proz's" file (2538344).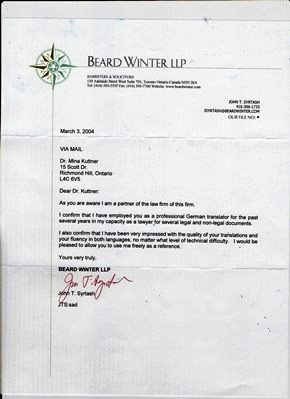 x