Are you looking for a serious and
receptive professional? I'd be delighted to help you. I provide you with high
quality translations from French and English into Spanish, my native language,
along with 15 years of academic and professional experience in France. My
strengths: excellent quality translations, affordable prices and a service that
will meet your requirements. 
¿Buscas un profesional serio y receptivo? Estaré encantada de ayudarte. Te
ofrezco traducciones del francés y del inglés al español de alta calidad en mi
idioma nativo y 15 años de experiencia académica y profesional en Francia. Mis
ventajas: traducciones de excelente calidad, precios accesibles y un servicio
que responderá a sus exigencias. 
Vous recherchez un professionnel sérieux et à votre écoute ? Je
serai ravie de vous aider. Je vous propose des traductions du français et
de l'anglais vers l'espagnol d'excellente qualité réalisées par une native de
la langue espagnole avec 15 ans d'expérience académique et professionnel en
France. Mes atouts : des traductions d'excellente qualité, des prix
accessibles et un service qui répondra à vos besoins.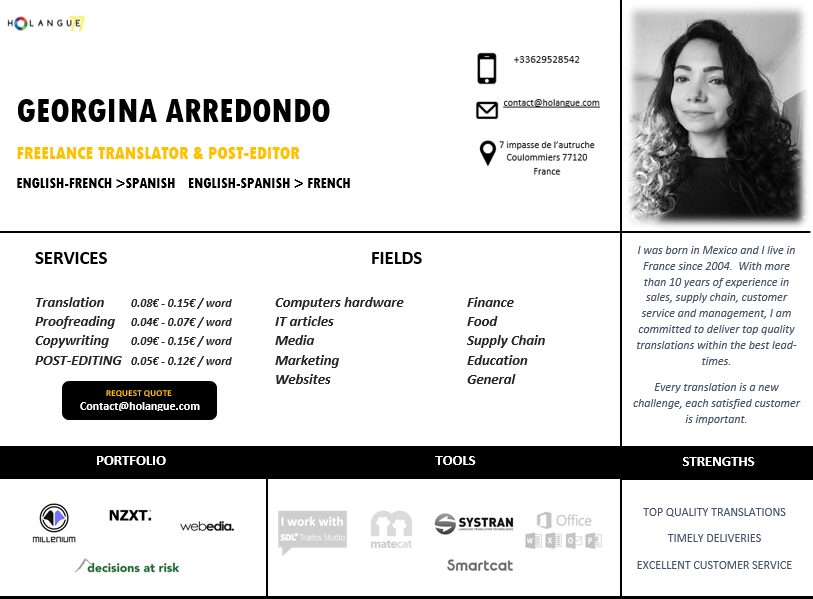 I was born in Mexico and have been living in France since
2004.  I have a Bachelor's degree in
International Business and a Master's degree in Iberian and Latin American
Studies applied to business and international trade.  With more than 10 years of international
experience in sales and distribution, customer service and management, I am
committed to delivering quality translations in the shortest possible time.
Nací en México y vivo
en Francia desde 2004.  Tengo una
licenciatura en Negocios Internacionales y una maestría en Estudios Ibéricos y
Latinoamericanos aplicados a los negocios y al comercio internacional.  Con más de 10 años de experiencia
internacional en ventas y distribución, servicio de atención al cliente y management, me esfuerzo en entregar traducciones de
calidad en el menor tiempo posible.
Je suis né au Mexique
et je vis en France depuis 2004.  J'ai une formation en Affaires
Internationales et un master en Etudes Ibériques et
latino-américaines appliquées aux entreprises et échanges internationaux. 
Avec plus de 10 ans d'expérience à l'international dans la vente et
distribution, service client et management, je m'engage à livrer des
traductions de qualité dans les meilleurs délais.

Need more information? Request a quote or samples?  You can find me here: 
LinkedIn:                 www.linkedin.com/in/georgina-arredondo-5921b3a
My webpage:           www.holangue.com
ProZ mail:               https://www.proz.com/?sp=mailsend&eid_s=2784262
Or by mail:             contact@holangue.com