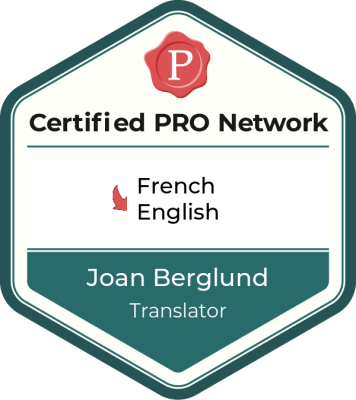 I am a native speaker of US English
I have twenty years of experience translating technical documents from French into English, specializing in patents and journal articles, particularly in the fields of biotechnology and pharmaceuticals. I have also translated materials pertaining to all aspects of drug studies, including ethics committee approval applications, patient information letters, questionnaires and adverse event reports, as well as regulatory materials. In addition, I have practical experience in dental medicine, chemistry, electrical and mechanical engineering, IT, and computer science.
I also have 5 years of experience as an in-house technical editor and proofreader; I am available for editing/proofreading at an hourly rate (rate upon request).
I graduated from Harvard University with a degree in Biology. In addition, I have 6 years of formal French study between high school and college.
I generally handle around 2500 words per day.
Langue maternalle: anglais
Traductrice : Vingt ans d'expérience dans la traduction français-anglais. Spécialisée en traduction médicale et biotechniques.
Baccalauréat en Biologie, Harvard University
Mot/jour 2500 environ
1987-1992 j'ai travaille comme redactrice et directrice de la production pour une agence de traduction.