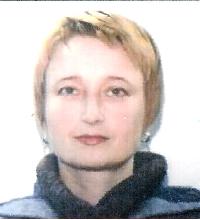 Working languages:
Russian to English
English to Russian
French to English
Olga Gladkova
Translation done right!



Ontario, Canada

Local time:

07:35 EDT (GMT-4)




PayPal accepted
Welcome!
Freelance translator and/or interpreter,

Verified site user
This person has a SecurePRO™ card. Because this person is not a ProZ.com Plus subscriber, to view his or her SecurePRO™ card you must be a ProZ.com Business member or Plus subscriber.

This person is not affiliated with any business or Blue Board record at ProZ.com.
Translation, Interpreting, Editing/proofreading, Website localization, Software localization, Voiceover (dubbing), MT post-editing, Transcription, Training, Desktop publishing
Specializes in:
Computers (general)
Education / Pedagogy
Journalism

Law (general)

Linguistics

Medical (general)

Medical: Health Care
Medical: Pharmaceuticals
Science (general)
Social Science, Sociology, Ethics, etc.
More
CAD
PRO-level points: 46, Questions answered: 37, Questions asked: 1
2 entries



More
Wire transfer, Check, Money order, Visa, MasterCard
Sample translations submitted: 8
Ukrainian to English: Informed Consent Form
General field: Medical
Detailed field: Law: Contract(s)
Source text - Ukrainian
Вас запрошено до участі у клінічному дослідженні (під час якого вивчатимуть одночасне застосування двох лікарських препаратів). Перед тим як прийняти рішення, важливо, щоб ви дізналися, з якою метою проводиться це дослідження, і у чому воно полягатиме. Уважно та без поспіху прочитайте наведені нижче відомості, оскільки деякі терміни в цьому документі можуть бути незрозумілими для вас. Можливо, ви захочете обговорити прочитане зі своїми рідними або друзями. Якщо вам щось незрозуміло, або ви б хотіли отримати більш докладну інформацію, задавайте запитання, і ми постараємося на них відповісти.
Translation - English
You have been invited to participate in a clinical trial. (The purpose of this trial is to study the simultaneous application of two drugs.) Before you decide, it is important that you learn about the purpose of the study and what it consists of. Read the following information carefully and without haste, as some terms in this document may be unfamiliar to you. You may wish to discuss what you read with your relatives or friends. If there is something you do not understand, or if you would like to get more detailed information, ask questions, and we will try to answer them.
Russian to English: Maritime arbitration
General field: Other
Detailed field: Ships, Sailing, Maritime
Source text - Russian
Страховщик настаивал на своей версии аварии – о затоплении сначала машинного отделения. Привлечённый им сюрвейер, выступивший в заседании в качестве свидетеля, высказал ряд соображений в пользу этого. Во-первых, члены экипажа зафиксировали в своих показаниях наличие воды в машинном отделении, а также то, что двери, ведущие в машинное отделение, были задраены. В таком случае попадание воды в машинное отделение было возможно только непосредственно из-за борта. При этом согласно сделанным расчётам затопление одной только рыбофабрики не могло привести к затоплению судна – оно могло стать следствием затопления только двух помещений – рыбофабрики и машинного отделения. Во-вторых, на момент, когда у судна появился статический крен, судно уже должно было набрать критическое количество воды, теряя плавучесть. Вода могла незаметно скапливаться в машинном отделении, оставленном вахтенным механиком. Однако появление воды более обычного количества в помещении рыбофабрики, скорее всего, было бы замечено работавшими там людьми. Наличие воды в машинном отделении сделало возможным то, что даже небольшое усилие от трала могло привести к появлению статического крена, к критической для судна ситуации. В пользу правоты этой версии указывали и крайне необычные действия экипажа в процессе борьбы за живучесть судна, то, что они перекачивали балласт и топливо из танков одного борта в танки другого. Такое поведение свидетельствовало о том, что причиной крена был не зацеп трала – стандартная ситуация, с которой экипаж знает, как справиться, – а что-то иное. Также свидетель обратил внимание, что не было зафиксировано никаких признаков зацепа: рывков, изменения режима работы двигателя.
Translation - English
The insurer insisted on its version of the accident: that the engine room had been flooded first. The surveyor it invited, who testified at a hearing, provided supporting evidence for this version. Firstly, the crew indicated during the interviews that there had been water in the engine room and that the engine room doors had been sealed. Thus the engine room could only be flooded with outboard water. Further, it had been calculated that the flooding of the fish room alone could not lead to the sinking of the vessel – the vessel could only sink as a result of two rooms getting flooded: the fish room and the engine room. Second, by the time the vessel had listed to a static heel, she should no longer take on critical amounts of water, losing buoyancy. The water might be gradually building up in the engine room abandoned by the duty engineer. However, the abnormal flooding of the fish room would likely have been noticed by the people working there. Due to the presence of water in the engine room, even a minor pull from the trawl could result in a static heel, a critical situation for the vessel. This account was supported by the crew's highly unusual damage control actions: the pumping of ballast and fuel from the tanks on one side into the tanks on the other side. Such actions suggested that the heel had not been caused by a snagged trawl – a standard situation which the crew knew how to handle – but something else. The witness also pointed out that no signs of snagging had been observed: jerks or changes in the speed of the engine.
Russian to English: Scientific research article
General field: Science
Detailed field: Science (general)
Source text - Russian
Расчет равновесного состава многокомпонентной системы является сложной оптимизационной задачей, поскольку число переменных целевой функции зависит от большого числа веществ в системе, находящейся в состоянии равновесия. Применение классических методов оптимизации для решения данной задачи затруднено, так как целевая функция достаточно сложна, и число локальных экстремумов велико. В соответствии с этим такие методы оптимизации, как метод антиградиента, Ньютона, нелинейных оценок, Давидона – Флетчера – Пауэлла не гарантируют получения глобального минимума. Избежать остановки алгоритма минимизации в локальном минимуме позволяет задание начальных значений, близких к истинным, при старте алгоритма. При такой постановке задачи рассматриваемая система должна быть предварительно исследована экспериментально, что требует специального оборудования и не всегда является возможным.
Translation - English
The calculation of the equilibrium composition of a multi-component system is a challenging optimization task since the number of variables in the objective function depends on a great number of reactants in the balanced system. The application of traditional optimization methods is problematic due to the complexity of the objective function and a great number of local extrema. Consequently, the antigradient, Newton, nonlinear assessment, Davidon-Fletcher-Powell, and other optimization methods do not guarantee the obtaining of a global minimum. The stipulation of initial values approximating the actual values at the start of the algorithm makes it possible to avoid the termination of minimization algorithm at a local minimum. With this approach the system at issue first needs to be submitted to experimental analysis, which requires special equipment and is not always feasible.
English to Russian: Business contract
General field: Law/Patents
Detailed field: Law: Contract(s)
Source text - English
Each Shareholder shall not, while he or any Permitted Assignee of such Shareholder is a shareholder of the Corporation, and for a period of 12 months thereafter, directly or indirectly, either individually or in partnership or in conjunction with any person or persons, whether as principal, agent, consultant, shareholder, guarantor, creditor or in any other manner or capacity whatsoever solicit, interfere with or endeavour to entice away from the Corporation or its Affiliates, accept any business from or the patronage of or render any service to, sell to or contract or attempt to contract with, any person, firm or corporation who was a client or customer of the Corporation or its Affiliates or a prospective client or customer of the Corporation or its Affiliates with whom the Corporation or its Affiliates have or have had any material dealing during the 12-month period immediately preceding the date upon which the departing Shareholder ceases to be a shareholder of the Corporation (to the extent but only to the extent that such business, patronage, service, or contract is substantially similar to and competitive with the Business or the business of any of its Affiliates (collectively, a "Competitive Business").
Translation - Russian
Ни один из акционеров, в то время, как он или его уполномоченный агент являются акционерами Корпорации, и в течение 12 месяцев после этого, прямо или косвенно, независимо или в качестве партнёра или во взаимодействии с любым лицом или лицами, будучи доверителем, доверенным лицом, консультантом, акционером, поручителем, кредитором или любым иным способом или в любом ином качестве, не имеет права делать предложения, вмешиваться или пытаться переманить из Корпорации или от её Партнёров, принимать деловые предложения или финансовую поддержку, или оказывать любые услуги, вести торговлю или заключать контракты, или пытаться заключить контракт с любым лицом, фирмой или корпорацией, которые были клиентами или покупателями Корпорации или её Партнёров, или потенциальными клиентами или покупателями Корпорации или её Партнёров, с которыми Корпорация или её Партнёры имеют или имели любые деловые отношения в течение 12 месяцев, непосредственно предшествующих дню, когда отделяющийся Акционер прекращает быть акционером Корпорации (в той и только той мере, в которой упомянутый бизнес, финансовая поддержка, услуги, или контракты в значительной степени совпадают и конкурируют с Бизнесом или бизнесом партнёров Корпорации (собирательно, «Конкурирующий бизнес»).
French to English: Medical research article
General field: Medical
Detailed field: Medical (general)
Source text - French
L'ictus amnésique idiopathique a été décrit pour la première fois en 1956 par deux auteurs lyonnais, Guyotat et Courjon [1]. Deux ans plus tard, la dénomination transient global amnesia est formalisée par deux auteurs anglo-saxons, Fisher et Adams [2]. Sous ces termes, ils font référence à un syndrome amnésique transitoire dont la sémiologie est remarquablement stéréotypée : il se caractérise par la survenue brutale, chez des individus d'une soixantaine d'années, d'une amnésie antérograde massive et d'une amnésie rétrograde plus variable en étendue sans troubles identitaires. Le tableau clinique associe une désorientation temporelle et, presque systématiquement, des questions itératives. Aucun trouble neurologique n'est détecté. Les troubles de mémoire sont transitoires et la résolution progressive de l'épisode a lieu, en moyenne, de 4 à 6 heures plus tard. Il persiste une amnésie lacunaire portant sur toute la durée de l'épisode amnésique et sur la période qui l'a immédiatement précédé. Du fait de la sélectivité de l'atteinte mnésique, de son caractère soudain et réversible, l'ictus amnésique idiopathique a suscité l'intérêt de nombreux neurologues et spécialistes de la mémoire depuis les premières observations, en particulier pour le distinguer d'autres variétés d'amnésies transitoires.
Translation - English
Idiopathic transient global amnesia was first described in 1956 by two authors from Lyon, Guyotat and Courjon [1]. Two years later, the designation 'transient global amnesia' was formalized by two Anglo-Saxon authors, Fisher and Adams [2]. These terms refer to a transient amnestic syndrome with a remarkably stereotyped symptomatology. It is characterized by a sudden onset in individuals of about sixty years of age of massive anterograde amnesia and retrograde amnesia, more variable in extent, in absence of identity problems. This clinical picture is associated with temporal disorientation and, almost invariably, with repetitive questions. No neurological disorder is detected. Memory problems are transient and the episode is gradually resolved on average 4 to 6 hours later. There remains lacunar amnesia covering the whole duration of the amnesic episode and the period which immediately preceded it. Because of the selectivity of memory damage, its sudden and reversible nature, idiopathic transient global amnesia has since the first reports attracted the interest of many neurologists and memory specialists, in particular for distinguishing it from other varieties of transient amnesia.
French to English: Investigation report
General field: Bus/Financial
Detailed field: Human Resources
Source text - French
L'enquête avait pour objet de déterminer si les allégations de la plaignante renvoyaient à des infractions à la Loi sur les langues officielles (LLO) et, le cas échéant, de recommander au besoin des mesures pour corriger la situation.
Notre enquête a été menée en vertu de la partie IX de la Loi sur les langues officielles ainsi qu'en vertu de l'esprit de cette même Loi.
Le paragraphe 62(2) vise à encourager le dépôt de plaintes en vertu de la LLO en protégeant les gens de représailles et à assurer que le commissaire ou ses délégué(e)s puissent assumer sans entrave leurs fonctions en vertu de la LLO.
Translation - English
The investigation was designed to determine whether the complainant's allegations referred to violations of the Official Languages Act (OLA) and, where appropriate, to recommend measures to rectify the situation as required.
Our investigation has been conducted under the provisions of Part IX of the Official Languages Act as well as in the spirit of this same Act.
Section 62(2) aims at encouraging the filing of complaints under the OLA by protecting people from reprisals and to ensure that the Commissioner or his/her delegates should have no obstacles in assuming their duties under the OLA.
German to English: Tourism website
General field: Art/Literary
Detailed field: Architecture
Source text - German
Eine Überschwemmung Anfang des letzten Jahrhunderts beschädigte das Gebäude und es wurde Beton benutzt um Teile der ursprünglichen Struktur zu ersetzen. Obwohl zentral-thailändischer Stil vorherrscht, sind die Holzschnitzereien über der Tür und den Fenstern Lanna. Am Giebel sind feine Holzschnitzereien. Ein schlafender Hund unter einem Pfaumotiv symbolisiert vermutlich das Geburtsjahr des königlichen Förderers. Auf der Rückseite des Tempelgeländes ist eine Vogelvoliere und ein Fischteich.
Translation - English
The building was damaged by flood waters at the beginning of the last century, so in places the original structure was replaced with cement parts. While the overall style of the temple is Central Thai, the wood carvings over the door and windows are Lanna. There are fine wood carvings on the gable. A sleeping dog under a peacock motif is a likely symbol of the royal patron's birth. At the rear of the temple grounds are an aviary and a fish pond.
German to English: Logistics handbook
General field: Bus/Financial
Detailed field: Transport / Transportation / Shipping
Source text - German
Logistik entwickelt ein bedeutender Wirtschaftsfaktor in Russland. Der russische Logistikmarkt befindet sich im tiefgreifenden Wandel. Die Veränderungen werden insbesondere nachfrageseitig getrieben. Neben der intensivierten wirtschaftlichen Verflechtung mit den westeuropäischen Ländern macht sich die Veränderung der logistischen Anspruchsprofile von Produktion und Handel bemerkbar. Die Wettbewerbssituation von Unternehmen verladender Wirtschaft wird immer mehr von der Kostensituation geprägt. Die Logistikkosten werden ein immer entscheidenderer Faktor, insbesondere im Produktionssektor.
Translation - English
Logistics in Russia is now affected by a new significant economic factor. The Russian logistics market is undergoing profound changes. The major driving force behind these changes is demand. Apart from the intensifying economic ties with the Western-European countries, noticeable shifts are taking place in the logistical demand profiles of manufacture and trade. The competition in the shipping industry is increasingly affected by the price dynamics. The logistical costs are becoming an ever more decisive factor, particularly in the manufacturing sector.
More
Master's degree - PSLU, Russia
Years of experience: 24. Registered at ProZ.com: Mar 2000.
N/A
Russian to English (University of Waterloo, Canada)
English to Russian (Pyatigorsk State Linguistic University, Russia)
French to English (University of Waterloo, Canada)
Ukrainian to English (University of Waterloo, Canada)
German to English (University of Waterloo, Canada)




More
N/A
Adobe Acrobat, Adobe Photoshop, Dreamweaver, Microsoft Excel, Microsoft Office Pro, Microsoft Word, ABBYY Finereader, Passolo, Powerpoint, SDL TRADOS
Powwows attended

Olga Gladkova endorses ProZ.com's Professional Guidelines (v1.1).
Bio
 Special rates & conditions for reliable partners
 Translation, interpretation, editing, analysis, & consulting
 International & interdisciplinary education & experience; solid track record in a broad range of genres & domains



 Надёжным партнёрам - выгодные рейты и специальные условия
 Перевод, редактирование, анализ и консалтинг
 Международное образование и опыт в различных областях; опыт работы в широком кругу жанров и тем

This user has earned KudoZ points by helping other translators with PRO-level terms. Click point total(s) to see term translations provided.



Total pts earned: 50
PRO-level pts: 46


Top languages (PRO)
Russian to English
20
English to Russian
16
German to English
10
Top general fields (PRO)
Medical
8
Law/Patents
8
Bus/Financial
8
Other
8
Tech/Engineering
6
Pts in 2 more flds >

Top specific fields (PRO)
Medical (general)
8
Finance (general)
8
General / Conversation / Greetings / Letters
4
IT (Information Technology)
4
Law (general)
4
Human Resources
4
Computers: Software
4
Pts in 3 more flds >

See all points earned >
Keywords: English, Russian, German, Ukrainian, education, academic and scientific literature, business and communication, financial, legal, medical, and technical documentation, literary composition and essays
Profile last updated
Jul 19, 2013