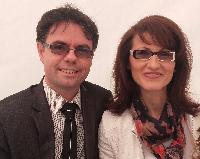 Member since Feb '09
Working languages:
English to Serbian
English to Bosnian
English to Serbo-Croat
English to Croatian
English to Slovenian
Goran & Snežana Erdei
Married Couple of Full-Time Translators



Belgrade, Central Serbia, Serbia

Local time:

02:33 CEST (GMT+2)




Native in

: Serbian
We are married couple of fulltime, native Serbian translators.
Freelancer and outsourcer,

Verified member
This person has a SecurePRO™ card. Because this person is not a ProZ.com Plus subscriber, to view his or her SecurePRO™ card you must be a ProZ.com Business member or Plus subscriber.

This person is not affiliated with any business or Blue Board record at ProZ.com.
Translation, Editing/proofreading, Website localization, Software localization
Specializes in:

Furniture / Household Appliances

Electronics / Elect Eng

Automotive / Cars & Trucks

IT (Information Technology)

Marketing / Market Research

Mechanics / Mech Engineering

Computers (general)

Business/Commerce (general)

Finance (general)

Sports / Fitness / Recreation
More
PRO-level points: 512, Questions answered: 264, Questions asked: 652
Wire transfer
Euro (eur), U. S. dollars (usd)
Sample translations submitted: 3
English to Serbian: Manual for Impact Driver
Source text - English
GENERAL POWER TOOL SAFETY WARNINGS

WARNING
Read all safety warnings and all instructions.
Failure to follow the warnings and instructions may result in electric shock, fire and/or serious injury.

Save all warnings and instructions for future reference.
The term "power tool" in the warnings refers to your mains-operated (corded) power tool or battery-operated (cordless) power tool.
1) Work area safety
a) Keep work area clean and well lit.
Cluttered or dark areas invite accidents.
b) Do not operate power tools in explosive atmospheres, such as in the presence of flammable liquids, gases or dust.
Power tools create sparks which may ignite the dust or fumes.
c) Keep children and bystanders away while operating a power tool.
Distractions can cause you to lose control.
2) Electrical safety
a) Power tool plugs must match the outlet.
Never modify the plug in any way.
Do not use any adapter plugs with earthed (grounded) power tools.
Unmodified plugs and matching outlets will reduce risk of electric shock.
b) Avoid body contact with earthed or grounded surfaces, such as pipes, radiators, ranges and refrigerators.
There is an increased risk of electric shock if your body is earthed or grounded.
c) Do not expose power tools to rain or wet conditions.
Water entering a power tool will increase the risk of electric shock.
d) Do not abuse the cord. Never use the cord for carrying, pulling or unplugging the power tool.
Keep cord away from heat, oil, sharp edges or moving parts.
Damaged or entangled cords increase the risk of electric shock.
e) When operating a power tool outdoors, use an extension cord suitable for outdoor use.
Use of a cord suitable for outdoor use reduces the risk of electric shock.
f) If operating a power tool in a damp location is unavoidable, use a residual current device (RCD) protected supply.
Use of an RCD reduces the risk of electric shock.
3) Personal safety
a) Stay alert, watch what you are doing and use common sense when operating a power tool.
Do not use a power tool while you are tired or under the influence of drugs, alcohol or medication.
A moment of inattention while operating power tools may result in serious personal injury.
Translation - Serbian
ОПШТА УПОЗОРЕЊА О БЕЗБЕДНОМ РУКОВАЊУ ЕЛЕКТРИЧНИМ АЛАТОМ

УПОЗОРЕЊЕ
Прочитајте сва безбедносна упозорења и упутства. Не слеђење упозорења и упутстава може изазвати струјни удар, пожар и/или озбиљну повреду.

Сачувајте сва упозорења и упутства ради будућег упућивања.
Израз "електрични алат" у упозорењима односи се на ваш електрични алат прикључен на директно напајање (с каблом) или на електрични алат који напаја батерија (без кабла).
1) Безбедан радни простор
а) Радни простор треба да буде чист и добро осветљен.
Закрчен или мрачан радни простор повећава опасност од незгода.
б) Немојте користити електрични алат у атмосфери која може изазвати експлозију, у присуству запаљивих течности, гасова или праха.
Електрични алат ствара варнице које могу запалити прах или испарења.
в) Док користите електрични алат постарајте се да деца и други буду на безбедној удаљености. Због сметњи можете изгубити контролу.
2) Електрична безбедност
а) Прикључак електричног алата мора одговарати утичници. Прикључак никако немојте прерађивати.
Када рукујете електричним алатом са уземљењем, немојте користити адаптер утикаче.
Оригинални прикључци и одговарајуће утичнице смањиће опасност од струјног удара.
б) Избегавајте додир с предметима који имају уземљење као што су цеви, радијатори, шпорети и фрижидери. Ако је ваше тело повезано са уземљењем већа је опасност од струјног удара.
в) Електрични алат немојте излагати киши или влази.
Вода која продре у електрични алат повећаће опасност од струјног удара.
г) Немојте користити кабл у погрешне сврхе. Њиме никада немојте носити, вући или искључивати из струје електрични алат.
Кабл држите подаље од топлоте, нафте, оштрих ивица или покретних делова.
Оштећени или упетљани каблови повећавају опасност од струјног удара.
д) Када електричним алатом рукујете на отвореном, користите продужни кабл подобан за употребу на отвореном.
Коришћењем кабла подобног за употребу на отвореном смањује се опасност од струјног удара.
ђ) Ако електричним алатом морате да рукујете у влажној средини, користите заштитну струјну склопку.
Коришћењем заштитне струјне склопке смањује се опасност од струјног удара.
3) Лична безбедност
а) Будите опрезни, пазите шта радите и док рукујете електричним алатом водите се здравим разумом.
Немојте користити електрични алат када сте уморни или ако сте под утицајем наркотика, алкохола или лекова.
Тренутак непажње током руковања електричним алатом може изазвати озбиљну повреду.
English to Bosnian: Manual for Cut-off Machine for Steel Tubes
Source text - English
2.1 General damage prevention
A substantial percentage of possible accidents can be prevented at the time of designing the plant, if operation safety is taken into consideration in the choices made regarding structural issues and process engineering. Ultimately, however, the safety of the work place depends on the actions of the personnel using the machinery.
It is the responsibility of the personnel in charge of the system to ensure no outside persons without proper expertise can access the operating area of the system.
Welding and grinding in fire hazardous places can only be performed with a special permission. Before beginning the work, the welding target and the area surrounding it must be cleaned thoroughly and moistened with water, if necessary. Watch must be kept during the work and after it, as sparks may ignite a smouldering fire which might not be detected until the work has been finished. It is important to protect cables in the vicinity of welding and grinding work.
As a general rule it is good to remember that if the working area is clean, well illuminated, and comfortable, it is also safer.

2.2 Actions in a hazardous situation
If the nature of the hazardous situation requires swift rescue measures, a hazard alarm must be given. All persons, who detect an accident or a threat of one, are obligated to activate the alarm.

2.3 Personal protection
Personal protection – approved hearing, eye, respiratory, and other protection, such as clothing and a helmet – must be used according to their specific instructions or when the situation demands their use.

2.4 Qualified personnel
It is the employer's responsibility to ensure that the personnel operating, maintaining, and cleaning the system is qualified and possesses the appropriate training. We require that the personnel performing tasks related to the system takes part in the training events we provide.
2.4.1 System operator
The tasks and measures involved in using the system must be clearly specified to the operator.
The operator must be familiar with the system's and its safety system's functions which are related to the tasks the operator performs.
The operators must thoroughly read the sections regarding safety from the documents supplied with the system, and thus be aware of the risks involved in using the system. They must also be aware of how to act in case of an emergency.
2.4.2 Maintenance personnel
The persons responsible for maintaining the system must be fully familiar with the system and its safety system.
They must be able to assess risks that arise during maintenance tasks, for instance, when removing or installing parts, or adjusting the system (voltages and forces in different machine elements, etc.).
They must also be able to take into consideration possible risks due to the temporary incapacitation of safety equipment and be able to choose the safest measures available.
2.4.3 Cleaning personnel
The cleaning personnel must be aware of the risks involved in performing their tasks in the vicinity of the system and know the meaning of the system's safety and warning signals and markings.
They must be well trained in their tasks and know what is and what is not allowed in the system's area.
It is also integral that they know that it is forbidden to touch the machine elements and control devices, and that they can work in the vicinity of the system only when it is stopped.
Translation - Bosnian
2.1 Opće sprečavanje oštećenja
Značajan procenat mogućih nezgoda može se spriječiti u vrijeme projektovanja tvrtke, ako se bezbedno funkcioniranje uzme u obzir tijekom donošenja odluka koje se tiču strukturnih pitanja i planiranja radnih procesa. Međutim, na koncu bezbednost radnog okoliša ovisi od radnika koji rukuju strojevima.
Radnici koji rukuju sistemom dužni su postarati se da niko ko ne posjeduje odgovarajuću stručnost ne stupi u radnu zonu sistema.
Zavarivanje i brušenje u prostoru gdje postoji opasnost od izbijanja požara može se vršiti samo uz posebnu dozvolu. Prije otpočinjaja radova površina koja će biti varena i njen okoliš moraju se temeljito očistiti i pokvasiti vodom, ako je neophodno. Tijekom rada i poslije njega mora se biti oprezan jer varnice mogu izazvati tinjajući plamen koji možda neće biti zamijećen sve dok se rad ne završi. Važno je zaštititi kablove u blizini mjesta gdje se vrši zavarivanje i brušenje.
Opće je pravilo i dobro je upamtiti da je bezbednije i lakše raditi u okolišu koji je čist i dobro osvetljen.

2.2 Postupanje u opasnim situacijama
Ako vrsta opasne situacije zahtjeva mjere brzog spasavanja, mora se aktivirati alarm koji upozorava na opasnost. Sve osobe, koje primjete nezgodu ili su u opasnosti, dužne su aktivirati alarm.

2.3 Osobna zaštita
Osobna zaštitna sredstva – odgovarajuća zaštita za sluh, oči, disajne organe, kao i druga zaštitna sredstva, poput odjeće i šljema – moraju se koristiti shodno njihovim specifičnim uputstvima ili kada situacija nalaže njihovo korištenje.
2.4 Stručno osoblje
Poslodavac je dužan postarati se da osoblje koje rukuje sistemom, održava ga i čisti posjeduje odgovarajuću stručnost i znanje. Zahtjevamo da osoblje koje vrši zadatke povezane sa sistemom prođe obuku koju pružamo.
2.4.1 Rukovalac sistemom
Zadaci i mjere povezane s korištenjem sistema moraju biti jasno predočene onome ko rukuje njime.
Rukovalac mora biti upoznat s funkcioniranjem sistema i funkcioniranjem bezbednosnih mjera koje se odnose na zadatke koje rukovalac obavlja.
Rukovalac mora temeljito pročitati odeljke o bezbednosti iz dokumenata dostavljenih sa sistemom, te stoga biti svjestan opasnosti koje rukovanje sistemom nosi sa sobom. Također mora znati kako da reagira u slučaju opasnosti.
2.4.2 Osoblje za održavanje
Osobe odgovorne za održavanje sistema moraju biti potpuno upoznate sa sistemom i njegovim bezbednosnim sistemom.
Moraju biti sposobne da procjene rizike koji nastaju tijekom održavanja, na primjer, kada uklanjaju ili postavljaju dijelove ili reguliraju sistem (napon i druge sile u raznim elementima stroja itd).
Također moraju biti sposobne da uzmu u obzir moguće rizike uslijed privremenog ne funkcioniranja bezbednosne opreme i da izaberu najbezbednije moguće mjere.
2.4.3 Osoblje za čišćenje
Osoblje za čišćenje mora biti svjesno rizika koje nosi obavljanje zadataka u blizini sistema i mora biti upoznato sa značenjem bezbednosnih i upozoravajućih signala i oznaka sistema.
Mora biti dobro obučeno za vršenje svojih zadataka i znati što jeste i što nije dozvoljeno raditi u blizini sistema.
Također mora znati da je zabranjeno dodirivati elemente stroja i komande za upravljanje i da mogu raditi u blizini sistema samo kada je isključen.
English to Serbo-Croat: Nike's Code of Ethics
Source text - English
NIKE's good name and reputation result in large part from our collective actions. That means the
work-related activities of every employee must reflect standards of honesty, loyalty, trustworthiness, fairness, concern for others and accountability. We are expected to be sensitive to any situations
that can adversely impact NIKE's reputation and are expected to use good judgment and common sense in the way we all conduct business.

MATTER OF RESPECT
NIKE knows that people perform best in a work environment free from harassment and
discrimination, and we want to be sure that harassment and discrimination of all types does not
occur at NIKE, including harassment, discrimination, or other inappropriate conduct, based on sex, race, sexual orientation, gender identity, gender expression, age, religion, disability, ethnic group,
marital status, military status, veteran status, or any other class status protected by applicable
law – including conduct by co-workers, managers, visitors, customers, and vendors. To that end,
NIKE's policy prohibits discrimination and harassment, seeks to prevent harassment and provides
employees with an effective complaint process.

Remember, sometimes people believe they are being "harassed," but the harassment is not based
on a legally protected characteristic, such as gender or age. This harassment may not be against
the law but, depending on the circumstances, it may be against company policy. Employees should
avoid rude, abusive, unprofessional, insensitive, demeaning or intimidating behavior directed at a
person or a group of people as it may, depending on circumstances, violate NIKE policy. All employees are responsible for creating and maintaining a work environment free from harassment or other
inappropriate behavior. If you experience, witness or learn of such conduct in the workplace you
should immediately report the harassment to your manager, Employee Relations or Human Resources.

SAFETY, HEALTH, AND ENVIRONMENT
NIKE is committed to providing safe and healthy work environments and to being an environmentally responsible corporate citizen. The NIKE standard is to comply with all environmental, safety and health laws and regulations. As an employee, you should report any condition that you believe to be unsafe, unhealthy, or hazardous to the environment. NIKE is committed to minimizing the impact of our business on the environment with methods that are socially responsible, scientifically based and economically sound.

SALES AGENTS, CONSULTANTS
Translation - Serbo-Croat
Naše dobro ime i ugled kao tvrtke NIKE dobrim dijelom dugujemo ponašanju svih nas. To znači da radne aktivnosti svakog zaposlenika moraju odražavati standarde poštenja, lojalnosti, pouzdanosti, čestitosti, zainteresiranosti za druge i odgovornosti. Od nas se očekuje da strogo vodimo računa o svakoj situaciji koja se može nepovoljno odraziti na ugled tvrtke NIKE i da se u poslovanju vodimo dobrim rasuđivanjem i zdravim razumom.

PITANJE POŠTOVANJA
Tvrtka NIKE svjesna je da zaposlenici postižu najbolje rezultate u radnom okruženju u kojem nema uznemiravanja i diskriminacije i cilj nam je da u tvrtki NIKE ne postoji bilo kakva vrsta uznemiravanja i diskriminacije, uključujući i šikaniranje i diskriminaciju ili neprimjereno ponašanje druge vrste temeljeno na spolnoj ili rasnoj pripadnosti, seksualnom opredjeljenju, spolnom identitetu, izražavanju spolne pripadnosti, uzrastu, religiji, invaliditetu, pripadnosti određenoj etničkoj grupi, bračnom statusu, vojničkom statusu, statusu veterana ili bilo kojoj drugoj vrsti klasnog statusa čija su prava zagarantirana važećim zakonima — tu se ubraja ponašanje kolega, rukovodilaca, posjetitelja, klijenata i dobavljača. U tu svrhu, politikom tvrtke NIKE zabranjeni su diskriminacija i uznemiravanje, i tvrtka nastoji spriječiti uznemiravanje i da zaposlenicima pruži mogućnost efikasne žalbe.

Zapamtite, ponekad ljudi smatraju da ih netko "uznemirava", ali se to uznemiravanje ne temelji na zakonom zaštićenoj karakteristici, kao što su spol ili uzrast. Ovakvo uznemiravanje možda nije protuzakonito ali, ovisno ookolnosti, može biti u suprotnosti s politikom tvrtke. Zaposlenici ne smiju biti grubi, ne smiju se ponašati uvredljivo, neprofesionalno, bezosjećajno, ne smiju ponižavati niti zastrašivati jednu osobu ili grupu osoba jer time, ovisno o okolnosti, mogu prekršiti politiku tvrtke NIKE. Svi zaposlenici dužni su raditi na stvaranju i očuvanju radnog okoliša u kojem neće biti uznemiravanja ili drugog neprimjerenog ponašanja. Ako doživite, vidite ili saznate za takvo ponašanje na radnom mjestu, trebate odmah o tome obavijestiti svog pretpostavljenog, Odjel za odnose među zaposlenicima ili Ljudske resurse.

SIGURNOST, ZDRAVLJE I PRIRODNI OKOLIŠ
Cilj tvrtke NIKE je pružanje sigurnog i zdravog radnog okruženja i da bude član društva koji vodi računa o prirodnom okolišu. Standard tvrtke NIKE je pridržavanje svih zakona i propisa koji se tiču očuvanja prirodnog okoliša, sigurnosti i zdravlja. Kao zaposlenici, trebate prijaviti svako stanje za koje smatrate kako ugrožava sigurnost i zdravlje ili koje može nanijeti štetu prirodnom okolišu. Tvrtka NIKE odlučna je smanjiti utjecaj koji naše poslovanje može imati na prirodni okoliš i to pomoću metoda koje su društveno odgovorne, znanstvene i ekonomski isplative.
More
University of Novi Sad
Years of experience: 25. Registered at ProZ.com: May 2007. Became a member: Feb 2009.
N/A
N/A
N/A
Adobe Acrobat, Microsoft Excel, Microsoft Word, SDL TRADOS, Wordfast
CV available upon request
Bio
We are married couple of full-time, freelance translators with more than 19 years of experience in this field.

As we already said, translation work is not something we do part-time. Translation is the only thing we do, at least 8 hours per day, 5 days per week, even more if necessary. Since we are married couple, everything we do we do together. That doesn't mean that our daily output is extremely high but extremely qualitative.

We collaborate with two renowned Serbian publishers, namely Clio and Mono&Manana. Clio is one of the biggest and the best private publishing house in Serbia. Books they publish are standard textbooks and manuals on many Serbian colleges and universities.

Besides that, we translated a couple books for Mono&Manana and also cooperating on translation of Serbian edition of several Reader's Digest encyclopedias.

So far we translated eight books:

World Culture — Origins and Consequences
(John Boli & Frank Lechner) (publisher: Clio, 118 500 words)

The Raphael Trail
(Joanna Pitman) (publisher: Mono&Manana, 93 400 words)

Medici's Giraffe
(Marina Belozerskaya) (publisher: Mono&Manana, 121 500 words)

Sport and Society — History, Power and Culture
(Graham Scambler) (publisher: Clio, 85 400 words)

Creative Intelligence
(Alan J. Rowe) (publisher: Clio, 45 500 words)

Social Marketing — Improving the Quality of Life
(Philip Kotler, Ned Roberto, Nancy Lee) (publisher: Clio, 124 500 words)

Strategic Sports Event Management — An International Approach
(Guy Masterman) (publisher: Clio, 93500)

Shadow of the Silk Road
(Colin Thubron) (publisher: Mono&Manana: 126 500 words)

Besides that, we worked for clients such as:

Battenfeld, Binks, Breas Medical, Bucher, Canon, Ceresit, CyberLink, Daikin, Douglas Cosmetics, Dremel, Emerio, Eurocopter, Ferm, FM Global, Ford, GE Medical Systems, Google, Grundig, Hitachi, Honda, HP, Intecsa-Inarsa, Johnson Controls, Kettler, Kika, Kimberly Clark, Kodak, Krones, Krups, Leica, MAN, Mazda, Merck, Metso, Meyer&Meyer, Microsoft, MSI, Nestle, Nike, Nobilia, Oase, Oracle, Panasonic, Pelipal, Pioneer, Plantool, ProvaSystem, Ruukki, Samsung, Schorch, Siemens, Skoda, Societe General, Sweex, Toshiba, Uniqa, Vaillant, Visa International, Vista System, Volkswagen, Watherford, Western Union, Yamaha
Keywords: Serbian, Bosnian, Croatian, English, Translation, Translator, Translation Agency
51 visits in the last month,
from a total of 32 visitors This profile has received
Profile last updated
Nov 17, 2020