Graduated as English>Portuguese>English translator technician from the American School
of Brasília in 1986, Mário Freitas has developed his career working for 32
years as a translator and interpreter; beginning at the Federal University of
Brasilia, from 1987 to 1990, translating academic documents and thesis for
students, above all in the technical/engineer, business/finance and
law/contracts areas, and graduated as a Bachelor in Finance and Accounting in
1990. As of 1991, he worked for 20 years in large-size multinatinal companies,
namely AmBev (Brazil - business manager), Telelistas (Brazil - operations
manager), Albany International (UK - operations mananger), SNC-Lavalin (Canada,
Business Manager, including translation team), and WorleyParsons (Canada -
Project Manager, including translation team) thus acquiring a vast experience
in business, commerce, logistics, sales, procurement, lawsuits, contracts,
engineering documents, procedures, and several other business and project
areas.
Currently, Mario works exclusively as a
freelance translator, with positive feedback from every single customer, as
available in the "References" link above. Very well-acquainted with the
engineering, business/finance, and legal jargons, Mario is a highly qualified
translator for documents such as contracts, patents, legal proceedings,
procurement processes, technical specifications, basic and detailed design,
procedures, accounting statements, insurance policies and contracts, and many
other types of documents in these areas.
- 32-year freelance and in-house experience as
translator and 20 years as business/operations/project manager in large
multinational companies.
- Positive feedback from all clients; please click on
"positive entries" above.
- Native Portuguese and English speaker, graduated as
translator technician, with seven years in American Schools, and traveling
worldwide.
- Experienced in transcreation and localization with
excellent feedback.
- I do not translate text. I translate messages, with
euphony and naturality. One who reads a document I translated does not believe
it is a translation from another language, yet a text originally written in the
target language.
- Average 3000 words per day. Up to 5500 words per day
in urgency jobs. Work on Saturdays, Sundays and holidays when required. -
Exclusive dedication to translation, with no other professional commitments.
- I HEREBY STATE AM NOT AN AGENCY OR A SHAREHOLDER,
PARTNER, OFFICER OR EMPLOYEE OF ANY AGENCY.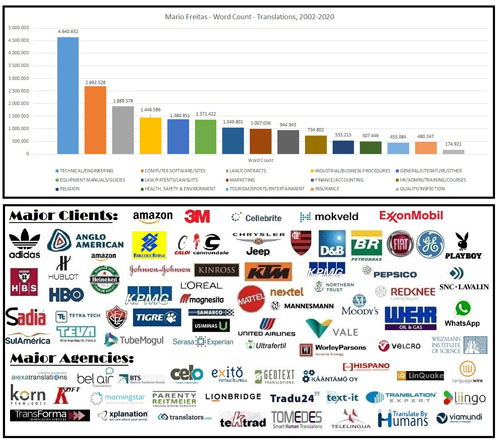 _