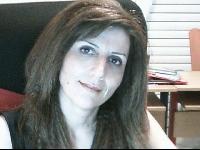 Working languages:
Greek to English
English to Greek
Dimitra Tsakiroglou
Accuracy, Natural Flow, Reliability



Athens, Attiki, Greece

Local time:

03:32 EEST (GMT+3)



Freelance translator and/or interpreter,

Verified site user
This person has a SecurePRO™ card. Because this person is not a ProZ.com Plus subscriber, to view his or her SecurePRO™ card you must be a ProZ.com Business member or Plus subscriber.

Translation
Specializes in:

Business/Commerce (general)

Human Resources
Telecom(munications)
Construction / Civil Engineering
Agriculture
Automotive / Cars & Trucks
Management
International Org/Dev/Coop

Tourism & Travel

Forestry / Wood / Timber
More
Wire transfer, Visa, MasterCard | Send a payment via ProZ*Pay
Sample translations submitted: 2
Greek to English: Decision following Public Hearing
General field: Law/Patents
Detailed field: Law (general)
Source text - Greek
Σε κάθε περίπτωση, οι διαφοροποιήσεις αυτές ως προς την καταγραφόμενη συνολική επιφάνεια δεν αλλοιώνουν την αδιάβλητη γεωμετρική ταυτότητα του ακινήτου της ενάγουσας, καθώς αυτή προκύπτει εναργώς και, από τη θέση και ταυτοποίηση του έναντι των αναφερόμενων σε όλους τους τίτλους κτήσης ιδιοκτήτες των όμορων ακινήτων. Και τούτο διότι οι ως άνω δικαιοπάροχοι της ενάγουσας αναγνωρίζονται ως κύριοι του επιδίκου και στους τίτλους κτήσης των ιδιοκτητών των όμορων του επιδίκου ακινήτων.
Translation - English
In any case, these differentiations, with respect to the recorded total surface area, do not alter the irreproachable geometric identity of the plaintiff's real-estate, as this explicitly emerges both from its position and its identification against all that is written in the title deeds of the adjacent properties. And this is, because the above trustees of the plaintiff are also acknowledged as the owners of the property in dispute, in the title deeds of the owners of the adjacent properties.
Greek to English: Annual Report
General field: Bus/Financial
Source text - Greek
ΣΤ. ΚΙΝΔΥΝΟΙ ΚΑΙ ΑΒΕΒΑΙΟΤΗΤΕΣ

Οι δραστηριότητες του Ομίλου δημιουργούν διάφορους χρηματοοικονομικούς κινδύνους, όπως κινδύνους αγοράς (συμπεριλαμβανομένων μεταβολών σε συναλλαγματικές ισοτιμίες, επιτόκια, τιμές αγοράς), πιστωτικό κίνδυνο, κίνδυνο ρευστότητας. Η συνολική διαχείριση των οικονομικών κινδύνων εστιάζεται στη μη προβλεψιμότητα των χρηματοπιστωτικών αγορών και στοχεύει στην ελαχιστοποίηση των αρνητικών επιδράσεων στην οικονομική επίδοση του Ομίλου. Η διαχείριση των χρηματοοικονομικών κινδύνων διεξάγεται από ένα κεντροποιημένο τμήμα διαχείρισης χρηματοοικονομικών κινδύνων. Το τμήμα διαχείρισης χρηματοοικονομικών κινδύνων παρέχει υπηρεσίες και συντονίζει την πρόσβαση των εταιρειών του Ομίλου στις χρηματαγορές. Αναγνωρίζει, ποσοτικοποιεί, διαχειρίζεται και αντισταθμίζει αν κρίνεται απαραίτητο, τους οικονομικούς κινδύνους που δημιουργούνται από τις κύριες λειτουργικές δραστηριότητες του Ομίλου. Δεν συνάπτονται χρηματοοικονομικές συναλλαγές κερδοσκοπικού χαρακτήρα.



1. ΚΙΝΔΥΝΟΙ ΑΓΟΡΑΣ

α) Συναλλαγματικός κίνδυνος

Η έκθεση του Ομίλου σε συναλλαγματικούς κινδύνους προέρχεται κυρίως από υπάρχουσες ή προσδοκώμενες ταμειακές ροές σε ξένο νόμισμα (εισαγωγές / εξαγωγές, κυρίως δολάριο Η.Π.Α.). Η διαχείριση των συναλλαγματικών κινδύνων αντιμετωπίζεται με τη χρήση φυσικών αντισταθμιστικών μέσων και με προθεσμιακά συμβόλαια μελλοντικής εκπλήρωσης σε συνάλλαγμα. Ειδικότερα, η πρακτική που ακολουθείται σήμερα από τον Όμιλο είναι η φυσική αντιστάθμιση (δανεισμός στο ξένο νόμισμα) των κινδύνων που απορρέουν από εμπορικές απαιτήσεις σε συνάλλαγμα και η χρήση προθεσμιακών συμβολαίων για την αντιστάθμιση κινδύνων που προκύπτουν από εμπορικές υποχρεώσεις σε συνάλλαγμα.


β) Κίνδυνος διακύμανσης επιτοκίων

Ο Όμιλος εκτίθεται σε κίνδυνο από τις μεταβολές των επιτοκίων βάσης δανεισμού (EURIBOR ή LIBOR) όσον αφορά στον τραπεζικό δανεισμό. Η Διοίκηση παρακολουθεί σε συνεχή βάση τις διακυμάνσεις των επιτοκίων και αξιολογεί την ανάγκη λήψης σχετικών θέσεων για την αντιστάθμιση των κινδύνων, όταν κρίνονται σημαντικοί. Σε αυτό το πλαίσιο και σε συνάρτηση με τον μακροπρόθεσμο σχεδιασμό ο Όμιλος είναι πιθανό να συνάπτει συμβόλαια ανταλλαγής επιτοκίων και άλλα παράγωγα προϊόντα επιτοκίων.

γ) Κίνδυνος διακύμανσης τιμών προϊόντων

Όπως είναι η πρακτική στον κλάδο εμπορίας xxx, τόσο οι αγορές όσο και οι πωλήσεις προϊόντων xxx τιμολογούνται με βάση τις ημερήσιες τιμές που ισχύουν για την περιοχή (xxx). Ως εκ τούτου στον βαθμό που η xxx τηρεί κάποια λειτουργικά αποθέματα εκτίθεται σε μεταβολές της αξίας των εμπορεύσιμων αγαθών από τις καθημερινές διακυμάνσεις στις τιμές αναφοράς xxx. Η διαχείριση κινδύνου ζημιών λόγω μελλοντικών διακυμάνσεων στις τιμές γίνεται μέσω προθεσμιακών συμβολαίων (παραγώγων) πώλησης προϊόντων xxx. Τα χρηματοοικονομικά παράγωγα τα οποία χρησιμοποιούνται για τη διαχείριση κινδύνου συμπεριλαμβάνουν εξωχρηματιστηριακά συμβόλαια μελλοντικής εκπλήρωσης (Commodity Price Swaps) και δικαιώματα προαίρεσης (Options).

2. ΠΙΣΤΩΤΙΚΟΣ ΚΙΝΔΥΝΟΣ

Ο Όμιλος δεν αντιμετωπίζει σημαντικούς πιστωτικούς κινδύνους. Οι απαιτήσεις από πελάτες προέρχονται κυρίως από μια μεγάλη, ευρεία πελατειακή βάση. Η χρηματοοικονομική κατάσταση των πελατών παρακολουθείται διαρκώς από τις εταιρείες του Ομίλου και, όπου κρίνεται απαραίτητο, ζητούνται επιπλέον εγγυήσεις για εξασφάλιση της πίστωσης. Ειδική μηχανογραφική εφαρμογή ελέγχει το μέγεθος της παροχής των πιστώσεων καθώς και τα πιστωτικά όρια των λογαριασμών.

3. ΚΙΝΔΥΝΟΣ ΡΕΥΣΤΟΤΗΤΑΣ

Ο Όμιλος διαχειρίζεται τον κίνδυνο ρευστότητας με την συνεχή παρακολούθηση των χρηματοροών του. Προϋπολογίζει και παρακολουθεί τις χρηματοροές του και ενεργεί κατάλληλα ώστε να υπάρχουν ρευστά διαθέσιμα και εξασφαλισμένες τραπεζικές πιστώσεις προς χρήση. Ο Όμιλος έχει σημαντικές αχρησιμοποίητες εγκεκριμένες τραπεζικές πιστώσεις για να καλύψει οποιαδήποτε πρόσκαιρη ανάγκη σε ρευστά διαθέσιμα.

Translation - English
F. RISKS AND UNCERTAINTIES

The Group's lines of business create various financial risks, such as market risks (including fluctuations in foreign exchange rates, interest rates, market prices), credit risks, liquidity risks. The overall management of financial risks is focused on the non-predictability of the financial markets and aims at minimizing negative impacts on the Group's financial performance. Financial risks are managed by a centralized Treasury Department. The Treasury Department provides services and coordinates the access of the Group's companies to money markets. It identifies, quantifies, manages and hedges, if necessary, financial risks created by the Group's key lines of business. Profitable financial transactions are not performed.


1. MARKET RISKS

a) Foreign exchange risk

The Group's exposure to foreign exchange risks arises mainly from existing or expected cash flows in foreign currencies (imports/exports, mainly the US dollar). Foreign exchange risks are managed with the use of natural hedging and with forward foreign exchange contracts. More specifically, the practice which the Group applies today is natural hedging (foreign currency loans) of risks deriving from commercial receivables in foreign exchange and the use of futures contracts for hedging of risks deriving from commercial liabilities in foreign exchange.

b) Interest Rate Fluctuation risk

The Group is exposed to the risk of bank loan interest rate fluctuations (EURIBOR or LIBOR). The Management monitors the fluctuation of interest rates on a ongoing basis and assesses whether it is necessary to take relative measures to hedge the risks. Within this context and in connection with its long-term plan, the Group may obtain foreign exchange swap contracts and other derivate interest rate products.

c) Product Price Fluctuation risk

According to the practice applied in the xxx trade sector, both markets and xxx product sales are invoiced based on daily prices that apply in the region (xxx). As a result, to the extent to which XXX maintains certain operational stocks, it is exposed to fluctuations of the value of commercial goods deriving from daily fluctuations of the xxx reference prices. Managing the risk of losses due to future price fluctuations is made through forward (derivative) xxx product sales contracts. The financial derivatives used for risk management, include also Commodity Price Swap contracts and Options.

2. CREDIT RISK

The Group does not face significant credit risks. Trade receivables are mainly from a broad customer base. The financial situation of customers is constantly monitored by the Group's companies and, when it deemed necessary, further guarantees to secure credit are requested. A special computerized application controls the size of the credit service, as well as the credit limits of accounts.

3. LIQUIDITY RISK

The Group manages liquidity risks by constantly monitoring its cash flows. It budgets and monitors its cash flows and acts accordingly, so that cash equivalents are available, as well as secured bank credits for use. The Group holds significant unused and approved bank credits to cover any provisional necessity that may arise for cash equivalents.

More
Years of experience: 34. Registered at ProZ.com: Aug 2008.
N/A
N/A
N/A
Adobe Acrobat, Microsoft Excel, Microsoft Word, Powerpoint, SDL TRADOS, SDLX
CV available upon request
9th ProZ.com Translation Contest: English to Greek

Dimitra Tsakiroglou endorses ProZ.com's Professional Guidelines (v1.1).
Bio
My objective is to always provide accurate translations and ensure the natural flow of the language to which a document is translated.

Bilingual (English/Greek), 20 years of experience in multinational companies, heavily involved in translations in the following fields:

Business
­- Company profile
- Annual Reports / Financial Statements
- Business Plans
- Contracts
- Policies and Procedures
- Internal Audit Reports
- Risk Management & Compliance Reports
- Press Releases
- Interviews
- Advertisements/Commercials
- Presentations

Feasibility studies
­- Road Construction & Road Markings
- Aeolian Energy
- Commercial Real-Estate
- Compliance with EU Environmental Policies
­- Agriculture/Fishery

Manuals
- Electrical installations
- Hydraulic installations
- Aviation
- Software User manuals
Legal Social Sciences Automotive and Tire Tourism sector Approx. 20 years of experience in multinational companies, heavily involved in translation and interpretation

* ING Investment Management Greece S.A. (2005-2008)
* ING Insurance Greece S.A. (2003-2005)
* Vgenopoulos & Partners Law Firm (2002-2003)
* 3M Hellas S.A. (2000-2001)
* Levi Strauss Hellas S.A. (1992-2000)
* RCI International S.A. (1991-1992) - Timeshare Vacation Exchange Network
* Roche Hellas S.A. (1988-1991) - Pharmaceutical
* Vianex Hellas S.A. (1986-1988) - Pharmaceutical

This user has earned KudoZ points by helping other translators with PRO-level terms. Click point total(s) to see term translations provided.


Keywords: Management / Διοίκηση Επιχειρήσεων Finance / Οικονομικές Υπηρεσίες Legal / Νομικές Υπηρεσίες Human Resources / Διοίκηση Ανθρώπινου Δυναμικού Tourism / Τουρισμός
2 visits in the last month,
from a total of 2 visitors This profile has received
Profile last updated
Apr 7