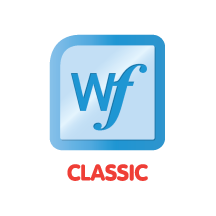 Join the world's largest community of translators.
Register now →
(It's free.)

Join the world's largest community of translators.

Join ProZ.com →
Wordfast Classic
4.6

out of

5



THE BEST TRANSLATION MEMORY SOLUTION FOR MICROSOFT WORD Wordfast Classic (WFC) integrates with Microsoft Word to create a powerful translation memory tool that is quick to learn and easy to use. Discover why thousands of freelance translators worldwide rely on Wordfast Classic as their TM tool of choice.





Price
$460
File formats
Microsoft Word
License type
3-year license
System requirements

Operating system
Linux, Windows XP, Mac OS 7, 8, 9, OSX 10.3.4 and higher , Windows 95, 98, ME, NT & 2000, Windows 8, Windows Vista, Windows 10, Windows 7
System requirements

MS Word (PC): MS Word 2000 and higher* 
MS Word (Mac): MS Word 2011 or 2019

Compatibility
Requires Microsoft Word
Support & upgrades

| | |
| --- | --- |
| Support and upgrades offered/included | Installation support, Free technical support via support ticket center, Free community support, Free upgrades for duration of license/Subscription |
| Support and tutorial links | Online support center |

30 days

| | |
| --- | --- |
| Free trial | Work in the demo version free forever. License required once you reach 500 translated sentences per translation memory. |

Languages supported
Wordfast Classic supports any language that is supported by Microsoft Word. This includes Eastern European, Cyrillic, Asian, Right-to-Left, and various other languages.





Side-by-side comparison of this tool with others from the "CAT tools" category:




(0 reviews)

(24 reviews)
(32 reviews)
Compare more than two tools at once →
How easy is it to learn?
Perfect introduction to CAT tools for experienced translators
Review by
Claire Cox
.
If you're tempted to stick a toe into the waters of translation memory for the first time and don't have any clients breathing down your neck insisting on Trados AND you tend to translate mainly Word files, then Wordfast is a much more sympathetic environment in which to start your journey. I tend to think this is the better option for more experienced translators who are finally dragging themselves into the 21st century to acclimatise at their own pace (as I did) and come to appreciate that it's not just about repetitions and discounts for matches, but about ensuring consistency, easy access to terminology and concordance searches to remember exactly how you worded that tricky phrase from 6 years ago…

Wordfast Classic is also better for handling pdf files you've converted yourself, but the latest version of Office (2013) no longer supports the use of Classic with PowerPoint tools and Excel. You'd have to use Wordfast Pro or Anywhere for those sorts of files.

See the full text of my own (layman's) comparison with Studio 2014 at: https://clairecoxtranslations.wordpress.com/2015/02/23/my-laymans-take-on-cat-tools-wordfast-classic-vs-trados-studio-2014/
6
out of
6
found this review helpful.
---
How easy is it to learn?
perfect CAT with MS Word - recommend to all of my colleaugues
Review by
Dušan Ján Hlísta
.
After 12 years of work with Wordfast Classic I can say that it never occurred to me to use any other CAT (i.e. Trados). A lot of very useful and reliable features (I know them all because I have translated its manuals from the English into the Slovak language). I recommend it to everybodyl - because it has very reasonable rate between price/functionality. Dušan Hlísta alias Škopko
4
out of
4
found this review helpful.
---
How easy is it to learn?
Best tool for translating simple Word documents.
Review by
Wojciech_ (X)

. I actually use it only in demo version, but in my opinion it's one of the best tools in the market. Of course it has its limitations, being a Word macro, but some of its features are just outstanding! I especially love the Autocomplete function with a number of suggestions from MT TM, Glossaries and placeables! This sole function speeds up translation by at least 20% The only wish I have is to be able to use more than 2 translation memories and 3 glossaries.
But overall, it's simply great, and having tried Trados, MemoQ and Deja Vu, I still return to WF Classic.
3
out of
3
found this review helpful.
---