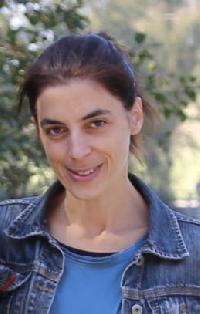 Member since Nov '09
Working languages:
German to Greek
English to Greek
Greek (monolingual)
Anna Spanoudaki-Thurm
Science, medicine, engineering



Germany

Local time:

00:40 CET (GMT+1)




Native in

: Greek
First understand, then translate
Freelance translator and/or interpreter,

Verified member
This person has a SecurePRO™ card. View now.

This person is not affiliated with any business or Blue Board record at ProZ.com.
Translation, Interpreting, Editing/proofreading, Website localization, Software localization, Subtitling, Transcription
Specializes in:
Safety
Science (general)

Medical: Pharmaceuticals

Medical: Instruments

Chemistry; Chem Sci/Eng

Medical (general)

Biology (-tech,-chem,micro-)

Materials (Plastics, Ceramics, etc.)

Energy / Power Generation

Engineering (general)
More
PRO-level points: 1585, Questions answered: 552, Questions asked: 46
23 entries



More
Wire transfer, PayPal | Send a payment via ProZ*Pay
Sample translations submitted: 5
English to Greek: Summary of Product Characteristics, SPC
General field: Medical
Detailed field: Medical: Pharmaceuticals
Source text - English
A phase III randomised, double-blind, active-controlled clinical trial evaluated XbbbX in combination with XiiiX as first-line treatment for metastatic carcinoma of the colon or rectum (Study Y). The addition of XbbbX to the combination of XiiiX resulted in a statistically significant increase in overall survival. The clinical benefit, as measured by overall survival, was seen in all pre-specified patient subgroups, including those defined by age, sex, performance status, location of primary tumour, number of organs involved, and duration of metastatic disease.
Translation - Greek
Μια τυχαιοποιημένη, διπλά τυφλή, ελεγχόμενη με ενεργό παράγοντα κλινική δοκιμή φάσης ΙΙΙ αξιολόγησε τη XbbbX σε συνδυασμό με XiiiX ως αγωγή πρώτης γραμμής για το μεταστατικό καρκίνωμα του παχέος εντέρου ή του ορθού (μελέτη Y). Η προσθήκη XbbbX στο συνδυασμό XiiiX είχε ως αποτέλεσμα μια στατιστικά σημαντική αύξηση της συνολικής επιβίωσης. Το κλινικό όφελος, αξιολογούμενο βάσει της συνολικής επιβίωσης, παρατηρήθηκε σε όλες τις προκαθορισμένες υποομάδες ασθενών, συμπεριλαμβανομένων των οριζόμενων μέσω της ηλικίας, του φύλου, του δείκτη λειτουργικότητας, της θέσης του πρωτοπαθούς όγκου, του αριθμού των εμπλεκόμενων οργάνων και της διάρκειας της μεταστατικής νόσου.
German to Greek: MSDS
General field: Science
Detailed field: Chemistry; Chem Sci/Eng
Source text - German
*Das Produkt wurde als Reinstoff bewertet.
*Die angegebenen Werte basieren auf Arbeitsplatzmessungen.
*Der Dampfdruck bezieht sich auf den dem Expositionsszenario zugrunde liegenden Reinstoff.
*Vor dem Gefrieren schützen, wenn das Produkt kalten Temperaturen in der Nähe von 0 °C (32 °F) oder darunter ausgesetzt ist.
*Für dieses Produkt wurde eine Stoffsicherheitsbeurteilung gemäß Verordnung (EG) 1907/2006 (REACH) durchgeführt.
*Für dieses Produkt wurde keine Stoffsicherheitsbeurteilung gemäß Verordnung (EG) 1907/2006 (REACH) durchgeführt.
*Bei einmaliger oraler Exposition sind geringe toxische Wirkungen zu erwarten.

Translation - Greek
*Το προϊόν αξιολογήθηκε ως καθαρή ουσία.
*Οι αναφερόμενες τιμές βασίζονται σε μετρήσεις στον τόπο εργασίας.
*Η τάση ατμών αναφέρεται στην καθαρή ουσία στην οποία βασίζεται το σενάριο έκθεσης.
*Προστατέψτε από την πήξη όταν το προϊόν εκτίθεται σε θερμοκρασίες στην περιοχή των 0 °C (32 °F) ή χαμηλότερες.
*Για το προϊόν αυτό έχει διεξαχθεί αξιολόγηση χημικής ασφάλειας σύμφωνα με τον κανονισμό (EG) 1907/2006 (REACH).
*Για το προϊόν αυτό δεν έχει διεξαχθεί αξιολόγηση χημικής ασφάλειας σύμφωνα με τον κανονισμό (EG) 1907/2006 (REACH).
*Μετά από εφάπαξ στοματική έκθεση αναμένονται περιορισμένες τοξικές επιδράσεις.

German to Greek: Installationsanleitung
General field: Tech/Engineering
Detailed field: Energy / Power Generation
Source text - German
■ Die jeweilige Erdung bzw. der jeweilige Potentialausgleich der Photovoltaikmodule ist nach den gängigen landesspezifischen Vorschriften, fachmännisch durchzuführen. Ist eine Erdung erforderlich, verwenden Sie den empfohlenen oder einen entsprechenden Anschlusstyp für den Erdungsdraht. Dieser muss ordnungsgemäß am Modulrahmen angebracht sein, um einen stabilen elektrischen Kontakt herzustellen.

■ Die Erdung des Photovoltaikmoduls kann über die im Rahmen integrierten Bohrungen von 4,25 mm Durchmesser realisiert werden. Dafür empfehlen wir eine Blechtreibschraube (Material A2, Durchmesser 5,5 mm, Länge 13 mm) mit rostfreien Unterlegscheiben aus VA Material am Modulrahmen zu befestigen.

Translation - Greek
■ Η εκάστοτε γείωση ή εξισορρόπηση δυναμικού των φωτοβολταϊκών πλαισίων θα πρέπει να γίνεται σύμφωνα με τις τρέχουσες εθνικές προδιαγραφές, από ειδικευμένο προσωπικό. Εάν απαιτείται γείωση, χρησιμοποιήστε τον προτεινόμενο ή έναν ανάλογο τύπο ακροδέκτη για τον αγωγό γείωσης. Αυτός θα πρέπει να τοποθετηθεί κατάλληλα στην περίμετρο του φωτοβολταϊκού πλαισίου, προκειμένου να επιτευχθεί μια σταθερή ηλεκτρική επαφή.

■ Η γείωση μπορεί να πραγματοποιηθεί μέσω των ενσωματωμένων στην περίμετρο του πλαισίου οπών διαμέτρου 4,25 mm. Για το σκοπό αυτό προτείνεται η στερέωση ενός κοχλία αυτοκοχλιοτόμησης (λαμαρινόβιδα, υλικό A2, διάμετρος 5,5 mm, μήκος 13 mm) με ανοξείδωτες ροδέλες από υλικό VA στην περίμετρο του πλαισίου.

German to Greek: From a scientific article on HPV Immunobiology
General field: Medical
Detailed field: Biology (-tech,-chem,micro-)
Source text - German
Immunbiologie von HPV-Infektionen
Da die Infektionen durch Papillomviren auf Haut und Schleimhäute beschränkt bleiben, werden sie meist vom Immunsystem nicht entdeckt. Es gibt keine Ausbreitung über das Blut (Virämie) und die Virusproteine werden hauptsächlich in den oberen, dem Immunsystem nicht mehr zugänglichen differenzierten Zellen exprimiert. Die in den Keratinozyten der unteren Epithelschichten exprimierten "frühen" Proteine, die nur für die Vermehrung in der Zelle benötigt werden,werden nur in geringen Mengen hergestellt und nicht sezerniert. Es findet auch keine Virus-induzierte Zelllyse statt.
Neben dieser Strategie des Versteckens haben die Papillomviren auch Mechanismen entwickelt, um das Immunsystem aktiv zu unterdrücken. Dabei greifen virale Proteine in verschiedene Stadien bei der Etablierung einer Immunantwort ein, unter anderem bei der Induktion der angeborenen Immunität (Produktion von Interferonen), Aktivierung und Mobilisierung von dendritischen Zellen sowie Antigenpräsentation an TZellen.
Trotz dieser passiven und aktiven Schutzmechanismen spielt das Immunsystem bei der Kontrolle der HPV-Infektionen sehr wohl eine wichtige Rolle (zur Übersicht siehe [15]). Neben der Beteiligung der zellvermittelten Immunantwort bei der Kontrolle der Infektionen – am besten dokumentiert durch die schweren virusbedingten klinischen Manifestationen bei Immunsupprimierten –, entwickelt das Immunsystem außerdem Antikörper, die – zumindest teilweise – vor einer Reinfektion mit demselben HPV-Typ schützen. Wie unten diskutiert,beruht die hervorragende Wirkung der HPV-Impfstoffe auf der Induktion von Antikörpern mit erheblich höheren Titern als nach natürlicher Virusexposition.
Translation - Greek
Ανοσοβιολογία των λοιμώξεων HPV
Δεδομένου ότι περιορίζονται στο δέρμα και το βλεννογόνο, οι λοιμώξεις που προκαλούνται από θηλωματοϊούς δεν εντοπίζονται συνήθως από το ανοσοποιητικό σύστημα. Δεν υπάρχει εξάπλωση μέσω του αίματος (ιαιμία) και οι ιικές πρωτειΐνες εκφράζονται κυρίως στα ανώτερα διαφοροποιημένα κύτταρα, τα οποία δεν είναι πλέον προσβάσιμα από το ανοσοποιητικό σύστημα. Οι "πρώιμες" πρωτεΐνες, που εκφράζονται στα κερατινοκύτταρα των χαμηλότερων επιθηλιακών στρωμάτων και είναι απαραίτητες μόνο για την αναπαραγωγή μέσα στο κύτταρο, παράγονται σε μικρές μόνο ποσότητες και δεν αποβάλλονται. Επίσης, δεν παρατηρείται ιογενής κυτταρική λύση.
Πέρα από αυτήν τη στρατηγική της κάλυψης, οι θηλωματοϊοί έχουν επίσης αναπτύξει μηχανισμούς ενεργής καταστολής του ανοσοποιητικού συστήματος. Συγκεκριμένα, οι ιικές πρωτεΐνες παρεμβαίνουν σε διάφορα στάδια της εκδήλωσης της ανοσολογικής απόκρισης, συμπεριλαμβανομένων αυτών της επαγωγής της έμφυτης ανοσίας (παραγωγή ιντερφερονών), της ενεργοποίησης και κινητοποίησης δενδριτικών κυττάρων και της παρουσίασης του αντιγόνου στα Τ-κύτταρα.
Παρά αυτούς τους παθητικούς και ενεργητικούς μηχανισμούς προστασίας, το ανοσοποιητικό σύστημα παίζει σαφώς ένα σημαντικό ρόλο στον έλεγχο των λοιμώξεων HPV (για μια επισκόπιση βλ. [15]). Εκτός από τη συμμετοχή της ανοσοαπόκρισης με κυτταρική μεσολάβηση στον έλεγχο των λοιμώξεων - η οποία τεκμηριώνεται καλύτερα μέσω των βαρέων ιογενών κλινικών εκδηλώσεων σε ανοσοκατεσταλμένους ασθενείς - το ανοσοποιητικό σύστημα αναπτύσσει επιπλέον αντισώματα που προστατεύουν - τουλάχιστον εν μέρει – από επαναμόλυνση με τον ίδιο τύπο HPV. Όπως εξετάζεται κατωτέρω, η εξαιρετική δράση των εμβολίων HPV βασίζεται στην επαγωγή αντισωμάτων με σημαντικά υψηλότερους τίτλους από ότι μετά από φυσική έκθεση στον ιό.
German to Greek: aus pro-physik.de, original: Environmental Science & Technology dx.doi.org/10.1021/es9017046
General field: Science
Detailed field: Environment & Ecology
Source text - German
Künstlich hergestellte Nanomaterialien sind kleiner als 100 nm (1 Nanometer = 1 Millionstel Millimeter) und zeigen deshalb häufig neuartige chemische, physikalische und optische Eigenschaften. Auf Grund dieser besonderen Eigenschaften finden sie ein breites Anwendungsgebiet in der Industrie, aber auch zunehmend in Alltagsprodukten. Der Markt für Nanotechnologie wird im nächsten Jahrzehnt auf eine Milliarde Euro geschätzt. Während der Produktion, der Anwendung oder Entsorgung gelangen diese Materialien aber auch in die Umwelt, z.B. über das Abwasser. Das Verhalten dieser Materialien und deren Effekte auf Organismen sind bisher weitgehend unerforscht.
Die nun publizierte Studie beschäftigt sich mit dem Transportverhalten von nanopartikulärem Titandioxid (TiO2), das aufgrund seiner hohen Produktionsraten und breiten Anwendungsgebiete in relevanten Konzentrationen über Wasser in die Umwelt gelangt.
Das besondere an der Studie ist der erste Nachweis der Zytotoxizität von sehr geringen Konzentrationen von Titandioxid unter natürlichen Umweltbedingungen. Hierzu wurden eigens Mikrokosmen an der WasserKluster Lunz GmbH, die den Nanopartikel-Transport in Fließgewässern naturnah darstellen, und die Effekte auf natürliche mikrobiologische Gemeinschaften untersucht.
Dafür werden Fließrinnen (130 cm Länge, 2 cm Breite, Wassertiefe 1,5 cm) mit gefiltertem Seewasser durchströmt. In der Grenzschicht zwischen Wasserphase und Sediment bildet sich ein so genannter Biofilm, eine dünne Schleimschicht, in der Mikroorganismen eingebettet sind. Sind die Nanopartikel im Wasser fein verteilt, ist deren Verbleib im Wasser sowie die Transportreichweite entsprechend erhöht und freischwimmende Organismen werden durch die Nanopartikel geschädigt.
Darüber hinaus wird das Titandioxid im Biofilm angereichert und kann hier unter Einfluss von Licht seine schädigende Wirkung entfalten. Ein Vergleich der beiden Testansätze zeigte zweierlei: Titandioxid ist zellschädigend, und der Biofilm hat eine schützende Wirkung auf die eingebetteten Organismen.
Die Studie trägt maßgeblich zum Verständnis der Zytotoxizität und des Transportverhaltens von Nanopartikeln in natürlichen aquatischen Systemen bei und erweitert somit das Bild, das man bisher von Nanopartikeln in Laborstudien gewinnen konnte.

Translation - Greek
Τα τεχνητά παρασκευασμένα νανοσωματίδια είναι μικρότερα από 100 nm (1 νανόμετρο = 1 εκατομμυριοστό του χιλιοστού) και για αυτόν το λόγο παρουσιάζουν συχνά καινοφανείς χημικές, φυσικές και οπτικές ιδιότητες. Εξαιτίας αυτών των ιδιαίτερων ιδιοτήτων βρίσκουν ένα ευρύ φάσμα εφαρμογών στην βιομηχανία αλλά και ολοένα και περισσότερο σε προϊόντα καθημερινής χρήσης. Η αγορά της νανοτεχνολογίας υπολογίζεται σε ένα δισεκατομμύριο Ευρώ την επόμενη δεκαετία. Κατά την παραγωγή, την εφαρμογή ή την απόρριψή τους όμως τα υλικά αυτά περιέρχονται και στο περιβάλλον, π.χ. μέσω των υγρών αποβλήτων. Η συμπεριφορά των υλικών αυτών και οι επιδράσεις τους στους οργανισμούς σε μεγάλο βαθμό δεν έχουν μελετηθεί ακόμα.
Η μόλις δημοσιευθείσα μελέτη ασχολείται με τη μεταφορική συμπεριφορά του νανοσωματιδιακού διοξειδίου του τιτανίου (TiO2), το οποίο λόγω του υψηλού ρυθμού παραγωγής και του ευρέως φάσματος εφαρμογών του περιέρχεται μέσω του νερού στο περιβάλλον σε σημαντικές συγκεντρώσεις. Η ιδιαιτερότητα αυτής της μελέτης είναι το πρώτο τεκμήριο κυτταροτοξικότητας πολύ χαμηλών συγκεντρώσεων διοξειδίου του τιτανίου υπό φυσικές περιβαλλοντικές συνθήκες. Στα πλαίσια αυτά μελετήθηκαν ειδικά μικρόκοσμοι στην WasserKluster Lunz GmbH οι οποίοι αναπαριστούν με πιστότητα προς την φύση τη μεταφορά νανοσωματιδίων σε ρέοντα ύδατα και διερευνήθηκαν οι επιπτώσεις σε φυσικές μικροβιολογικές κοινότητες.
Για το σκοπό αυτό διαρρέονται κανάλια ροής (μήκος 130 εκ., πλάτος 2 εκ., βάθος νερού 1,5 εκ.) με φιλτραρισμένο λιμναίο νερό. Στην διεπιφάνεια μεταξύ υδάτινης φάσης και ιζήματος σχηματίζεται ένα λεγόμενο βιοϋμένιο, ένα λεπτό στρώμα ίλυδας, στο οποίο περικλείονται μικροοργανισμοί. Εάν τα νανοσωματίδια είναι λεπτά διασπαρμένα στο νερό, ο χρόνος παραμονής τους στο νερό καθώς και η απόσταση μεταφοράς τους είναι αυξημένα και οι ελεύθερα κολυμβώντες οργανισμοί υπόκεινται σε βλάβες εξαιτίας των νανοσωματιδίων.
Επιπλέον το βιοϋμένιο εμπλουτίζεται σε διοξείδιο του τιτανίου, το οποίο μπορεί υπό την επίδραση του φωτός να εκδιπλώσει την βλαπτική δράση του. Από την σύγκριση των δύο πειραματικών πρωτοκόλων προέκυψαν τα εξής δύο συμπεράσματα: Το διοξείδιο του τιτανίου είναι βλαπτικό για τα κύτταρα και το βιοϋμένιο έχει μια προστατευτική δράση επί των περικλειόμενων σε αυτό οργανισμών.
Η μελέτη συμβάλλει σημαντικά στην κατανόηση της κυτταροτοξικότητας και της μεταφορικής συμπεριφοράς των νανοσωματιδίων σε φυσικά υδάτινα συστήματα και συνακόλουθα διευρύνει την εικόνα για τα νανοσωματίδια την οποία είχαν αποδώσει οι μέχρι τώρα εργαστηριακές μελέτες.

More
Years of experience: 11. Registered at ProZ.com: Jan 2009. Became a member: Nov 2009.
N/A
German to Greek (Universität zu Köln, Promotion)
English to Greek (Greek State: Permission to teach English)

N/A
Across, Adobe Acrobat, Indesign, memoQ, Microsoft Excel, Microsoft Word, OmegaT, POedit, Other CAT tool, Passolo, Powerpoint, SDL TRADOS, Wordfast
http://www.proz.com/translator/1000852
English (PDF)
Anna Spanoudaki-Thurm endorses ProZ.com's Professional Guidelines (v1.2).
Bio
PhD in Experimental Physics
15+ years research and teaching at Universities in Germany, France and Greece
excellent, versatile style

physics, chemistry, biology, physical chemistry, chemical physics, biophysics
safety data sheets, REACH, product labels and information
pharmaceuticals, clinical trials, authorisation (SPC, PIL etc.)
scientific journal articles and conference presentations
medical and analytical instruments
material science and technology
environmental science, ecology, renewable energies, solar technology
food, cosmetics


My BiomedExperts profile
List of some of my publications in refereed journals

FEEDBACK (@ ProZ.com, LinkedIn and private)
○ We love working with Anna. She is fast, efficient and accurate! – technical translations
○ Thanks for the great cooperation, Anna. – medical/technical translations
○ high qualified translator, reliable, it is a pleasure to work with her – technical translations
○ I worked with Anna on pharmaceutical translation projects on a regular basis and she always managed to provide an excellent work. She has all the qualities of an outstanding translator, combined with a great expertise in her domain of specialisation. Anna, it is a real pleasure collaborating with you! – pharmaceuticals, numerous EMA submissions
○ Thank you always for your hard and prompt work on our projects. – surgical devices
○ Thank you, they look wonderful! You are an excellent and meticulous translator. – marketing, technical, website
○ Project [...] which you worked on has been completed and delivered to our client safely. This project had small scope and volume, but it was quite tricky and complicated for us and you.
You did great job as a linguist and we really appreciate your help. [...] – surgical material
○ Thank you very much for your cooperation on this complex project. Good job! – pharmaceuticals
○ [The proofreader] reported that the translation was exquisite. – pharmaceuticals
○ Thank you for all your help on this project. And also, thanks a lot for all the comments and questions raised during the project. You made us work better and improve the quality of the text. – pharmaceuticals
○ I am absolutely impressed. […] I do not have a single query after my QA!!! Everything followed and consistently applied. […] Thanks for making my life as PM so easy J – regulatory, labels
○ Yuhuuuu excellent job! – industrial chemistry, marketing
○ I'd just like to take the opportunity
to say a big "Thank you" to you [...] for the great collaboration
in [...] project, where the
deadlines were quite tight and where we still managed to deliver
the translation incl. the review in time. Our client has said "thank you" and it's definitely time for me
to say "thank you" [...], too. :) This is above all thanks to your timely replies to our project
inquiries, and of course to your timely deliveries. And I must say this facilitates my work for the client a lot and
also makes this job truly enjoyayble! Looking forward to all our next
projects! :)




This user has earned KudoZ points by helping other translators with PRO-level terms. Click point total(s) to see term translations provided.


Keywords: EMA, ECHA, REACH, MSDS, SPC, PIL, scientific, technical, medical, translation, physics, medicine, pharmaceuticals, chemistry, greek, german, english wissenschaftliche, technische, medizinische, Übersetzung, Physik, Medizin, Pharmazie, Chemie, Griechisch, Deutsch, Englisch επιστημονική, τεχνική, ιατρική, μετάφραση, φυσική, ιατρική, φαρμακευτικά, χημεία, ελληνικά, γερμανικά, αγγλικά
Profile last updated
Jun 20, 2019